Osud/Trouble in Tahiti, Opera North - swings and roundabouts in a surprising double-bill |

reviews, news & interviews
Osud/Trouble in Tahiti, Opera North - swings and roundabouts in a surprising double-bill
Osud/Trouble in Tahiti, Opera North - swings and roundabouts in a surprising double-bill
Janáček sold short, Bernstein in a top-notch production with a star performance
Thursday, 12 October 2017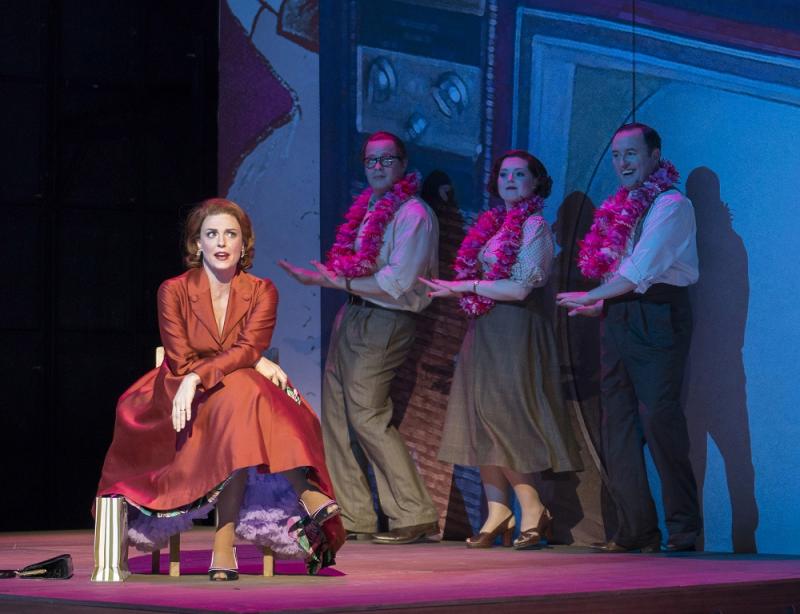 Trouble in Tahiti: Wallace Giunta's Dinah fantasises with the aid of the jazz trio (Nicholas Butterfield, Fflur Wyn and Joseph Shovelton)
It was a topsy-turvy evening. Sometimes the things you expect to turn out best disappoint, while in this case the relatively small beer yielded a true "Little Great" of a production and the best singing in Opera North's latest double bill (subject to reshuffling during the rest of the run).
Janáček
's
Osud
(
Destiny
) should have packed the emotional punch of the night – a score authentically vivid in every bar tied to an experimental plot and a libretto sometimes pretentious in its observations on art and life;
Bernstein
's
Trouble in Tahiti
has more trouble finding its heart. But conviction, firm direction and a strong cast can make all the difference.
Both operas – Osud (★★★) is hardly "Little", running at almost the length of Janáček's last four operatic masterpieces – have a dysfunctional couple at their heart, with an only child doomed to a troubled future; in this fascinating series, it would be interesting to see what other connections might be forged – the unhappy Czech pair yoked, perhaps, to Gilbert and Sullivan's bickering Angelina and Plaintiff? Both composers in last night's pairing place the main trouble in novel contexts. Janáček's protagonist-composer Živný works on an opera which begins by punishing the woman separated from him who's given birth to their illegitimate child and searches for an end after their reconciliation followed by her untimely and bizarre death. Can the puzzle pieces finally fit together?
They did so with overwhelming emotion in one of the late, great Philip Langridge's searing characteisation in David Pountney's fertile, twice-seen production at English National Opera. John Graham Hall (pictured above with members of the Opera North chorus) is a lesser mortal (who isn't?), struggling with the upper-register anguish and catharsis; his acting is relatively limited, too. The central act – shame about the long curtain-down pauses between what in effect are quite short scenes – was painful to watch in the wrong sense. Difficult to bring off this Strindbergian hell, complete with mad mother – the heroine Míla's, too wild in intonation from Rosalind Plowright) – and director Annabel Arden didn't seem to be giving her singers enough help.
At least there was dependable truth from Giselle Allen, in plausible decline from the red-headed beauty of the first act (pictured below with Graham-Hall). Here "Little Greats" designer Charles Edwards's schoolroom, full of young pioneers and reminders of a happier musical past in portraits of Dvořák and Smetana, gives way to the sunlight of Luhačovice Spa – still magically cradled by wooded hills in Janáček's native Moravia – where Mila and Živný meet again after their first parting.
There's a clever symmetry with the post-war drabness of the older Živný's beleaguered existence, and the Opera North chorus are much the best thing about the show, plus a promising cameo from young baritone Christopher Nairne in the final scene. Martin André conducts an orchestra which makes some lovely sounds but doesn't have the dash and intensity which need to be there from the carousel swing of the opening through to the blinding conclusion. Maybe the whole thing needed more rehearsal time than it got as one of the six "Little Greats"?
Young director Matthew Eberhardt had an easier task with the six-hander of Bernstein's acrid 1950s bagatelle of marital disharmony (★★★★★) – and the benefit of choreographer Tim Claydon, who got some nifty moves from the jazz trio which punctuates the action with its ironic radio-studio choruses praising suburban bliss. Superb work here from Fflur Wyn, Joseph Shovelton and Nicholas Butterfield, keeping it deliciously deadpan until the central dance number and resisting the urge to mug. Tobias Ringborg's razor-sharp handling of the American vernacular idiom is a joy from the off, too.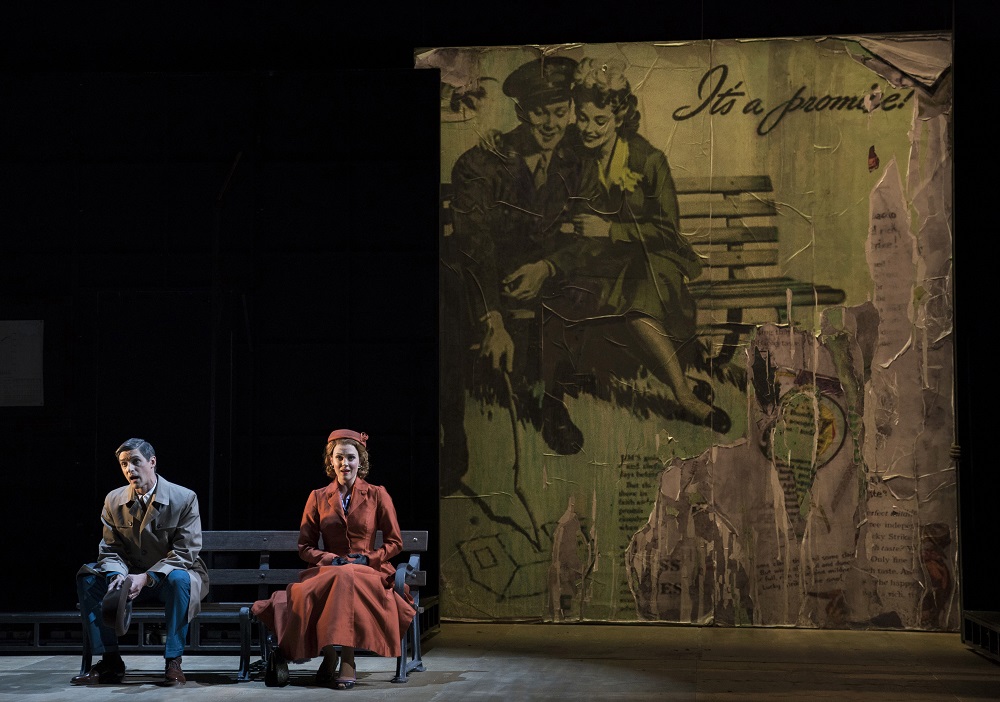 The icing on the cake is the vocally flawless performance of mezzo Wallace Giunta as a fashion-plate fifties housewife who has no facade to crack – these two are at it over the breakfast table. The decision to do without mikes and surtitles makes her 11-o-clock number about the fantasy world of the silver screen – the movie Trouble in Tahiti of the title – means not all the words are clear over the roistering orchestra, but diction is as good as it can be.
Quirijn de Lang (pictured above with Giunta), a baritone with a highly distinctive, youthful voice, gets a less good number as the champion of the gym. But the peculiar heart of the piece, running from Dinah's dream of "a quiet place" away from the dust and ashes of her life through to a rather fine duet of longing, husband and wife lost in their private thoughts, is finely handled by all – and Bernstein certainly doesn't let his usual sentimentality take over. Dated? Perhaps. But just enjoy the top-notch presentation of it all, enriched again by Edwards' clever designs, and be glad of the chance to catch this oddball drama before the Bernstein centenary celebrations come pouring forth next year.