A Midsummer Night's Dream (As You Like It), Dmitry Krymov Lab, Barbican |

reviews, news & interviews
A Midsummer Night's Dream (As You Like It), Dmitry Krymov Lab, Barbican
A Midsummer Night's Dream (As You Like It), Dmitry Krymov Lab, Barbican
A little bit of Shakespeare goes a long way in Russian shaggy-dog circus act
Thursday, 13 November 2014
Pyramus struggles to present Thisbe with a bouquet
Earlier this year two giant puppets, plus a bottom (lower case, human) on wheels, dominated Shakespeare's dream play at the Barbican. Replace the bottom with an ever-present little dog and you might think we're back more or less where we started nine months ago. But what the febrile imagination of Russian theatre surrealist Dmitry Krymov gives us is the rude mechanicals' Very Lamentable Comedy of Pyramus and Thisbe, Sort Of, along with audience interpolations beyond anything the priggish Theseus, Hippolyta and lovers ever ventured, in an often hilarious, occasionally tedious and anything but brief 75 minutes.
At first, I thought I was going to laugh and laugh at Krymov's banquet of not quite earthly delights. Just give me a dog on stage and I'm off. Venya, never far from his trainer and former circus artist Andrey Lokshin, scampers up and down the huge tree trunk heaved on to the performing space and off the back, at which point it leaves Venya looking pensive and expectant in the spotlight. Not since Richard Jones introduced the unexplained masterstroke of an Alsatian trotting across the Quay Brothers' cross-hatched black and white set in the second act bedroom farce of A Flea in Her Ear has an animal so stolen the scene (mind you, only a couple of weeks ago there was a lone wild duck waddling across the same stage when the lights went up on Belvoir Sydney's genius Ibsen adaptation). Venya seems unfazed by everything save the winged lion, which makes him bark and growl furiously; otherwise he does some spectacular backflips for his master and otherwise trots back and forth around the company so much that I began to wonder if he was on speed.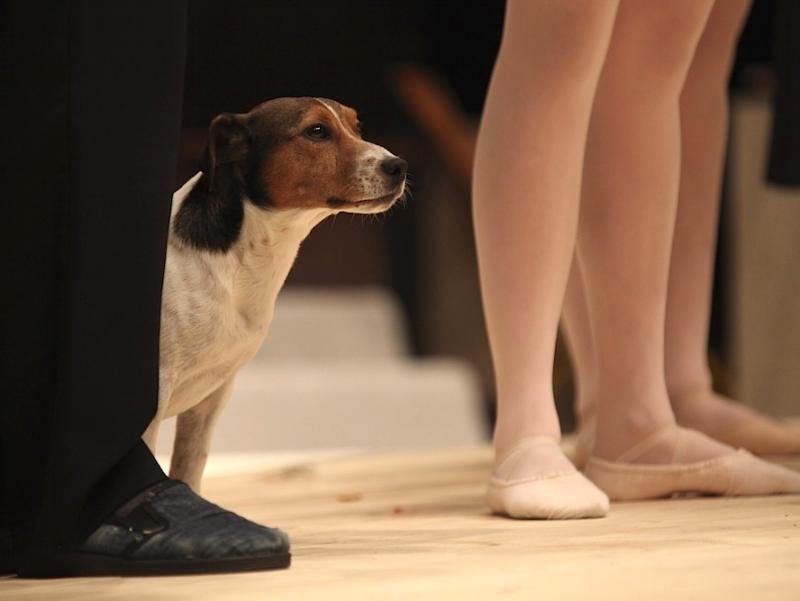 Shakespeare is clearly not going to come from the mouth of a Jack Russell, though (Venya pictured right). A very little bit is delivered, rather quietly if not downright mumbled, by selected actors (chiefly a paraphrase of Peter Quince's Prologue, the audience reaction "I wonder if the lion be to speak" and a slab of Sonnet 18 towards the end). We are told that Pyramus and Thisbe were the ancestors of a long line of archetypal lovers dogged by a Thing (fate?), from Romeo and Juliet to Isadora Duncan and the poet Yesenin, Tchaikovsky and his coachman (that must have gone down well with the Russian culture minister Vladimir Medinsky's assertion "there is no evidence that Tchaikovsky was a homosexual"). The well-dressed "audience" assembles, brushes off the sawdust from the balustrades or showers it down on their neighbours; about 20 minutes in the giant Pyramus with a Helleno-Egyptian painted boy's face – later to morph with suicidal grief into a bearded man - and Thisbe with an outlandish doll's head and big breasts lumber into life thanks to the manipulations of ten participants.
You can well imagine that when it takes so long to present a bouquet of flowers, to the accompaniment of German romantic Lieder, for the hero to get a hard-on or to pop grapes and a pineapple into the giant maw of his beloved – very funny – there isn't room even for all of Shakespeare's humorous basics: no wall with cranny to sunder the lovers (so we never get to learn the Russian for "chink"), no personification of moonshine with lantern, bush and dog – though there we have the cue for Venya's participation.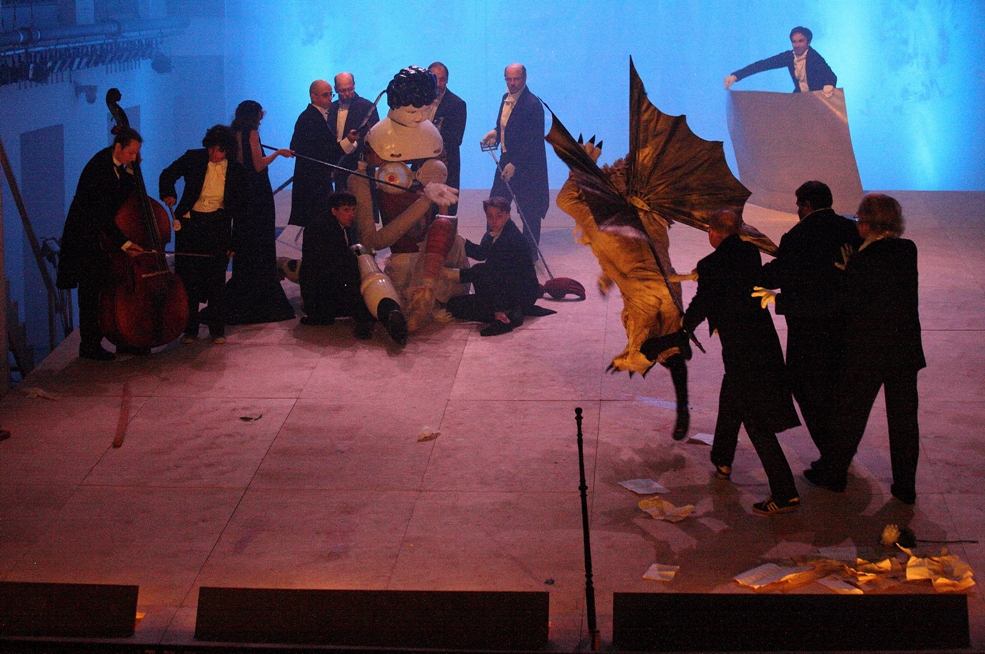 The lion appears, more a winged basilisk (pictured left). A good couple of minutes pass while Thisbe's mauled mantle is besprewn with "blood"; some time and more interpolations intervene before Pyramus stabs himself for love, and even longer before Thisbe, ill met by a more evocative moonlight than ever Bottom's colleagues could have mustered, meets her end.
What we do get are spectacular circus divertimenti: one Shustov brother balances upside down on his brother, head to head, while professional circus clown Boris Opletaev wobbles for a similarly impressive length of time on a tower of metal rings. 76-year-old Liya Akhedzhakova, "audience favourite"in Moscow, apparently, spins shaggy-dog stories about contemporary Russian life loosely prompted by the action, and the "bergamask dance" lets some of our own ballet students, courtesy of the Kerry Jane Dance Academy, loose on Tchaikovsky's "Dance of the Little Swans", repeated ad infinitum around a putative romance for two oldsters.
Much of it works brilliantly; when it doesn't – the silly voice and the off-tune singing, presumably deliberate, of the one female performer in the onstage troupe, to take one example – it smacks of that self-indulgence I've seen from every so-called progressive Russian theatre director with the honourable exceptions of Lyubimov and now Tcherniakov. As with some of Complicite's shows, the craft gets the better of the dramatic tale it's supposed to be telling. But it may well be that the images outlive the slight feeling of anticlimax: only time will tell. Go see it, anyway; just don't expect A Midsummer Night's Dream. The earnest schoolgirls with notepads around me probably weren't disappointed with what they got: a jolly night off from Shakespeare studies.
rating
Explore topics
Share this article
Subscribe to theartsdesk.com
Thank you for continuing to read our work on theartsdesk.com. For unlimited access to every article in its entirety, including our archive of more than 10,000 pieces, we're asking for £3.95 per month or £30 per year. We feel it's a very good deal, and hope you do too.
To take an annual subscription now simply click here.
And if you're looking for that extra gift for a friend or family member, why not treat them to a theartsdesk.com gift subscription?