Levsha, Mariinsky Opera, Barbican Hall |

reviews, news & interviews
Levsha, Mariinsky Opera, Barbican Hall
Levsha, Mariinsky Opera, Barbican Hall
An operatic conceit of enormous wit and charm
Wednesday, 05 November 2014
Kristina Alieva's steel Flea performs to Vladimir Moroz's Emperor Nikolai, Andrey Popov's Levsha and Edward Tsanga's Platov
Of course unavoidable circumstances do strike, and concerts do get delayed, but it's astonishing just how often those circumstances seem to conspire against Valery Gergiev. Last night's UK premiere of Rodion Shchedrin's opera Levsha – the second night of a Mariinsky triptych of performances at the Barbican – started a nice round hour late, which was a real shame because once the drama shifted from offstage to onstage the work revealed itself as a bit of a gem.
Based on a story by Nikolai Leskov (he of Lady Macbeth of the Mtsensk District), the opera's plot is less about unfolding narrative than establishing a series of curious situations and conceits. These are hung, bauble-like, on a tale that sees Tsar Nicholas I fascinated by a tiny mechanical flea, capable of marvellous feats, presented to his brother, the previous Tsar, by the English court. Determined to prove the superiority of Russia's craftsmen, Nicholas sets Levsha ("Left-Hander"), an uneducated but brilliant country mechanic, the task of improving upon it. Dispatched to England to demonstrate his skill, Levsha's return to Russia is threatened by his lack of papers, and the ailing man is sent to an infirmary where he shortly dies.
From the glittering metallic brilliance of the opening bars, scored for wriggling, piccolo-dominated woodwind and brass, we are left in no doubt of the real hero of the piece. The flea might be invisible to the naked eye, but it is her music which dominates, glinting and scampering through a score colourful with marimba, vibraphone, whistle, chimes and bells. Even a harpsichord adds its mechanistic clatter to the scene, coming into its own in the delicate mockery of Shchedrin's musical pastiche of the court of George I (pictured below, Shchedrin and Gergiev congratulate each other with Kristina Alieva, Andrey Popov, Maria Maksakova and Ekaterina Krapivina looking on).
The composer's magpie-score reveals him no less in thrall to curiosity and sensation than his Tsar. One moment things are pure Prokofiev, all sardonic brass and orchestral rhetoric, then we're among the glowing Orthodox choirs of Rachmaninov and Gretchaninov. The story's many cameos are rendered in delicate little musical pen-and-ink sketches – some caricatures, others something more sincere.
A trio of English courtiers (Dmitry Koleyshko, Mikhail Latyshev and Vladimir Zhivopistsev, pictured above with Kristina Alieva's Flea, Vladimir Moroz's Alexander I and Maria Maksakova's Princess Charlotte) speak as one, a united froth of pomp and self-importance, while two English brides wheeled out to lure Levshka to stay in London (Ekaterina Krapivina, Marina Aleshonkova) coax and ooze with sensual promise. A female duet representing "The Voice of Russia" (exquisitely sung by Ekaterina Goncharova and Yulia Matochkina) offers a recurring point of stillness and nostalgia – a warmly human reminder of a folk-simplicity disregarded in the Tsar's quest for ever more sophisticated novelty.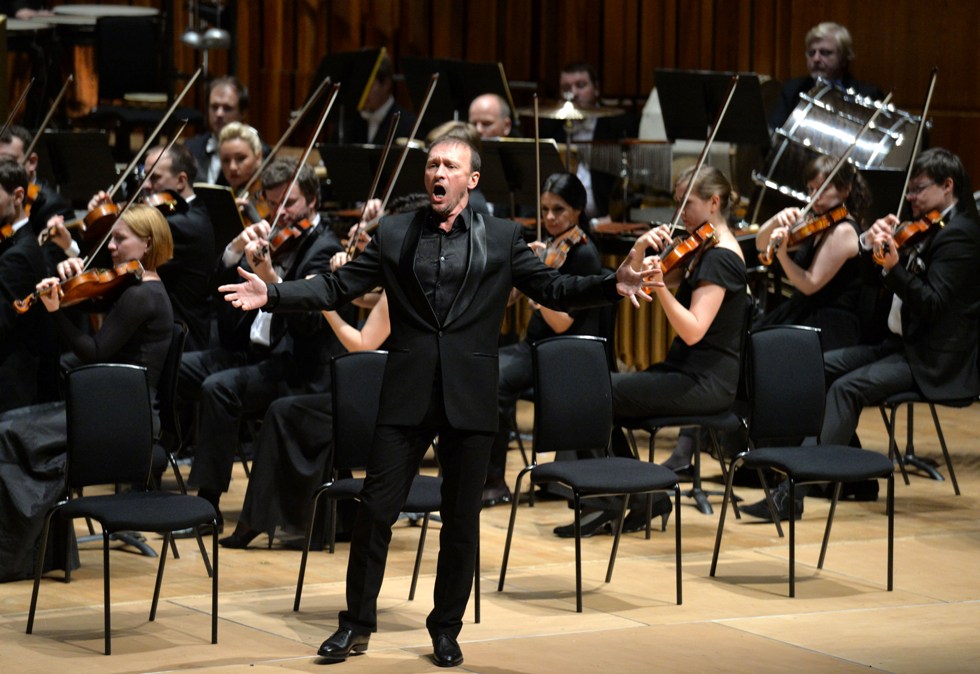 That the Mariinsky can field so strong a cast of singer-actors in these smaller roles is a sign of what it can still achieve at its best. Principals too made quite an impression, led by the unlikely couple of Andrey Popov's wide-eyed, impeccably sung Levsha (pictured right) and Kristina Alieva's Flea. How inspired a conceit to transform this creature into a singing role – a coloratura soprano whose icy brilliance and charm offers an unusual leading lady for this Russian Pygmalion. A smile dancing perpetually around her lips, demure and rigid, no automaton could have been more accurate or bewitching than Alieva. Set against the straining and passionate humanity of Popov (Shchedrin delights in cruelly high passages for his craftsman), her coolness comes into its own, with a further delicious foil found in Maria Maksakova's Princess Charlotte – so ripe a creature as to make the Duchess of Cambridge seem like a duenna.
The score does have its weaknesses; there's a bagginess to the drama that could easily lose half an hour and not miss it, and a disregard for dramatic arc that sets us off at a crawl thanks to a lengthy flashback. Levsha feels like a trim one-acter – or at any rate a single-sitting, no-interval affair – that has been over-weighted by too much enthusiasm. It's an impression heightened by Gergiev and the Mariinsky Orchestra, who deliver a ferociously precise account that occasionally hammers when it should tap, declaims when it should whisper a wicked aside.
Small quibbles, however, for an evening of fine musical entertainment. It's rare that a new score can compel so thoroughly at first hearing. Russia's greatest living opera composer has done it again, creating a contemporary classic that really gets under the skin.
A smile dancing perpetually around her lips, no automaton could have been more accurate or bewitching than Alieva
rating
Share this article