Les Misérables, Barbican |

reviews, news & interviews
Les Misérables, Barbican
Les Misérables, Barbican
An invigorating new production to mark the 25th anniversary
Friday, 24 September 2010
It's the Mousetrap of musicals, the wholly unstoppable show and, to mark its 25th anniversary this year (the 30th, if you date it back to the initial French concept album and Paris production), it will be staged in London at three different venues. You can even see them all in a single, mighty weekend bender, if the mood takes you: the original Les Misérables at the Queen's Theatre, a celebratory all-star concert at the O2 Arena on 3 October and an invigorating new production which plays at the Barbican after a national tour until 2 October.
Sadly, in this annus miserabilis, the festivities have provoked a grubby spat between the super-producer Cameron Mackintosh and Trevor Nunn, who co-directed the 1985 version for the Royal Shakespeare Company and has now, somewhat ungraciously, been claiming droit de seigneur over the new production. Instead, Mackintosh has very properly chosen to recruit a new team, Laurence Connor and James Powell, to inject life into the old warhorse, which the two directors - both of them actors in the original production - are ushering into the Barbican as well as the O2.

Les Misérables is, it's a fair bet, a review-proof show. But the rejuvenated edition at the Barbican is enjoyable and fleet of foot and last night displayed few signs of its advanced years. A flurry of short, fast opening scenes pull you into Victor Hugo's universe instantly, a little like a film's pre-credit sequences (Les Misérables flashes up like a movie title at the end of this prologue). It has ditched the big revolving stage, even if, considering that this is supposed to be a touring production, there's still a fair bit of bulky scenery gliding around the place. A small orchestra is electronically enhanced, to sometimes tinny effect.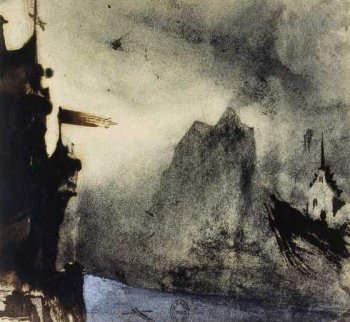 The absolute masterstroke is the production design, by Matt Kinley. Hugo was an accomplished, experimental and prolific draughtsman, who briefly abandoned writing entirely between 1848 and 1851 to devote himself entirely to drawing, mainly in monochrome wash (pictured right: Ermitage Rock in an imaginary landscape, 1855). His evocative and emotional Turneresque style inspires the Barbican's ink-smudged backdrops which at key moments become animated back-projections, vividly inserting the characters in the Paris sewers or plunging them into the Seine's watery depths...

Though some critics now contest it, legend has it that Les Misérables was resoundingly damned when it first opened on 8 October, 1985. Some eyed it as an affront to a literary classic (a bit rich, this, given that Alain Boublil, the author of the French libretto, has said he got the idea from the London production of Oliver!). Others, at the height of the Thatcherite Eighties, may have been suspicious, as well they might, of a splurgy blockbuster about poverty, crime, death and exploitation. Today it would seem that the themes have aged rather well. And, despite the pans, the show was embraced by the public - much like Hugo's 1862 novel as a matter of fact.
Plenty of pundits are keen to explain why with the benefit of hindsight: a great novel with important ideas, an unarguably witty book and a terrific score. Not to mention some rather cool uniforms. On the other hand there are also an enormous number of strikes against Les Mis, starting with its schizoid narrative, part intimate story of a cluster of individuals and their existential and romantic crises, part panoramic historical fresco.

It tells of Jean Valjean, a man of extraordinary physical strength and moral rectitude who is imprisoned for a minor crime. Released, he is relentlessly pursued by his nemesis - and alter ego - Inspector Javert, becoming involved with a panoply of downtrodden peasants and student revolutionaries along the way. But, despite his sterling qualities, Valjean is, let's face it, a bit of a bore and it's never clear what everyone is so furiously fighting for, other than, vaguely, injustice. When the death of one General Lamarque, a character who has never been seen and barely referred to, is announced momentously at a major turning point, most of the audience will be quite likely wondering, "Who is he?", or "Who cares?", or "Whatever happened to Marie Antoinette?" (the backdrop, by the way, is not 1789, but the Paris uprising of 1832).
The subtext? Well, that's a bit of a downer too. Les Misérables paints a world turned upside-down, where moral wrong becomes right and right wrong, and where the hero spends his life denying his true identity. A white light shines each time there's a death, and it certainly comes beaming down quite a bit in the course of the evening. Political resistance is doomed to fizzle out into a grotesque, minor-key dance of death led by the scrofulous innkeeper turned fake baron, Thénardier, and his wife (a show-stealing comic double act by Ashley Artus and Lynne Wilmot, pictured above). The post-revolutionary tristesse is redeemed, if barely in the nick of time, by a spot of woolly religious transfiguration ("To love another person is to see the face of God") at the end.
The Barbican boasts a good, solid cast. John Owen-Jones has already played Big Valjean in the West End and on Broadway, and there can be no faulting him here, except that it might have been more exciting to see a brand-new actor having a crack at the role; Earl Carpenter - another Mis alumnus - is a strong Javert. On the distaff side, Madalena Alberto's Fantine has a slightly thin voice, Rosalind James's Eponine delivers "On My Own" as a jolting power ballad that takes you out of the story but Katie Hall is spirited in the potentially dull ingénue role of Cosette and Gareth Gates emerges from Pop Idol to deliver a sweetly geeky Marius.