Collective Rage, Southwark Playhouse review - a rollicking riot |

reviews, news & interviews
Collective Rage, Southwark Playhouse review - a rollicking riot
Collective Rage, Southwark Playhouse review - a rollicking riot
Absurd romp through love, lust, and friendship is a knock-out
Wednesday, 07 February 2018
Letting it all out: Lucy McCormick as Betty 2
"Pussy is pussy" and "bitches are bitches" but Jen Silverman's Collective Rage at Southwark Playhouse smashes tautologies with roguish comedy in a tight five-hander smartly directed by Charlie Parham.
The play is set in New York and follows the ad hoc and long-standing relationships that develop between five women (two of whom are queer) called Betty over the course of a series of rehearsals for a skew-whiff rendition of the play-within-a-play Pyramus and Thisbe in A Midsummer Night's Dream that Betty 3 (Beatriz Romilly) decides to put on after going on a date to "The Thea-tah" with a posh broad. Collective Rage cuts across class, wealth, ethnicity and sexuality – it revels in difference – and its frank appeal comes from its carnivalesque destruction of the self-enforced myths that hold each of the Betties back from being who they truly are. For Betty 2 (Lucy McCormick, pictured below centre) the path to self-actualisation begins with looking at her pussy in a hand mirror; for Betty 3, it involves becoming a theatre director and wearing steadily higher and more unsteady heels.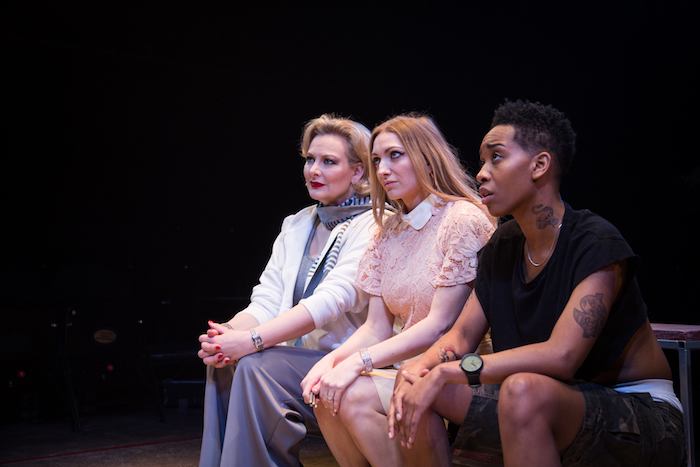 We meet Betty 1 (Sara Stewart, pictured above left) in a white Hillary Rodham Clinton pant suit and sumptuous crimson lipstick. She is WASPY, occasionally slightly racist, and "Very, Very Concerned" (her emphasis). Her husband Richard tells her not to worry, which doesn't make her feel better. She is isolated, and she is rich. Very rich. She wants to feel better, so she decides to hold "A Dinner Party". At the party we meet Betty 2, an uptight blonde encased in a skirt as tight-fitting as her neuroses, wearing pointed patent powder pink kitten heels. She sips her wine as if it were vinegar and scrunches her head down between her shoulders: the world is an intimidating place best approached with a blank gawky grin and suspicious eyes. She has no friends and few acquaintances. Even her husband is a stranger, so her main interactions are with a hand puppet who gives mouth to her brutal insecurities and mercilessly scours her hopes.
Also in attendance at this party is Bettie 3. It quickly becomes apparent she is trapped not by her husband, but her beauty-counter job at Sephora where things get "cray", hence why she plots to put on a play. Her best friend is Betty 4 (Johnnie Fiori), a gentle giant who spends time fixing her truck and shooting the breeze with fellow truck owner and occasional confidante, Betty 5. Betty 4 is queer and kind and a bit slow, but has a heart of gold and can't get over her crush on killer lady Betty 3 who blanks her advances. Betty 5 (Genesis Lynea) is a gym owner and boxing coach, a whipped-up towel flicker and sprightly flurry of pugilistic energy, whose firecracker charisma quickly catches the attention of Betty 1 when she signs up for boxing sessions.
Holly Buhagiar's sound design ramps up the energy with sexy bass from Missy Elliott and licks of Mary J. Blige mashed up with hectic samples of the Sex and the City theme tune. Anna Reid's set is split level and incorporates flying punch bags, lockers, stairs and ladders which keep all the characters on stage at once and give us access to their intimate lives as they change clothes, work out, and eat. With the exception of Romilly whose characterisation feels insufficiently expansive for Betty 3, the Betties' performances are uniformly brilliant; Lynea's brusque and tender Betty 5 is especially stand-out.
It's a glorious, rollicking riot of a play which pushes absurdity to the limit – but never at the cost of its soppy human heart.
The play's frank appeal comes from its carnivalesque destruction of self-enforced myths
rating
Share this article