Listed: Suffragettes portrayed |

reviews, news & interviews
Listed: Suffragettes portrayed
Listed: Suffragettes portrayed
From theartsdesk archive: How have the pioneering days of women's emancipation fared in works of art?
Tuesday, 06 February 2018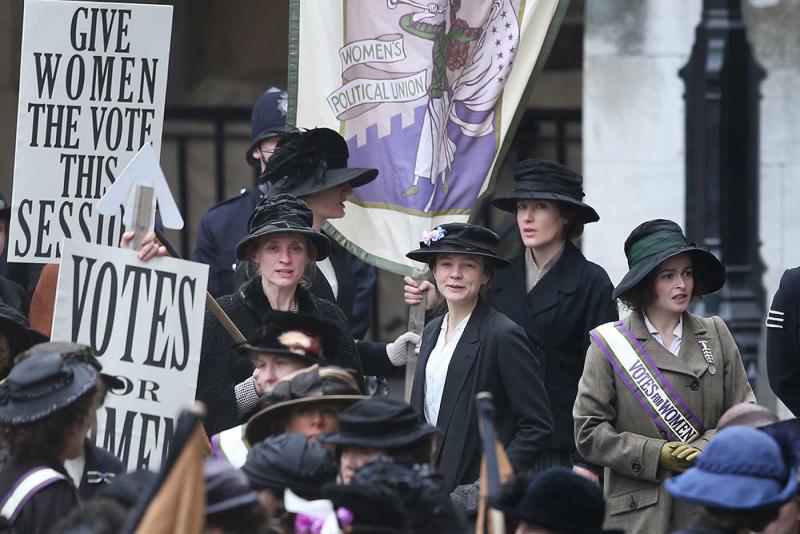 Anne-Marie Duff, Carey Mulligan and Helena Bonham-Carter in Sarah Gavron's Suffragette
It was both astonishing and depressingly unsurprising that Suffragette, Sarah Gavron's feature about the insurgent foot soldiers of the campaign for women's suffrage, was the first fictionalised film specifically about the movement. There are more films about the miners' strike – which clearly tells us something.
It's no surprise that literature has fared far better, since, in the words of Virginia Woolf, all one needs is a "room of one's own" in order to think and to write. Often we see the movement featured as a side story of a male-focused storyline, such as the television adaptation of Ford Madox Ford's Parade's End. Such a lack clearly points to the necessity of an ongoing struggle.
We on theartsdesk racked our brains and came up with a not exhaustive list of works of art about the pioneering days of the women's movement – in novels, plays, a painting, a musical score, on TV, and a documentary film that includes comic portrayals of how the women were popularly perceived and denigrated at the time. We've also included works surveying the political climate of the fledging movement at the end of the 19th century and the beginning of the 20th which saw the emergence of the New Woman, that ideal of the emancipated, economically independent female that flourished in literature of the period.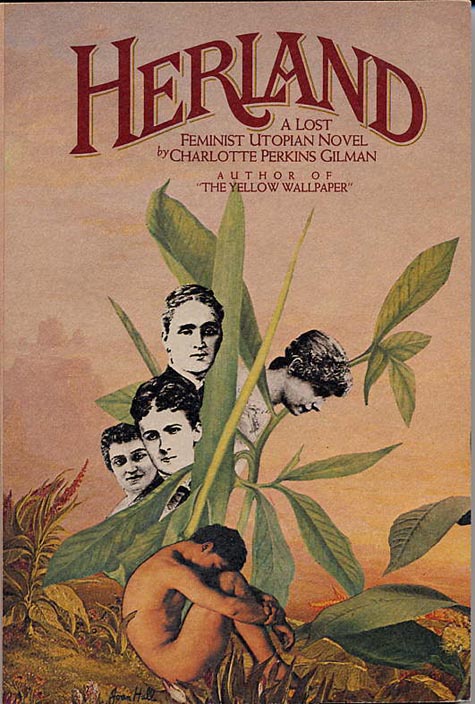 Herland (1915)
American feminist, novelist, short story writer and sociologist Charlotte Perkins Gilman is best known for The Yellow Wallpaper, a semi-autobiographical tale of a young woman's descent into psychosis, published in 1892. Her 1915 utopian novel Herland is the second of a trilogy, but was published in book form only in 1979 (pictured: first book form edition by Pantheon Books). The novel begins as three adventuring young men discover a lost country populated entirely by women, a society where crime, competition and antisocial behaviour are unknown, as are poverty and disease, and where women reproduce via parthenogenesis. The men each respond very differently to this unusual society, and the women are in turn intrigued by the corrupt and pestilent world they hear about for the first time. Relationships are soon formed and the role and status of women in relation to men examined. Fisun Güner
Shoulder to Shoulder (1974)
Six specially written plays, broadcast under the umbrella title of Shoulder to Shoulder, starred Siân Phillips as Emmeline Pankhurst, Patricia Quinn as Christabel and Georgia Brown as Annie Kenney. This powerful series, directed by Waris Hussein and Moira Armstrong, was the brainchild of three women: Brown, filmmaker Midge Mackenzie and television producer Verity Lambert, although the episodes were written by men, including Alan Plater. They focused on leading figures among the suffragettes and didn't shrink from showing extreme militancy, force-feeding and rifts within the movement. The series has never been issued on DVD, but is available on YouTube. Heather Neill
The Wheels of Chance: A Bicycling Idyll (1896)

Cycling was a craze of epidemic proportions in the late 19th century, the female cyclist in Rational Dress a potent symbol of emancipated womanhood. In HG Wells's comic novel, Mr Hoopdriver, a gauche draper's assistant on a cycling holiday, narrowly avoids crashing with Jessie Milton, whose combined beauty and proficiency on a bicycle leave him awestruck. As Jessie struggles to realise the ideals of female emancipation she has read so much about, "He speculated what manner of girl she might be. Probably she was one of these here New Women. He had a persuasion the cult had been maligned." (Pictured right: a crash caused by the shock of seeing a woman in "Rationals") Florence Hallett
Her Naked Skin (2008)
It's wholly appropriate – if embarrassingly overdue – that Rebecca Lenkiewicz's portrait of pioneering suffragettes became the first original play by a living woman staged at the National's Olivier (Jemima Rooper and Lesley Manville pictured below by Geraint Lewis). It viscerally demonstrates the courageous militancy and sacrifice of these class-transcending warriors, from enduring brutal force-feeding to the emotional cost, underscored by a doomed love affair. Ordinary people elevated by extraordinary acts. Marianka Swain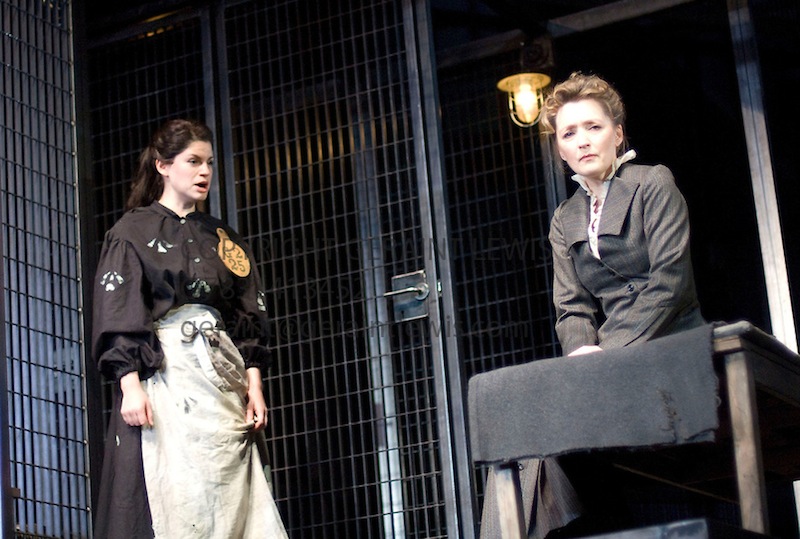 Portrait of Christabel Pankhurst (1909)
Ethel Wright's portrait of Christabel Pankhurst, the militant daughter of Emmeline, was unveiled by the National Portrait Gallery last year. It shows Christabel, a prominent strategist in the campaign, wearing her suffragette sash and moving forwards purposefully. In 1914 other protesting suffragettes slashed portraits in the gallery, including the Rokeby Venus by Velázquez. Heather Neill
Mrs Warren's Profession (1894)
Due to its frank discussion of prostitution as one of the few means by which women could gain economic independence, George Bernard Shaw's Mrs Warren's Profession was banned in England by the Lord Chamberlain and wasn't publicly performed for the next 30 years. In 1905, during its first performance in New York, the police stopped the play and arrested its cast. The play focuses on the relationship between Mrs Kitty Warren and her daughter Vivie, a mathematics graduate recently down from Cambridge. Vivie is a New Woman, a feminist, yet when she learns of how her mother's life as a prostitute paid for Vivie's education and secured the means of her independence, she cannot hide her shock. When Mrs Warren refuses to give up her business as a successful brothel-owner, Vivie rejects her mother, thus we see how the daughter has imbibed society's hypocrisy, despite her appearance as an emancipated woman. (Pictured below: Sally Hawkins as Vivie and Cherry Jones and Mrs Warren in a 2010 Broadway production). Fisun Güner
The March of the Women (1911)
In 1911 composer Dame Ethel Smyth dedicated this anthem, later sung on suffragist rallies, to the Women's Social and Political Union. Smyth was sent to Holloway for smashing windows during a protest and in 1912 Thomas Beecham reported seeing women there: "...marching and singing lustily their war-chant while the composer, beaming approbation from an overlooking upper window, beat time in almost Bacchic frenzy with a toothbrush." The words, by Cicely Hamilton, are stirring: "Shout, shout, up with your song!/Cry with the wind, for the dawn is breaking." Heather Neill
Falling Angels (2001)
Tracy Chevalier's follow-up to the better-known Girl with a Pearl Earring, Falling Angels is an ambitious, multi-stranded evocation of two families, the Colemans and the Waterhouses, and their experience of the Edwardian period. By giving a voice to not just numerous members of these well-to-do families, but also their servants and other working people, Chevalier has created a vivid sense of competing voices in a period of striking social change. And in Kitty Coleman, frustrated period wife whose journey from adultery to illegal abortion to the suffrage movement stretches credibility a touch, Chevalier has nonetheless dramatised that era's most vivid and intriguing transition. Matthew Wright
No Surrender (1911)
Constance Maud's stirring, if clunkily written, tale of struggling suffragists was published as momentum was building strongly in November 1911. It tells the story of working-class Jenny Clegg, who teams up with mill-owning Mary O'Neil to take the fight to the "Antis". The details of campaigners' persecution are too awkwardly expressed to work as art, but are an important piece of documentary. Matthew Wright
Parade's End (2012)

Heroically adapted by Tom Stoppard from Ford Madox Ford's modernist tetralogy, Parade's End tells of the agonising odyssey of high-born Christopher Tietjens (played by Benedict Cumberbatch) through marriage, war and his unconsummated love affair with suffragette Valentine Wannop. Played by Adelaide Clemens (pictured above with Cumberbatch) as a less and less demure young activist in a blonde crop, Wannop's finest hour in the series finds her thwarting an all-male golfing party, her efforts wrily, tacitly abetted by Tietjens who intervenes to misdirect the constabulary. Rather as happened in history, the fight for the vote in Parade's End is ultimately occluded by the Great War. Jasper Rees
Mr Selfridge (2013)

When marching suffragettes threatened the Selfridge's store, Harry Selfridge's decision to placate the marchers with pro-suffragette window displays felt like a TV screenwriter's fantasy (Harry and the Selfridgettes, pictured below). Not so. When The Suffrage Annual and Women's Who's Who was published in 1913, full of suffrage information, Selfridge's funded it and took ads on every page, while more than 250 Selfridge's employees signed a plea for clemency for the imprisoned suffragette activist Gladys Evans. During the window-smashing campaigns of 1911 and '12, Selfridge's escaped unscathed. So hats off to Harry. Adam Sweeting
Up the Women (2013-15)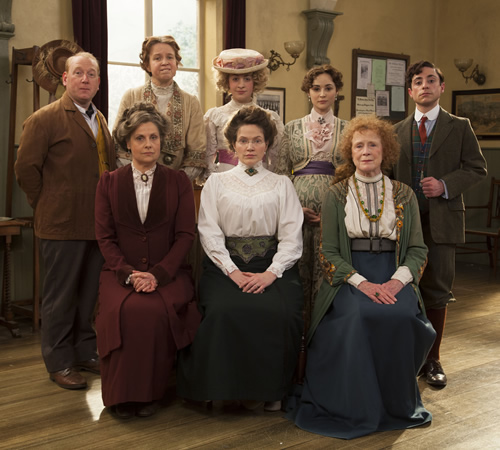 Having tried to write a comedy feature about a suffragette plot to assassinate Herbert Asquith, Jessica Stevenson found that the script was becoming too dark. Deciding on a sitcom form instead, and keeping the core characters, Up the Women was born. The "Banbury Intricate Craft Circle", under guidance of Margaret, becomes the "Banbury Intricate Craft Circle Politely Requests Women's Suffrage League" in a gentle, clever comedy that deserved to grow more than its nine episodes allowed. Barney Harsent
Make More Noise!: Suffragettes in Silent (1899-1917)
Despite the paucity of newsreels depicting suffragism in action, the BFI has assembled this 75-minute chronological history. It stirringly juxtaposes footage of key demonstrations – from which the violence was eliminated at the time – with excerpts from comedies mocking suffragettes as harridans or endorsing female rebelliousness: the naughty boy character Did'ums wreaks social havoc dressed as a girl, as do the uncorseted teenage stars Alma Taylor and Chrissie White. There's also footage of women munitions workers and of suffragette nurses treating wounded soldiers on the Western Front. The tragic centerpiece, inevitably, is one of the newsreels that caught militant Emily Davison's fateful last walk on Derby Day 1913. The movie will be shown as part of the London Film Festival at the NFT3, BFI Southbank, with live musical accompaniment by Lillian Henley, and with recorded music on 18 October at Rich Mix Cinema. It's released on DVD on 23 November. (Below: BFI promo for the film) Graham Fuller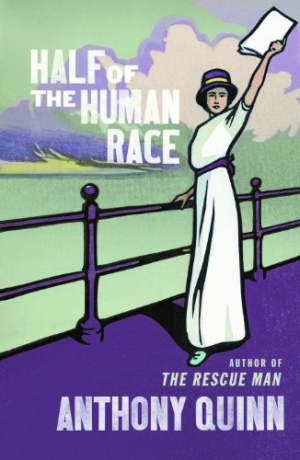 Half of the Human Race (2011)
There are elegiac evocations of county cricket and white-knuckle reports from the hell of the Trenches in Anthony Quinn's wonderfully moving and thrillingly stylish novel, but the star turn is Constance Calloway, a steely young idealist who finds herself committing to undertake whatever is needed to support the cause of women's suffrage. Quinn spares the reader (and his heroine) nothing in recreating the torture of forced feeding during her imprisonment. But Constance, a nurse who aspires to more, has her moment of triumph when without permission or training she hair-raisingly performs a life-saving operation. To the very end, her reluctance to participate in the tropes of romance is one of the most adorable things about her. Jasper Rees