Suffragette |

reviews, news & interviews
Suffragette
Suffragette
Bold epic of women's fight for the vote is flawed but unmissable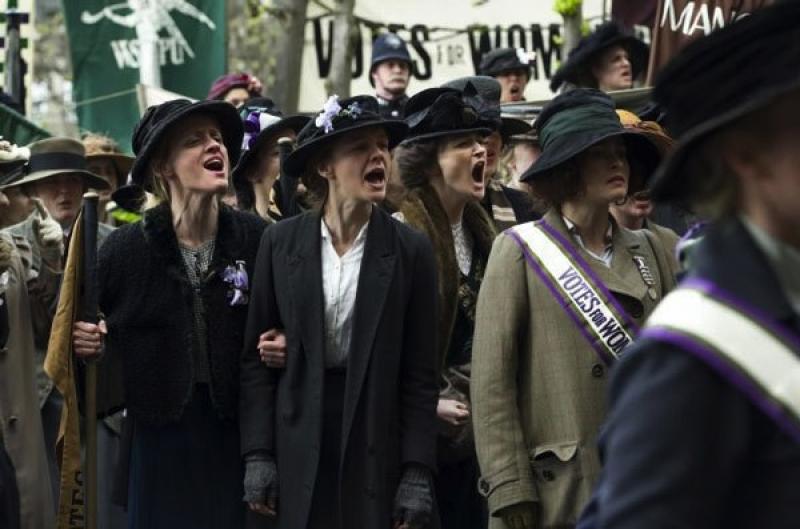 Irresistible force: Anne-Marie Duff, Carey Mulligan, and Helena Bonham Carter (in sash)
Suffragette is exemplary in its attempt to depict the harrowing experiences of the British women who risked their lives to win the vote. It depicts the awakening of a reluctant recruit who becomes a militant, and graphically depicts the violence meted out to the protestors and hunger strikers in the critical years of 1912-13, potently drawing parallels with the 1984-85 Miners' Strike and the 1981 Irish Republican hunger strikes.
Yet it's also a history lesson so worthy and dutiful that viewers might miss how unusual it is for a mainstream movie to endorse acts of anti-state terrorism, even though they're not intended to maim or kill.
Directed by Sarah Gavron as a tumultuous anti-heritage epic (and shot by Eduard Grau in panoramic 'Scope format), Suffragette traces the politicisation of Maud Watts (Carey Mulligan), a young wife and mother of leaden-hued Bethnal Green. Though alarmed by the sight of suffragettes smashing the windows of a West End department store, laundry forewoman Maud is prompted by one of them, her co-worker Violet Miller (Anne-Marie Duff), to attend a meeting held by the upper-class Alice Haughton (Romola Garai), whose husband (Samuel West) is the Parliamentary security chief charged with suppressing his wife and her fellow agitators. Soon after Maud joins the cause, an Irish security enforcer (Brendan Gleeson) identifies her as a possible weak link in the suffragette ranks, but privately admits to her his sympathy for the women, whom he likens to the Fenians.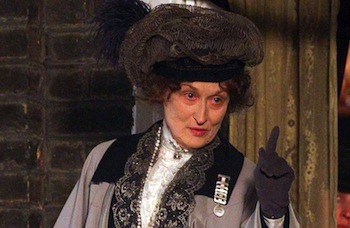 Maud befriends Edith Ellyn (Helena Bonham Carter at her unflappable best), a physically fragile pharmacist and munitions-savvy ultra-militant, and inarticulately but persuasively states the case for working women getting the vote in a meeting with the receptive Chancellor, David Lloyd George (Adrian Schiller). She and Edith are among the angry women kicked and beaten by the police, or stomped on by their mounts, following the Liberal government's March 1912 rejection of the Conciliation Bill that would have enfranchised over a million women householders. (Herbert Asquith, the vacillating Prime Minister, was Bonham Carter's paternal great-grandfather.)
Gavron and screenwriter Abi Morgan previously collaborated on Brick Lane (2007), an underrated adaptation of Monica Ali's novel about a Bangladeshi immigrant chafing against her arranged marriage to a much older Bengali in London. At the start of Suffragette, Maud isn't oppressed by her husband, Sonny (Ben Whishaw), but by the brutish taskmaster, Taylor (Geoff Bell), who runs the laundry where they work.
He began sexually violating Maud (too poor to quit) when she started working at this dark satanic mill as a child and admits he's currently turning his attention to another underage employee, Violet's vulnerable adolescent daughter. Making Taylor a serial paedophile rapist was hyperbolic; far less vile men than him routinely perpetuate women's inequality now as they did then. Because Sonny initially seems a decent husband and father, albeit one perplexed by Maud's growing support for suffragism, his gradual reasoning to himself that she's unfit to be their little boy's mother is, in contrast to Taylor' evilness, insinuatingly pernicious.
Sonny's unconscionable decision to deny Maud access to their son is mirrored exactly by that of the businessman who spitefully lashes out against his lesbian wife in Todd Haynes's new film Carol, set primarily in the East Coast bourgeois milieu of early 1950s America. Forty years, a couple of social classes, and an ocean separate these disappointed husbands whose patriarchal conditioning and wounded pride drives them to deprive their children of their mothers: in terms of sexual politics, this will likely prove the defining "coincidence" of the autumn's major movies.
Each non-violent scene staged by Gavron is a charged mini-drama, and Mulligan's evincing of Maud's evolution, from passive to indignant to enraged, through infinitesimal gradations in mood and body language, reiterates that she's our subtlest film actress. The ensemble work – as when Maud, Edith, Alice, battered wife and baby-maker Violet, and the stoical, near silent hunger striker Emily Davison (Natalie Press) plan their next moves – is thrilling. It obviates the need for Meryl Streep's messiah-like cameo as Emmeline Pankhurst (pictured above), which blatantly exploits the star's icon status.
Compelling though these scenes are, their laboured sequencing within the first half of the film means it takes too long to morph into the second half, which – via postbox bombings and a more dangerous attack – accelerates predictably to Derby Day, June 4 1913, which shows Maud and other suffragettes arriving at Epsom to stage a protest in front of the king. Vivid colours bleed into cinematographer Grau's hitherto grey palette, heightening the drama of Maud losing sight of Emily and desperately seeking her in the tightly pressed crowd – and the ensuing tragedy on the race course. Gavron thus offers an intimate alternative to the three newsreels that were to the Suffragette movement what the Zapruder footage was to John F Kennedy's assassination. (Above: Derby Day – Natalie Press, Carey Mulligan.)
Since Maud is an observer rather than a precipitator of this climactic incident, the deus ex machina that shocks the nation and supposedly guarantees women the vote, it depletes her agency as the film's protagonist. Press, seldom seen in ingratiating roles, was inspired casting as Davison, but what if Mulligan had played her in the lead role, or had been asked to make Maud a prickly extremist – and an alternative martyr? Suffragette would then have been a ticking time bomb instead of a slow-burning fuse. That it falls short of radical makes it no less of a must-see.
What if Carey Mulligan had been asked to make Maud a prickly extremist?
rating
Share this article