Cock, Ambassadors Theatre review – brutal, bruising and brilliant |

reviews, news & interviews
Cock, Ambassadors Theatre review – brutal, bruising and brilliant
Cock, Ambassadors Theatre review – brutal, bruising and brilliant
High-energy revival of Mike Bartlett's 2009 play boasts a dynamic cast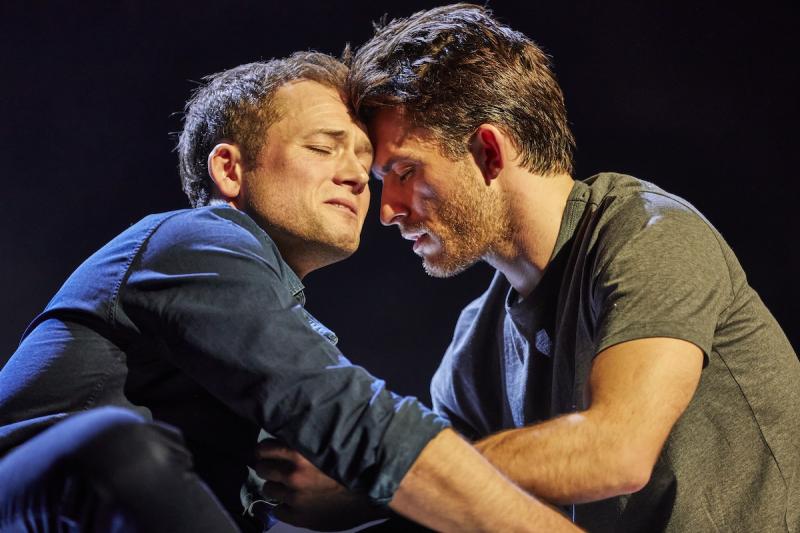 Intimate anguish: Taron Egerton and Jonathan Bailey in 'Cock'.
Mike Bartlett's Cock invites suggestive comments, but the main thing about the play is that it has proved to be a magnet for star casting. Its original production at the Royal Court in 2009 starred Ben Whishaw, Andrew Scott and Katherine Parkinson. Now, this West End revival is performed by Jonathan Bailey, Taron Egerton and Phil Daniels.
Reports that
Rocketman
star Egerton fainted during the first preview have raised public interest in a play whose explicit title, with or without an asterisk, seems particularly provocative in a commercial theatre setting. So what's it all about?
John, the only character to have a name in this bruising and rather brutal play, lives with a man, M, who works as a broker. Their relationship is quarrelsome, but has survived the differences in their temperament — until John meets W, a divorced classroom assistant, and has sex with her. While both M and W seem to be confident in their own skins, John is paralysed by indecision. Is he gay or straight, or maybe bi? The various possibilities are outlined and result in a dinner party where John has to do what he is so bad at: make a definite choice. But if he doesn't know who he really is, how can he?
Bartlett's play is clever in that it provides enough substance to make us wonder about John's character, but not enough to exclude every possibility. Is his indecision, which at times is excruciatingly acute, a terrible psychological inheritance, or just a cover for his selfishness? Is he greedily bisexual and a commitment-phobe? Or is he really suffering from a sense of not wanting to upset those who are attracted to him, and those that are closest to him? M's father, unsurprisingly called F, is one of the dinner guests, and certainly has his own opinions about the matter.
With its sharp dialogue, often familiar enough to any couple, and laugh-aloud jokes, its moments of transgressive honesty and explicit sexuality, this is an entertainment that is lit up by the excellence of its acting. Jonathan (Bridgerton) Bailey's John expresses his fumbling indecision with a range of facial grimaces, conveying his character's fears perhaps more successfully than his occasional tenderness. His palpable awkwardness and moments of anguish often result in a rictus which sums up his inability to make a decision. In comparison, Taron Egerton's M is cooler, his ironic attitude to his lover's procrastinations and over-thinking often amusingly acute. His attitude is so persuasive that you are tempted to side with him in this sex war.
But then Jade Anouka's W comes onto the scene, asserting her individuality and easily and entertainingly mocking John's misconceptions. Her mixture of feisty energy and grounded calm lends variety to what is a testosterone-heavy play. The late arrival of Phil Daniels's F emphasizes the bruising brutality of masculinity. Director Marianne Elliott and designer Merle Hensel create 105 minutes of excitement (Anouka and Bailey shown above), with the actors concentrating on their emotional conflicts in a piece that dispenses with props and banal mime. Instead, there is constant movement, suggestive actions and slow dance moves, punctuated by moments of relaxed stillness, which carry the story and allow plenty of room to consider the play's themes.
The main trouble is that Bartlett sets up the figure of John the indecisive, a man who promises to love both M and W, while failing them both, and them repeats this pattern for the whole duration of the play. While I was blown away by the situation when I first saw it, this time I'm less convinced by the writing. Not only is it repetitive, but also there is too little exploration of either each character or of the theme of identity. Bartlett is stuck with stating and restating John's binary choices, with additions of anguish, but no dramatic development. Women get a bad deal here, but likewise the playwright doesn't say much of interest about either being gay, or about being straight.
So although the discussions about our sexuality — is it, as F crudely argues, a genetic condition that cannot change? — are rather banal and perfunctory, it's the acting that should draw you to this show. With a set whose stainless steel backdrop occasionally produces mirror images of the action, the stage comes alive with the clashes between the characters in an ugly battle of wills. You can easily forgive the lack of thematic development when Bailey, Egerton and Anouka ignite the emotional fuel of the story — they really rock.
With its sharp dialogues, its moments of transgressive honesty and explicit sexuality, this is an entertainment that is lit up by the excellence of its acting
rating
Explore topics
Share this article