The Cherry Orchard, Windsor Theatre Royal review - Tolstoy meets Mrs Two Soups |

reviews, news & interviews
The Cherry Orchard, Windsor Theatre Royal review - Tolstoy meets Mrs Two Soups
The Cherry Orchard, Windsor Theatre Royal review - Tolstoy meets Mrs Two Soups
Ian McKellen's scene-stealing is not the only reason to see Chekhov's comedy
Saturday, 16 October 2021
Comic and lucid: Francesca Annis as Ranevskaya and Ian McKellen as her ancient retainer Firs
The cherry orchard in Anton Chekhov's eponymous play is a classic MacGuffin, its existence a reason to stir the sorts of resentments, fancies and identity causes that start wars and revolutions.
The orchard's beautiful, and that's all – a cultivated but natural ornament upon the great land of
Russia
, where need and want hold sway over millions of wretched and enslaved people.
Have those breathtaking horizons of white blossoms any use other than that? Is there a greater importance to existence than being beautiful?
Nearly 120 years on, the conundrum is just as vital, and the play is ceaselessly performed and translated around the world. Sean Mathias's comic, lucid production at Windsor gives very good reasons why that is. Rendered into easy modern speech by the playwright Martin Sherman (the author of Bent and Mrs Henderson Presents, among many things), here's a staging that underlines the ephemerality of identities, with a motley company of actors, cast race-, gender- and age-blind.
He did the same this autumn with Hamlet, of course, with an elderly Hamlet in Ian McKellen and a female Polonius. That motleyness seemed all of a piece with the reassembling of a society fractured communally by Covid. This time it has a different effect: it stresses Chekhov's insight that human beings tend to posture and perform, that we too easily comfort ourselves by re-enacting old grudges or dreams, toys, promises and tricks.
This is a comedy, Chekhov maintained - many stagers beg to disagree
The orchard's long absent owner, the aristocratic and spendthrift Madame Ranyevskaya, is not just a handsomely stuffed silk dress in Francesca Annis's moving performance; she's fragile, swinging uncontrollably between extremes of grief over the loss of her young son some years before and her ecstatic recent happiness (on and off) with a sly lover in Paris who then tricked her.
Bankrupted by her total lack of financial nous, she has to face consequences, and Lopakhin, the son of one of her family's serfs – or slaves, as Sherman baldly puts it – is now a rich, self-made man who can save her from destitution by buying her orchard and chopping it down for smallholdings. That's very poor taste, she sniffs.
Martin Shaw gives Lopakhin, under the veneer of class vengefulness, a sentimentality that hints at some long-ago attraction between the two before class and adulthood steered them apart, perhaps also an explanation for his hesitation about proposing to Ranyevskaya's adopted daughter, the conscientious Varya – an urgent and truthful performance by Kezrena James.
But this is a comedy, Chekhov maintained - many stagers beg to disagree - and the two outstanding performances are straight from broad comic music hall. The family's curious governess, Charlotta, is the character where Chekhov lays his clues to the tone he sought – she's an abandoned daughter of the circus, a conjurer and ventriloquist, a fatalistic survivor, and the arresting Alison Halstead (pictured with Jenny Seagrove's Gaev and Martin Shaw's Lopakhin) has a huge, charismatic voice inside her small, agile body.
No more is the token role of the ancient butler Firs what it appears, in the mighty, scene-stealing clutches of Ian McKellen. Truth to tell, he alone is worth your money for a ticket.
He's Lev Tolstoy meets Mrs Two Soups. Unrecognisable from the fit teenage-wrinkly Hamlet of last month, here's a barely living relic, egg-bald, floridly bearded, dressed in ancient uniforms and frighteningly reliant on a walking stick – especially unnerving when in his other hand there's a tray of drinks. Watch the stage business going on whenever he is around, it's almost sabotage.
When he curls up to die, forgotten, he's a clown folding up his costume
Yet when he curls up to die, forgotten at the end, he's a clown folding up his costume, and this deceptive aspect is what buoys up Mathias and Sherman's production, which feels as if all might collapse at any moment.
Certainly the family's wealth is underplayed by Lee Newby's down-at-heel scenery (though it's not helped by the stacks of audience members on stage, a business reality). But there is a good coup de théâtre for the party scene, where the pretty little Windsor theatre shows its own unsuspected depths, and some poignant ensemble singing of Russian songs.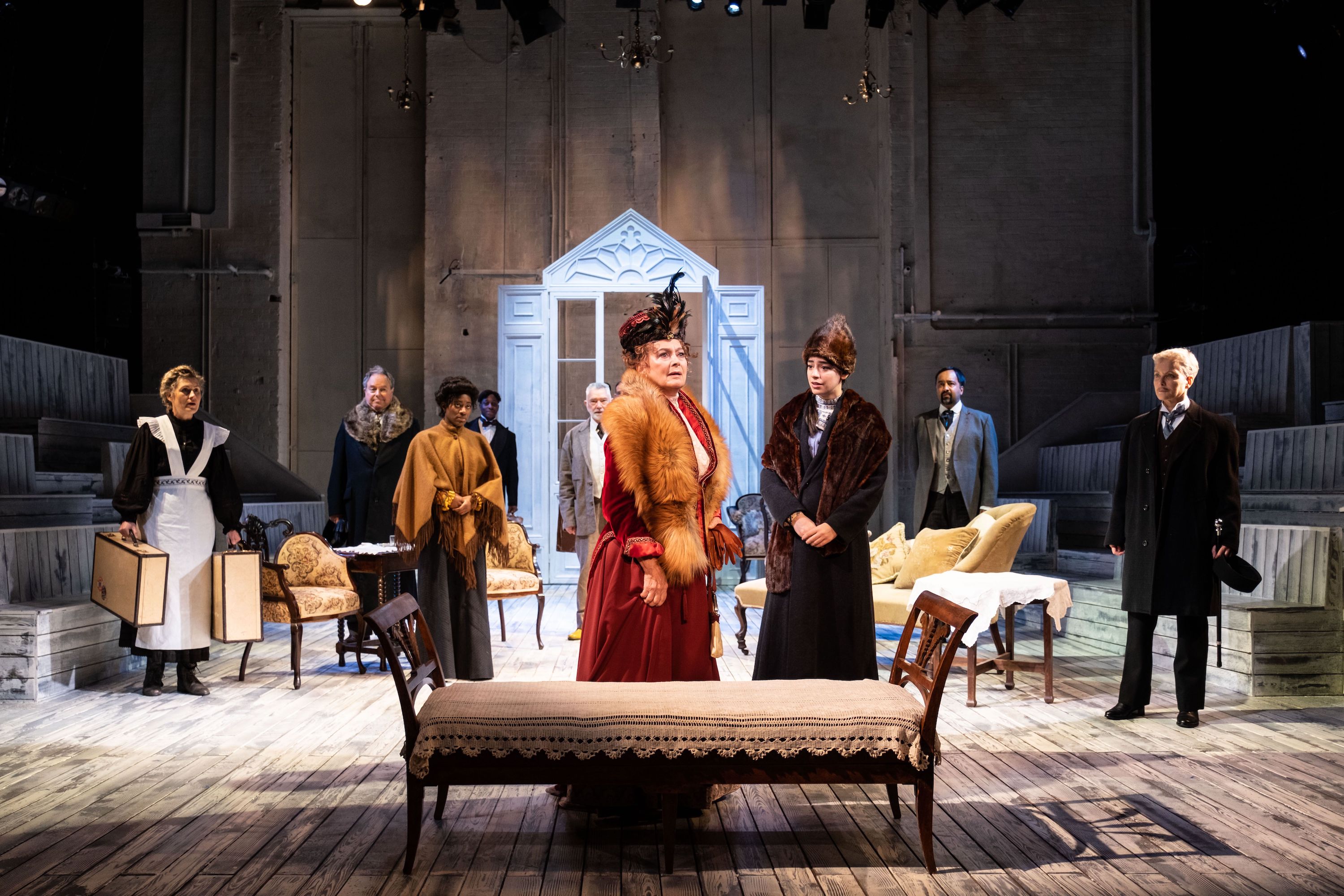 Sherman's speaking version is contemporary – "give it a rest", "you must be joking" – but that's okay, because the play is once again contemporary (Green Belt versus housing, Bullingdon Club versus the Universal Credit hordes, anyone?).
Mathias (who directed Bent, and a renowned 2013 Waiting for Godot with McKellen and Patrick Stewart) is clearly attracted by the pretend side of the characters, amping up their postures and then punctuating them in Chekhov's devastating confrontations. Robert Daws steers close to parody as the calculating dissolute Pishchik, giggling as he cons people, and Ben Allen is a poster-boy proto-revolutionary as Trofimov (the toughest role to pull off today), on the one hand proclaiming that only noble suffering makes life rich, yet also admitting, "We talk so we don't have to see."
Jenny Seagrove's gender-crossing Gaev is a mistake, purely on thespian grounds, but Missy Malek is a charming, honest Anya (she and Varya clearly share sisterly values), and Asif Khan does all that is possible with the unfortunate "Two Left Feet" Yepikhodov. Chekhov's insights shine bright In this lively production.