The Cherry Orchard, National Theatre |

reviews, news & interviews
The Cherry Orchard, National Theatre
The Cherry Orchard, National Theatre
Zoë Wanamaker shines in Howard Davies's murky production of Chekhov
Dead wood: Zoë Wanamaker as Ranyevskaya
A stench of decay rises from Howard Davies's production of this 1903 drama by Anton Chekhov. Ranyevskaya's wooden home, designed with characteristic visual eloquence by Bunny Christie, is quietly rotting. Weeds sprout through cracks, the windows are filthy; an ugly pylon raises its arms in the foreground, its wires stretching into a future of seismic political and social change for which the family – and Russia itself – are so ill prepared.
This is a staging of admirable complexity, in which our sympathies are engaged only to be repelled, and tenderness and longing are often met with the most brutal of rebuttals. It is not a wholly compelling production; but it shows a bracing unwillingness to shrink from the ugly and unpalatable.
The boldness of approach – and the emphasis on unmannerly modernity – is exemplified in Andrew Upton's version of the text. Upton heavily underlines the frequent references to banking and financial disaster, as if straining for simplistic topicality.
He also makes liberal use of anachronistic slang, and while this gives the dialogue a punchy immediacy, his linguistic choices often jar. Here, the clownish estate manager, Yepihodov (Pip Carter), gets taunted with the name "Bozo"; he snarls, "Boy, you're pushing it, girlie," to Varya (Claudie Blakley), Ranyevskaya's adopted daughter; and, worst of all, the uppity, and in Gerald Kyd's performance quite poisonous, manservant Yasha inexplicably employs a familiar song lyric when he remarks, in a tone as arch as his eyebrows, "Oh, Lord, please don't let me be misunderstood." Take your pick whether Upton is referencing the Animals cover or the Nina Simone original. It's bizarre, unfunny and it momentarily throws a peculiar pall of cynicism over the entire endeavour.
But though such intrusive indulgences impede the emotional and psychological flow of the action, some excellent acting and finely textured stage images ensure that the production has heft, if not always grace. Christie's set opens out, in the second act, to a riverside scene of tall grasses bathed in evening sunlight, before achieving a chilly, funereal finality in the last scene as the house is locked and shuttered.
Zoë Wanamaker is Ranyevskaya, the owner of the crumbling, bankrupt estate and orchard. From her first appearance, there is a self-deluding desperation about her. The play's opening sees her come back to the old home she deserted after the deaths of her alcoholic husband and her young son, who drowned. She returns having been abandoned in Paris by her lover; and Wanamaker gasps and dances around the house, caressing the furniture like an overexcited little girl – but her flightiness is an act. Raised in indolence and without a function, she craves male attention as essential to her sense of self – an addiction that she recognises has made her dependent on men who are in turn addicted to drink, gambling and vain hope.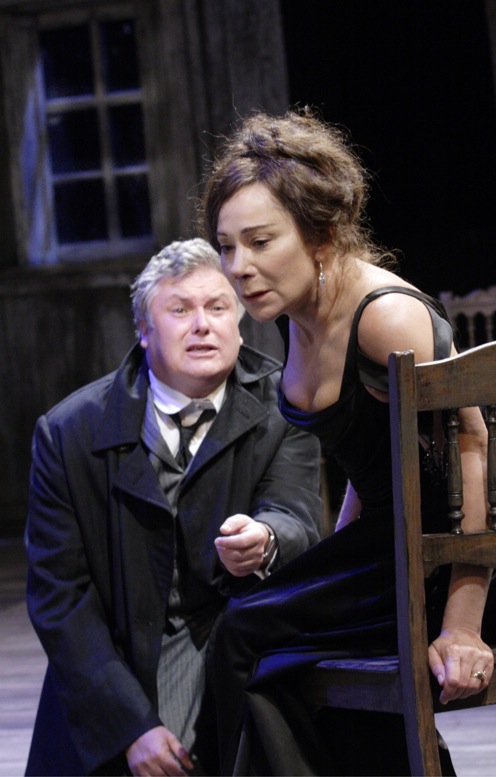 Gaev, her brother (James Laurenson), bumbling and burbling, is unlikely to be much support to her; and both arrogantly reject the proposition of the peasant-stock businessman Lopakhin (Conleth Hill) to cut down the cherry orchard for holiday homes.
Meanwhile, lonely Varya waits hopelessly for Lopakhin to speak the love she knows he feels for her but lacks the nerve to express; and Ranyevskaya's daughter Anya (Charity Wakefield) falls for firebrand, forward-thinking student Trofimov (Mark Bonnar) – who believes love is intellectually beneath him. And there are inequalities and unrequited passions among the servants, too, as Yasha, full of pretensions and aspirations picked up in Paris, seduces and torments the maid, Dunyasha (Emily Taaffe).
On the periphery are Kenneth Cranham as Firs, the ailing old family retainer; and the extraordinary Charlotta (Sarah Woodward), Anya's German governess. Uniquely in this milieu where everyone is acutely aware of, and to a large extent defined by, their origin, Charlotta has no idea of hers. She was raised among travelling performers, and still has the knack of a conjuring trick or a spot of ventriloquism, as well as a penchant for chewing on cucumbers. Belonging nowhere in particular, Charlotta is an enigma; and Woodward highlights not just her mystery, but the painful sense of placelessness it lends her. It's as if this Charlotta has conjured herself out of thin air; and she craves nothing more strongly than a feeling of belonging.
Wanamaker is intensely persuasive: sensual, impulsive, sometimes casually cruel, as often self-regarding as she is generous. And there's outstanding work, too, from Hill's Lopakhin (pictured right, with Wanamaker), determined to rise above his serf origins and behave well in spite of the intolerable rudeness he often encounters: at one point Tim McMullan as Ranyevskaya's boorish, impecunious neighbour pulls a face and holds his nose behind his back. It's small wonder that when Lopakhin ultimately succeeds in buying the estate, he allows himself to be driven to some vicious triumphalism. Years of humiliation, snubs suffered and hurt swallowed bubble up in his bitter words.
There could be more light, and more wit, in a production whose tone is largely brooding, a tendency not ameliorated by Upton's heavy-handedness. But there's a muscularity in the staging's refusal ever to let pain become too picturesque.
MORE CHEKHOV ON THEARTSDESK
The Cherry Orchard, Sovremennik, Noël Coward Theatre (2011). Russians soar in third, and final, offering of their first-ever London season
Uncle Vanya, The Print Room (2012). Iain Glen stars in a version of Chekhov at his most tenderly intimate
A Provincial Life, National Theatre Wales (2012). Moments of visual beauty punctuate a Chekhov adaptation that struggles to find its focus
Three Sisters, Young Vic (2012) Benedict Andrews' energetic update is stronger on ensemble work than individual performances
Uncle Vanya, Vakhtangov Theatre Company (2012). Anti-naturalistic Russian Chekhov buries humanity under burlesque and mannerism
Uncle Vanya, Vaudeville Theatre. Anna Friel, Laura Carmichael and Ken Stott shine bright in Lindsay Posner's production of Chekhov's drama
Longing, Hampstead Theatre (2013). William Boyd's dramatisation of two Chekhov stories with Iain Glen and Tamsin Greig is more pleasant than towering
The Cherry Orchard, Young Vic (2014). Katie Mitchell delivers Chekhov's masterpiece with devastating power

Uncle Vanya/Three Sisters, Wyndham's Theatre (2014). Quiet truth in finely observed ensemble Chekhov from the Mossovet State Academic Theatre
Winter Sleep. Turkish master Nuri Bilge Ceylan's Cannes Palme d'Or winner, based on Chekhov short stories, is huge in every sense
The Seagull, Regent's Park Open Air Theatre (2015). Strikingly staged Chekhov continues a strong season in the park
Uncle Vanya, Almeida Theatre (2016). Robert Icke's lengthy revival/reappraisal is largely a knockout
Young Chekhov, National Theatre (2016). Jonathan Kent's three-play Chekhovathon builds to a shattering climax
Wild Honey, Hampstead Theatre (2016). Early Chekhov begins strongly then falls away
Wanamaker is intensely persuasive: sensual, impulsive, sometimes casually cruel, and as often self-regarding as she is generous
Explore topics
Share this article