Angels in America, National Theatre review - Andrew Garfield and company soar in seismic revival |

reviews, news & interviews
Angels in America, National Theatre review - Andrew Garfield and company soar in seismic revival
Angels in America, National Theatre review - Andrew Garfield and company soar in seismic revival
Tony Kushner's great work arrives anew in London
Boy wonder: Andrew Garfield as Prior Walter in `Angels in America'
"We live past hope," or so remarks the AIDS-afflicted drag queen-turned-prophet, Prior Walter (Andrew Garfield), late in Angels in America.
But surely not even Tony Kushner, author of the eight-hour theatrical landmark that some while ago entered the canon of contemporary classics, could have hoped for lightning to strike twice when it comes to the
National Theatre
and his play.
Twenty-five years ago, this same address launched Kushner as a major name on the back of Declan Donnellan's flinty British premiere of the diptych's first and more immediately accessible half, Millennium Approaches, followed a season or more later by its more stylistically challenging and adventuresome successor, Perestroika, which remains my personal favourite of the pair. And here both plays are again, opening as a daylong marathon in a Marianne Elliott production featuring the cast of anyone's dreams. In between, the play has received multiple high-profile New York productions (George Wolfe's glorious Broadway premiere among them), a 2007 London revival, and, of course, a vaunted Mike Nichols TV film.
But whether it's due to our troubled times and the gathering sense – to counter Prior's firmly-held dictum that "the world only spins forward" – that we're somehow regressing by the day, I was more moved by this iteration of Kushner's singular cosmology than I have perhaps ever been before. At no point more so than when I arrived home afterwards to discover news of the passage in Washington of a malign health-care bill that bears out the assessment proffered from the Lyttelton stage by the nurse Belize (an instantly winning Nathan Stewart-Jarrett), who calls America "terminal, crazy and mean".
Perhaps it's not Prior, in the magnificently black-swathed, sinuous form of the unforgettable Garfield, who is the prophet here but Kushner himself, given a play that resonates anew both as a specific chronicle of a grievous New York moment and as a renewed appeal to the individual call to arms enfolded in Prior's climactic appeal for "more life" – a quality with which this play is blessed in abundance, as Elliott and her deeply empathic cast make clear at every turn.
No one could have imagined, for instance, back in 1992 that Kushner's realisation of the wily and wildly amoral lawyer Roy Cohn would seem a quarter-century later to represent a surrogate of sorts for Donald Trump, who revered Cohn until such time as the young mogul's mentor was sick and dying and Trump looked away. (Roy at one point even refers to "the swamp".) In a National Theatre debut of real significance, the invaluable Broadway mainstay Nathan Lane (nominated for a Tony Award earlier this week for his barnstorming turn in The Front Page) rejoices in the frenetic comedy in the role, as one might expect. Juggling calls like the octopus he dreams of being, his Cohn is nowhere funnier than when barking show titles down the line, like a crazed carnival barker debating the virtues of Cats vs La Cage aux Folles. But once his body betrays him by succumbing to a disease only meant for the gay men among whom Cohn refuses to count himself, Lane lays bare pitiable reserves to this putative monster that are remarkable to behold. "I almost feel sorry for you," Belize says to Roy, and miraculously and thanks to Lane, one does. (Stewart-Jarrett and Lane are pictured above)
The story's abiding Satanic impulse though he is, Kushner's Cohn exists on the periphery of the play's defining quartet, which tracks two couples rent asunder by illness, and deception, too. The brainiac leftist Louis (James McArdle, the protean Scotsman extending his range yet again) can't take the fact that his boyfriend Prior is succumbing to AIDS and embarks upon a relationship with an acolyte of Cohn's, the closeted Mormon Joe Pitt (an accent-perfect Russell Tovey), who would seem in every way to be Louis's polar opposite. Joe's burgeoning sexuality casts adrift his Valium-addicted wife Harper (a rivetingly dreamy Denise Gough, sporting newly shorn locks and pictured below), who embarks upon her own hallucinatory journey toward a snowy Antarctic landscape of the soul. Kushner enfolds within this interwoven narrative a portrait of a riven America that refracts the country through prisms that are by turns political, historical, and sexual, the play's form at one point directly invoking Steven Spielberg while containing within it an elasticity and freedom that suggest Shakespeare by way of Caryl Churchill.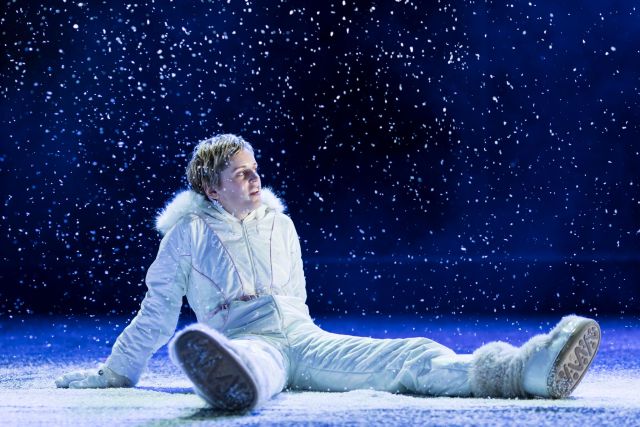 Where else but in Kusnhner's febrile mind might you find a convention of angels sharing a stage with the world's "oldest living Bolshevik", not to mention two various ancestors of Prior – the prior Priors if you will – one of whom allows a wigged Lane to announce himself as a possible recruit to Restoration comedy: now there's an idea! Millennium Approaches famously ends with the self-consciously Spielbergian finale that here comes accompanied by some John Williams-esque music and Elliott, in true War Horse fashion, delivering Amanda Lawrence's beaky provocateur of an angel from the ground up: she's a winged inseminator accompanied by her own retinue, Titania-style, but whom Prior by the end of Perestroika must rebuff if he is to stagger toward the "new century" where, a homeless woman (Lawrence again) remarks in passing, "we will all be insane".
It's the play's great achievement, of course, that its fearless facing down of the abyss is at every turn inflected with the compassion and gallantry that come to define Prior, who rises from his sickbed to take ownership both of the knottier passages of Perestroika and of the audience, whom he directly blesses as a parting salvo. And whether giving us his best Norma Desmond here or a bit of My Fair Lady there, a ceaselessly lithe Garfield is as "fabulous" (an important word for Prior) as one could wish for. His "ex-ex-drag queen" is rarely more than a song lyric away from despair and yet possessed of a fortitude that represents our only way forward, whether individually or as the community envisaged in the reconstituted foursome who take centre-stage at the close.
If I have one reservation about this most emotionally capacious of productions, it has to do with an overly tricksy and fussy set from Ian MacNeil . The forbidding visuals lend a cramped and brutalist feel to the turntable-driven first play, and only give the barest sense of time and place in the second, the ending of which represents a hymn to New York to rival the Woody Allen who gave us Manhattan. Still, just as Prior can look beyond darkness to find the light (and Elliott cunningly brings the house lights up for his final exhortation), it's not hard to look beyond the facelessly geometric design to find writ large a generosity of vision and spirit whereby it may be "late in the day for saints and everyone" but it's never too late for life and love.
No one could have guessed in 1992 that the wily, wildly amoral lawyer Roy Cohn would come to represent a surrogate of sorts for Donald Trump
rating
Explore topics
Share this article