Der Rosenkavalier, English National Opera |

reviews, news & interviews
Der Rosenkavalier, English National Opera
Der Rosenkavalier, English National Opera
David McVicar and Edward Gardner deliver a riveting account of Strauss's popular opera
'There is no woman that can escape this fate': Amanda Roocroft's Marschallin in 'Der Rosenkavalier'
As in sex, so it is in music: there's a lot riding on the climax. The celebrated third act trio of Der Rosenkavalier is arguably the most famous orgasm in music – dear reader, can you name a better one? – but time it wrongly and you'll regret it. There is, however, absolutely nothing regrettable about this A-list cast in the hands of director David McVicar and conductor Edward Gardner. Theirs is the most assured, most riveting Rosenkavalier in this country for years.
Lush, plush and dangerous to know though Strauss's score is, many directors shy away from the opera for the simple reason that there's nothing you can "do" with it. Hofmannstahl's libretto is too inextricably linked to a Viennese period, its class and demeanour, to be shifted radically in order to illustrate a directorial conceit. Indeed, few operas outside Mozart have more convincing and crucial dramatic detail in both music and text so all you have to do is follow the instructions and do it well – which is considerably easier said than done.
Paradoxically, the precision of the writing can be a stumbling block. Aside from native/fluent German speakers, too many singers faced with a libretto this wordy wind up delivering generalisations that merely serve to underline the opera's longueurs. But McVicar's mining of the relationships and this cast's punctilious performances make an ideal case for opera in translation. These singing actors make you realise there's far more to this opera than can be fitted on to a highlights disc.
As the Marschallin sings just before the trio, "There is no woman that can escape this fate." That inexorable working of time on lovers, the opera's governing idea, is dramatised in three acts covering the action of two days which see Sarah Connolly's coltish Octavian's shifting allegiance from Amanda Roocroft's watchful Marschallin to Sophie Bevan's vivid Sophie (pictured above right with Connolly). They're assisted by McVicar's own set design (pictured below) which although considerably less extravagant than most productions, does a surprising amount of thematic work. The same room, differently dressed for each of the three addresses, acts as a kind of calm, cyclical backdrop with the final lovers mirroring those of the opening. The idea is even expressed in the wigs: Sophie's hairstyle is a blonder, crucially younger, version of the Marschallin's.
Roocroft doesn't have the supposedly "ideal" creamy Straussian soprano tone but she makes up for that with the depth of her characterisation. Her quiet, first act reflections on how she too was young once are tinged with exquisite resignation. She also plays her character's necessary high status effortlessly. Keeping her vocal power in check means that the dramatic moments that really demand it – the dismissal of Ochs ­– really land. Roocroft also savours her character's lust. In the opening bed scene, momentarily distracted by sounds from outside, Octavian sits up and looks out of the window, only to have Roocroft yank his head back into her lap for matters more urgent.
A tiny moment like that is indicative of the constant shifts in power that McVicar opens up in the minutely calibrated tensions not only between the Marschallin and Octavian but between Octavian and Sophie. In the latter role, Bevan makes an outstanding debut. Never pert, she's vivacious and excitable and her performance is thrillingly grounded by a vocal richness and power wholly unexpected in a role usually sung by a silvery high soubrette. Her command instantly suggests her not only as a Susannah-in-waiting, but a Countess.
Linking the women is Connolly's glowingly Octavian. Her top register is so powerfully resonant that it allows her to reveal this adolescent's supremely cocky self-assurance. Then, just when you've earmarked her character as headstrong, she stops the heart by simply standing still, her eyes filling with tears as the Marschallin gently dismisses her.
Connolly also dignifies the problematic third act with wit (and a proper Yorkshire accent) rather than the hammy "comic" overacting beloved of lesser mezzos in the wrangling with Ochs. In any other production, John Tomlinson's bravura turn (pictured left) would steal the show. The sheer heft of his sound and the burnished tone in the middle of his voice indicates just how much of a good time he's having but McVicar's grip ensures that his character's gleeful vulgarity never topples over into caricature.
All of this is cushioned, controlled and driven by Edward Gardneron top form. He conjures wonderfully well-upholstered string playing and hugely evocative sounds from the woodwind and low brass. Better yet, from the racing of the overture to the dangerously but thrillingly slow trio, his individual tempi are absolutely linked into the whole. Strauss may have written a luscious drama for three lovers, but the orchestra has a role all its own as ultimately revealed in the aforementioned orgasm. Heralded by the yearning of the horns, Gardner's players unleash a climatic flood of sound that crowns the characters who, like the audience, appear stunned by the emotional release.
MORE RICHARD STRAUSS ON THEARTSDESK


Der Rosenkavalier, Royal Opera (2009). Uneven revival of John Schlesinger's 25-year-old production
Capriccio, Grange Park Opera (2010). Lively staging, stylish singing and a welcome intrusion of wartime reality
Salome, Royal Opera (2010). Angela Denoke's mercurial Salome (pictured below by Clive Barda) shimmers in Strauss's monstrously beautiful opera
Ariadne auf Naxos, Welsh National Opera (2010). Hoffmansthal's libretto is all about fidelity. This updating is faithful, up to a point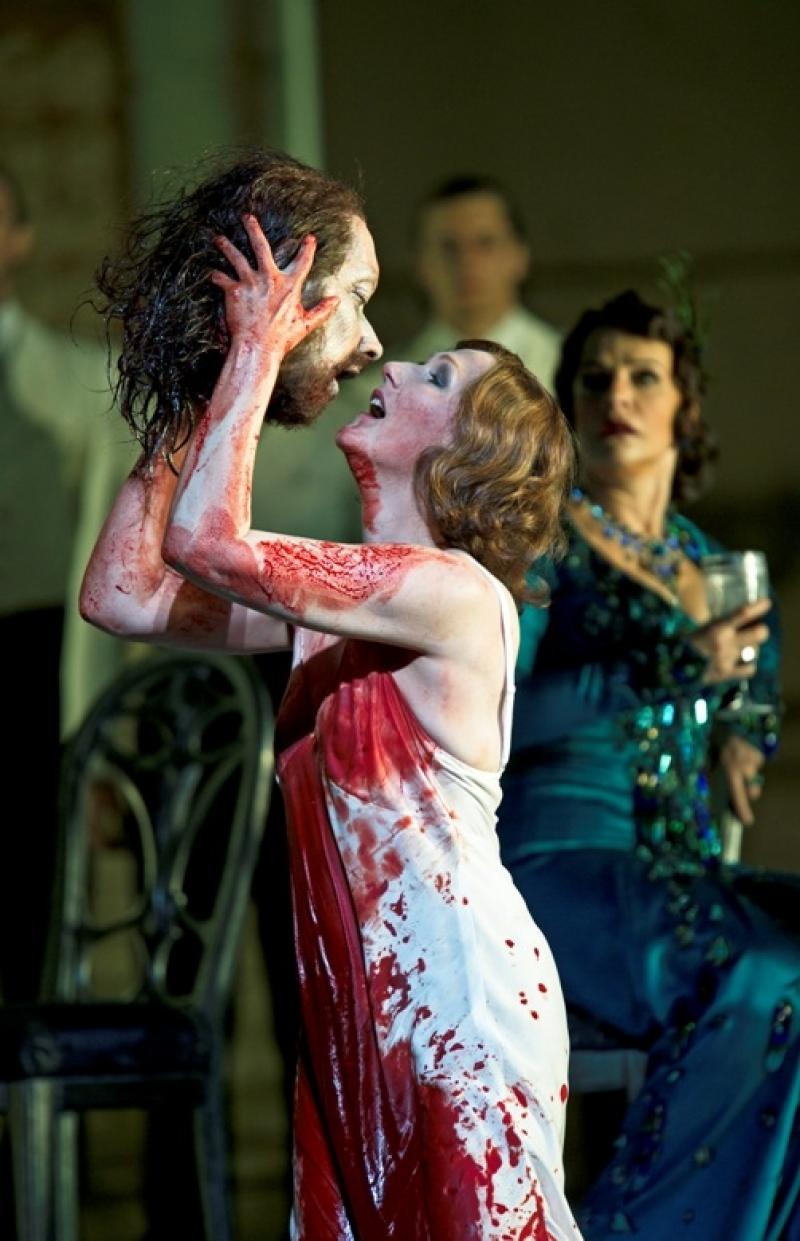 Intermezzo, Scottish Opera (2011). Soprano Anita Bader graces a Klimtian take on Richard Strauss's domestic comedy
Die Frau ohne Schatten, Mariinsky Opera (2011). Strauss's massive fairy tale makes a rare outing in Gergiev's musically strong venture at the Edinburgh Festival
Intermezzo, Buxton Festival (2012). Fine style in Strauss's comedy-with-feeling
Ariadne auf Naxos, Glyndebourne Festival Opera (2013). Strauss's opera reluctantly enters the Battle of Britain courtesy of a young German director
Capriccio, Royal Opera (2013). Renée Fleming leads superlative cast in concert performance of Strauss's operatic debate

Elektra, Royal Opera (2013). Revival with Christine Goerke in the title role hits the horrid heart of the matter in Strauss's poleaxing masterpiece
Die Frau ohne Schatten, Royal Opera (2014). Compelling dream-interpretation of Strauss's myth graced by fine singing and Semyon Bychkov's conducting
Der Rosenkavalier, Glyndebourne (2014). Richard Jones finds new order in rococo comedy for music, with Kate Royal as the Marschallin

Salome, BBC Proms (2014). Nina Stemme stuns with Donald Runnicles and the Deutsche Oper Berlin in a giddying account of Strauss's incredible score at the Proms
Ariadne auf Naxos, Royal Opera (2014). Two nymphs are the real revelation in this revival of evergreen hybrid
Salome, Symphony Hall, Birmingham (2015). Lise Lindstrom steals the show from Karabits and Bournemouth SO as a sensual Strauss anti-heroine in concert
Der Rosenkavalier, Royal Opera (2016). Robert Carsen's handsome production with Renée Fleming is elevated by superb orchestral playing