Der Rosenkavalier, Royal Opera |

reviews, news & interviews
Der Rosenkavalier, Royal Opera
Der Rosenkavalier, Royal Opera
Robert Carsen's handsome production with Renée Fleming is elevated by superb orchestral playing
The Marschallin (Renée Fleming) surrenders her Octavian to Sophie (Sophie Bevan)
Der Rosenkavalier is an opera of thresholds. Characters are caught between states – girlhood and marriage, lover and lover-no-more, woman and whatever lies beyond sexuality and desirability – while around them a city and a nation are also poised on the brink, blocking out the noisy winds of change with waltzes that swirl ever more urgently through parquet ballrooms and gilded staterooms.
Doorways give way to doorways in Robert Carsen's new production of the opera, drawing the eye endlessly forwards, though without ever revealing what really lies ahead.
I say new production, but in many ways this Rosenkavalier is an elaboration of Carsen's 2004 staging for Salzburg. Paul Steinberg's sets make much more than a nod towards the originals by Peter Pabst, with Act II revealing the only substantial visual alteration. Carsen updates the action from the 1740s to 1911 – the opera's year of composition. Where originally the narrative horizon concealed revolution and Enlightenment, now we can make out the silhouette of the First World War. The world of the Marschallin and her kind is about to give way to that of the arriviste Faninal – here an arms dealer, whose home is dominated by two giant guns.
This is a man's world, miles away from the fairytale abstraction of the Schlesinger production it replaces. The softness and intimacy of the opening scene between the Marschallin and Octavian is framed by the gaze of the generals and troops whose paintings fill the brocade covered walls of the bedroom, a stolen moment of female pleasure and power. Sophie's Act II encounter with Ochs takes things further. Paintings of men become an entire cohort of living soldiers, encircling her, watching her humiliation. Only in Act III (no country inn for Carsen, but a gaudy brothel) do women dominate, but even here among the cross-dressing and the nudity such dominance is illusory.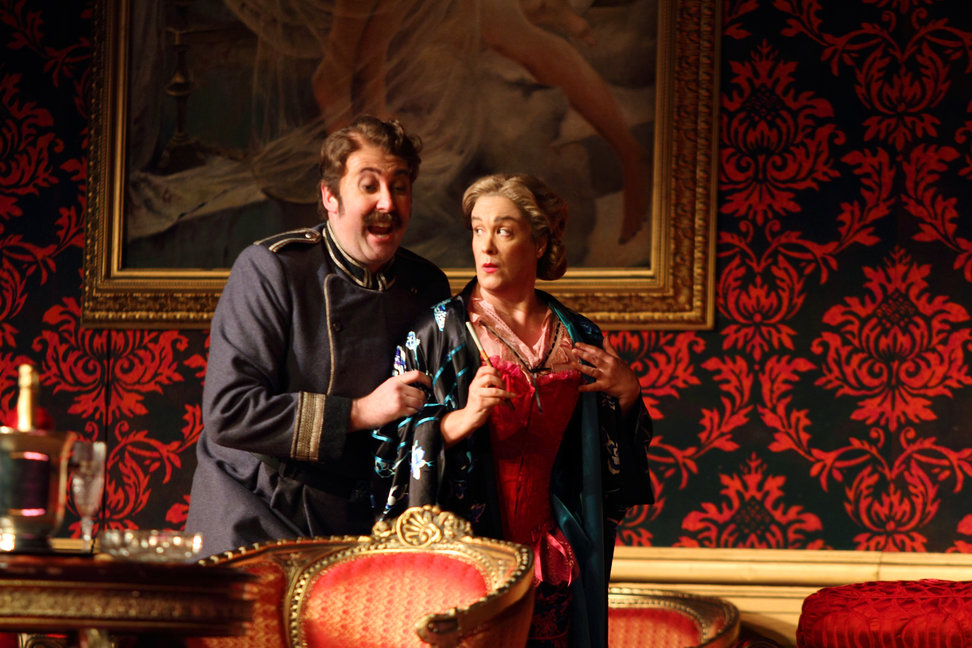 A co-production with the Metropolitan Opera, the show was devised as a farewell vehicle for Renée Fleming. The parallels here between a soprano gracefully stepping away from her art and a woman releasing her young lover are potent, and if it's hard to separate the two narratives then it's a legitimate, evocative confusion that makes for an emotive Act I, and an even more charged trio. Fleming's voice is now so much smaller, its power husbanded so carefully, that there's a very real fragility to it. Set against deliberately oversized, bombastic sets, its pathos is keen, sharpened by the delicate phrasing that is very much still within Fleming's command, and supported by sensitive accompaniment from Andris Nelsons's pit.
But if Fleming is the singer the audience is there to see, Matthew Rose's Ochs (pictured above with Alice Coote as Octavian) is the one they will remember hearing. It's hard to imagine a more beautifully or fully sung Baron. There's no buffo blustering here, just lovely long lines and full tone, whose patrician elegant cuts neatly against the vulgarity and violence of his behaviour. Carsen has no interest in caricature, and this villain is all the more unsettling for his plausibility. There are few out-loud laughs in the Mariandel scenes, but that's exactly as the director wants it, transforming a farce into something real, something more threatening.
Alice Coote's Octavian (pictured below with Sophie Bevan as Sophie) is the other stand-out – boyish in tone as appearance, muscular and androgynous through her own music (some may find her tone too severe for Strauss), but softening into supporting warmth and sheen for the closing trio and final duet with Sophie. Her chemistry with Fleming is gentle, believable, but no match for the romping desire of her later encounters with Sophie. But Sophie Bevan's heroine is less well cast. Though musical as ever, there's no concealing that hers isn't that naturally silvery, diaphanous soprano that does for the vocal textures what the rose theme does for the orchestral ones, tempering the string heat with that cool glimmer of flutes.
Carsen's resistance to caricature makes an interesting challenge of many of the supporting roles. Jochen Schmeckenbecher's Faninal is decorous rather than spivvy, his ambition only evident in his collusion with the Baron's Act II violence, and Miranda Keys manages to find some unusual ambiguities in her brief appearance as Sophie's duenna Marianne (a character she also portrayed memorably in Richard Jones's Glyndebourne production). Helene Schneiderman's Annina catches attention with her brightly matter-of-fact delivery, and some unexpected by-play with the Marschallin brings fresh interest to Scott Conner's Police Commissioner.
Handsome and functional, with just enough political bite to counteract decades of Schlesinger fantasy, this Rosenkavalier promises to serve the company well. It's certainly a good foil for Nelsons, whose account of the score, from a hurtling, surging Prelude onwards, tempers indulgence with driving energy and urgency. Despite the Marschallin's best attempts to stop the clocks, time paces forwards. It's a tread whose impact we feel strongly here in Carsen's updated setting, whose contemporary parallels speak so much louder now than they did in 2004. The time for fairytales is past; even a silver rose has its thorns.
MORE RICHARD STRAUSS ON THEARTSDESK


Der Rosenkavalier, Royal Opera (2009). Uneven revival of John Schlesinger's 25-year-old production
Capriccio, Grange Park Opera (2010). Lively staging, stylish singing and a welcome intrusion of wartime reality
Salome, Royal Opera (2010). Angela Denoke's mercurial Salome (pictured below by Clive Barda) shimmers in Strauss's monstrously beautiful opera
Ariadne auf Naxos, Welsh National Opera (2010). Hoffmansthal's libretto is all about fidelity. This updating is faithful, up to a point
Intermezzo, Scottish Opera (2011). Soprano Anita Bader graces a Klimtian take on Richard Strauss's domestic comedy
Die Frau ohne Schatten, Mariinsky Opera (2011). Strauss's massive fairy tale makes a rare outing in Gergiev's musically strong venture at the Edinburgh Festival
Der Rosenkavalier, English National Opera (2012). David McVicar and Edward Gardner deliver a riveting account of Strauss's popular opera with Amanda Roocroft as the Marschallin
Intermezzo, Buxton Festival (2012). Fine style in Strauss's comedy-with-feeling
Ariadne auf Naxos, Glyndebourne Festival Opera (2013). Strauss's opera reluctantly enters the Battle of Britain courtesy of a young German director
Capriccio, Royal Opera (2013). Renée Fleming leads superlative cast in concert performance of Strauss's operatic debate

Elektra, Royal Opera (2013). Revival with Christine Goerke in the title role hits the horrid heart of the matter in Strauss's poleaxing masterpiece
Die Frau ohne Schatten, Royal Opera (2014). Compelling dream-interpretation of Strauss's myth graced by fine singing and Semyon Bychkov's conducting
Der Rosenkavalier, Glyndebourne (2014). Richard Jones finds new order in rococo comedy for music, with Kate Royal as the Marschallin

Salome, BBC Proms (2014). Nina Stemme stuns with Donald Runnicles and the Deutsche Oper Berlin in a giddying account of Strauss's incredible score at the Proms
Ariadne auf Naxos, Royal Opera (2014). Two nymphs are the real revelation in this revival of evergreen hybrid
Salome, Symphony Hall, Birmingham (2015). Lise Lindstrom steals the show from Karabits and Bournemouth SO as a sensual Strauss anti-heroine in concert
If Fleming is the singer the audience is there to see, Matthew Rose's Ochs is the one they will remember hearing.
rating
Explore topics
Share this article