Der Rosenkavalier - Cast 2, Royal Opera |

reviews, news & interviews
Der Rosenkavalier - Cast 2, Royal Opera
Der Rosenkavalier - Cast 2, Royal Opera
Amber and gold from a second Marschallin and Octavian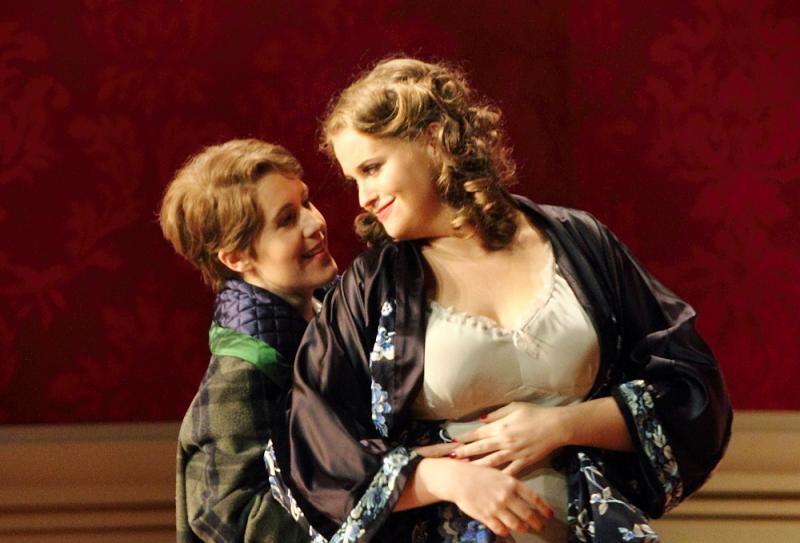 Anna Stéphany as Octavian and Rachel Willis-Sørensen as the Marschallin in Act One's post-coital contentment
Fiftysomething may well be the new 32, the age Strauss and Hofmannsthal made the central figure of the Marschallin in their "comedy for music" Der Rosenkavalier.
Hearts and minds no doubt still move with Ren
é
e Fleming, senior doyenne of the role in Robert Carsen's Royal Opera production, but she is mirroring her character in bowing out gracefully to the next generation, and fellow American Rachel Willis-Sørensen is clearly the new Princess Werdenberg on the Viennese block. Even cast one's Octavian, the impassioned Alice Coote, is a known quantity to many of us, cast two's London-trained Anna St
é
phany not so until now, at least in the UK.
It's odd not to find a single previous Strauss role mentioned in Willis-Sørensen's programme biography, since it was her wilful Diemut in a Dresden semi-staged performance of his first romantic comedy, Feuersnot, which promised so well for her Marschallin. And here she is, a gracious and full-figured grande dame, making it clear why Antonio Pappano has chosen her to sing a killer role, Beethoven's Leonora. If that suggests more weight in this Strauss than usual, it goes hand in glove with Andris Nelsons' often very slow interpretation of the crucial monologues on the passing of time at the end of the first act. Already tailored for Fleming, perhaps, who I always thought made heavy weather of the older woman's sense of transience, and this is decidedly a Marschallin inclining to the tragic side rather than the suggested "one eye wet, the other dry".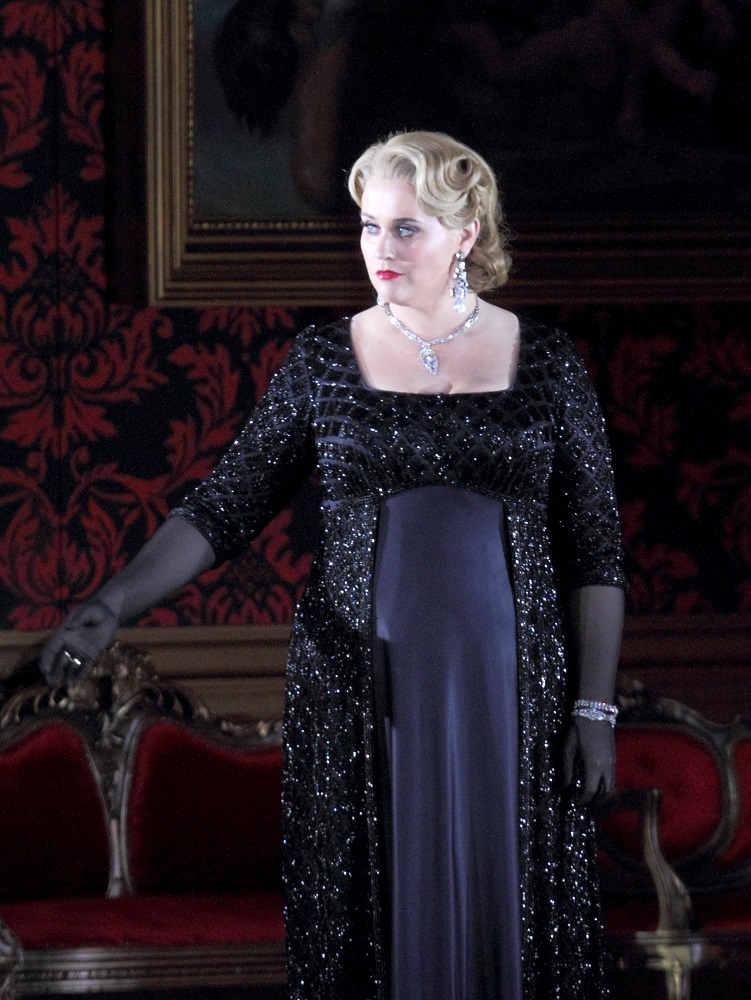 Yet Willis-Sørensen (pictured right in Act 3) certainly doesn't milk it or strike any of Fleming's more artificial notes, even if her golden middle range evokes a more powerful version of the Renée sound. The lower register is even richer and organically well connected to the rest, ample compensation for any lack of the conversational lightness at which Fleming excels. Willis-Sørensen gives full value to every note, not easy given Nelsons' demands, and she's exceptionally well matched to Stéphany's equally vibrant Octavian.
Convincingly boyish – choir-boyish, even, which makes the relationship between a teenage boy and a 32-year-old woman slightly queasier than usual – Stéphany peals out the impetuousness and can always be heard in the conflicts of Act Two. Perhaps she's a little too solid in the Presentation of the Rose to suggest airborne magic, but Sophie Bevan compensates amply in a pitch-perfect performance as the love-object-at-first sight (I can't agree with my colleague Alexandra Coghlan that there's anything wanting here, even if – the opera's ever-pertinent awareness of time's passing becomes apt again – Bevan may be past the very first flush of youth at the top of the register). And Stéphany is the confused boy to the life in Act 3 (pictured below).
That now makes – again, contradicting the original review – Matthew Rose the only less than fully vivid contender among the four principals, and not as yet anything near a match for the senior Rose-as-Ochs, Peter. It may be that his Baron needs to be a sober chauvinist pig in line with Robert Carsen's sombre take on a world of male entitlement, and it's good not to get the usual shtick, but there's very little genuine comedy here.
Unexpected humour does surface in the situations of Act Three, translated from the nominal setting of a seedy inn – Carsen throws out so much of Hofmannsthal's original book, with mixed results – to a gaudy brothel, genius designer Paul Steinberg pointedly paralleling and parodying the Edwardian Hofburgesque red and gold of the Act One palace. Extravagant riches indeed, and maybe too much money was thrown at the production; where Carsen has commanded at least half a dozen pictures of dominant men in Act 1 and of fleshly ladies in Act 3, Richard Jones at Glyndebourne let Steinberg say it with one apiece. Alasdair Elliott's drag madam – for which read plain "Innkeeper" in the original scenario – is one of the many delights here, and unlike so many of his predecessors at Covent Garden, hits the top B flat as he announces the unexpected arrival of the Marschallin spot-on (it's a good supporting cast for high notes – earlier, Miranda Keys' Duenna crowns the Act Two ensemble with a startling high C).
From this point, with the long-delayed return of the key character, meaning and drama soar with the second cast, as they must. That's partly due to Nelsons who, if he perversely avoids Strauss's intended sense of pace at too many points – no Carlos Kleiber-style fizz here – always gets the right incandescence in the spider-web of sound, with stunning wind solos throughout. And yes, these three voices in the Trio are as rich and texturally aware as any you're likely to hear. Which means this is a quality Rosenkavalier which looks like a million groschen and offers all the ideal sounds. How many more such Strauss evenings the Royal Opera can furnish in a world where financial constraints begin to bite I don't know, but enjoy the lavishness on every level while you can.
MORE RICHARD STRAUSS ON THEARTSDESK


Der Rosenkavalier, Royal Opera (2009). Uneven revival of John Schlesinger's 25-year-old production
Capriccio, Grange Park Opera (2010). Lively staging, stylish singing and a welcome intrusion of wartime reality
Salome, Royal Opera (2010). Angela Denoke's mercurial Salome (pictured below by Clive Barda) shimmers in Strauss's monstrously beautiful opera
Ariadne auf Naxos, Welsh National Opera (2010). Hoffmansthal's libretto is all about fidelity. This updating is faithful, up to a point
Intermezzo, Scottish Opera (2011). Soprano Anita Bader graces a Klimtian take on Richard Strauss's domestic comedy
Die Frau ohne Schatten, Mariinsky Opera (2011). Strauss's massive fairy tale makes a rare outing in Gergiev's musically strong venture at the Edinburgh Festival
Der Rosenkavalier, English National Opera (2012). David McVicar and Edward Gardner deliver a riveting account of Strauss's popular opera with Amanda Roocroft as the Marschallin
Intermezzo, Buxton Festival (2012). Fine style in Strauss's comedy-with-feeling
Ariadne auf Naxos, Glyndebourne Festival Opera (2013). Strauss's opera reluctantly enters the Battle of Britain courtesy of a young German director
Capriccio, Royal Opera (2013). Renée Fleming leads superlative cast in concert performance of Strauss's operatic debate

Elektra, Royal Opera (2013). Revival with Christine Goerke in the title role hits the horrid heart of the matter in Strauss's poleaxing masterpiece
Die Frau ohne Schatten, Royal Opera (2014). Compelling dream-interpretation of Strauss's myth graced by fine singing and Semyon Bychkov's conducting
Der Rosenkavalier, Glyndebourne (2014). Richard Jones finds new order in rococo comedy for music, with Kate Royal as the Marschallin

Salome, BBC Proms (2014). Nina Stemme stuns with Donald Runnicles and the Deutsche Oper Berlin in a giddying account of Strauss's incredible score at the Proms
Ariadne auf Naxos, Royal Opera (2014). Two nymphs are the real revelation in this revival of evergreen hybrid
Salome, Symphony Hall, Birmingham (2015). Lise Lindstrom steals the show from Karabits and Bournemouth SO as a sensual Strauss anti-heroine in concert