La clemenza di Tito, Glyndebourne review - fine musical manoeuvres in the dark |

reviews, news & interviews
La clemenza di Tito, Glyndebourne review - fine musical manoeuvres in the dark
La clemenza di Tito, Glyndebourne review - fine musical manoeuvres in the dark
Meaningful one-to-ones and Mozartian excellence founder in the obscurity of this setting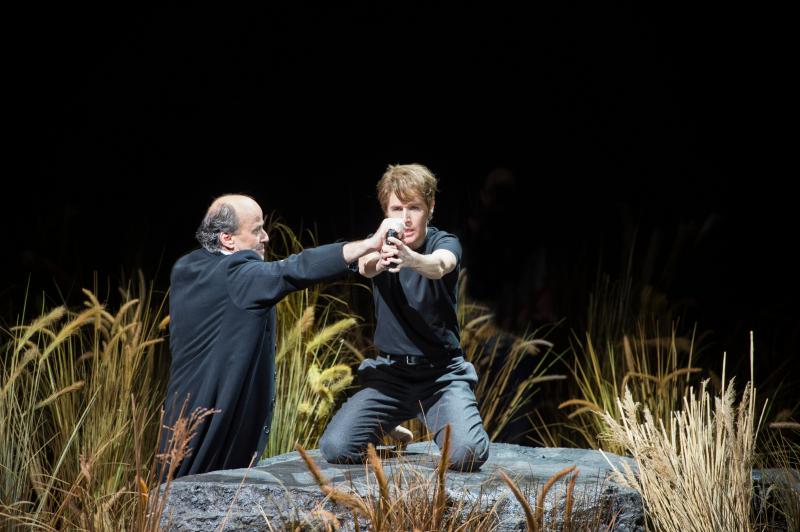 Best friends or a father-son relationship? Richard Croft as Tito and Anna Stéphany as Sesto
So much light in the Glyndebourne production of Brett Dean's Hamlet; so much darkness in Mozart's La clemenza di Tito according to director Claus Guth.
Something is irredeemably rotten in the state of ancient Rome, at odds with the fundamental enlightenment and radiance of
Mozart'
s last complete opera. And yet the basis is a sentimental one: two little boys playing around a lake not dissimilar to Glyndebourne's grow up for one – the fundamentally loving Sesto – to betray the other, Emperor Titus. Is the shooting of a wild magpie which betrayed the idyll to be replayed in adult human terms? I wish I cared more.
The wild reedbeds of the two leading characters' childhood are still there against a pitch-black background; above, when the video of the past isn't playing – with a technical hitch through last night's Overture – two grim neo-classical rooms represent the Roman palace, often populated by that cliche of concept opera, men in black suits (played by both sexes of the ever-game and resonant Glyndebourne chorus and unnecessary extra actors). Christian Schmidt's designs don't really work, half messy naturalism, half metaphor (one we actually could have done with in the much worse Glyndebourne production of Mozart's La finta giardiniera, where the crumbling ballroom failed to capture the contrast between civilization and the wilds).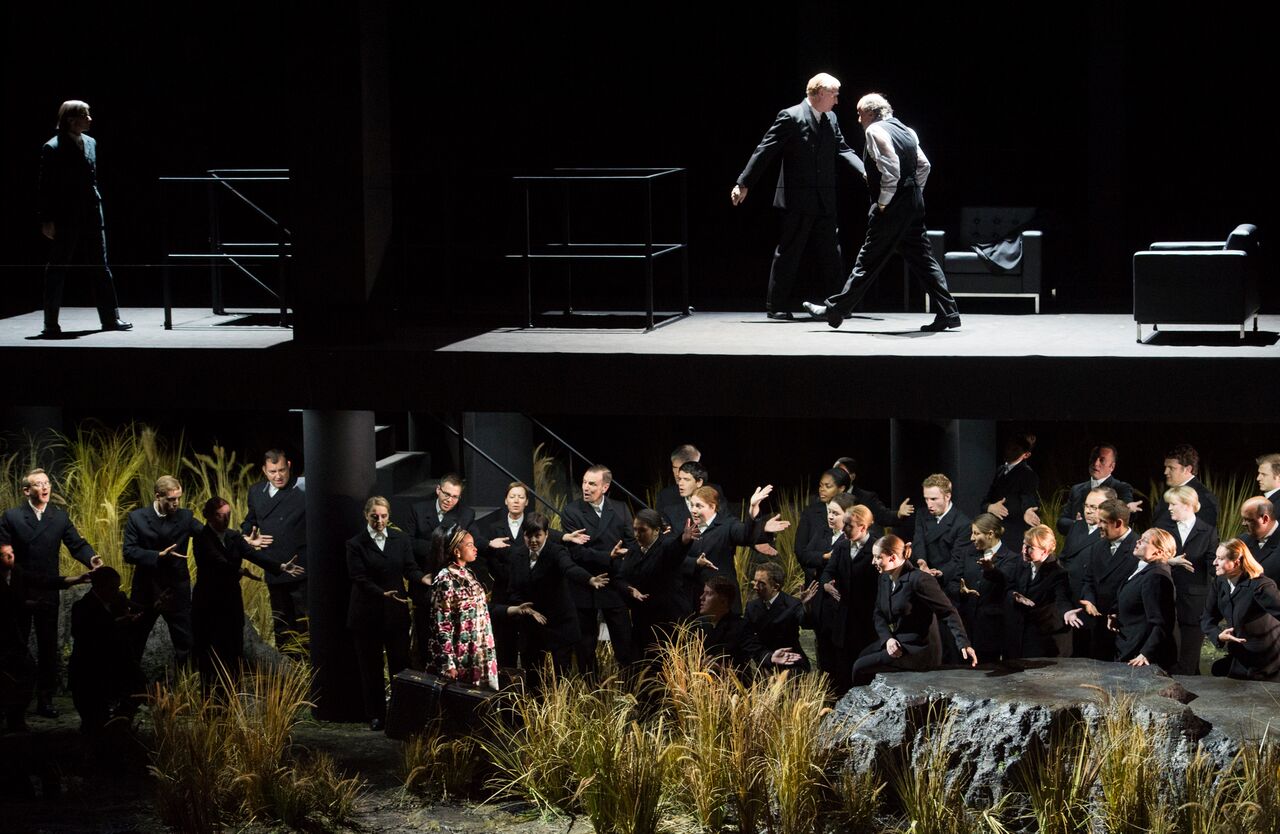 It's a pity, because much of what is acted and sung out against this is the best of personenregie, the director's art of getting the singers to engage humanly and meaningfully with each other, and has focus and fire (pictured above: the Emperor's beloved prospective consort Berenice is sent away for state reasons). What we see would be possible in just about any setting including the Roman (Glyndebourne's last and only previous production, by Nicholas Hytner, had pretty Pompeiian reds and blues framing a tepid drama). The revelatory clarity and flexible expression Glyndebourne Music Director Robin Ticciati draws from the Orchestra of the Age of Enlightenment are matched by nearly all the singing from superb stylists.
Yet even here there's a catch. The decent, ritual-trapped Emperor, Richard Croft – a superb replacement for Steve Davislim, who left owing to "differences" – looks twice the age of his best friend Sesto (wondrous Anna Stéphany an equally silvery replacement for Kate Lindsey, who found herself with child). Not only does it take longer to twig that they're the two boys of the video sequences, but the relationship seems more that of father Idomeneo and son Idamante in Mozart's earlier, more ambitious opera seria masterpiece.
Alice Coote's Vitellia (pictured below with Stéphany and Clive Bayley's Publio), full of colours and perceptive patches of interpretation, is also more of Tito's generation than that of the young people in the cast (the others are Michèle Losier as Sesto's friend Annio, a more likely candidate for the boy friend and making a huge impression in her fine Act Two aria, and the meltingly musical Joélle Harvey as Annio's beloved Servilia, at one brief point slated to be the Emperor's consort). Coote sometimes overshoots the mark, though not as gravely as in her recent concert performance of Handel's Ariodante, in which role my colleague Alexandra Coghlan admired her far more than I did. We need a bit of sexy seduction in the lovely upward chromatic figures to which Mozart sets the word "alletta" ("allures") in her first aria; the great final Rondo is played as a hit-and-miss mad scene with the house lights up (why?), its motivation not quite developing from what's gone before.
Stéphany, though, is a revelation – at least to anyone who didn't see her second-cast Octavian in the Royal Opera Der Rosenkavalier. Here, as there, she looks the handsome lead boy to perfection; and it's so exciting to hear a youthful mezzo voice flexible enough to do anything. Ticciati supports her to the hilt with space and the odd silence in her two tremendous set pieces (credits really due in the programme to the basset clarinet obbligato soloist, as for the basset horn in Vitellia's "Non più di fiori" - now, thanks to a commenter below, identifiable respectively as Katherine Spencer and Antony Pay).
The conductor's "speaking" pauses, a feature of his work at Glyndebourne ever since the touring Jenůfa, are reflected in less successful ones during the recitative – the director's responsibility, I'm guessing – which hold up the drama rather than turning the screw as intended. They become maddening in Tito's anguish at whether to execute or pardon his treacherous best friend in Act Two; Richard Croft does his best to draw us into the emperor's head, but it doesn't quite work. The cumulative aria "Se all'impero," though, couldn't be finer; having started in Act One a bit under the note, Croft nails both the music and the expression in tandem with the OAE's flaming violin arpeggios. After all, this is a gift from the nub of Mozart's enlightened take on an old opera seria text, for all its toadying to the newly-crowned Emperor Leopold: "If I cannot assure the loyalty of my realms by love, I care not for a devotion born of fear." Not a common sentiment among today's demagogues.
That turning-point ought to herald a genuinely happy ending. But while Tito's liberation as the soaring magpie is partial cause for joy, we see him handing over power to the sinister manipulator Publio (Clive Bayley, suitably cold and lugubrious). No regie director ever allowed a happy ending if he or she could help it; so what started in the dark ends in the dark. All's definitely not well that ends well in this Clemency; and again that's a shame, because the performance of the music breathes sweetness and light.
It's so exciting to hear a youthful mezzo voice flexible enough to do anything
rating
Explore topics
Share this article