Afterness, Orford Ness review - a breath of fresh air, literally |

reviews, news & interviews
Afterness, Orford Ness review - a breath of fresh air, literally
Afterness, Orford Ness review - a breath of fresh air, literally
Art on the island of secrets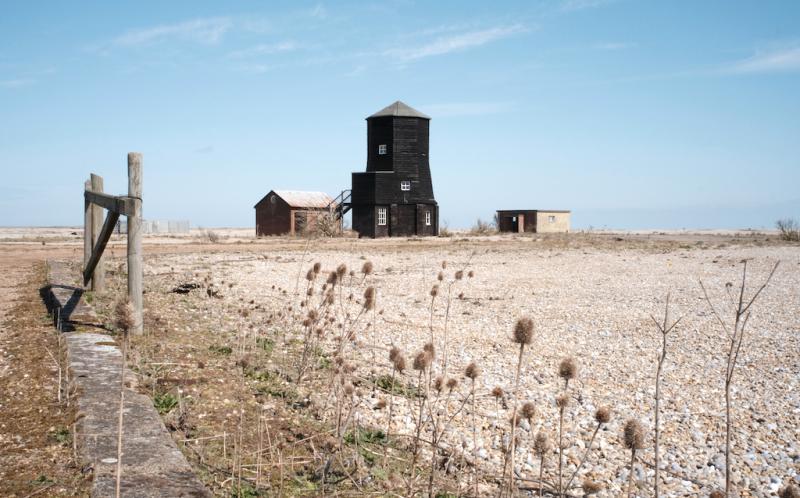 The Black Beacon, Orford Ness containing the Library of Sound,
The boat ride lasts only a few minutes, but it takes you to another world. Orford Ness is an island of salt marsh and shingle banks off the Suffolk coast inhabited by birds, rabbits, hares and a few small deer.
But the landscape is dotted with evidence of human activity – dangerous activity. "Prohibited Area. Photography and Sketching Forbidden" reads a notice in the Information Centre and, as you wander past the pink sea campions and delicate, yellow-horned poppies, signs reading "Danger Unexploded Ordnance" encourage you to keep to the designated pathways.
Called "the island of secrets" by the locals, it is currently hosting Afterness, the latest in a long line of inspiring projects curated by Artangel. For over 30 years they have been commissioning artists to make work for unexpected places. Visit one of their exhibitions and you have the double pleasure of encountering new art in a surprising context. But here's the rub; an unusual place can sometimes be a challenge too far. Work made for the great outdoors often seems puny when compared with the grandeur of the natural world and a place as compelling as Orford Ness is virtually impossible to compete with.
The island is now a bird sanctuary owned by the National Trust, but from World War One through to the end of the Cold War it was used by the Ministry of Defence as a research centre for the development of radar and early warning systems, then as a test site for components of nuclear weapons.
The buildings are mostly in decay; dotted around the desolate landscape are ruined bunkers (pictured below: The Armoury), slabs of rotting concrete, sheets of rusting metal and oddly shaped towers that lend the place a haunting resonance. The Ness is beautiful, eerie and very exposed – the wind rarely lets up. It takes about three hours to complete the circuit around the artworks – it's a good few miles – and, although most are upstaged by the environment, it hardly matters since the place is so magical.
Alice Channer has filled a derelict building with looping arcs of aluminium tubing studded with sharp metal thorns that, like the tendrils of an aggressive bramble, reach through open windows for the sky. But en route to her installation you pass the ruins of a concrete shelter whose reinforcing rods hang loose in a tangle of rusting metal that is far more evocative than her polished intervention.
Emma McNally's work is housed in one of the few buildings that has a roof. Bombs and testing equipment for the atomic weapons programme were stored here and some of the gear seems to have been left behind under a huge tarpaulin. This lumpy terrain turns out to be a sculpture made of paper covered in drawings resembling the charts and diagrams used by the military. As if by stealth, McNally has inserted her work into the narrative of the place. It's a clever strategy, but the result is an object that feels oddly peripheral, like a footnote to history.
Having lost its roof, Lab 1 is open to the elements. Inside this crumbling shell, Tatiana Trouvé conjures the ghosts of imaginary residents (pictured above right: The Residents 2021 by Tatiana Trouvé). A chair, books, blankets, carrier bags, suitcases and items of clothing are scattered among the puddles and rampant vegetation. Are they remnants of a previous occupancy or a sign that squatters have moved in? And is that distant figure one of them, or is it a totemic sculpture created in memory of departed souls?
As though conceding defeat from the off, Ian Chambers, Chris Watson and Brian d'Souza have opted to collaborate with the environment. In the Black Beacon (main picture) you can listen to their recordings of ambient sounds while gazing at the landscape that produced them. But since while trudging round, you've already heard birds calling, boots crunching on shingle, bees humming, waves breaking on pebble banks and the relentless howl of the wind, their archive seems somewhat superfluous. It would have much more impact online, where various pieces by d'Souza and other artists will be streaming from 1 July.
Ironically, the most memorable contribution comes from the poet Ilya Kaminsky, who was prevented from visiting the site by lockdown; this lends his poems an element of longing. You can listen to some over headsets as you wander round, but reading them afterwards in I See a Silence is far more potent, since it refreshes your experience of this very special place.
"In a time of plague, in the middle of another continent, I keep thinking my way to Ness," he writes from Atlanta. You can similarly think your way to Ness online or, better still, go there in person.
Afterness at Orford Ness from 1 July-30 October
Although most of the work is upstaged by the environment, it hardly matters since the place is so magical
rating
Buy
Explore topics
Share this article