Inside: Artists and Writers in Reading Prison |

reviews, news & interviews
Inside: Artists and Writers in Reading Prison
Inside: Artists and Writers in Reading Prison
A spell in gaol has never been so rewarding
Monday, 05 September 2016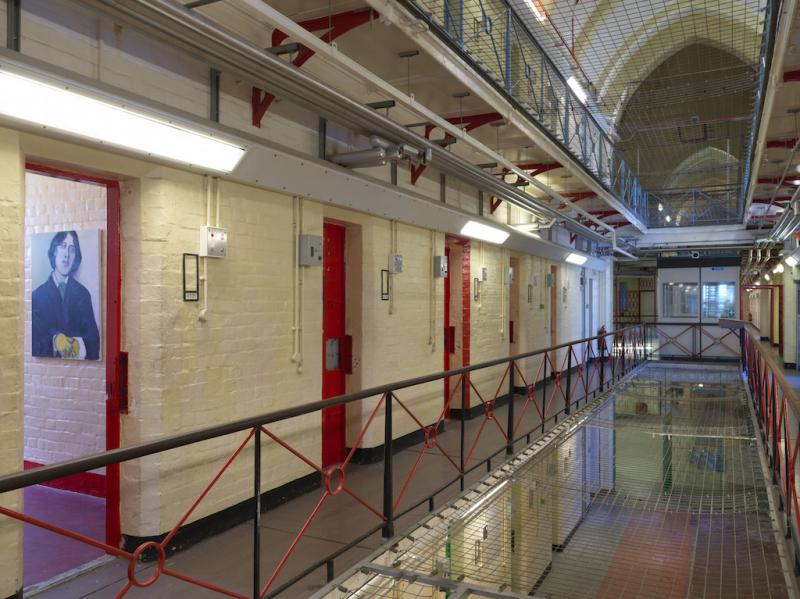 'Oscar Wilde', 2016 by Marlene Dumas
"Outside the day may be blue and gold, but the light that creeps down through the thickly-muffled glass of the small iron-barred window beneath which one sits is grey and niggard.
It is always twilight in one's cell, as it is always midnight in one's heart." Oscar Wilde's description of his incarceration in cell C.3.3 at Reading Gaol hits home when you stand inside the mean little room (now number C.2.2) imagining what it was like to spend 23 hours a day locked in this claustrophobic box.
Wilde was at the height of his fame when, in 1895, he was convicted of "acts of gross indecency" with Lord Alfred Douglas (Bosie) and sentenced to two years imprisonment. De Profundis was written during the second year of his sentence, as an extended letter to Bosie, and all 50,000 words of this lament are being read on Sunday afternoons in the prison chapel through September and October as part of Inside..., an imaginative project inaugurated by Artangel.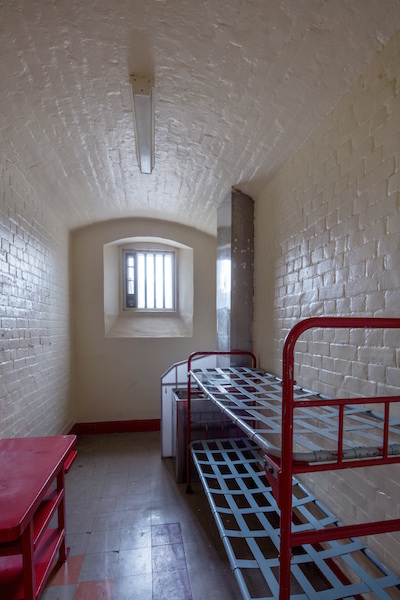 Thanks to their initiative, Reading Prison is now open to the public and visiting it is a harrowing experience. Walking past the barbed wire and through the gates is like entering a film set, except the place is horribly real. Lining the corridors are identical metal doors furnished with heavy locks for security and peep holes for surveillance; the narrow stairs leading from one landing to another are surrounded by metal nets that span the stairwells to prevent suicide leaps. It's a wise precaution, since the place is utterly soul-destroying.
Entering the cells (pictured right: Oscar Wilde's cell by Morley von Sternberg), you sense the misery of being confined in a space measuring 13 feet by 7 foot 6 inches with a high window that provides a glimpse only of sky. Furnished with a metal bed, chair and table, the cells are cold and cheerless as well as tiny; by the time the prison was decommissioned in 2013, as many as two or three inmates were crammed into these stark little rooms. No wonder they scrawled obscenities on the walls, such as "FUCK HMPS" and "I'm still here you bastards, 2002-2009". One bright spark wrote "Room Service" beside the emergency call button.
When it was built in 1844, though, inmates were kept in solitary confinement, unable to see let alone speak to one another. On the rare occasions when they left their cells – to exercise on a treadmill or attend religious services – they wore hoods called Scotch Bonnets, that covered their entire faces. Anyone caught breaking the rules was punished with time in a pitch-black cell in the basement. For talking in chapel, Wilde spent 14 days in one such hell-hole. The cells had no sanitation, so prisoners had to slop out twice a day. Shockingly, this practice lasted until 1990, when plumbing was finally installed.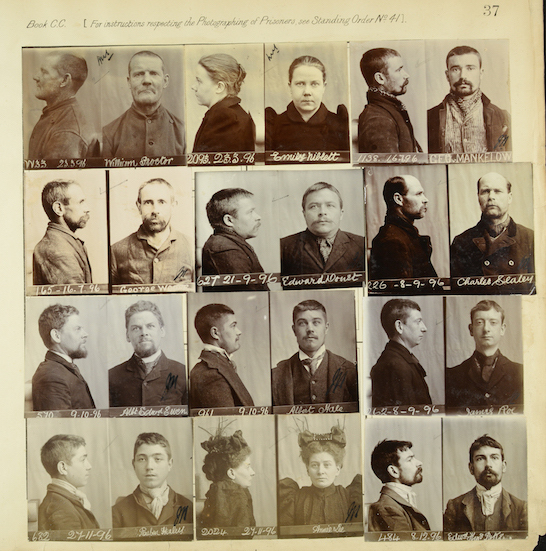 Contemplating what it means to lose one's liberty (pictured left: photographs of prisoners due to be released in September 1896), Artangel invited artists to respond to the building and writers to pen letters to real or imaginary loved ones separated from them by detention. Gillian Slovo writes a moving letter to her mother, Ruth First, who in 1963 was detained in South Africa for her anti-apartheid activities and held in isolation for 117 days, without charge. Chinese artist Ai Weiwei describes for his young son the trauma of being imprisoned for 81 days without trial, supposedly for tax evasion. "I felt like a miner trapped in a collapsed mine," he recalls, "like a pea that had dropped into a crevice – immobilised, with no strength to move."
Of the installations, the simplest are the most powerful. Steve McQueen, whose film Hunger dramatises the final weeks of Bobby Sands's hunger strike, has opted here for a more elliptical approach. A prison bunk has been draped in gold-plated mosquito netting whose glistening folds transform the meagre object into a luxurious retreat, fit for a king. Several cell doors are hung with blue and white bead curtains by Felix Gonzales Torres; they produce a festive atmosphere, as though a party were in full swing, while his print of a bird soaring beneath a vast expanse of sky encourages euphoric dreams of escape.
Hanging in nearby cells are portraits by Marlene Dumas of Oscar Wilde and Bosie, and Jean Genet and his lovers, Abdallah Bentaga and Mohamed El-Katrani. The film director Pier Paolo Pasolini (pictured below right) shares a cell with his mother; beneath her portrait lies his poem Prayer to my Mother, which contains the heart-breaking lines: "You're irreplaceable. And because you are, the life you gave me is condemned to loneliness." With his sallow face, the son looks haunted, lost.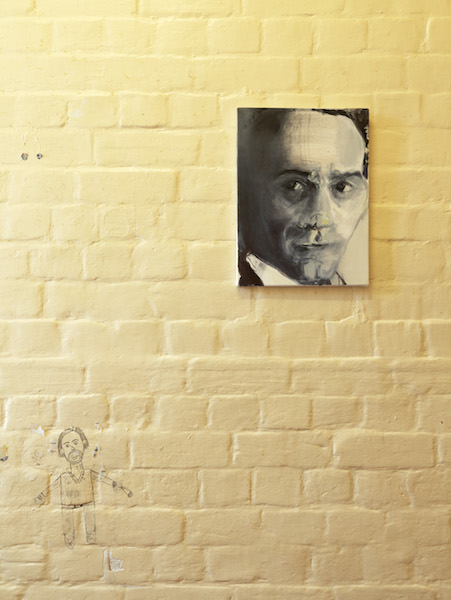 Made soon after his release from prison, Genet's film Un Chant d'Amour (Song of Love), 1950 shows a prison guard spying on vigorously masturbating inmates. Edited by Nan Goldin, extracts from the salacious footage are visible through a peephole in the cell door; watching the film, we become implicated by our own voyeurism. Goldin's own videos remind us that homophobia is far from dead. A young Ukrainian describes the dangers he faces in his country as a gay man. In No Apologies, George Montague recalls how he was charged with indecency and sacked from his job as Senior Commissioner for the Boy Scouts. Insisting that "being homosexual is not a choice", the feisty 93-year-old demands a Home Office apology.
Wilde complained that the prison water was putrid. Since 1974, Peter Dreher has made over 5,000 almost identical paintings of a glass of water; hung in groups in adjoining cells, these small canvases create a compelling sense of the inexorable passing of time and the frugal existence endured by prisoners awaiting release. Roni Horn's photographs of the River Thames record the surface looking like a mirror, an oil slick or a sinister pool of darkness. In her footnotes, black water is seen as a metaphor for despair, especially seductive to potential suicides. "Black is a place," she writes. "I don't know what it's like, can't see it, but I know it's there. You can go there – though it's not fixed in location."
The original door of Wilde's cell (pictured left) has been mounted by Jean-Michel Pancin onto a concrete block the dimensions of the cell; on Sundays this conceptual space of incarceration becomes a platform for the readings of De Profundis. Wilde emerged from prison a broken man. Hanging on the wall of one cell is Felix Gonzales Torres's dark mirror; peering into it, you are little more than an indistinct shadow. Tilted Fear, it evokes the horror of losing your identity or your mind.
Inside... allows you to witness the fear of sinking into the abyss – feeling immobilised, like a pea dropped in a crevice, or enduring "midnight in one's heart ... (as) one of a thousand lifeless numbers, as of a thousand lifeless lives." Thankfully, though, you are free to leave Reading Gaol whenever you like.
Walking past the barbed wire and through the gates is like entering a film set, except the place is horribly real
rating
Explore topics
Share this article