Living Newspaper: A Counter Narrative, Royal Court online review – the news, but better |

reviews, news & interviews
Living Newspaper: A Counter Narrative, Royal Court online review – the news, but better
Living Newspaper: A Counter Narrative, Royal Court online review – the news, but better
The Royal Court's experimental piece is political theatre at its finest and fiercest
Thursday, 24 December 2020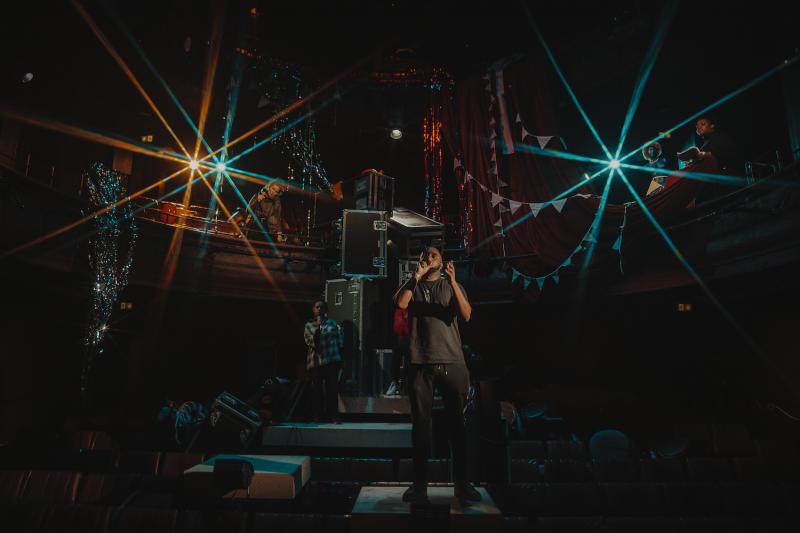 Up to the minute: the cast of 'Living Newspaper: A Counter Narrative'
Edition 2 of Living Newspaper: A Counter Narrative, an experimental new piece of online theatre from the Royal Court, doesn't mess around.
Within minutes, a cry of "Tory scum" is echoing around the Jerwood Theatre – the refrain of an anarchic musical number presided over by a mannequin painted blue, wearing a shaggy blond wig. "Kids cant eat but They're tryna tell/You its the statues that need saving?" raps
grime
producer Jammz, setting out exactly where the 27 creators of
Living Newspaper
stand. Those seeking apolitical escapism should look away now.
But everything is political, especially in a pandemic, and Living Newspaper is also intensely, warmly theatrical. Each scene is, perhaps predictably, named after a section of a newspaper (The Front Page, Cartoon of the Week, etc), and each is presented in a different part of the Royal Court. We're greeted at the door by a circle of welcoming "aunties", have our horoscope read in the basement, and overhear a series of phone conversations between a grandmother and her granddaughter in the box office. Site-specific promenade fuses with filmed theatre, to brilliant effect.
The thirteen-strong cast is as diverse as the city the Royal Court sits in, and doesn't have a weak link. Mariam Haque stands out, performing Emteaz Hussain's monologue about domestic abuse with brittle grace. The increase in male violence against women seems to have faded from public consciousness as the pandemic goes on; Hussain and Haque force us to look at it again, to see the simple exhaustion of having to move forward when you don't have a roof over your head. Hammed Animashaun (pictured above), last seen playing Bottom in National Theatre At Home's Midsummer Night's Dream, again proves himself one of the best young actors in Britain. He brings the same tenderness and vulnerability to 'Blood for Breakfast', Yasmin Joseph's discussion of whether the depiction of Black people in pain helps or hinders the cause of racial justice, as he does to 'Ghosting', Tom Wells' piece about dating in a pandemic. In the latter, Animashaun and Lisa Hammond somehow establish an onstage rapport when only one of them is physically present, injecting a shot of levity into a show that could've got lost in its own cynicism.
As Hammond tells us in her introduction, Living Newspaper was inspired by the Federal Theatre Project of Depression-era America, when the government gave out-of-work theatremakers gainful employment instead of telling them to retrain as computer programmers. "It was shut down for being too political." The Royal Court was awarded £50,000 by the Culture Recovery Fund back in October, but the writers don't let that stop them. In Anchuli Felicia King's 'Demonstration Demonstration', a pair of East Asian aunties (Wendy Kweh and Siu-see Hung, pictured below L-R) offer tips on what to do if you're tear-gassed: "We remove contaminated clothing and immediately dispose of it!" "We remove contaminated institutions and immediately dispose of them!" Just like traditional newspapers, Living Newspaper is up to the minute; you get the feeling that the more footnotes needed to explain the references 50 years from now, the better.
But this is, ultimately, a love letter to the Royal Court, with its nooks and crannies and stages and substages filled with bric-a-brac from long-ago shows. The creators of Living Newspaper have identified the vital thing about theatre that we're all missing at the moment: being there. My English teacher used to say that a good piece of literary criticism should make you want to reread the work it's talking about. Living Newspaper might not send you rushing back to the 10 o'clock news, but it will make you homesick for (quote unquote) real theatre. Ravenhill's aunties, the emotional anchors of the show, put it best: "Come in my darlings, come in/Only on the screen we know, but still… your home is our home!"
Hammed Animashaun again proves himself one of the best young actors in Britain
rating
Explore topics
Share this article