Theatre Lockdown Special 11: Shakespeare-as-rave, a starlit Old Vic, and, yes, those singing nuns |

reviews, news & interviews
Theatre Lockdown Special 11: Shakespeare-as-rave, a starlit Old Vic, and, yes, those singing nuns
Theatre Lockdown Special 11: Shakespeare-as-rave, a starlit Old Vic, and, yes, those singing nuns
Some celeb-heavy revivals and a kids-friendly showstopper feature amongst this week's lineup
Throne room: an encased Gwendoline Christie in 'A Midsummer Night's Dream'
Might we be nearing light at the end of the lockdown tunnel? It definitely seems that way, with the news in recent days that social life beyond the home may be resuming soon, at least after a fashion. All the while, theatrical offerings continue to come thick and fast, all the while offering up a cheeringly broad away of online prospects.
This week's quintet includes a piece of installation art that you are encouraged to experience lying flat on your back, alongside an acclaimed
Shakespeare
extravaganza from just last year that many at the time experienced on their feet. We've got something for kids, not to mention for those who are keen on gazing at stars. For further details, have a read below.
Charlie Ward at Home, Fuel Theatre
Rare is the theatre piece you watch lying down. That, however, was the case in 2014 when Charlie Ward at Home opened at the Cinema Museum in Lambeth, south London , with an audience of 10 at a time lying on iron bedsteads (pictured below) so as to be immersed in an installation lasting less than 20 minutes. Scenes from a Charlie Chaplin film were projected above.
Now, this World War 1-themed experience has been reconfigured by Fuel and Sound&Fury so that you can watch it from a supine position at home, with headphones recommended so as to get the enveloping 3D audio. The setting is a hospital ward, and the intended effect is something at once hallucinatory and unique.
Online through July 20.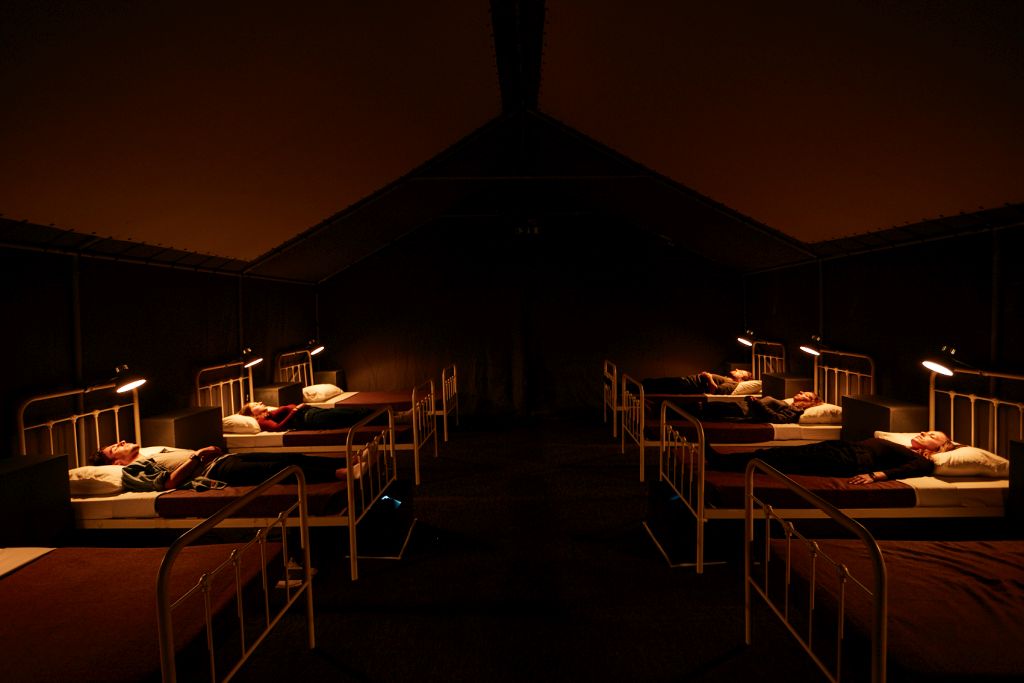 Showstoppers' Online Storytime, YouTube
Showstopper! The Improvised Musical has become something of a mini theatrical institution in the years since a venture that invites the audience into the collaborative process premiered at the Edinburgh Festival in 2008, winning an Olivier Award for Best Entertainment along the way.
During lockdown, the troupe have been writing and recording from home and have come up with various interactive narratives (Online Storytime – the Space Wars was last week's entry) intended especially for children. Here's a chance to allow the youngsters' imaginations free rein: offer up a title, some characters, and a setting and see those suggestions given life online. This is a pay-what-you-can event, and donations are welcome.
A Midsummer Night's Dream, National Theatre at Home
National Theatre at Home this week looks beyond that particular South Bank complex to take in the Bridge Theatre's 2019 buoyant account of A Midsummer Night's Dream, directed as it happens by the National's former artistic leader, Nicholas Hytner.
This dream of a Dream offers a gender-fluid, Beyonce-fuelled fantasia that gives off the energy of a rave. The cast is headed by the ever-imposing Gwendoline Christie doubling as Titania and Hippolyta: the Game of Thrones star is joined by a briefly bare-buttocked Oliver Chris and a memorably sweet, deeply humane Bottom from Hammed Animashaun that won the fast-rising actor a Critics Circle award for best Shakespearean performance.
Streams for a week starting 7 pm on June 25.
Last year's stage revival of Duncan Macmillan's Lungs was a sellout event that brought together in an altogether more modern context the celluloid duo of Claire Foy and Matt Smith, who played the Queen and Prince Philip in the first season of TV's The Crown.
The pair had been due to revisit the play late-March in New York just as the pandemic was prompting theatres to close. Instead, they are convening anew via Zoom for a technology-friendly run of socially distanced performances to generate revenue for the venerable Old Vic, where Matthew Warchus's production began: tickets are priced as they would be at the theatre, and Macmillan's cautionary play should feel timelier than ever.
Runs June 26 - July 4.
The Sound of Music, The Shows Must Go On
The hills will soon be alive, at least for 48 hours, when The Shows Must Go On series of musical theatre offerings turns its attentions to The Sound of Music, via a 2013 version of the Rodgers and Hammerstein classic that was shown live at the time on American TV.
Inheriting Julie Andrews's screen role as Maria, the governess gifted with song, is onetime American Idol star and multiple Grammy-winner Carrie Underwood. Stephen Moyer of True Blood fame (pictured right, with Underwood, photo c. NBC - © 2013 NBCUniversal Media, LLC) does battle with memories of Christopher Plummer as the tight-lipped Captain von Trapp, alongside such Broadway notables as Laura Benanti and, as the Mother Abbess, six-time Tony-winner Audra McDonald, who as might be expected sends "Climb Every Mountain" into the stratosphere.
Streams for 48 hours starting June 26, 7 pm.
Duncan Macmillan's cautionary play should feel timelier than ever
Share this article