Theatre Lockdown Special 10: Epic plays from the National Theatre and Broadway alongside voices raised in protest |

reviews, news & interviews
Theatre Lockdown Special 10: Epic plays from the National Theatre and Broadway alongside voices raised in protest
Theatre Lockdown Special 10: Epic plays from the National Theatre and Broadway alongside voices raised in protest
The state of Britain then and now gets a look-in, as do animals in human form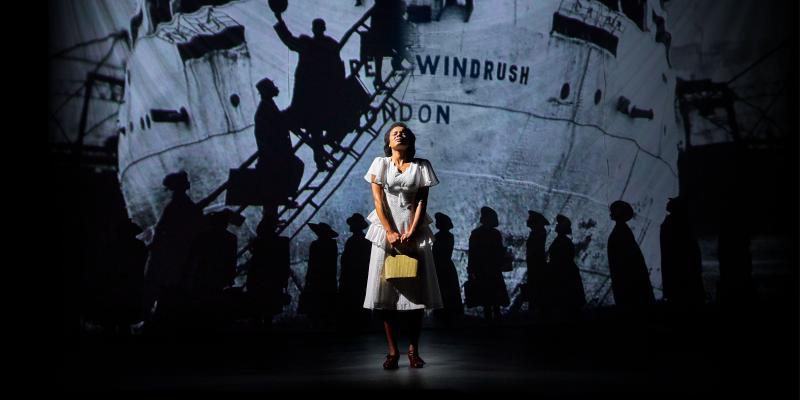 Big play: Leah Harvey in 'Small Island'
As lockdown continues, National Theatre at Home has announced its final sequence of plays, and several of the very best are being saved for last. That certainly applies to this week's offering, Small Island, whose dissection of Britain's racist past couldn't be timelier.
Broadway
's Lincoln Center Theater, meanwhile, mined a bygone theatrical period in the comparably epic
Act One,
whilst the week's offerings also accommodate in-the-moment protest theatre, an acclaimed West African
Hamlet,
and a recent Olivier Award-winning actor playing a peacock, as you do. For more on the latest amalgam of streaming-worthy titles, read on.
It's in the nature of the theatre to be quick on its feet, which explains the rapidity with which The Protest has come into being. Six pieces of work by as many black British artists, these responses to the killing in the US of George Floyd have arrived online courtesy of west London's Bush Theatre; that venue's associate director, Daniel Bailey (pictured right), was the curator.
All but one of the contributions are performed by their writers, each of whom is there to lend a voice to tumultuous times. Among those included are the British Congolese theatre-maker Benedict Lombe as well as the singer-composer Anoushka Lucas and the much-admired Roy Williams, co-author (with Clint Dyer) of the play Death of England that was seen recently at the National.
Small Island / National Theatre at Home
The late Andrea Levy's 2004 novel was adapted for the BBC in 2009 and then for the National in 2019, where it remains one of the benchmark successes of artistic director Rufus Norris's tenure; fittingly, Norris himself directed the large-cast production that had been due for a return visit to the South Bank this year. (The weeklong streaming begins 7 pm on June 18.)
Adapted by Helen Edmundson, Levy's chronicle of racism amongst the Windrush generation of Jamaican immigrants to post-war Britain feels more apposite now than ever. The sprawling, robustly moving tale pairs the multiple resources of the National (Jon Driscoll's projections are themselves cinema-worthy) with a terrific cast headed by Aisling Loftus and Leah Harvey as Queenie and Hortense: two women making their way amidst an increasingly wayward empire.
Noah and the Peacock, Nottingham Playhouse
What next when you've starred in an intense seven-hour, two-part play in London and on Broadway? If you're Kyle Soller, who won last year's Olivier Award for The Inheritance, you turn to playing the feathery bird of the title in the Nottingham Playhouse production of Noah and the Peacock: the Jeff James play intended for children age 5-9 and their families will have six live zoom performances between June 19 and 21, including one pay what you can and another that is BSL interpreted.
Telling of the pompous Peacock (Soller) and the more modest Peahen (Danusia Samal) as they confront the terrors of a flood, the play will invite young people watching from home to dress up as Noah's animals and create their own boisterous (but do give a thought to the neighbours!) soundscape.
Act One, Lincoln Center Theater, New York
Moss Hart's 1959 autobiography stands high on many people's list of favourite theatrical memoirs. Small wonder, then, that in 2014 it was adapted for Broadway in a capacious Lincoln Center Theater production written and directed by James Lapine. (In the musicals world, Lapine remains best-known for his various collaborations with Stephen Sondheim.)
George Hamilton played the aspirational Hart in a 1963 film of the book, and the role onstage went to the ever-charming Santino Fontana, winner of last year's Tony Award for his starring performance in the musical Tootsie. Fontana is pictured left (photo c. Joan Marcus) with co-star Tony Shalhoub amongst a 22-strong cast playing more than 40 roles. The production streams from June 19 for a week.
Culture in Quarantine: the RSC Hamlet, BBC iPlayer
Paapa Essiedu's well-traveled Hamlet is coming to the small screen. Simon Godwin's production, first seen in Stratford-upon-Avon in 2016, makes an especially impressive entry on BBC4 as one of a sequence of Royal Shakespeare Company airings that recently included Christopher Eccleston's Macbeth; this Hamlet will be available online for two months.
Relocated to West Africa, Godwin's staging has a hipster, funky vibe reinforced by four musicians keeping the beat throughout and by Paul Wills's playful, Banksy-esque designs. But the occasion throughout belongs to Essiedu's questing, mercurial, beautifully spoken prince, who delivers "to be or not to be" while clutching a paintbox and laying bare all the colours on this existential hero's vast emotional spectrum.
The play invites young people watching from home to dress up as Noah's animals
Explore topics
Share this article