Reissue CDs Weekly: Hans-Joachim Roedelius - Tape Archive Essence 1973-1978 |

reviews, news & interviews
Reissue CDs Weekly: Hans-Joachim Roedelius - Tape Archive Essence 1973-1978
Reissue CDs Weekly: Hans-Joachim Roedelius - Tape Archive Essence 1973-1978
Essential home recordings from the German musical auteur
Hans-Joachim Roedelius: his own man
Even though nothing on Tape Archive Essence 1973–1978 was released at the time it was recorded, every track evokes material which was issued.
Any fan of the
German
legends
Cluster
and Harmonia needs this album gathering extracts from tapes key member Hans-Joachim Roedelius recorded on his own during the period when both outfits were active.
Cluster was initially Kluster, a trio which released a couple of experimental, free-form albums. After performing live at Göttingen University in May 1971, Conrad Schnitzler left and the remaining members Dieter Moebius and Hans-Joachim Roedelius changed the name to Cluster. As such, the duo went on to issue two albums which were still experimental but more structured than before: 1971's Cluster and 1972's Cluster II. Next, and still as Cluster, there was another shift to overtly embrace melody, a transformation showcased on 1974's Zuckerzeit. The ambient-leaning Sowiesoso followed in 1976.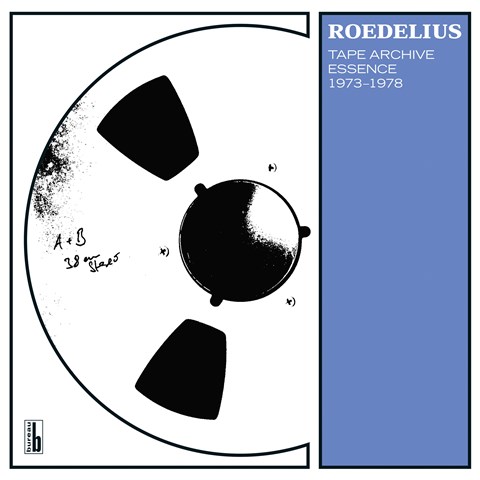 At the time, Cluster wasn't the only outlet for Moebius and Roedelius. They also worked with Neu's Michael Rother as Harmonia. Under that billing, two glacial and spacey yet organic albums came out: Musik Von Harmonia (1974) and Deluxe (1975). While Cluster and Harmonia were active, Roedelius and most of his collaborators lived in rural Forst in Lower Saxony. He moved to the Vienna region in 1978 and his first solo album Durch die Wüste came out the same year.
Tape Archive Essence 1973–1978 captures a lone Roedelius in Forst with a Farfisa organ, odd snatches of synthesiser and the intermittent use of a primitive rhythm box. He also had an echo unit and was self-recording on a two-track Revox A77 reel-to-reel. The new release of what he got up to at these solo sessions comes on album only. It plucks 10 tracks from the 2014 500-edition triple CD/album box set Tape Archive 1973–1978 (each album and CD included the same material). The title's date range encompasses the entire period Roedelius lived at Forst. No dates are given for the individual recordings.
Everything chimes with the essential character of Cluster and Harmonia
What's initially most striking is the fully formed nature of every track. Roedelius may have been trying things out, or even recording musical doodles, but nothing is formless or undeveloped. These are not demos – none of the tracks were re-recorded and issued by Cluster or Harmonia. Instead, these appear to be works in progress which didn't make it to a second draft. Information on this process, like the dates, is lacking.
Nonetheless, everything chimes with the essential character of Cluster and Harmonia. The stunning "Springende Inspiration", with its rolling left-hand keyboard rhythm and the repetitive, simple melodies picked out with the right hand, could be an outtake from Zuckerzeit. "Bock Auf Rock" bridges the gap between Harmonia and Zuckerzeit. "Am Röckchen" and "Rokkokko" are both very Harmonia. The ambient "Langmarschieren" and "Nächtens In Forst" suggest Sowiesoso and also point forward to territories Roedelius later explored, as does the wonderful, lengthy "Skizze 3 Von 'By This River'".
Brian Eno was paying close attention
Because of what was issued, nothing can be heard as if it were recorded in a vacuum. These tracks are integral to the Cluster and Harmonia story. Furthermore, as evidence of what Roedelius was up to alone his impact on the sound of both is confirmed.
There was another impact. Brian Eno was paying close attention to the music created during the Forst years. The spirit of Musik Von Harmonia permeated his 1975 album Another Green World. In September 1976, he turned up in Forst and recorded with a specially reconvened Harmonia; the material wasn't issued at the time, but later came out. What transpired then seemingly informed his subsequent solo recordings and what he helped create for Side Two of David Bowie's Low. A formal union came when the Cluster & Eno album was issued in 1977. After the Heat, credited to Eno Moebius Roedelius, was released in 1978.
Fittingly, it comes as little surprise that Tape Archive Essence 1973–1978's "Lied Am Morgen", a reflective electric piano piece with simple rhythm box accompaniment, conjures up thoughts of Another Green World. However, as is made all-too clear by this essential release, the influential Hans-Joachim Roedelius was his own man.
Next week: Dr Feelgood – a salute to the high-octane Merseybeat dynamos King Size Taylor and the Dominoes

The stunning 'Springende Inspiration' could be an outtake from Cluster's 'Zuckerzeit'
Explore topics
Share this article