Old Stock: A Refugee Love Story, Wilton's Music Hall review - klezmer revue is moving and inventive |

reviews, news & interviews
Old Stock: A Refugee Love Story, Wilton's Music Hall review - klezmer revue is moving and inventive
Old Stock: A Refugee Love Story, Wilton's Music Hall review - klezmer revue is moving and inventive
An original piece of theatre-making finds joyous exuberance, as well as sorrow, in the immigrant experience
Friday, 20 September 2019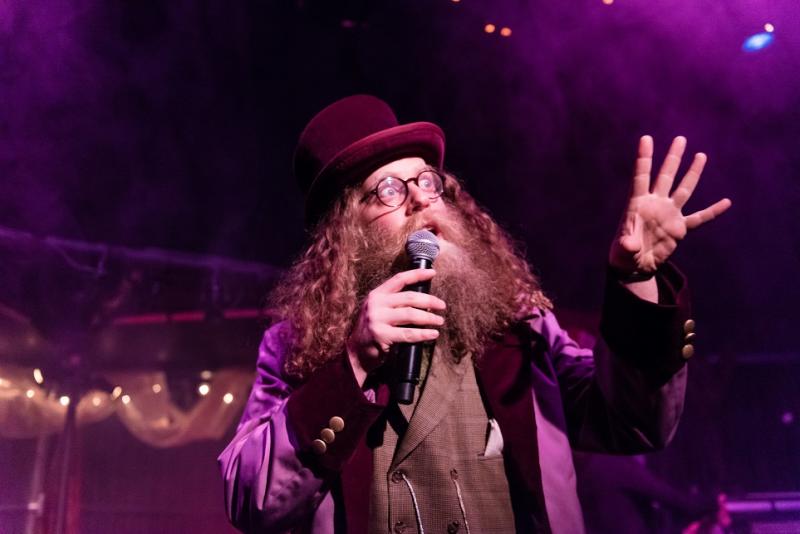 Ben Caplan as 'The Wanderer' - 'bawdy, vital irreverence'
Canadian playwright Hannah Moscovitch's "refugee musical" – now there's a phrase you don't expect to write – is a treat.
Harking back to the early 20th century pogroms of Eastern Europe, it's darkly steeped in history, conveying the sorrows of leaving behind an old world as well as the slow, painful process of integration into a new one, in this case
Canada
. In case that sounds too serious, it's also a delight of performance and music, liberally – and rather often, illiberally – infused with a
Jewish humour
that is sardonic and survivalist by turn.
It's the work of the 2btheatre company from Halifax, Canada with which director Christian Barry (as well as Moscovitch) is associated, and that port city provides the play's opening scene, as we encounter its two characters, Chaya (Mary Fay Coady) and Chaim (Eric Da Costa), waiting in an immigration line to enter the country. It's a lovely, shy first meeting between strangers, whose relationship will develop as they woo and wed, and embark on an often precarious family life in a new land. (Pictured below, by Graeme Braidwood: Eric Da Costa, Mary Fay Coady)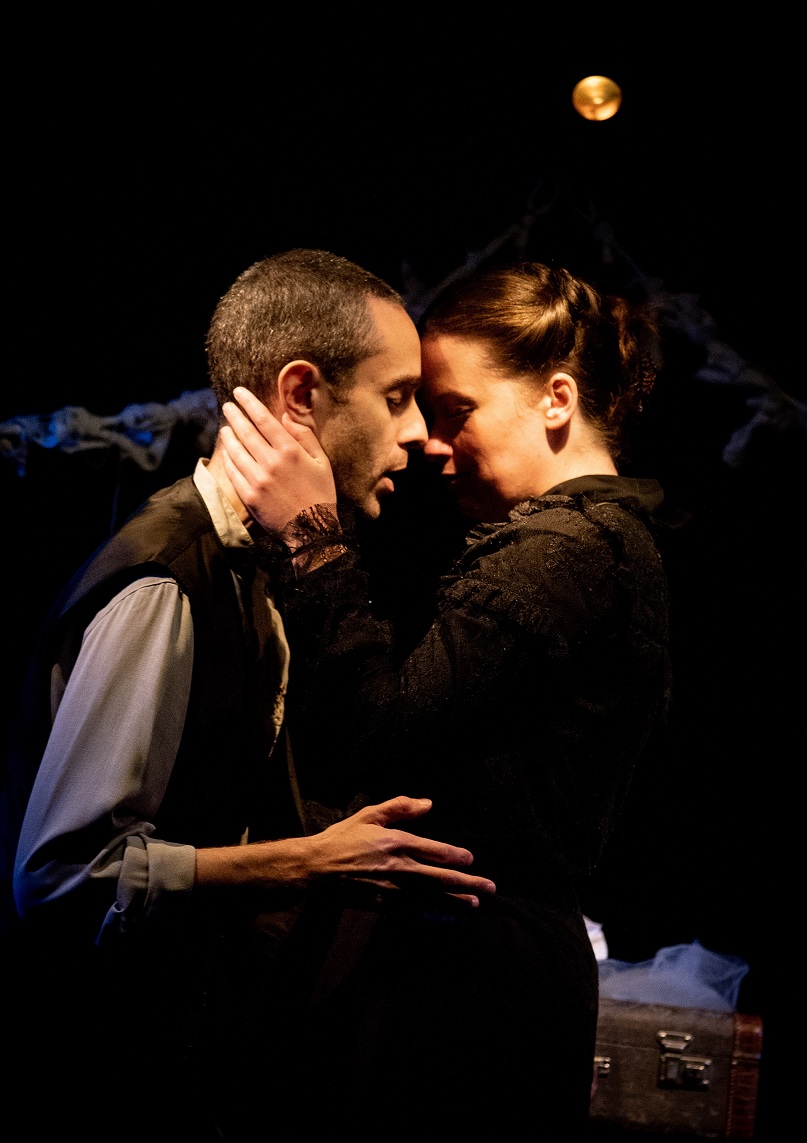 It's a simple story in itself, the almost numinous innocence of their interaction – dialogue is spare and stylised, richly interspersed with music – presented within a context of bawdy, vital irreverence by Old Stock's narrator-compère figure, "The Wanderer", performed by Ben Caplan (who also cowrote the songs, and shares credits for the show with Barry and Moscovitch). From the moment he first appears, top-hatted and thickly bearded, above the shipping container (ingenious!) from which the production and its musical accoutrements duly emerge, it's clear that it's Caplan, proprietorially patrolling at stage front, who will be the centre of our attention.
With his trademark phrase, "that's a lie", this Wanderer is anything but a reliable narrator, though he touches our hearts with his moments of lyricism, as well as grabbing us by other body parts with the ribaldry of his humour. There are lyrics displaying an ingenuity that may have you thinking of Tom Lehrer ("noses… toesies… don't smell like roses"), as well as a broad troubadour bravado that recalls in its punkish irreverence British music theatre trio The Tiger Lillies (whose leader, Martyn Jacques, would surely recognise a scurrilous soulmate in Caplan's character)
Caplan can do tenderness too, with one lovely lullaby that, if you closed your eyes, would make you swear you were listening to Tom Waits at his gravelly, bruised best. Then the next moment he swerves away from the story, digressing into philosophising on the laws of religion, especially when it comes to sex; his litany about "conjugal duties" becomes a series of euphemisms for the act itself, ranging from "adult nap time" and "four-legged fox trot" to things even more inventive. His irony is as curtly dismissive of Judaism (a "sacrificial desert cult") as it is of Canada, promising as it does long winters of shovelling snow.
It is also viscerally relevant to the refugee stories of our own day
The counterpoint of the show's style with the tragedies that the couple have fled, as we learn the circumstances that brought them from their native Romania to this new land, can be heart-rending: Chaim is a sole survivor of events that he retells with shattering poignancy, while Chaya, accompanied though she is by a veritable compendium of relatives, is without the person who means most to her in the world. "What love can heartbreak allow?" It's a deeply moving strand that stretches beyond the play's immediate historical context (just a generation later it's there in the emigrant love stories of IB Singer).
It is also viscerally relevant to the refugee stories of our own day, of those forced to uproot themselves from an "old world", uncertain whether their new location will be temporary – Chaya plans to stay in Canada at first only "until Romania is not so bad" – or the beginning of an altogether new life. I was initially puzzled by Moscovitch's choice of title, referenced by Chaim's referring to the longer-established Canadians, into whom his new wave of immigrants must integrate, as "old stock". Shocking then to learn that the phrase is borrowed from remarks made in 2015 by then the Canadian prime-minister, Stephen Harper, when he made a similar distinction, between today's refugees and "old stock Canadians". To which the closing moments of Moscovitch's play, a litany of the couple's descendants down the generations, is the most salutary rejoinder. From the desperation of that past, a whole new world has emerged: Chaim and Chaya were, in fact, the playwright's paternal great-grandparents.
Old Stock is a small show that builds into a richly variegated spread of feelings, and such an inventive piece of theatre, too. Duties are shared certainly around: Coady's Chaya plays violin, Da Costa's Chaim, woodwind, and they're backed by just two musicians, Jeff Kingsbury (percussion) and Kelsey McNulty (keyboard, accordion). Barry, who is also the designer, achieves some gloriously inventive stage work, his set perfectly in tune with the unique surroundings of Wilton's Music Hall itself – a one-of-a-kind show in a one-of-a-kind venue. Old Stock has toured the world to acclaim, including an appearance at the 2017 Edinburgh festival, and runs in London for just over a week. Not to be missed.