salt , Royal Court review - revisiting the Atlantic slave trade |

reviews, news & interviews
salt., Royal Court review - revisiting the Atlantic slave trade
salt., Royal Court review - revisiting the Atlantic slave trade
One woman's journey to explore the slave trade is both personal and provocative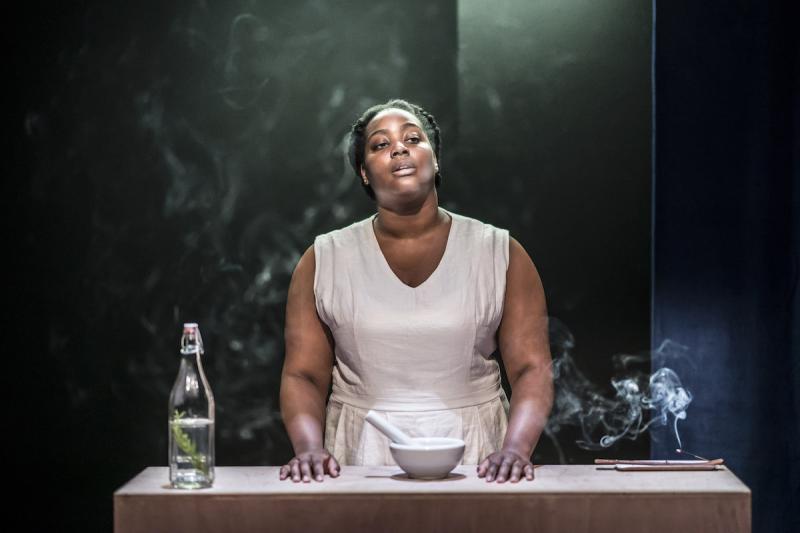 Emotional journey: Rochelle Rose in 'salt.'.
Most of the facts about the Atlantic slave trade are well known; what is less easily understood is how history can make a person feel today. A question which invites an experimental approach in which you test out emotions on your own body. In 2016, the artist Selina Thompson did just that.
Along with a filmmaker friend she made a boat trip from Britain to Ghana, then travelled to Jamaica, then back again. Part of Thompson's wider project of exploring Black British identity, this show is the result of that trip. It has already been seen in at the Southbank Centre and Edinburgh in 2017, where it garnered awards, and now it comes to the
Royal Court
upstairs studio space.
Thompson's story, which is performed as a one-woman show by Rochelle Rose, begins with her description of being depressed. A feeling of profound oppression takes hold of her: she feels as if the whole history of colonialism and the suffering of black peoples are her personal burden. She is obsessed; she suffers. Being part of the Caribbean diaspora, Thompson decides to confront these negative emotions by exploring the geographical reach of the Transatlantic slave trade: she wants to reconnect to routes as well as roots. Teaming up with another black woman, a filmmaker who remains nameless, she decides to take a cargo ship from Europe to West Africa.
For those of the diaspora, home is elusive
The voyage begins in Antwerp, Belgium, where she and her friend board a cargo ship, which is transporting marble and second-hand cars. But their plan to film and document their journey runs into the sands as the ship's captain, to whom they have paid £3,000, refuses to let them film anything. He confines them to a cabin without windows and doesn't allow them on deck. At meal times, he and his Italian officers insult them, openly using the N word. The two women experience the tyrannous behaviour of these hateful men as an echo of the slave trade of the past. In some brilliantly observed passages, Thompson outlines the racial hierarchy of the ship, whose crew is Filipino.
For Thompson, not only is the journey both physically and emotionally taxing, but so also are her experiences of modern-day Ghana, which she sees through the lens of the writings of African-American professor Saidiya Hartman. One particularly vivid passage describes her gut reaction to visiting Elmina Castle, a place where slaves were held before being transported in horrendous conditions across the Atlantic. She breathes in its suffocating atmosphere, but also notes that although the past was once exactly here, it is no longer present. It is invisible. For those of the diaspora, home is elusive.
Thompson writes beautifully, perfectly expressing the pain of being in a black body in places where prejudice is either overt, or concealed, but always present. Her style is powerful, direct and allusive; her writing is compact, well observed and full of insights. It is also powerfully provocative: she attacks Europe as a continent that is "awash in blood", without admitting that the same applies to all the other continents of the globe. But her tendency to see the suffering of black people as exceptional is pardonable, although some may baulk at the more dreamy, the more rhetorical and the more spiritual moments of her story.
Rochelle Rose performs all this with enormous dignity and poise, interrupting her narrative to put on a pair of safety goggles, gloves and then take a sledgehammer to smash a large pink salt rock (a physical embodiment of the burden of the past). As she swings the hammer, repeatedly pulverizing the crystal until it splinters and is turned into dust (pictured above), she breathes faster and gets hot. Pummeling the past is hard work. These are slightly scary moments of violence in which the metaphor of salt, a commodity, a residue of the sea and the taste of tears, and of sweat, take on a physical shape. These are amazingly theatrical moments.
In Dawn Walton's engrossing production, Rose is dressed in a symbolically white dress, and her performance is a warm mixture of passionate anger and intimate confessional. Her recitation of the poetic passages of Thompson's text swell and build, while her matter-of-fact delivery of anecdotes about how black people are treated at airports or by mainly white audiences are powerfully moving. Katherina Radeva's design references the triangular shape of the slave trade and simply evokes the story's locations. salt. wonderfully conveys the search for home, and even if its idealistic evocation of daily life in Jamaica might strike some as exaggerated, the piece finishes with an apt sense of healing and redemptive understanding.
Thompson writes beautifully, perfectly expressing the pain of being in a black body in places where prejudice is either overt, or concealed, but always present
rating
Share this article