Visions of the Self: Rembrandt and Now, Gagosian Gallery review - old master, new ways |

reviews, news & interviews
Visions of the Self: Rembrandt and Now, Gagosian Gallery review - old master, new ways
Visions of the Self: Rembrandt and Now, Gagosian Gallery review - old master, new ways
One of the most mysterious paintings ever made inspires an exploration of the self-portrait
Rembrandt's 'Self-Portrait with Two Circles', c.1665
What are we to make of the two circles dustily inscribed in the background of Rembrandt's c.1665 self-portrait? In a painting that bears the fruits of a life's experience, drawn freehand, they might be a display of artistic virtuosity, or – more convincing were they unbroken – symbolise eternity.
For an artist so very conscious of his own mortality, his 80 or so
self-portraits
a relentless record of the passage of time, this last reading seems most unlikely.
An intelligently curated exhibition at the Gagosian's handsome Mayfair gallery provides both space and fuel for thinking about this puzzle of a painting (main picture), even if protective glass and conscientious security guards make close looking an impossibility. As the starting point for an examination of self-portraiture in the 20th century and beyond it reflects Rembrandt's influence as perhaps the finest practitioner of all. In response, works by Picasso, Freud, Bacon and Man Ray, among others, mine the more obscure reaches of artists' self-scrutiny to enrich our view of Rembrandt's great exemplar, which is on loan from Kenwood House.
Faded, tatty and ringed with glass marks, Rudolf Stingel's huge 2012 painting looks like an old photograph, once treasured but long forgotten. Acquired through affectionate contemplation, or simple neglect, the wine-stained circles are a measure of fading memory, a reminder that immortality might amount to no more than the banal traces of a person's existence. Rembrandt's circles, drawn as if in sand, are hardly banal, and yet he too seems to acknowledge that these are just marks, a self-portrait another way of leaving a trace. (Pictured below: Howard Hodgkin, Portrait of the Artist, 1984-1987, ©Howard Hodgkin Estate, Courtesy Gagosian)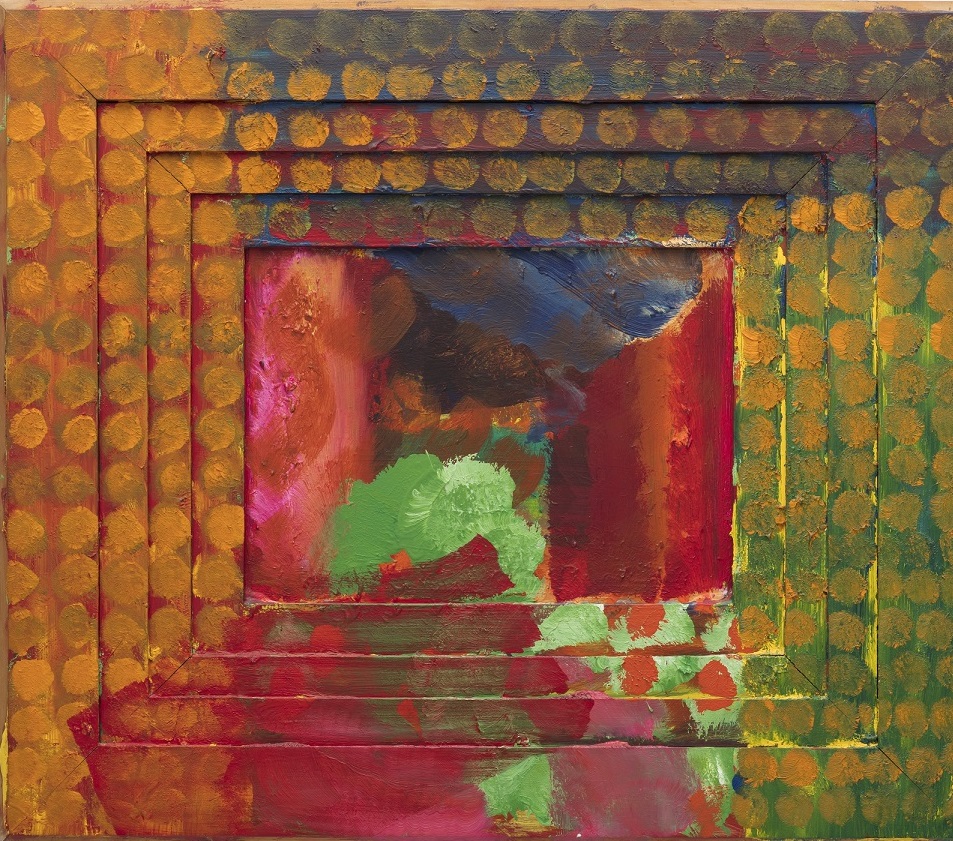 Painting as a metaphor for mortality is explored in Francis Bacon's self-portrait of 1972, with brushmarks seeming to peel away as they are applied, revealing a black – and flat – nothingness beyond. But in frustrating our gaze, Bacon points to the deep discomforture of depicting onself. Though belligerently confrontational, Lucian Freud's Man's Head, 1963, is just as evasive, and he regards us as he regards the subjects of his portraits – from above. It's trickier than that, of course, because to paint himself this way, he had to look down at a mirror, the means of capturing the image locked in tension with the end result.
Like Freud, Dora Maar refuses the conventional power relationship between viewer and viewed, and in her Portrait de femme, 1939, she peers at us through a narrow keyhole-like opening. This is no straightforward reversal of roles, however, her lips making this an uncomfortably derogatory shorthand for womanhood, more so once you begin to see the eyes as breasts, the lips as a vulva.
A photograph of Diane Arbus, pregnant and almost naked before a mirror, is similarly double-edged. Ostensibly a self-portrait, Arbus looks away from the camera, as if someone else, not she, has released the shutter. Man Ray, too, appears as if caught unawares in a snapshot. Evasive perhaps, but for Cindy Sherman and generations of artists before her, including Rembrandt, self-portraiture means the freedom to inhabit a different persona – though just how different, of course, we can never know.
Rembrandt's circles, drawn as if in sand, are just marks, a self-portrait another way of leaving a trace
rating
Share this article