Cost of Living, Hampstead Theatre review - tough but tender |

reviews, news & interviews
Cost of Living, Hampstead Theatre review - tough but tender
Cost of Living, Hampstead Theatre review - tough but tender
Adrian Lester compels in new American drama about care and connection
A rare moment of exuberance: Adrian Lester as Eddie
The Off Broadway production of Cost of Living two years ago brought Martyna Majok the 2018 Pulitzer Prize for Drama, the height of acclaim of which most new writers – Majok, with four pla
ys behind her, has yet to turn 35 – can only dream. High expectations then for
Edward Hall's production
, the work's trans-Atlantic premiere, which demands, and deserves engagement in a variety of ways, some very good indeed.
As the title suggests, it shines a light on sections of American society that are increasingly challenged by economic circumstances, here the post-industrial subsistence suburbs of New Jersey where the Polish-American dramatist herself grew up. But there's surely a more existential aspect to the phrase, too: life as an emotional abacus, if you like, keeping a tab on the pros and cons of existence. It's a world where battles have to be fought, whether against disability, a central theme here, or to achieve human connection. While Majok's emotional range extends wide, the landscape that her play charts is predominantly a bleak one.
Rigidity of dramatic structure and development of character don't always meld
You wouldn't immediately think so, however, from the comedic control with which Adrian Lester delivers its long opening monologue (pictured above). He plays Eddie, who's expounding the story of his life and love across the fourth wall to a captive bar audience: his drinking days may be over, but he's voluble, even poetic about the beauty and sadness of long-distance truck-driving ("roads are dark, and America is long") – the sadnesses tend to dominate, especially when "the thoughts" take him over. Which they definitely have tonight, summoned mysteriously as he has been to this strange place by a call from his dead wife's old number.
Majok's timeline is elastic, and the structure of Cost of Living reveals itself gradually, its quartet of characters aligned into two separate story strands, both involving issues of physical care and of caring in a much wider sense. Eddie's world revolves around his estranged wife Ani, into whose life he has come back after a car accident has left her with both legs amputated above the knee. Katy Sullivan premiered the role in the New York production and is utterly confident in Ani's in-yer-face effusions, her drawling dismissive shtick and foul-mouthed verbal convolutions (she practically boasts of throwing "every awful string a' words" at him). You'd think she'd be the last person anyone would want to be looking after but that's what Eddie, driven by his own inner empty spaces, is suggesting. They have a history, at least.
Which you can't say about Majok's second storyline, which has John, an affluent Princeton post-grad with cerebral palsy (played by Jack Hunter, who is, like Sullivan, disabled) being looked after by Jess (Emily Barber). His moneyed callowness contrasts with the young woman's awkward uncertainties: a graduate too, she's fallen on hard times, working flat out in different jobs. She may be managing to put a controlled front on all that, but there's a lot hiding behind it, not least her immigrant background: Majok doesn't labour that aspect, though she's surely drawing partly on her own experiences, just as she doesn't overdo the fact that Eddie is black. (Pictured above: Emily Barber, Jack Hunter)
The dynamic of these two worlds brings an ambiguity to our balance of sympathies. Is it easier for Eddie to look after someone he knows so well, or for Jess who fulfils what is effectively a contact between strangers? Hardly, especially given Ani's temperament, though the nasty hint of manipulation in John's character qualifies any certaintiy. These interactions – helping to give a bath or shower – involve the pitiless exposure of nakedness and silent physical contact that speaks louder than words, elements that somehow involve an almost primal theatrical experience. The intimacy of touch is numinously inverted in one scene where Eddie washes Ani: her intimate parts are numb, so she feels nothing there, but when his fingers play out a silent piano melody on her arm, the effect is overwhelming, both tender and erotic. (Pictured below: Katy Sullivan, Adrian Lester)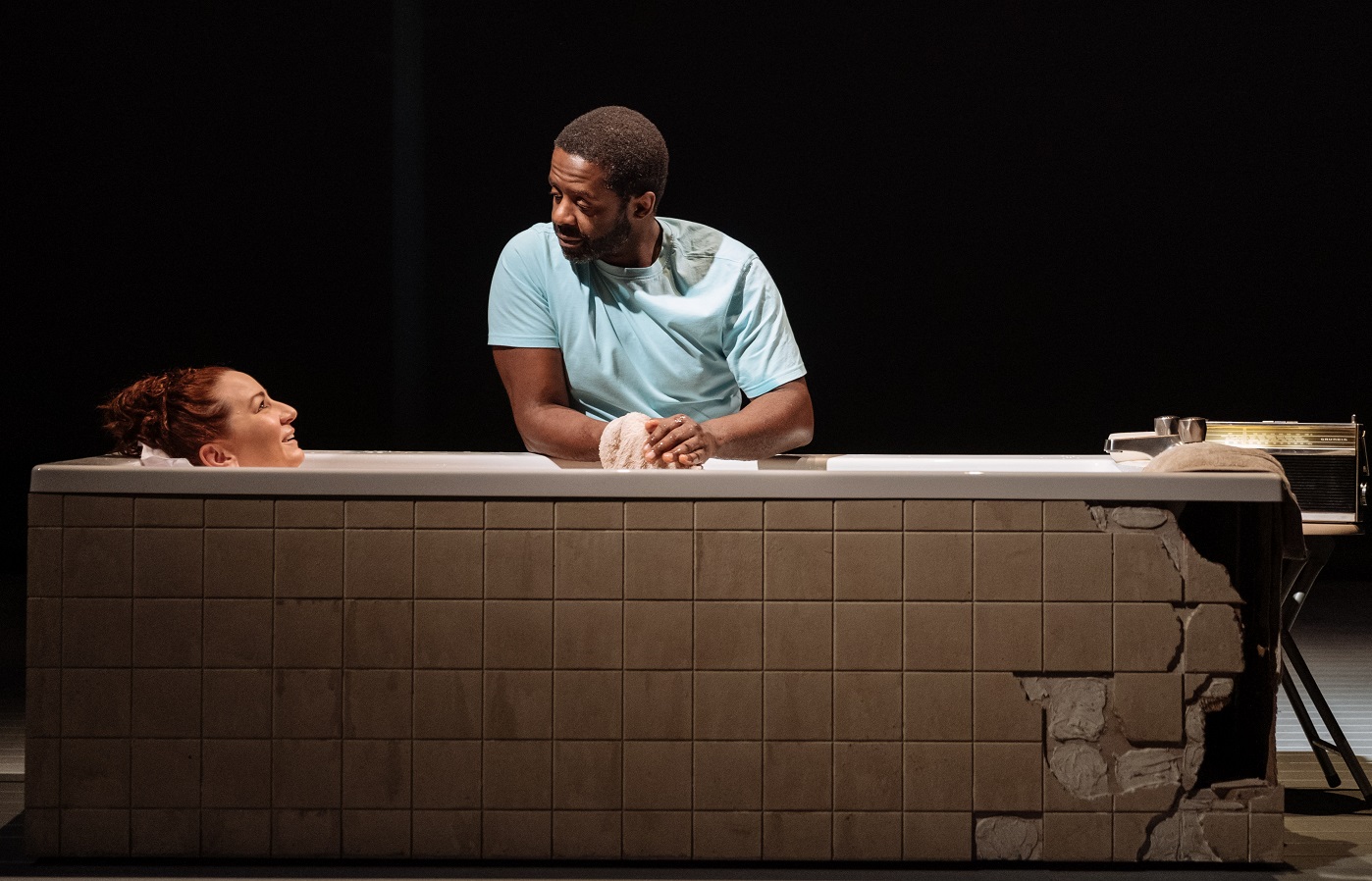 But rigidity of dramatic structure and development of character don't always meld quite organically. It's a shortcoming evident in the culminating scene between John and Jess, where an undeniable dramatic frisson is achieved at the expense of contrivance (though emotional misunderstanding is surely a perpetual hazard in this kind of "only connect" world). More significantly, it makes for a final scene that falls short, diluting too the writing's hard acuity. Majok confronts the inherent dilemma of creating drama, a form predicated on interaction, about characters whose ability to make contact is itself restricted, where "degrees of separation" sunder rather than connect; where the heart is just too lonely a hunter to reach out across the divide. The oh-so-tentative final moment of Cost of Living does not fully repay expectations.
If that qualifies Majok's overall achievement, the cumulative dramatic effect is considerable. It may sometimes seem a rather brittle text, but it's one that definitely expands into something more in Lester's hands: he achieves a remarkable naturalness that is there too, albeit sometimes over-stridently, in Sullivan's performance. Michael Pavelka's wintry urban design captures the play's frozen quality very well, a symphony of greys that is beautiful but cold, though its softly falling snow feels perhaps too poetic for this world. There's a lonely lamppost that could have come from an Edward Hopper painting, which is where these fractured lives belong, too, illuminated as they are by rare, uncertain epiphanies that barely break the darkness that Majok makes elusively visible.
Majok confronts the inherent dilemma of creating drama, a form predicated on interaction, about characters whose ability to make contact is itself restricted
rating
Share this article