Romeo and Juliet, Barbican review - plenty of action but not enough words |

reviews, news & interviews
Romeo and Juliet, Barbican review - plenty of action but not enough words
Romeo and Juliet, Barbican review - plenty of action but not enough words
Erica Whyman's RSC production finds youthful energy but not clarity
Wednesday, 07 November 2018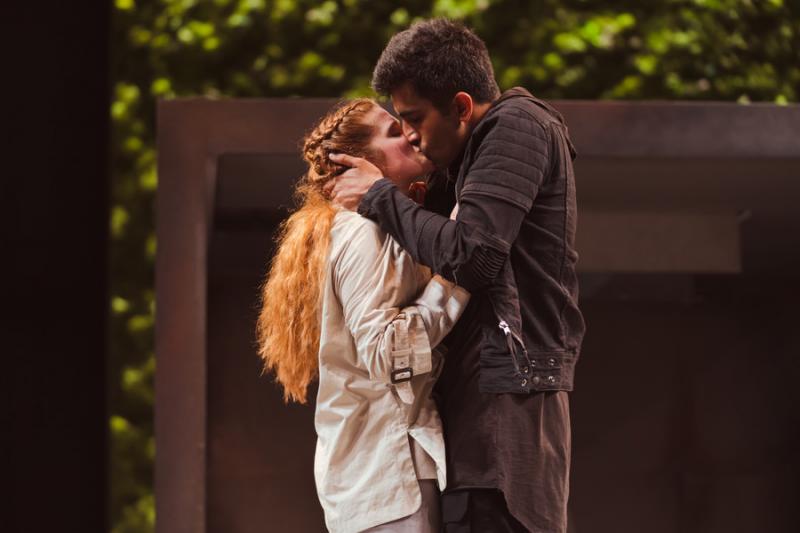 Parting is such sweet sorrow: Romeo (Bally Gill) and Juliet (Karen Fishwick)
It's clear from the start – from a Prologue that quickly dissolves familiar rhythms and words into a Babel of clamour and sound.
This
RSC
Romeo and Juliet
, newly transferred to the
Barbican
, isn't much interested in what is said. Actions not words are what count in Erica Whyman's swift, youthful staging – a production that dances on the balls of its feet like a boxer, always braced for attack, and ready to lunge in its turn. Do its dramatic blows land? Often they do, though it lacks the knock-out punch that really should floor you by the end.
Tom Piper's set is an unprepossessing thing. A giant concrete cube revolves in the centre of a uniformly grey-brown space – urban at its most generic – and only a distant slither of greenery for Friar Lawrence's cell offers any variation. It's all self-consciously spare, an empty playground for this young cast (supplemented with students from local schools) to clamber over and run around to the accompaniment of throbbing dance music.
But the games played here are far from childish. Violence is always in view. Everyone in this dystopian Neverland – even the mothers – carries a knife, and stabbings become the punctuation to every war of words; wounds are fleshy full stops, carved into the body. In a week where knife crime is on the front page, a year in which unprecedented numbers of teenagers are dying on London's streets, it feels like a natural part of the conversation, even if it's not a contribution that gets us much further.The production is at its best with the young. Bally Gill's Romeo (pictured above) is an impetuous hot-head, quick to love and even quicker to lash out, but endearingly self-aware, seen in some lovely gestures of self-dramatising at the start. His streetwise swagger is neatly punctured by Karen Fishwick's ingenuous Juliet – more child than woman, even by the end. Her struggles against a system (and a script) loaded against her come into focus in a startling confrontation with Michael Hodgson's erratic Capulet. We see in his nervy, instinctive violence the image of a Romeo or a Mercutio in adulthood, passionate beliefs fossilised into entitlement, anger into tyrannical authority.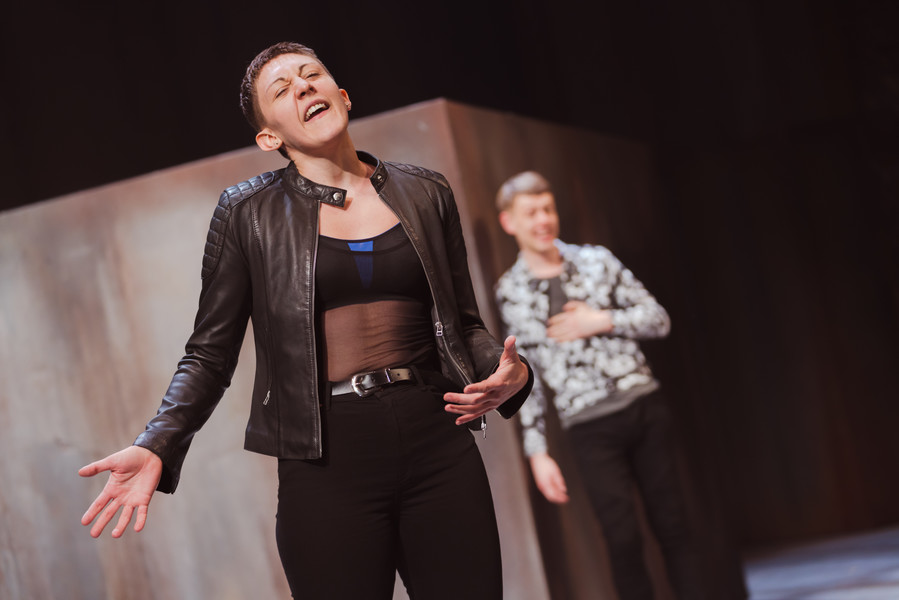 The role of women in Whyman's gender-blind world (five principal roles, Mercutio chief among them, are switched) is oddly uncertain. Charlotte Josephine's fists-and-foul-mouth Mercutio (pictured above) feels overworked and ill at ease, unsettled by some awkward verse-speaking that robs the role of its eloquence without offering much in return. Beth Cordingly's Escalus is better – a figure of embattled female authority and reason in a man's world. More interesting than either though is Josh Finan's Benvolio, quietly heartsore for his charismatic cousin, outmanned even by a female Mercutio.
The energy here is right, the emotion too. But in sacrificing verse for action, offering us the generalised sense of every speech rather than the space and clarity to grasp the specifics, Whyman gives us a Romeo and Juliet that is too literal. Her teenagers need knives because they can't use their words. Shakespeare's need knives because words – even his words – are simply not enough. That's the real tragedy, and that's what we miss here.
Romeo and Juliet is at the Barbican until 19 January, 2019