Siegfried, Royal Opera review - a truly fearless hero |

reviews, news & interviews
Siegfried, Royal Opera review - a truly fearless hero
Siegfried, Royal Opera review - a truly fearless hero
Stefan Vinke and Nina Stemme bring epic poetry to an often prosaic Ring
Sunday, 30 September 2018
The lustiest of sword-forgings: Stefan Vinke as Siegfried, Gerhard Siegel as scheming Mime
Siegfried is usually the problem with Siegfried. Even Stuart Skelton, top Tristan and currently singing an acclaimed Siegmund in this last revival of Keith Warner's rattlebag Ring, won't touch the longest, toughest heroic-tenor role in Wagner, the protagonist of his third opera in the tetralogy.
Stefan Vinke, singing his 100th Siegfried during this
Royal Opera
run, is a true hero, still sounding as fresh as - well, not exactly a daisy, more like a magnolia grandiflora. His stamina gave us not only the most thrilling of climaxes to Act One, where the fearless lad reforges his father's shattered sword, but also - with Nina Stemme's
Brünnhilde
emerging rejuvenated from a sleep of four hours or twenty-odd years, as you please - the best-sung final duet I can remember.
To make it the all-round greatest, more careful direction of movement and motivation would be necessary from a production which never kept close enough track on the human interaction, though these two can both act.This can't be a Ring in the Chéreau or Kupfer league for that reason, but when the symbolic clutter briefly clears, it does allow for strong individual performances. Nothing at all to fault in that respect from the three singers in the first act. Gerhard Siegel is the crafty-treacherous foster-father Mime, manipulating Siegfried to get at the ring guarded by giant Fafner as dragon. It's a truthful performance neither grotesquely caricatured nor exceptionally funny, but with a tenorial weight verging on the helden character, which makes for an exciting clash of voices with his boisterous charge. Vinke always essays traces of the boisterous adolescent in this heftsome Siegfried to save him from seeming obnoxious; and there's a lovely touch when he kisses Mime on the head before rushing out.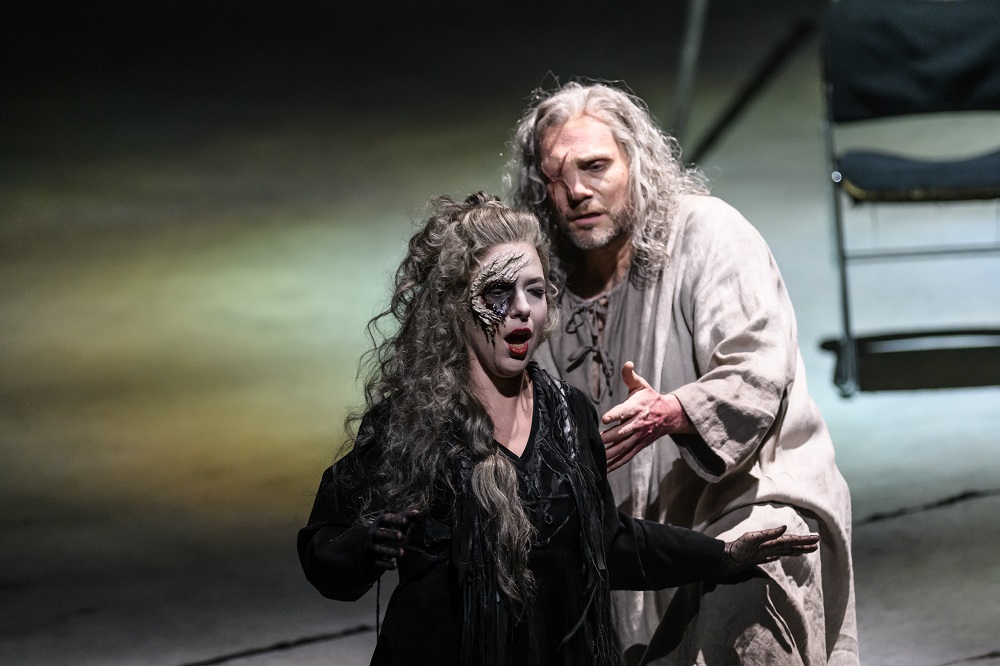 Reviews on The Arts Desk of the previous two instalments suggested vocal problems for the new Wotan of John Lundgren, but I understand he'd been sick and last night was fully recovered to give us a powerfully sung and authoritative Wanderer-God, a vocal force to be reckoned with and a decisive actor, too.
What the Wanderer's first apperance lacked was the necessary new breadth from the orchestra. Antonio Pappano is a master of keeping it all on the move, demanding some hectic forge-activity from his Siegfried in the making of Nothung – superbly realised by Vinke between clarion song – but at the same time we need more air from another planet as the local scene opens up to the supernatural. Especially so in the cosmic Act Three opening between Wotan and all-knowing earth mother Erda – handsomely sung by Wiebke Lehmkuhl, pictured above with Lundgren – which rolled along as the platform and the armchaired goddess revolved, but needed just that little bit more air. Does Wotan, not so incidentally, really need to spear his one-time mate to send her down to eternal sleep?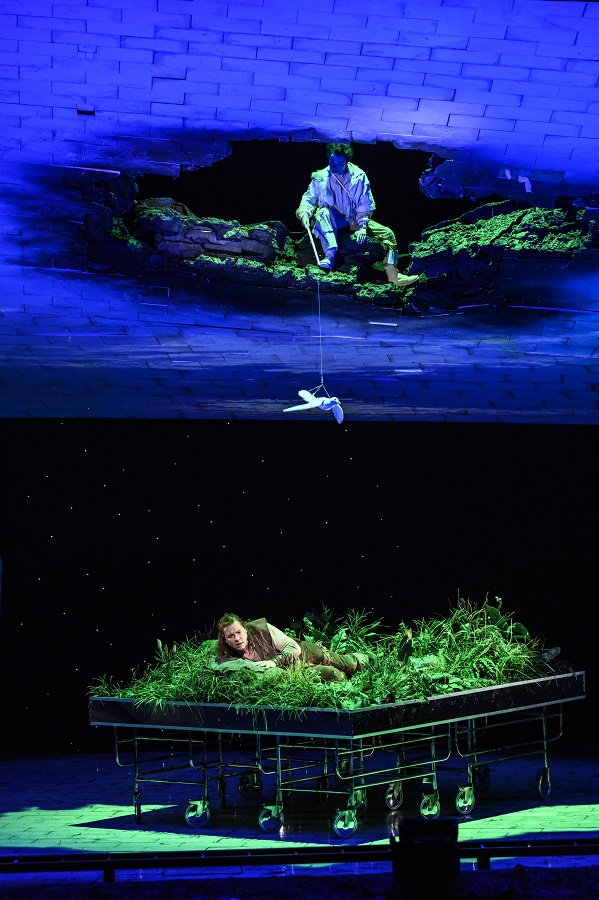 I'd expected Pappano to excel, as his Royal Opera predecessor Haitink always did, in the forest magic of Act Two, but there was some out-of-synch playing last night (maybe cut the orchestra some slack – this is its third big Wagner score this week). Warner's concepts are least convincing here as muddle sets in again. He's right to play up the cartoonish naivety of Siegfried's into-the-woods encounters, but they still need more motivation. Who or what is the woodbird-boy – Siegfried's younger self, as implied from Act One? Certainly a rather shrill specimen from Heather Engebretson (pictured left with Vinke). No way could this be a treble, as fellow audience members bizarrely speculated in the second interval.
There's also a messy giant-into-dragon-head for our hero to slay, with reams of dry ice, always a bad sign; the stentorian jet-black tones of Brindley Sherratt's Fafner, more present than usual, pull some focus here. The only slight disappointment among the men comes from Johannes Martin Kränzle as Alberich, lurking to regain the ring from Fafner. The Arts Desk's Gavin Dixon praised his Rheingold persona, but here the voice isn't dark or powerful enough to suggest forceful malevolence, the slightly over-acted characterisation hardly conveying a dark double for Wotan to face.
The imaginative journey of Siegfried up the mountain and through the ring of fire to his sleeping princess is blocked in more ways than one by the revolving wall that loomed too large in Die Walküre. The crucial encounter between grandson and the god who both wants and doesn't want him to progress went without the usual emotional frisson.
Not so the encounter, at last, with a real woman. Stemme (pictured right) charts Brünnhilde's wavering between a love for the ages and fear of her new powerlessness with exemplary clarity and upper-register clarity, with Pappano, who's made sure that the new note of human warmth has been signposted well before the final scene with loving portamenti from the strings, really making this final confrontation work. Often it stretches the audience's patience as well as the singers' abilities that bit too far, but never so here, least of all from Vinke and Stemme as a well-matched pair. A real spell is cast between Stemme and sympathetic, inward strings in "Ewig war ich", the source of the Siegfried Idyll.
There's just a hint of holding it all purposefully together from the Swedish soprano – just before the end she glanced nervously down to the pit to keep track of Pappano's speediness – but Vinke's Siegfried was the rock on which she, and the rest of us, could always depend - for now. All that's going to crumble in Götterdämmerung, where everyone can be sure of Stemme as a hair-raisingly vengeful, and then redemptive, Brünnhilde for the ages. Beyond present parameters, though, the next Royal Opera Ring I want to see has to be Richard Jones's keen return to stage it all afresh, conducted by his perfect collaborator Mark Wigglesworth (the only possible successor at the Royal Opera to Pappano), with Tamara Wilson, a Brünnhilde in waiting, and Iain Paterson as Wotan. Who knows, at this rate Vinke may hold on to sing his 200th Siegfried with equal security. He's a phenomenon to treasure.
Vinke's Siegfried was the rock on which Stemme's Brünnhilde, and the rest of us, could depend - for now
rating
Explore topics
Share this article