Prom 18: Siegfried, Staatskapelle Berlin, Barenboim |

reviews, news & interviews
Prom 18: Siegfried, Staatskapelle Berlin, Barenboim
Prom 18: Siegfried, Staatskapelle Berlin, Barenboim
Proms setting enhances an opera that glories in the orchestra
Love, finally: Lance Ryan's Siegfried at last meets Nina Stemme's Brünnhilde
The transformative power of the Royal Albert Hall at Proms-time never ceases to amaze me.
Here is
Siegfried
, the third in Wagner's Ring cycle, sprawling in length, not over-strong in characters, yet in the Proms setting the rather over-extended character scenes cede to the extraordinary scene-painting, the noise of Mime's metal-working, the inky mystery of Erda's cavern, the bloody terrors of Fafner's cave, the forest full of birdsong.
Daniel Barenboim
and the Staatskapelle Berlin made sure last night that five and a half hours very nearly sped by, so sumptuous and yet delicate was their dominance visually and aurally, and hence total absorption in this strange opera.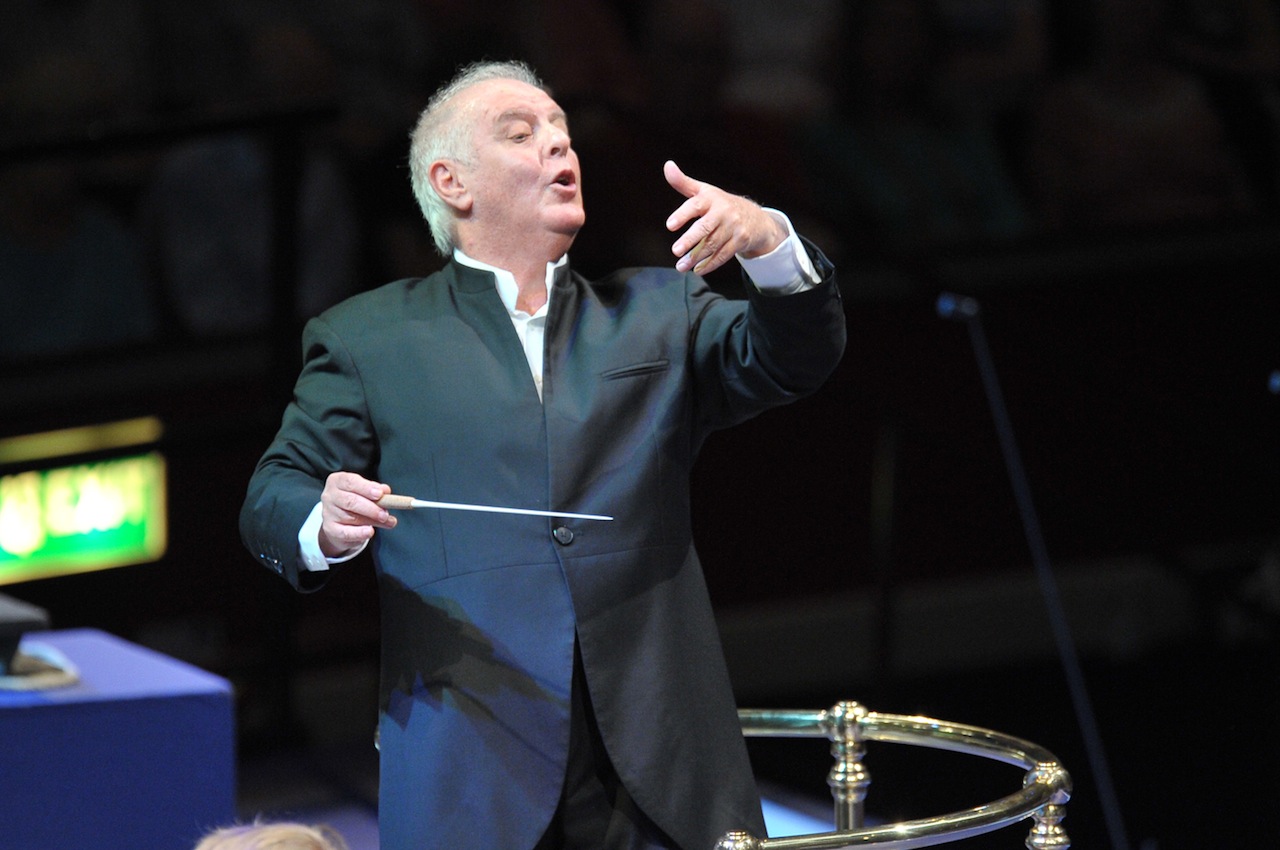 The eye luxuriated in the banks of golden harps, the curiously squashed Wagner tubas, the stereo timpani far left and top right, the fleets of violas. In front of this ever-changing tapestry of musical motion, the singers were nicely marshalled in a semi-staged fashion by Justin Way, fielding divertingly tiny props - a miniature anvil, a little stick, a minute ring representing the grand symbols of insuperable might over which everyone squabbles in petty fashion.
Yet what about the fire on Brünnhilde's rock or the great dragon or the forging of Nothung? No problem, it all works excellently in Siegfried, as the absence of spectacular visual effects makes you concentrate on some of Wagner's most ravishingly inventive orchestral writing. The Staatskapelle Berlin is an astounding band, and Barenboim can walk tightropes over chasms with them: he bonds the violins in almost inaudible pianissimi, he weighs out the volume from the brass in scruples, the dappling of some of the sound speaks of fervently detailed and united work.
This part of the Ring saga has an awkwardness caused entirely by the oddness of the central character, the intended hero Siegfried. For much of the opera he's the equivalent of a surly, spotty adolescent who feels neither fear nor conscience, and treats his adoptive father Mime with abominable rudeness.
Yet we know that the hand-wringing Mime is an evil piece of work himself, intent on using the lad's preternatural strength for his own ends, and the enormous attractiveness of Barenboim's choice of performers (as actors as much as singers) was how comically sharp and realistic this relationship between Siegfried and Mime became.
The two high tenor voices faced off, acidly bickering - the little, brilliantly fierce Peter Bronder and the tall, vibrantly natural Canadian heldentenor Lance Ryan (see main picture), who is outstandingly convincing in this almost unplayable role. Without costume, he can home in on things psychological, not visual. The ambivalence he feels for Mime - hatred, yet also an inability to leave him - is very persuasive of a relationship where each is abusing the other (left, Bronder's Mime at front, with Johannes Martin Kränzle's Alberich).
Ryan's voice is bright, high and clean; what it lacks in caramel edges it makes up for in how unaffectedly he produces it, almost conversationally, every word clear (he was a student of Carlo Bergonzi, a master of articulacy.) He persuaded absolutely of the callowness of Siegfried, and yet had the theatrical intelligence to show the lunkhead growing up very fast into dignity when finally making it to Brünnhilde's rock, suddenly humbled by meeting this goddess, embarrassed by his own urgency.
Stemme homes in on Brünnhilde's sense of extreme vulnerability at being woken by a stranger who has already half undressed her
Nina Stemme (see main picture) commands adulthood in her man, though. Vocally she combines both mellow warmth of tone and the exciting attacks with accurate power where it counts; as an actress she homes in on Brünnhilde's sense of extreme vulnerability at being woken by a stranger who has already half undressed her. I loved the tentative nuances both singers brought to the climactic love duet, which is a bit of a trudge to a prescribed point. It finishes Siegfried slightly unsatisfactorily (tonight's and tomorrow's Proms, Tristan und Isolde and Götterdämmerung, deliver the full emotional Monty).
Yet the interest in this opera isn't the required love story, it's yet more of those skewed familial relationships that Wagner writes so brilliantly, both in text and music: the dwarf brothers Mime and Alberich, bitterly at war over the Ring; Wotan and Erda, estranged parents of Brünnhilde, meeting up reluctantly; and of course Wotan and Siegfried, the grandson whose uncomplicated strength must put right all the god's complicated wrongs.
Once again in this cycle the Wotan is different, this time in his Wanderer guise less a protagonist in the drama than an agent for Siegfried, which suited the casting of the veteran Norwegian baritone Terje Stensvold, beautifully autumnal in voice, dignified in demeanour. His scene with Erda had a pathos and heartfelt emotion not to be extracted from the younger lovers' scene later, and he was much assisted by the terrific Anna Larsson (pictured right), tall and striking in a garnet fishtail dress, with a voice of veiled contralto depth. Barenboim and she held that scene in utter suspension, a most mysterious dream-place.
Johannes Martin Kränzle's Alberich was eclipsed in character terms by Bronder as his brother Mime, though indeed his part here is much smaller. Rinnat Moriah warbled her Woodbird exultantly from the highest reaches of the Albert Hall, and Eric Halfvarson roared Fafner from obscurity behind Sir Henry Wood's head in the organ loft. A tumultuous audience ovation at the end left Barenboim looking pleased as punch, as well he should be.
The Staatskapelle Berlin is an astounding band, and Barenboim can walk tightropes over chasms with them
rating
Share this article