Die Walküre, Royal Opera review – putting family before sex |

reviews, news & interviews
Die Walküre, Royal Opera review – putting family before sex
Die Walküre, Royal Opera review – putting family before sex
Strong casting and unreliable chemistry in the last hurrah for a well-grooved staging
Thursday, 27 September 2018
Magic fire: Keith Warner's Royal Opera production delivers all the big moments
Perched alone and fearful in her hut as the curtain rises on Die Walküre, Sieglinde clutches and then throws aside a grimy teddy-bear. Story time is over. The nymphs and gold and bickering gods all belong in the past, to the 'preliminary evening' of Das Rheingold, or so Sieglinde might think. The real drama of Wagner's Ring begins here.
It's a nice metaphor, one of many that Keith Warner throws into the pot for his Royal Opera staging on its final appearance.
Other false comforts and dreams of dominion bind the Victorian age of the Ring's composition to subsequent eras of industrialised exploitation, expansion and decline in Stefanos Lazaridis's designs for this Mime's brew of symbols and signifiers: a broken wardrobe in need of a witch, cracked marble fireplace and worn-out black-leather trimmings. The rubble of trapped power belongs not only to late capitalism but to Wagner productions worldwide, and Warner is having his cake and eating it.
Warner reliably teases out the red threads of money and power in the Ring. Family, too: as Siegmund, Stuart Skelton is recognisably a son to Wotan as well as father to Siegfried, rhapsodic in distress and impulsive in action. He refrained from showboating his cries of "Wälse" and dared some of his quietest singing for the lyric paean of "Winterstürme" (the scene pictured below), trusting that the steel in his voice would cut through like the blade of Notung glinting above him. Emily Magee's Sieglinde won hardly less sympathy, resolute and vulnerable in equal measure, less vocally imposing than her Empress in Die Frau ohne Schatten but always steady even when challenged by the orchestra at full tilt, at least until her final, impassioned plea of "O hehrstes Wunder". She was heard better higher up in the house where the seats are cheaper and the balance fairer between stage and pit. Ain Anger sang a notably thoughtful Hunding, no brutish thug but rather a bit-part or rejected "asset" in the mould of the sinister film empires (The Matrix, Bourne, Wellesian fantasies) that Warner's production increasingly resembles.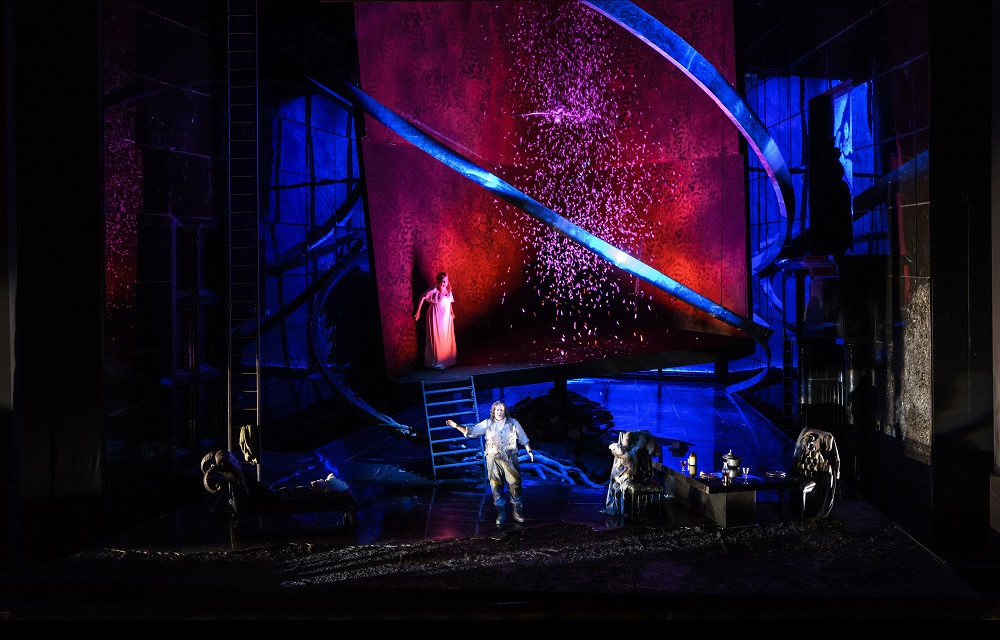 But Die Walküre demands that we talk about sex, and there was perplexingly little of the erotic charge which is the lifeblood of the first act and fills its many orchestral interludes with meaning. In the pit, Antonio Pappano continues to refine a honeyed sostenuto in Wagner. The solo and divided cello episode sounds more than ever like an out-take from Rossini's William Tell, not unreasonably. He whips up a terrific storm at the act's opening and close, he pushes time and space to the limits of sense when setting the scene for the Todesverkündigung (Brünnhilde's annunciation of Siegmund's death), drawing out the most Bellinian aspects of Wagner's orchestration, and performs naturalistic wonders with the rides of the Valkyries' steeds as they cut across each other in the third act's prelude.
So what was missing? As much and as little, perhaps, as simple chemistry, between principals mostly new to a well-grooved staging. Stepping into the biggest boots of all was John Lundgren for what has hitherto been Bryn Terfel's Wotan. A figure commanding attention even when delivering most of his second-act monologue in a barked stage whisper, Lundgren is not a god weary of the world he has created so much as angry with it. It's a restless, absorbing and detailed portrait worth seeing even for seasoned Ring goers, though not on the first night supported by the requisite stamina for the role: he had noticeably tired by the time of the third act's Farewell.
More consistently persuasive and authoritative were Sarah Connolly and Nina Stemme, who as Fricka and Brünnhilde gave what amounted to masterclasses in Wagnerian delivery. Connolly's claim over the music of Brünnhilde's arrival to delight in Wotan's despair was a highlight of the evening, and her ownership of the part since its 2012 revival is as absolute as her mastery of her husband. Everyone involved likewise raised their game in partnership with Stemme, for whom this is, incredibly, her first fully staged Brünnhilde in the UK. Daniel Barenboim's Proms Ring in 2013 offered just a foretaste of what British audiences have been missing, a complete Brünnhilde for our time, impetuous from the outset yet never aggressive, blending with a superb team of Valkyries (pictured above), always learning and drawing strength from the characters around her. From now on, the Ring is her story.
Der Ring des Nibelungen continues at The Royal Opera on Saturday 29 September. The cycle is being recorded for future broadcast on BBC Radio 3.
Stemme is a complete Brünnhilde for our time, blending with a superb team of Valkyries
rating
Explore topics
Share this article