Lammermuir Festival 2018 review - a bigger buzz |

reviews, news & interviews
Lammermuir Festival 2018 review - a bigger buzz
Lammermuir Festival 2018 review - a bigger buzz
East Lothian's award-winning festival continues to challenge, provoke and illuminate
Monday, 24 September 2018
Living every note of Nielsen: clarinettist Mark Simpson and conductor Cristian Macelaru with the Scottish Chamber Orchestra
There's always been something of a buzz in the air at East Lothian's Lammermuir Festival. It's the feeling that it's somehow a special privilege to discover its performances – whether they're from international names or emerging artists, challenging, provocative and illuminating by turns – across the region's exquisite and little-known churchs, halls, theatres and other venues.
Plus, of course, its timing: there's no avoiding the fact that the Lammermuir Festival feels like a comforting come-down after the unbridled frenzy of its elder, far more gargantuan
Edinburgh
neighbour that takes over August half an hour up the A1.
But that buzz felt more pronounced this year, with international visitors in among the East Lothian and Edinburgh regulars, a committed few turning out for seemingly every one of the Festival's offerings. That's no doubt at least partly down to Lammermuir's Royal Philharmonic Society win last year as the UK's top festival – something reflected in its broader, ever more confident and more ambitious programming for 2018. So we got a first Lammermuir visit from Scottish Opera in Britten's Burning Fiery Furnace; returning performers including the Danish Quartet and the Marian Consort; and a whole raft of Scottish musicians from the BBC Scottish Symphony Orchestra, Scottish Chamber Orchestra, Hebrides Ensemble, Dunedin Consort, Red Note Ensemble and more.
Another of those returning visitors is Mark Simpson, first in Lammermuir in 2014 to perform the Brahms and Mozart clarinet quintets with the Danish Quartet, and back as artist in residence, this time as both composer and clarinettist. It was in that second role that he threatened to steal the show at the Scottish Chamber Orchestra's concert in St Mary's Church, Haddington, on the festival's opening weekend, giving a fearsomely intense, dramatic account of the Nielsen Clarinet Concerto in which he seemed to live every moment of the piece – especially those where he wasn't even playing. In his lively programme note, festival co-director Hugh MacDonald described the Concerto as "a kind of musical realisation of a stage play, with the instruments as actors". That couldn't have been an apter description of Simpson's minutely detailed, theatrical approach, set off with a wonderfully lithe, flexible technique.
In the rest of the concert's programme, three symphonies might have seemed like too much of the same thing, but conductor Cristian Macelaru whipped through Mozart's Haffner and Prokofiev's Classical with such brisk vigour that it felt like an entirely natural combination. He was more expansive in his closing Beethoven First Symphony – certainly in a majestic slow opening – though perhaps a little too emphatic for its mischievous humour. It was a galvanising, energetic concert, nonetheless, with the SCO players on reliably incisive form.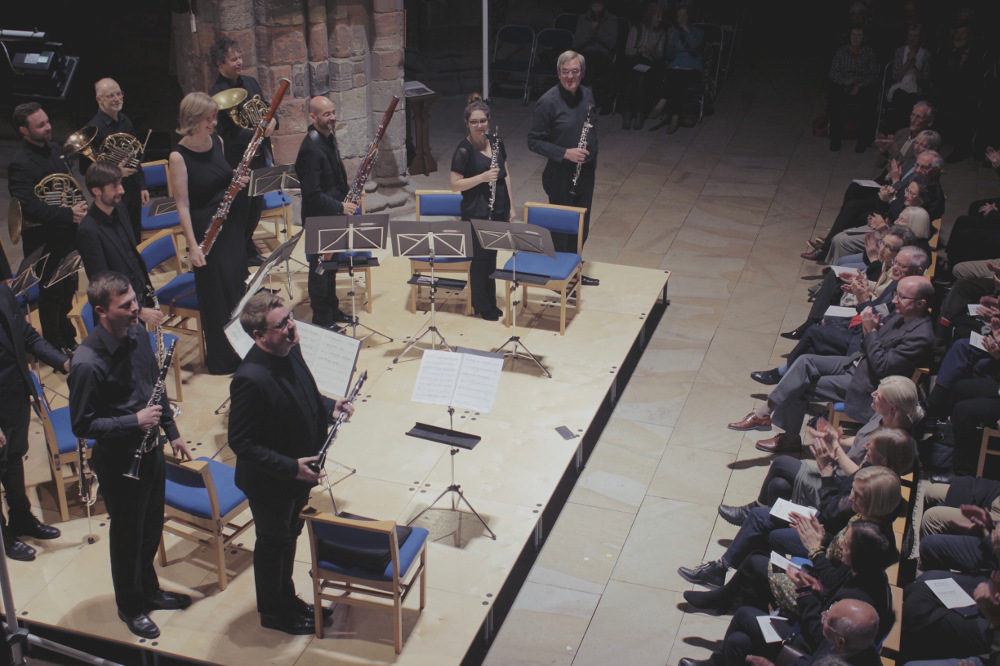 Simpson was back mid-week for a superb concert with the Red Note Ensemble, contrasting his own rather overwhelming Nur Musik and more lyrical Straw Dogs with John Adams's Shaker Loops and Gnarly Buttons, with himself as an equally compelling soloist. The last of his trio of concerts fell on the final Saturday, when he was back with the wind players of the SCO (pictured above), contrasting Mozart's Gran partita with his own Geysir, written for the same forces.
There's no doubting Simpson's showmanship, as both clarinettist and composer – he even owned up to what he called his own "slightly frenetic musical energy" in his engaging spoken introduction to Geysir. But this was a carefully structured work, ringingly clear in its gathering then dissipation of energy, and ravishingly scored for 12 winds and double bass, seeming to perpetually slide towards tonality only to have it slip from its grasp. Simpson admitting find inspiration in the towering opening chords of Mozart's Gran partita for his own work, and the SCO winds' sumptuous account of the earlier piece seemed to revel in the almost tactile beauty of sound just as much as it did in Geysir. It was a thrilling, unpredictable performance, however, under Simpson's direction from the clarinet – at times light-footed, at others breathless, notably in a headbanging finale that verged on the downright raucous. You just can't keep Simpson's frenetic energy at bay, it seems.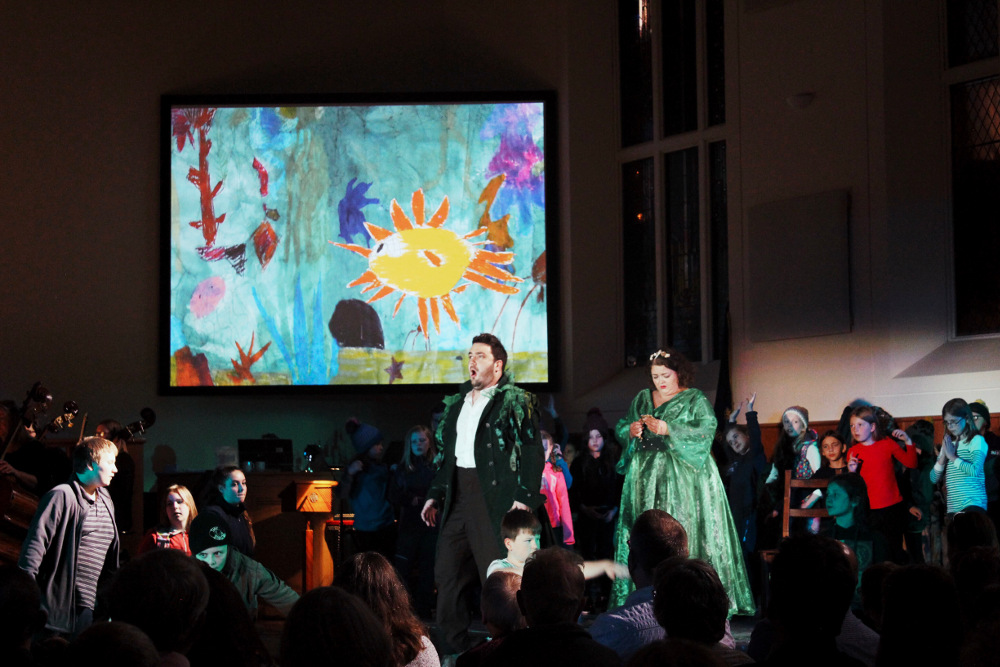 The festival scored a massive hit two years back with a Britten Noye's Fludde that drew on the talents of the Dunbar community alongside professional singers and instrumentalists. This year's community project was An Cadal Trom (Gaelic for "a deep sleep"), given two performances on the closing Saturday afternoon, also in Dunbar, and using many of the same creative team, including conductor Sian Edwards and baritone Andrew McTaggart, joined by mezzo Penelope Cousland (both singers pictured above) in the solo roles. It felt inevitably like a follow-up, if on an even more ambitious scale.
This was a brand new work, commissioned by the festival from composer Matthew Rooke, that melded a tale of merfolk love with glimpses into East Lothian history. The result, as director Jack Furness described it in his note, was a "rich tapestry of Dunbar scenarios", a no-holds-barred pageant that filled Dunbar Parish Church with enormous puppet sea monsters, ballet-dancing kittiwakes, Roman legions, local geologist John Muir, exhausted hikers, witch queens and far more besides.
If it lacked the poignant simplicity and directness of the Britten work, there was no doubting the commitment and enthusiasm of its enormous cohorts of local performers, who seemed even to outnumber the sizeable audience. In a similar way, Rooke's music made explicit, wide-ranging nods to Glass and Sibelius, Respighi and Wagner, even Rodgers and Hammerstein – but it was best to sit back and wonder at the sheer spectacle of it all, and the logistical feat of gathering and rehearsing the gartantuan band of performers, amateurs and professionals alike.
From the near-overwhelming to the intimate, and following the SCO winds and Mark Simpson on the festival's closing Saturday came a focused, intense and beautifully stimulating late-night performance of Stockhausen's Freude from singing/vocalising/acting harpists Emily Hoile (pictured above) and Marion Ravot. One of the composer's final works, and one of the 24 projected works in his post-Licht KLANG cycle (he only completed 21 before his death in 2007), Freude is, as its title would suggest, a joyful, mercurial, volatile work, one that flirts at times with tonality, and makes full use of the sensual, ear-tickling delicacies of harp playing alongside more rugged, angular writing.
And it received a splendidly flamboyant, exuberant performance from Hoile and Ravot, as passionately committed as it was intricate – uncompromising in its complexity, certainly, but given such a generous, energetic account that even sceptics were swept up in its invention. A few well-chosen introductory pointers from Hoile and festival co-director Hugh MacDonald certainly helped open up the piece's complexities. But it was just the kind of challenging, provocative and thoroughly illuminating – and deeply rewarding – experience at which Lammermuir excels. And which it plays such a crucial role in supplying.
The Lammermuir Festival feels like a comforting come-down after the unbridled frenzy of its elder, more gargantuan Edinburgh neighbour half an hour up the A1
rating
Explore topics
Share this article