Last Flag Flying review - Richard Linklater on the lies of war |

reviews, news & interviews
Last Flag Flying review - Richard Linklater on the lies of war
Last Flag Flying review - Richard Linklater on the lies of war
Bryan Cranston excels in a sentimental story of three vets on a mission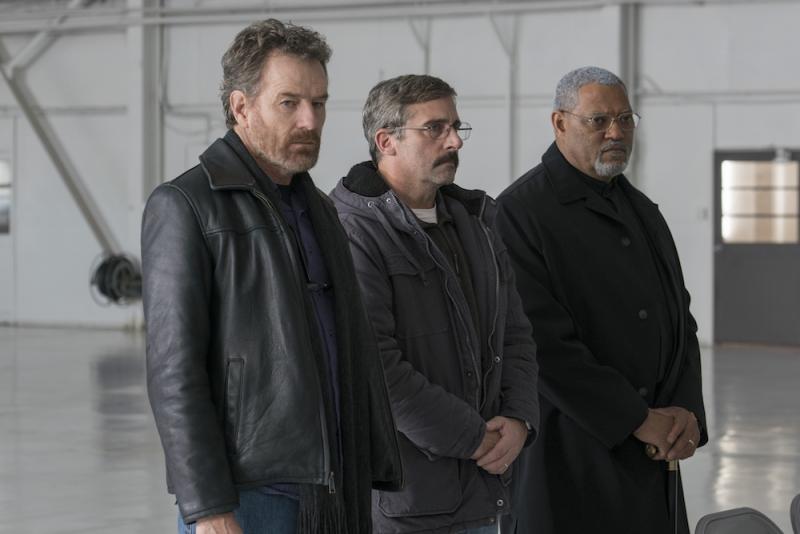 Bryan Cranston, Steve Carell and Laurence Fishburne: buddies under duress
This Vietnam vet/road movie is a warm-hearted, meandering piece, but any similarities to Linklater's Boyhood or the Before…trilogy end there. This is a darker story, but not dark enough, and you wish it could have been less conventional and harder-hitting. Set in 2003, its first scene is in a run-down Virginia bar with Sal, a jaded alcoholic ex-marine (Bryan Cranston in a stand-out performance) at its helm.
Doc, a shy former medic from Vietnam days who Sal doesn't recognise at first (a low-key Steve Carell), re-enters his life, followed by a third ex-marine, Mueller, who was once a hell-raiser but is now a preacher (a mighty Laurence Fishburne). It's a sticky start, and it all feels a bit predictable.
Last Flag Flying is based loosely on a novel by Darryl Ponicsan (he co-wrote the script with Linklater) who wrote it as a sequel to The Last Detail (Jack Nicholson, in a legendary performance, starred in Hal Ashby's 1973 film) in which two older sailors escort a young one on a train-ride to prison, stopping off along for way for some heavy-hitting R&R and camaraderie. That film didn't contain a drop of sentimentality, unlike Linklater's, which describes a similar trip in some ways, though this time it's a dead body that's being escorted: Doc's son Larry, killed in Iraq. A hero's death, he's been told, and the devastated Doc is ready to have the body buried with full military honours in Arlington cemetery.
But when he, Sal and Mueller arrive at Dover air force base in Delaware where the remains have been sent – a chilling place, with flag-covered coffins and weeping families in a clinical sea of white, with a wonderfully waxwork-like colonel (Yul Vasquez) uttering stern platitudes - it becomes clear, from what Larry's fellow marine and friend Charlie (an impressive J. Quinton Washington) tells them, that the official story is a lie. And lies – uncovering them and whether it's always right to do so – is one of the film's major themes.
Why exactly the grieving Doc has hunted down Sal and Mueller, who he hasn't seen in 30 years, to help him with the awful task of taking his son's body home to New Hampshire and burying him there, as he decides to do, isn't immediately clear. Neither of them is pleased to be reunited with him, especially not Mueller. He's a teetotaller, the opposite of wild-man Sal, who makes endless insulting God jokes. "He's reading the psalms," Sal tells a receptionist. "As in Osama bin Laden." This leads to trouble.
They're all still traumatised and angry, especially Sal, after the hell of the Vietnam war, and it seems that Doc paid the price for some murky behaviour they were all involved in – he got a bad conduct discharge and took the rap, spending time in the brig, for a crime that led to the death of one of their fellow marines. At various moments Mueller almost heads back to his wife and congregation in disgust, but part of his blaspheming old marine persona emerges and once the three are on a train to New Hampshire, accompanied by young Charlie (the waxwork colonel has charged him with making sure the son gets buried in his uniform), the film seems to exhale and find its energy. What it really wants to be, it seems, is a feel-good, funny movie, but the uncomfortable subject-matter won't quite let it.
Soon things turn almost festive and the three old geezers regale Charlie with Vietnam tales and how they helped a timid 18-year-old Doc lose his virginity there. The hilarity is catching, and Cranston's life force is cathartic. They stop off in New York – "Urine: the official scent of the city," says Sal - to get drunk and buy a bunch of Motorola phones so they can keep in touch (in 2003 it's odd that Sal's the only one who seems to have heard of a mobile phone). Of course it allows Sal to prank-call Mueller. "This is God," he says, "and I'm very displeased with you."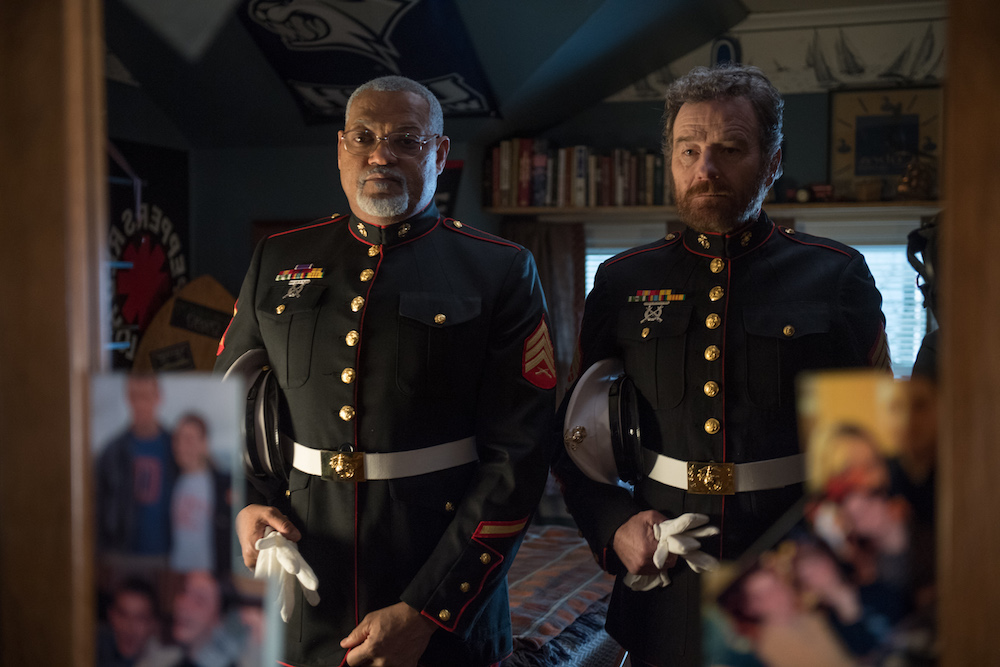 By the time they reach Doc's house in New Hampshire for the funeral, the four have, of course, bonded. The power of friendship and the importance of the white lie carry the day. A final letter from Doc's son rounds things off a bit too neatly, and would these war-scarred ex-marines really go all-out in full dress uniform for the funeral (right)? But there's something gracious, gentle and finally redemptive about the whole, with Dylan's "Not Dark Yet" as a suitable send-off.