The Nutcracker, Royal Ballet review - superb start to the festive dance season |

reviews, news & interviews
The Nutcracker, Royal Ballet review - superb start to the festive dance season
The Nutcracker, Royal Ballet review - superb start to the festive dance season
Tchaikovsky's grand and gorgeous classic gets the five-star treatment
Wednesday, 06 December 2017
Artists and principals of the Royal Ballet in Sir Peter Wright's production of 'The Nutcracker'
There's confidence for you. A global relay on the first night without so much as an edit button.
But then, these dancers are in their comfort zone in this particular show, which exploits all the things the Royal is best at: naturalistic drama combined with a coolly restrained classicism, and a sense (however carefully manufactured) of being grandly at ease in a stage world that gaily includes expanding furniture and battalions of mice on its way to one of the most heart-stopping grand pas de deux in the canon. It helps, too, to have an ace house orchestra when the score is as good as Tchaikovsky's.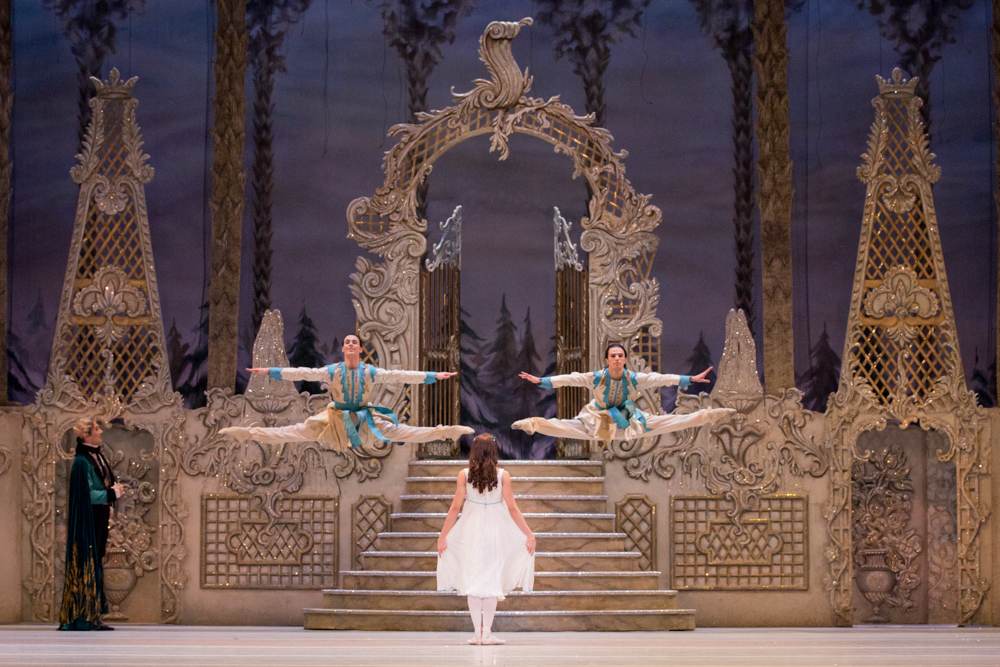 Some ballet companies change their staging of the Christmas classic as a family might change its car: English National Ballet has had 10 versions in 65 years and frankly could do with a new one. The Royal has stayed loyal to Wright's production since 1984 and, since a recent overhaul, it is now definitive. The usual gripe about Nutcracker being an uneven game of two halves – the first all story and no dancing, the second all dancing and no story – no longer applies. Wright's integrating of Clara and her beau into the national dances of Act II makes for a near-perfect balance, rendering the whole thing vastly more palatable for children, and adding depth and texture all round.
Some of the subtler innovations are fun to spot. Every feature of the enchanted second half is now presaged in the real world of the first. The Spanish, Arabian, Chinese and Russian dancers are first glimpsed as fancy-dress attendants on St Nicholas, dispensing sweets for the children at the Stahlbaum's party. During the mouse battle these same characters can be seen taking up comfortable viewing positions in the newly enlarged dolls' house, appalled and thrilled by the carnage like tourists at the Battle of Waterloo.
Gary Avis is a superb Master of Ceremonies, throwing off real magic tricks with aplomb but, more importantly, appearing to think on his feet
Another distinction of Wright's handling of the 1892 scenario (only a fraction of the original ballet survives), is his positioning of Herr Drosselmeyer, party entertainer and maker of clockwork toys, as the engine of the story. It is Drosselmeyer who opens and closes the show; it is he who induces young Clara to rescue his nephew, the soldier Hans-Peter, from a curse, and who transports them to Sugar Plum country, and supervises the international dance show (pictured above) put on in their honour. Tchaikovsky almost certainly identified personally with this character, he himself being a devoted uncle and generator of magic in more ways than one.
Gary Avis is superb in the role, throwing off real magic tricks with aplomb but, more importantly, appearing to think on his feet. We see and share in his delight at his own ingenuity. But even the most minor characters in the Stahlbaum's drawing room have a truthfulness about them, from the fond parents and fussing aunts to the curmudgeonly grandpa in his embarrassing knitted hat. Even the nameless hordes of children are individually sweet or annoying.
Francesca Hayward (pictured above) has the advantage of being able to look about 12 or 13 without simpering, and it's not until Clara's pas de deux, after she has raised up her Nutcracker Prince from his battle injury, that we get her full measure as an actor-dancer. Then, wow, does she take off! What is always a lump-in-throat moment – it's the music – Hayward makes utterly thrilling as she conveys the first stirrings of adult love through Wright's soaring lifts and turns. Alexander Campbell partners strongly but it's later that he shows his distinctive quality, when he mimes everything that has happened to him thus far, nasty bristling rat whiskers and all. The Reduced Nutcracker indeed, in 30 seconds flat.
The national dances spring no surprises. Melissa Hamilton is dangerously snakelike in Arabian, an impression helped by a wondrously sustained pianissimo from the orchestra under Barry Wordsworth. And the Chinese dance has at last mercifully shed the remaining vestiges of dodgy racial indicators. The plaits and costumes do the job without comedy pointy fingers. The Waltz of the Flowers, as the most extended dance number, works beautifully to prepare us, mentally as well as visually, for the grand classicism of the grand pas de deux. Yasmine Naghdi is again an exemplary Rose Fairy, as light as a whiff of scent. And I do believe I've never seen crisper double tours from her four escorts. There wasn't a fudged jump between them.
The segue into the grand pas always seems to me rather sudden. But that's how the music goes, and if any couple can make it work, Sarah Lamb and Steven McRae can. Perfectly matched in both scale and dynamic, these two are the business. Lamb (pictured above, right) recalls Lesley Collier in her glorious prime, McRae the godlike young Anthony Dowell. Together they give a masterclass in the refinement and poise that comes of a lifetime's commitment to technique. A special evening, then. And tens of thousands got to see it.
The Royal has been loyal to this production since 1984 and, since its overhaul, it is definitive
rating
Explore topics
Share this article