Marnie, English National Opera review – hyped new opera doesn't hit the heights |

reviews, news & interviews
Marnie, English National Opera review – hyped new opera doesn't hit the heights
Marnie, English National Opera review – hyped new opera doesn't hit the heights
Nico Muhly's world premiere offered musical pleasures but too many flaws to be great
Sasha Cooke as Marnie at ENO
The great and good of the London music scene were gathered at English National Opera last night for the unveiling of American Wunderkind Nico Muhly's new opera, Marnie. Although it was commissioned by the Met in New York, somehow ENO managed to wangle the world premiere, which has been widely hyped and was ecstatically received by a packed house.
But for all that there was much to enjoy, it hardly deserved such rapture, and there were problems with both piece and production.
Marnie is a 1964 psychological thriller by Alfred Hitchcock, based on the Winston Graham novel of 1961. The opera looks more to the novel than the film (although the programme declares the production is "by special arrangement with Universal Pictures"). The English setting is restored, making more sense of the hunting scene, as are a number of characters and a more ambivalent ending.
I watched the Hitchcock Marnie in preparation for the opera and didn't like its melodrama or its, for me, overblown Bernard Herrmann score. Muhly's music is definitely more self-controlled and acute – ironically in a sense less "operatic" – but the story remains sensational and histrionic. It tells of a woman who moves from secretarial job to job in provincial England stealing money from her employers before changing her identity and repeating the process. She is a liar and a thief, sexually alluring although sex-averse, with her behaviour guided by a deep guilt about a violent incident in her childhood.
Marnie is blackmailed into marriage by the businessman Mark Rutland, who knows about her thefts, but when he tries to rape her, Marnie attempts suicide (strangely, this is not mentioned again). In the final scene the truth of the incident in Marnie's childhood relieves her of her decades of guilt. As the police move in to arrest her, she declares "I'm free."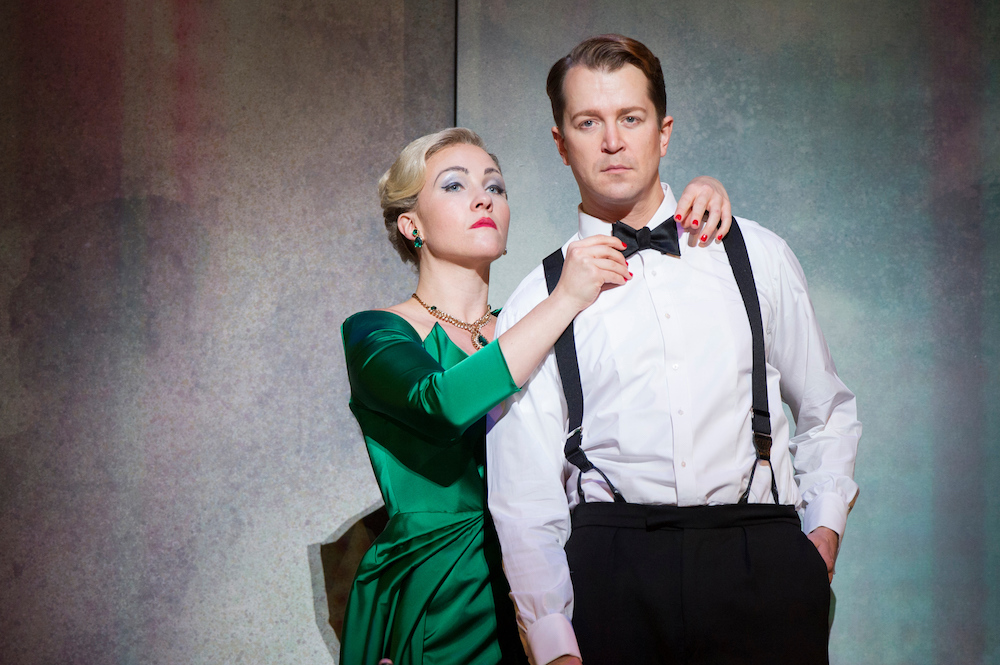 The production (designed by Julian Crouch) is visually pleasing, combining naturalistic period furniture and costume with more abstracted animated projections. The costuming offered some lovely tableaus of acres of grey office dress with Marnie alone in a bright colour. Sasha Cooke as Marnie (pictured above with Daniel Okulitch) sang beautifully, especially in her reflective arias placed between the main scenes, her tone rich and expressive. Marnie is usually accompanied by a quartet of "Shadow Marnies", echoing and decorating her lines in what Muhly describes as "an early music style".
Countertenor James Laing impressed as Mark's brother Terry but Mark Rutland himself, sung by Daniel Okulitch, was a little underpowered. The chorus, extensively used, were in good voice, whether as office workers, hunters or funeral hymn-singers.
Muhly's music is colourful and inventive. He clearly has no shortage of ideas, as his astonishingly prodigious output shows – according to the programme, he has written over 100 pieces since his opera Two Boys arrived at ENO in 2011. In style the music is closest to John Adams, with post-minimalist pulsing textures and a largely diatonic, if not tonal, harmonic vocabulary. But there weren't the moments either of orchestral or melodic magic that light up, for example, Nixon in China, and that remain in mind after the show has ended.
The scoring was sufficiently spare that the voices mostly cut through (and overscoring is a common failing in contemporary opera), but there were times Muhly's favoured skittering flutes obscured important words. Conductor Martyn Brabbins kept everything on a tight rein, and trumpets and percussion were on good form. The unforgiving oboe part, identified with the character of Marnie, resulted in some issues of intonation, and the lines written for the treble, sung by William Brady, were thankless, if not downright unkind.
The biggest problems were, perhaps, in the libretto. First there was so much story to be got through that a lot of the dialogue was mundane exchanges of plot information. A related problem was that, although not falling into the familiar trap of verbosity, the leanness of the libretto meant a shortage of poetry. And there were some unforgivable lapses into banality, such as Mark's final line "I'm here for you", to which Marnie replies "I'll be there for myself". I winced.
The production, directed by Michael Mayer, combined naturalistic scenes with stylised elements such as the "Shadow Marnies". Other stylisations were less successful, most notably the horse-riding accident, which was always going to be difficult to stage convincingly, but was overlong and, in the writhing of the group of dancers, a bit silly.
Ultimately, the difficulty is in sympathising with the central character, whose unknowability is mysterious but also alienating. The book is in the first person, and the interest is in what Marnie reveals despite herself. As portrayed from outside, it is unclear what attracts Mark – whose attempted sexual assault of Marnie obviously makes him less appealing. So while there were many good things to enjoy, the whole thing did not offer as engaging a theatrical experience as Benjamin's Written on Skin, for me the benchmark for 21st century opera. This was an enjoyable evening, but not the hoped-for modern classic.