Soltani, West-Eastern Divan Orchestra, Barenboim, RFH review - passionate pilgrimages |

reviews, news & interviews
Soltani, West-Eastern Divan Orchestra, Barenboim, RFH review - passionate pilgrimages
Soltani, West-Eastern Divan Orchestra, Barenboim, RFH review - passionate pilgrimages
Habemus Quixote: young cellist owns Strauss's and Cervantes' old knight
Peerless: Kian Soltani as Strauss's Don Quixote with Daniel Barenboim and the West-Eastern Divan Orchestra
A legendary name and the chance to change the face of a cruel condition set the stakes high for what Prince Charles, in his programme preface for this Southbank spectacular, told us was called the Stop MS Jacqueline du Pré Tribute Concert. There she was on the screen (and in excellent sound) before any players appeared on stage, the vital cellist whose career was cut short, being celebrated by, among others, John Barbirolli for the splendid emotional excess of youth and by her husband Daniel Barenboim for the way she would hold a conversation in everything, the perfect chamber player. Those qualities were abundant in 25-year-old Austrian-Persian cellist Kian Soltani both as Strauss's Don Quixote - I've never heard a more perfect interpretation live in concert - and back in the ranks of passionately swaying cellos in the legitimate excess of this Tchaikovsky Fifth Symphony.
Soltani can stand as the vibrant figurehead of everything Barenboim has achieved with the West-Eastern Divan Orchestra since 1999, bringing Jewish Israeli musicians together with worldwide Arab and other Muslim players, along with a few Spaniards, in a spirit of fierce collaboration that has survived against the odds. Not all the players looked as if they were quite as engaged as Soltani and his vivacious fellow cellists, but the sound was still impassioned and big: never too much so in Tchaikovsky's urgent battle with Fate as providence, though Barenboim's view of it might seem at times solidly old-fashioned, the equivalent to the Simón Bolívar Symphony Orchestra's thunderous Beethoven Five under Dudamel; in both cases, we've become accustomed to more spring-heeled interpretations.
This team's interpretation of the Tchaikovsky first appeared on CD in 2005, a live recording from Geneva, and though many of the young players have changed since then, the essence is the same - heavy emotions saved from excess by the way Barenboim (pictured above) connects movements, even if the non-stop energy meant a glass of water snatched and downed while half conducting the third-movement waltz.
He knows he doesn't need to be there for everything, leaning back to enjoy the start of the strings' final victory-parade before sallying back to urge further twists in the fray.While the star soloist of this second half was not the horn in the famous Andante cantabile solo but the first oboist, decorating the return of the movement's first melody with such beautiful freedom, Altani was very definitely the protagonist in Strauss's "fantastic variations on a theme of knightly character". This has to be the composer's most consummate symphonic poem, an opera for orchestra in which muted brass play sheep, two bassoons (both women in this case, three cheers) mendicant monks and oboes in rollicking thirds the garlic-smelling original of Dulcinea del Toboso. My neighbour was disconcerted not to find any full programme of events; the variations and their depictions weren't listed, and the note was too general to tell the audience where it might be at any given point. This of all works cries out for the supertitles the Philharmonia has often provided for detailed orchestral tone-poems or ballet scores.
Still, I guess if you didn't know the action you would have got a very vivid idea of it from Soltani's lead (the cellist taking a bow with his colleagues pictured below). Plunging into adventures with windmills, sheep and unfortunate pilgrims with a vividness that let Barenboim take a back seat, he also found the depth of poetry in the knight's noble vigil at the centre of the work and the deeply moving death scene at the end (a reminder that while a bass-baritone would have to breathe in the sentimental monologue, a cellist doesn't). The sound of his 1694 Stradivarius gave the old idealist all the shining nobility he preserves in his mind, and I've never heard a performance either on disc or live of such perfect intonation. Du Pré's recording, incidentally, is not one of her best, nor was it supposed to be preserved; Adrian Boult stepped in for Otto Klemperer, and the co-ordination is shaky.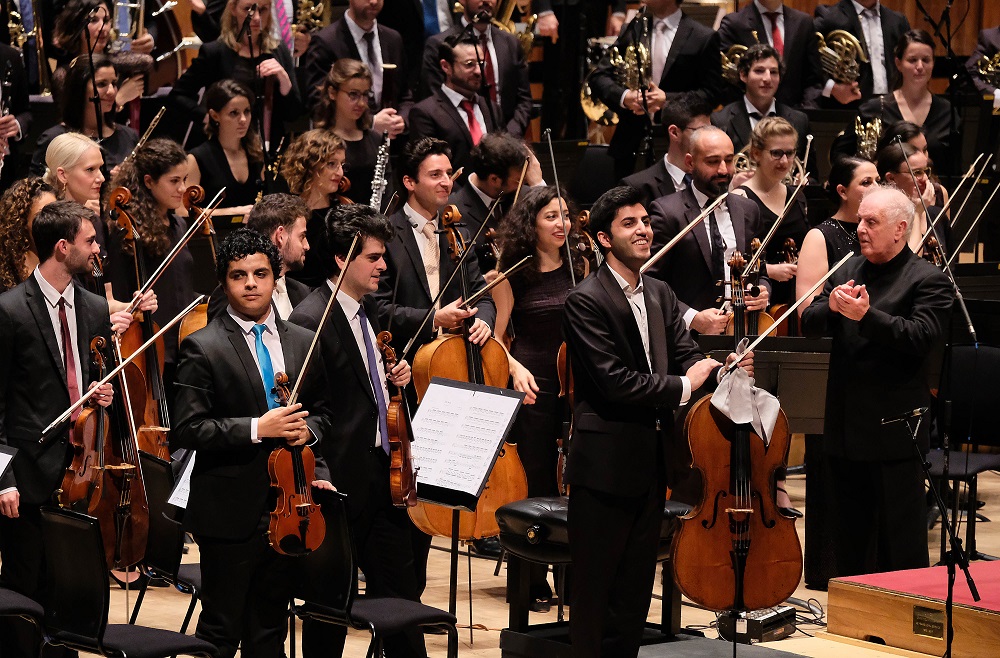 Miriam Manasherov played Sancho Panza's maxims with supreme class, though she could have roughed it up a bit at times, and hers was one of the slow tempi that Barenboim over-indulged from time to time (would, on the other hand, that he'd given the glorious F sharp major "castles in the air" rhapsody room to breathe). You did wonder if the young players knew the whole story - there weren't quite enough smiles passed around as there should have been, particularly at the magnificent antics of the tenor horn, Manasherov's companion in bumpkin roguery.
Yet when you hear the kind of textural detail at which Barenboim excels - the tendrils of Quixote's ever more discombobulating madness in the introduction, the flights of woodwind which render a (fortunately discreet) wind-machine superfluous as the main duo think they're airborne on a wooden horse - justice to a masterpiece is truly done. And when an Austro-Persian Quixote, emerging from an upturned boat in a roaring river, flicks pizzicato water naughtily in the face of a Russian-Israeli Sancho Panza, both of them figuratively dressed up as Spaniards, justice to one of the most important ongoing humanitarian projects in our riven world is perfectly symbolised, too. I gather Mrs May was in the audience, absorbing the consequences of Don Quixote's ill-advised crusade as well as noting the vital spirit of collaboration between players of many nations, supreme citizens of the world.
Barenboim's non-stop energy meant a glass of water snatched while half conducting Tchaikovsky's third-movement waltz
rating
Share this article
Subscribe to theartsdesk.com
Thank you for continuing to read our work on theartsdesk.com. For unlimited access to every article in its entirety, including our archive of more than 10,000 pieces, we're asking for £3.95 per month or £30 per year. We feel it's a very good deal, and hope you do too.
To take an annual subscription now simply click here.
And if you're looking for that extra gift for a friend or family member, why not treat them to a theartsdesk.com gift subscription?