The End of Hope, Soho Theatre review - initially bold but not quite enough |

reviews, news & interviews
The End of Hope, Soho Theatre review - initially bold but not quite enough
The End of Hope, Soho Theatre review - initially bold but not quite enough
Darkly comic two-hander opens daringly and goes nowhere
Thursday, 19 October 2017
Man and mouse: Rufus Wright and Elinor Lawless (the mouse)
In David Ireland's new hour-long two-hander – a co-production between Soho Theatre and west London's Orange Tree – two strangers, Janet and Dermot, meet for a casual hook-up arranged over the internet.
The glitch, or at least surprise: she appears dressed as a mouse.
That opening gambit won't surprise those who saw Ireland's earlier Royal Court entry Cyprus Avenue, in which protagonist Eric is so convinced his granddaughter is Gerry Adams that he scrawls a beard on her face to prove himself right. And in this considerably more modest entry, Ireland's penchant for deploying wicked, absurdist humour to meaningful effect is on early show.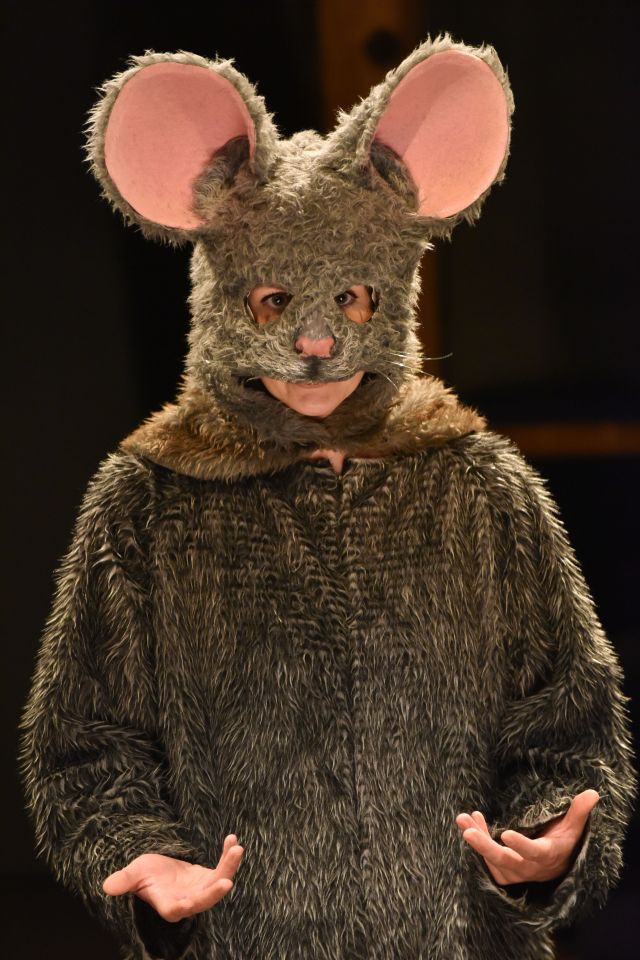 The setting is a bedroom in East Belfast. Dermot is a famous poet Janet hasn't heard of before, while she works at Tesco and wears a mouse costume and mask that almost totally obscure her face. (Does she do this on the job?) The mouse headpiece has a pink nose and comes with a onesie body complete with buttflap, and when first seen, the couple are reaching orgasm. Over the course of the play, which takes place in real time, Janet (still dressed as that mouse and pictured right) and Dermot negotiate whether to go back to bed or not – though this isn't the main topic of discussion between the atheist Catholic from Dublin (him) and the God-fearing Northern Irish Protestant (her).
Instead, the discourse ranges from TV celebrities and the Good Friday agreement through to God and what makes a joke funny as the two realise how different they are from one another in their opinions and lives and beliefs. To him, the Abbey's a theatre; to her, it's the building society renamed Santander. He talks about his oeuvre; she hears hoover. Cue humorous bickering across the pink-swathed centrestage bed over what type of person watches which TV channel, and whether Tony Blair is or is not evil.
Yet though the play opens with a literal climax, it soon disappoints. Under Max Elton's direction, Elinor Lawless's Janet is angsty and unpredictable, and Rufus Wright does what he can to make good on an underwritten Dermot. Over time, the perpetual outrage is wearing; more nuance would be welcome all round.
Ieland's writing flags, too. Sharp early forays into territory cutting daringly between outrage and social observation soon succumb to a flaccid back and forth about why Janet is wearing that costume. Transposing the difficulty of political dialogue to the bedroom comes with its own narrative demands, and one can't help but feel after a while that the characters are so many vehicles for imprecisely made social commentary. There's an important thematic at work here about the way in which identities are constructed on brittle and often arbitrary foundations, but The End of Hope in the main lacks the dramatic thrust to drive its point home.
One can't help but feel after a while that the characters are so many vehicles for imprecisely made social commentary
rating
Explore topics
Share this article