The One, Soho Theatre |

reviews, news & interviews
The One, Soho Theatre
The One, Soho Theatre
Vicky Jones's short, sharp one-act packs a liquor-laden punch
Cuddles or cudgels? Phoebe Waller-Bridge and Rufus Wright in `The One'
When was the last time you took a swipe at someone, and I mean a real swipe - a physical, emotional, cruel, unapologetic swipe of the sort that comes thick and fast in Vicky Jones's exhilarating new play, The One? The three-hander returns the actress Phoebe Waller-Bridge to the site of her solo (and Olivier-nominated) triumph, Fleabag, only this time in a play written by the colleague who directed her last time out.
Waller-Bridge's Jo and partner Harry (Rufus Wright, last year's David Cameron in The Audience) met when she was his student and he her lecturer, and they've been living in complicated, controversial bliss ever since. Tonight, however, they get a visit from his ex, who happens to be the exact opposite of Jo. Played with a knowing vulnerabilty by Lu Corfield, Kerry arrives seeking advice from Harry on the delicate matter of whether her boyfriend has sexually assaulted her or not. She also secretly wants to tell Harry that she still loves him, a fact of which brash, indelicate Jo is aware. Their clashes play out as Jo's pregnant sister goes into a difficult labour offstage, sending updates via text. "Risky to push, reluctant to C-section," reads one, summing up Jo and Harry's perpetually precarious relationship.
Jones's watertight set-up is cleverly satisfying - out of the ordinary and yet it all adds up. Here is a relationship that seems to exist without boundaries, rules, or expectations, involving a couple who talk in short sentences, daring and dismissing each other even as they revel in their shared company. Director Steve Marmion has the pair (pictured right in a moment of comparative repose) stride across the stage glaring at one another as they down bottle after bottle of wine. Either can say anything at any moment and the other, like some sort of crazed tennis player, will either break the serve or concede the ace. The game goes on regardless; there are no winners here.
We meet the couple in the middle of plain ol' living-room sex, which on this evidence is hardly stimulating enough to keep Jo from eating a bag of Wotsits. Such niceties as might initially exist are soon thrown out the window as we learn more about the unknowingly witty, completely fearless, and sometimes unthinking Jo. Rude and unrepentant, Waller-Bridge's Jo is impenetrable as well, at once forgiving of Harry but also horrible to him. One memorable attack is especially cruel: "He dances like a girl, his farts smell of acid, his breath smells of cunt, and he fucks like a rapist."
Harry, by contrast, calls Jo "darling" after he insults her and sends his so-called "clever monkey" off to get tea while quoting from Madame Bovary, as you do. On the one hand, he knows just how to bait Jo and can prompt a rise from her seemingly at will. But he is also gentle and kind, or so it would appear from his interaction with Kerry (Lu Corfield, pictured below with Wright); against the odds, this is a man who actually does dote on women.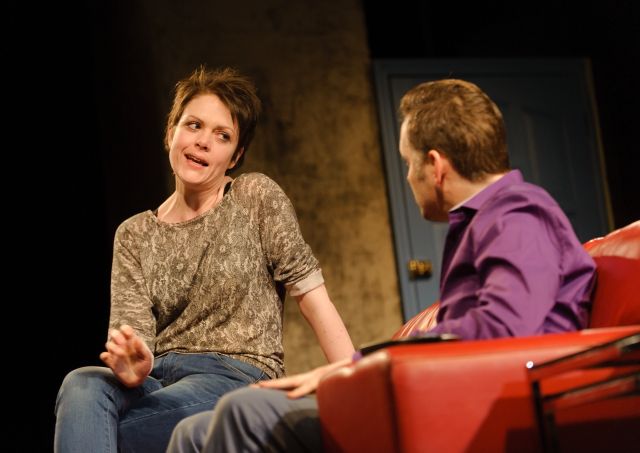 Each scene peels back a layer of the relationship as we learn about the baby the couple never had and about the family they hardly ever speak to. Kerry's ongoing presence sparks some home truths, too: "Harry wanted that child!" Kerry reminds Jo, but Jo is by no means cowed. "Well, I didn't, so I win!" comes the reply. As for progress? Well, I suppose one could point to the eventual birth of Jo's sister's baby, making his entrance into a very scary world.
Here is a relationship that seems to exist without boundaries, rules, or expectations, involving a couple who dismiss each other even as they revel in their shared company
rating
Share this article