theartsdesk in Estonia and Latvia - Pärnu Music Festival's great orchestra goes south |

reviews, news & interviews
theartsdesk in Estonia and Latvia - Pärnu Music Festival's great orchestra goes south
theartsdesk in Estonia and Latvia - Pärnu Music Festival's great orchestra goes south
Orchestral playing on fire, revelatory chamber music in two Baltic countries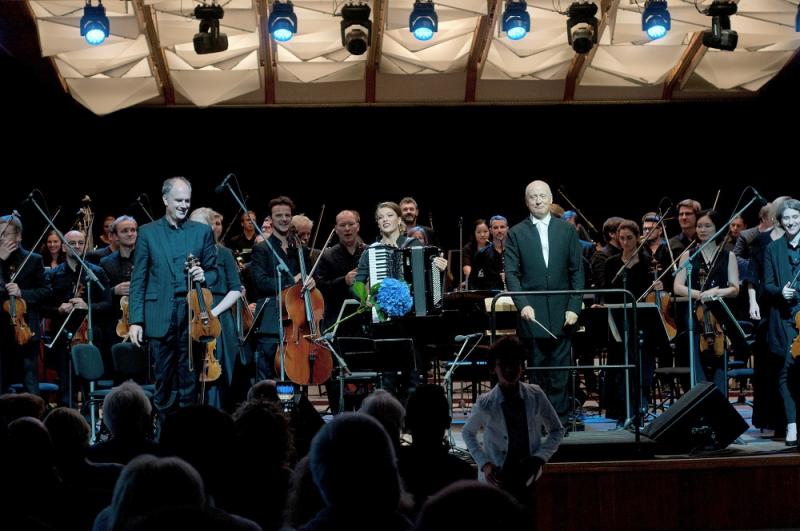 Estonian Festival Orchestra leader Florian Donderer and players, accordionist Ksenija Sidorova and conductor Paavo Jarvi in Jurmala
For the first time ever Paavo Järvi has been showing other nations why the Estonian Festival Orchestra is among the world's best – travelling to other Nordic countries after their annual gathering in Estonia's summer capital of Pärnu, with the big bastions of Vienna and Berlin to come early next year. I caught their first ever trip abroad, a fleeting visit to Jūrmala just outside the Latvian capital Riga, two hours south of Pärnu passing nothing but forests, rivers, lakes and the occasional small settlement. And then it was back to base in the loveliest of seaside towns, and what remained of the friendliest, most inspiring of large-scale festivals.
Salzburg and Verbier can be worth their salt when there's a singular event, but their swanky settings and cold publics are a high price to pay; Lucerne is not what it was since the heart and soul of its Festival Orchestra, Claudio Abbado, departed. In more intimate surroundings, but at a similar extraordinary level, Paavo Järvi has made the superband composed of compatriots and players from top orchestras elsewhere a similar kind of love-in to Abbado's LFO (pictured below by Kaupo Kikkas on Pärnu beach).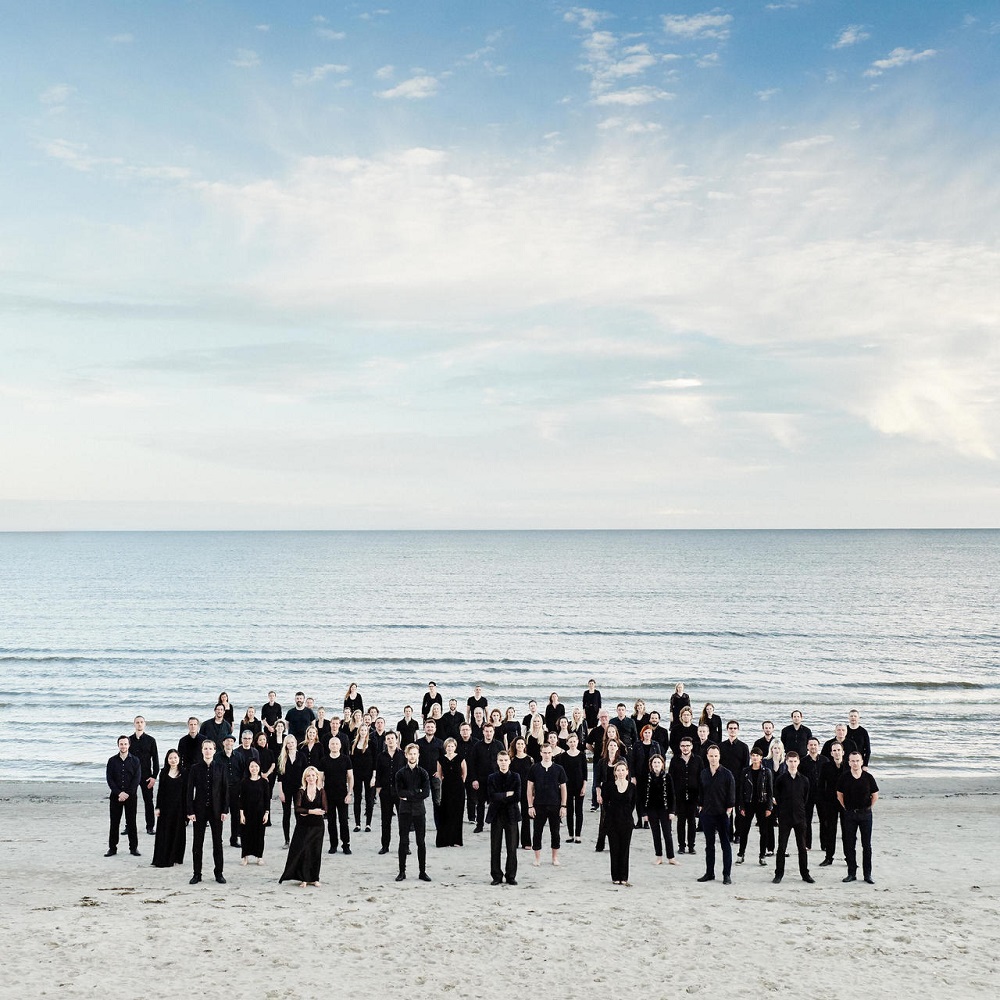 That phenomenon of top players burning for a conductor they love and respect has been a constant at the three festivals I've attended, along with remarkable chamber music from the regulars to further true festival continuity. This year's programme was stretched over two weeks, included one new visitor - the European Union Youth Orchestra conducted by Vasily Petrenko - and wound up the work of its young and brilliant Academy Orchestra along with the conducting masterclasses in which it participated, supervised by Neeme and Paavo Järvi with fellow master Leonid Grin, in the first week. Järvi père, 80 this June, opened the festival with the Tallinn Chamber Orchestra – an event a regular told me had been a concert in a million – and took an encore in the Academy's big concert.
Owing to a Proms engagement, I wasn't able to arrive until the day after the first Estonian Festival Orchestra concert had taken place with soloist Radu Lupu, whose Brahms encore had reduced many of the players to tears. It felt odd to be arriving in another country, Latvia, to hear the band playing in an open-air concert hall by the sea at the Riga millionaires' playground of Jūrmala close to the capital. Pärnu's 900-seater, incidentally, a glory for a small town and championed, along with two other new halls for Estonia, by the Jarvis, is a state-of-the-art indoor affair (pictured below by David Kornfeld, Järvi and orchestra rehearse in Jūrmala's Dzintari Concert Hall).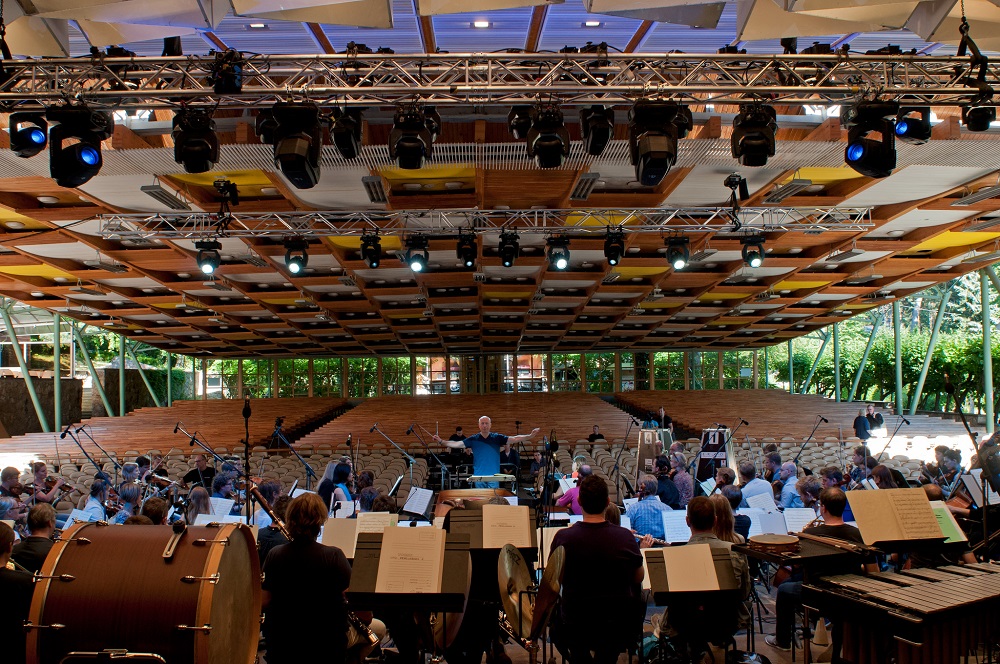 The programme wasn't typical summer-night al fresco fare, starting with Shostakovich's sombre Eighth Quartet arranged as the Chamber Symphony (strings, as usual, with the addition of very superfluous timpani here). But it was reassuring to hear the usual impressive depth of the EFO ensemble, unflattened by relatively discreet amplification - though the large screens never seemed to have the cameras trained on the evening's many superb orchestral solos. Mesmerising Latvian accordionist Ksenija Sidorova was the draw for her compatriots, though I doubt if most of them, used to her popular repertoire, would have quite anticipated the thorny dialogues of soloist and orchestra in leading Estonian composer Erkki-Sven Tüür's Prophecy Concerto. They would have admired the virtuosity, and been appeased by a light encore.
The stunners were two one-movement piano trios by Estonian composer Erkki-Sven Tüür
Should Shostakovich's First Symphony feature in any second half? The focused ferocity of this performance only highlighted the teenage composer's trying-too-hard in the last two movements. But the parodies of the first Allegretto and the flyaway brilliance of the Scherzo took off as predicted. An attentive crowd quick to stand were happy to hear two encores - to end, a new one for this team, the wildly OTT Khachaturian Sabre Dance, and before it a favourite, supersymphonist Lepo Sumera in lighter mode with a film-score waltz. It allowed an EFO star, Matthew Hunt, principal clarinettist of Paavo Järvi's Deutsche Kammerphilharmonie Bremen and one of the very best in the world, to shine at last alongside leader Florian Donderer, another DKP stalwart.
A morning in Riga, an early afternoon coach to Pärnu, and there was little time to savour familiar streets and parks on a walk to the hotel before rushing to the hall to be questioned in a pre-performance talk about Estonian music in the UK, preface to an all-Estonian chamber programme. Beautifully planned, it offered contrasts to the tougher stuff in four delectable movements from the choral St John's Day Songs by the great Veljo Tormis, who died this January, arranged for string quartet, with the players singing as they entered, and a moody Estonian forest piece, Heino Eller's Pines for violin (Mikk Murdves) and piano (Rasmus Andreas Raide).
The stunners, though, were two one-movement piano trios by Tüür. Fata Morgana was composed in 2002, a shimmering mirage which had to end in an extraordinary way (it did, with pianist Raide striking the depths of the keyboard while violinist, young Robert Traksmann, and cellist Marcel Johannes Kits vanished into the ether). Lichttürme (Lighthouses) of 2016 took the marine magic several leagues further, plunging in the middle this time and reaching out to the metaphysical in its closing stages. The premiere, given by Christian and Tanja Tetzlaff with Lars Vogt, had been incomplete owing to lack of preparation time, but not this extraordinary performance, where violinist and pianist joining cellist Leho Karin happened in a lovely touch to be the parents of Fata Morgana's violinist, Harry Traksmann and Marrit Gerretz-Traksmann (pictured above by Taavi Kull).
The following evening's chamber gala featuring 20 players from the EFO was less of a marathon than in previous years – one interval rather than two – and from experience I know I'd have welcomed as much as they could offer. But it was a punishing schedule this year, recording the Shostakovich Chamber Symphony for the first CD, rehearsing all day, many of the players having masterclassed and coached the Academy students, giving three main orchestral concerts in five days and then heading off to give three more elsewhere. Sharon Roffmann, first violin in the attractive 1849 Octet by Niels Gade in the gala's first half, told me she'd never worked so hard in her entire professional life; but like everyone else, she was happy and exhilarated to do so. The concert began with viola-player (and conductor) Andres Kaljuste movingly entwined with soprano Arete Teemets in the great Georgian composer Giya Kancheli's Caris Mere (After the Wind) - playing and singing on the cusp of silence.
In each of the three festivals I've attended, clarinettist Hunt's solo performances have been as much a highlight as the main concerts. In 2015 he transformed Strauss's Duett-Concertino into an operatic exchange with bassoonist Martin Kuuskmann. Last year he dazzled with violinist Triin Ruubel and pianist Sophia Rahman in Bartók's Contrasts, and this time there were more intuitive dialogues with Ruubel in Johan Martin Andre's quartet transcription of Mozart's Sonata for Violin and Piano, KV 378. If that meant that viola-player Xandi van Dijk and the EFO's principal cellist Georgi Anichenko had to take a back seat, they did so with cheerful collaboration (all four pictured above by Taavi Kull). How to follow that? The only possible option was the brass of the EFO led by Russian National Orchestra trumpeter Vladislav Lavrik, wielding an extraordinary instrument with a bent bell for fuller projection, in Barber's admirably restrained Mutations from Bach and a triple whammy of Astor Piazzolla, culminating – of course – in the Libertango. How to play it as encore? Faster, of course.
For days in the best retreat possible, we'd all had our visions
To compensate for the relative brevity of this year's chamber spectacular, the final concert clocked in at three and a half hours. It began with Danish-Oriental fireworks, increasingly wilder numbers from Nielsen's incidental music to Adam Oehlenschläger's Aladdin. Method prevailed in madness as Jarvi cued in the four instrumental groups of "The Square in Isfahan" before letting them fight it out unconducted. And the final hyperkitsch of the "Moors' Dance" would have raised the roof at the end of any concert with its deft switches from steady thrash to fast flash. But here there was much more to come. Surely Lisa Batiashvili (pictured below by Kaupo Kikkas with Järvi) has never been better partnered, however many times she may have played the Tchaikovsky Violin Concerto; though her brilliant, intonation-perfect tone kept us admirable company throughout, the wonders lay in a supporting clarinet arpeggio here, a bassoon line there (from the superb Rie Koyama).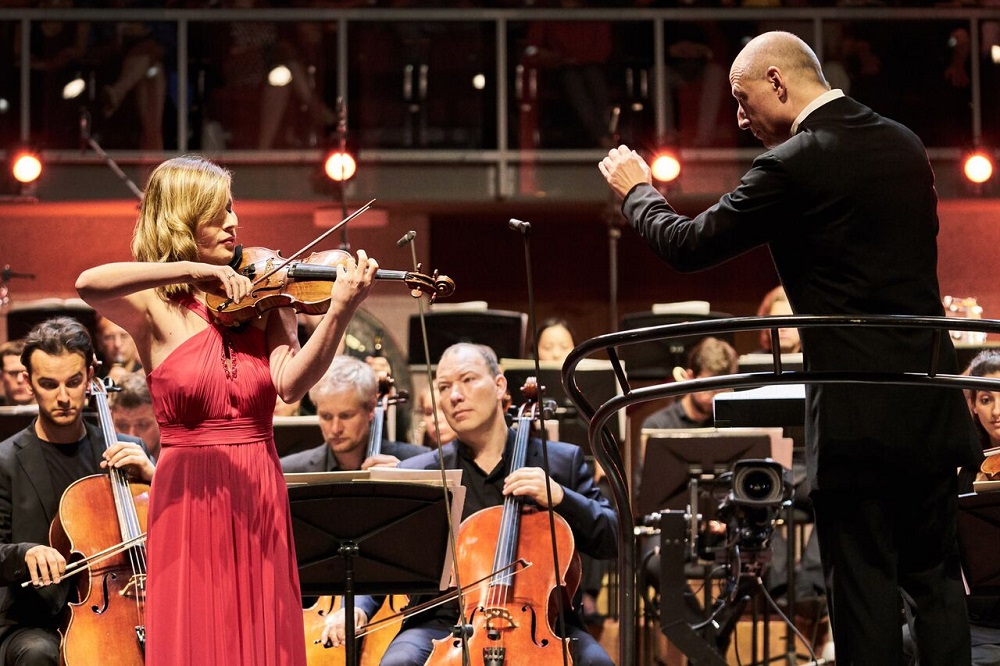 Batiashvili's unexpected magic came in another short Kancheli piece, V&V, ethereally building on the extraordinary recorded voice of Georgian popular singer Hamlet Gonashvili. And this surely unrepeatable performance of Sibelius's Second Symphony almost burned the house down with its incandescence. The rehearsal, apparently, had the players worried, but Paavo Järvi's unpredictable extra edge in performance paid off, the slow movement especially more inspired and dangerously intense than I've ever heard it.
Three encores, including Järvi's now trademark hyper-pianissimo Valse Triste, took us up to 11.30pm; there was a party in the hall with speeches, a retreat to the festival nerve centre of the Passion Café where 80-year-old Järvi senior propped up the bar until 3am, and next day the players sailed off to Finland. To Turku, in fact, on the very day of the dreadful knife attack. The harshness of another, unkinder world was to intrude; but for days in the best retreat possible, we'd all had our visions.
Next page: watch last year's Estonian Festival Orchestra performance of Shostakovich's Sixth Symphony
This surely unrepeatable performance of Sibelius's Second Symphony almost burned the house down
Share this article