Prom 26 review: Frang, Power, Deutsche Kammerphilharmonie Bremen, Järvi – fire and air from a crack team |

reviews, news & interviews
Prom 26 review: Frang, Power, Deutsche Kammerphilharmonie Bremen, Järvi – fire and air from a crack team
Prom 26 review: Frang, Power, Deutsche Kammerphilharmonie Bremen, Järvi – fire and air from a crack team
Fresh light on old favourites from Mozart and Brahms – and a moving newcomer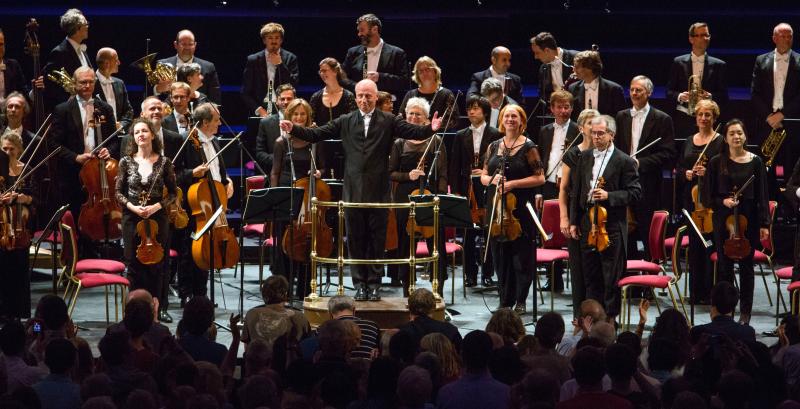 Brahms from Bremen: Jarvi and band
Before reuniting us in high spirits with a pair of much-loved old friends, Mozart's Sinfonia Concertante and Brahms's Second Symphony, the Deutsche Kammerphilharmonie Bremen under Paavo Järvi at the Proms took us into a darker, and
unexpectedly affecting, place. Written for the Australian Chamber Orchestra,
Flamma
by Järvi's fellow-Estonian Erkki-Sven Tüür evokes the mysterious, and terrifying, power of fire with a nod to its sacred role in Aboriginal culture.
In June, just on the other side of Kensington from the Royal Albert Hall, Londoners witnessed and felt that power in the most horrific of circumstances. Scored for string orchestra, with the Bremen players uniformly fine as the burden of the argument shifts from one group of instruments to another and the section leaders in turn sculpt uncanny melodies, Flamma unfolds as a kind of orchestral concerto. Its sudden leaps of mood and pace and direction bring the sinister capriciousness of a raging blaze to mind.
Not often performed in Britain (on this evidence, not often enough) Tüür's prolific output stems – so he attests – from a bewildering range of influences that stretch from an early love of King Crimson and Genesis to Penderecki and Xenakis, not to mention Gregorian plainchant. In practice, Flamma proved more of of an impressionistic, colouristic piece than that lineage might suggest. Its string parts yearn up or down towards the far edges of their range (the low instruments high, the high ones low) as a crackling tension mounts between the swirling intensity of the tutti sections and breakaway jumps into moments of lyricism, even serenity, by different instruments. The Bremeners' leader Sarah Christian, plangent and brooding, was outstanding here. Maybe it was more than just his geographical roots that seemed to align Tüür's savage beauty, with its hints of the ritual appeasement of nature's demons, to the folkloric exoticism not of the Antipodes but of musical trail-blazers a century and more ago in Estonia's own mighty neighbour. Some passages here hinted at the pagan glamour of young Stravinsky – even, perhaps, Rimsky-Korsakov. After the string blaze dwindled down into post-conflagration calm, a shocking coda fiercely rekindled the embers.
It would be trite to say that, after a spell amid this gorgeous devastation, Järvi then led us into the serene sunlit uplands of Mozart's Sinfonia Concertante. Above all in its tender, melancholic C minor andante, this double concerto for violin and viola (in all but name) passes through its own dark valleys of grief and bewilderment before joy bursts through again. The pairing of the young Norwegian star Vilde Frang and the still youthful but already august Lawrence Power as soloists looked like a dream duo, since each has already (with other partners) made high-class recordings of this work. In the opening movement, with its fabulously expressive conversazione between the two instruments, perhaps the forceful Bremeners tended to push the silvery, refined voice of Frang's violin into the shade a little too much. "Maestoso" this movement might be, but its stateliness need not wear studded boots. Genial, assured but never cosily avuncular, weaving its mellow lines around the ethereal melodies of the violin, Power's viola established its authority from the off.
If an element or two felt lacking in the early chemistry, by the time of Mozart's soaring first-movement cadenza the duo's tete-a-tete had developed, as its should, into a real heart-to-heart. The peerless andante, with Frang's vibrato never excessive, ached and yearned with an elegiac sweetness that avoided any mawkishness, while Järvi gave them time and space to shine. In the rondo, Power and Frang's intimate chit-chat became brilliant, torrential badinage, and their final giddying ascent into string heaven sang with an ecstatic bliss. The audience loved the pair's comedy encore of "Twinkle, Twinkle Little Star" variations (complete with instrument swap), but even prankster Mozart might have thought they dragged out the joke a little too long.
The Deutsche Kammerphilharmonie Bremen, with its co-operative ethos, its medium-sized forces and its commitment to re-engineer the core repertoire for modern times and modern ears, treats orchestral re-invention as matter of outlook rather than hardware. Their account of Brahms's serene but not untroubled Second Symphony had a tonic freshness and transparency that bowed to the grand tradition without being overwhelmed by it. Under Järvi, its long-serving artistic director, this middleweight orchestra not only punches but strokes and kneads in a class above its fairly modest dimensions, the sound rich and velvety without the cloying unctuousness that can tempt in the pastoral meadows and forests of this piece.
The luscious amble of the first moment, those signature trombones beautifully rounded, never drifted into an aimless walk in the Carinthian woods. Its midway disintegration into storm and stress had a startling immediacy; as in Tüür's fire-dance, nature here can scourge as much as heal. In the middle movements, sumptuous oboes, clarinets and horns relished their starring roles while the sleek, burnished strings suggested not some band of cold-eyed iconoclasts but an outfit that can, when it wishes, re-ignite the superbly purring German orchestral engine of the past. The final "Allegro con spirito" reminded us with dash and verve that Brahms can lead us into the sawdust-strewn inn as well as the sun-dappled forest glade, while Järvi's tempi made the most of the weird hiatus – a brief dark night of the soul – that precedes the exuberant coda. After that, drinks were on the Bremeners in a barnstorming – if a tad predictable – encore of Hungarian Dances.