The Beguiled review - silly but seriously well-made |

reviews, news & interviews
The Beguiled review - silly but seriously well-made
The Beguiled review - silly but seriously well-made
Colin Farrell puts the, um, cat amongst the pigeons in Sofia Coppola's Cannes prize-winner
Could Scarlett O'Hara be next? Nicole Kidman goes all Southern with Colin Farrell in 'The Beguiled'
An isolated girls' school finds its hermetic routine shattered by the arrival of Colin Farrell, who wreaks sexual and emotional havoc as only this actor can.
Playing a Civil War deserter with a gammy leg, Farrell's Corporal McBurney is at first rendered exotic, not to mention eroticised, by the distaff community into which he has stumbled in
1864
Virginia
only in time to be eviscerated by them. Tennessee Williams, one feels, would have had a field day with the same scenario
–
less
Suddenly Last Summe
r than
Suddenly Cold Mountain,
to cite an earlier film inhabiting this same period that had Nicole Kidman as its co-star
.
In fact, the material began life as a 1966 novel by Thomas Cullinan, which in turn fed a 1971 Don Siegel film starring Clint Eastwood and Geraldine Page. This latest iteration won its director, Sofia Coppola, the best director prize earlier this year at Cannes and furthers this filmmaker's interest in collectives of dreamy, self-contained women that featured in her breakout movie The Virgin Suicides nearly 20 years ago.
Indeed, watching the camera glide across the serenely controlling school principal, Miss Martha Farnsworth (Kidman), and the students thirsting for experience who are in her and colleague Kirsten Dunst's care is in every way to clock the calm before the storm. It's as if the dappled sunlight forever sending golden rays across these pretty if puritanical environs represented nature at its most mocking. That's until such time as the Little Red Riding Hood-esque Amy (Oona Lawrence, who was a Broadway Matilda in the popular British musical) stumbles upon the wounded Union soldier, McBurney, and offers him refuge back at the school, where teachers and students alike are waiting to pounce.
Or maybe not. While Dunst's inheld Edwina (pictured below with Farrell) looks on at this unlikely recruit to the gals' closed-off ranks with barely suppressed longing, Martha takes it upon herself to give the dozy, injured McBurney a carefully considered sponge bath: Coppola films the scene as if Martha were awakening to some undiscovered country of her own; small wonder that her five pupils find their thoughts drifting beyond the realm of French verbs. Were I a parent of the 18-year-old Alicia (Elle Fanning, who, like Dunst, is a Coppola alum), I'd have got her out of there on the next bucking bronco.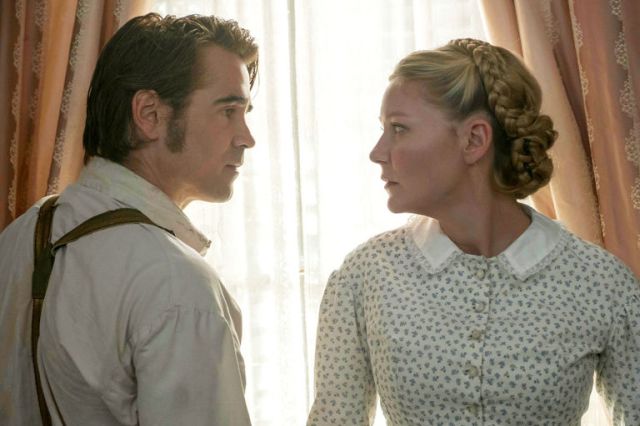 If the story doesn't invite too much scrutiny (no prizes for guessing that Southern politesse will in time give way to butchery), Coppola's atmospheric command of this hothouse prevents a total surrender to tosh. The director, working from her own screenplay, delivers one glorious composition after another, thanks in no small measure to the visual caress of cinematographer Philippe Le Sourd. That's true whether Martha and her charges are draped across one or another public room as if awaiting a photographer from World of Interiors to pop by for tea, or are assembling for a meal that begins with the headmistress pertly announcing "bon appetit". (Kidman's wily, ever-alert performance is the film's best).
Quite what the film is saying on a more profound level is open for debate, one's view early on of McBurney as the enemy one can and should live with giving way across a brief 94 minutes to a mutually predatory community from which no one emerges unscathed. Reference gets made to the depredations of wartime, but those somehow don't ring true, especially once the pristine landscape goes faux-gothic lurid. Could it be as the mother of two young daughters that The Beguiled is really the director's own admonition to herself to keep a vigilant eye? Whatever the deeper impulses behind the movie, Coppola might want to invest in a new pair of locks if she ever decides to have Farrell over for dinner.
It's as if the dappled sunlight forever sending golden rays across these pretty if puritanical environs represented nature at its most mocking
rating
Explore topics
Share this article