The Secret Scripture review - Jim Sheridan's turgid homecoming |

reviews, news & interviews
The Secret Scripture review - Jim Sheridan's turgid homecoming
The Secret Scripture review - Jim Sheridan's turgid homecoming
Rooney Mara and Vanessa Redgrave can't rescue a stillborn adaptation of Sebastian Barry's novel
It's the church wot done it! That's the unexceptional takeaway proffered by Jim Sheridan's first Irish film in 20 years, which is to say ever since the director of My Left Foot and The Boxer hit the big time. But despite a starry and often glamorous cast featuring Vanessa Redgrave (in prime form), Rooney Mara, Theo James, and Poldark's Aidan Turner, Sheridan's adaptation of Sebastian Barry's Man Booker-shortlisted novel begins portentously and spirals downwards from there.
There's limited fun to be had from watching Mara and Redgrave play two generations of the same unfortunate woman, Rose, who has been sequestered away in an asylum for more than a half-century. But Sheridan's script, co-written with Johnny Ferguson, and the thudding overinsistence of the direction soon make a spectator feel scarcely less incarcerated. If you've seen the Judi Dench vehicle Philomena or Peter Mullan's wonderful The Magdalene Sisters, you've been round this block before, and without lines like, "I can't imagine what it would be like to be locked up for 50 years". Wanna bet?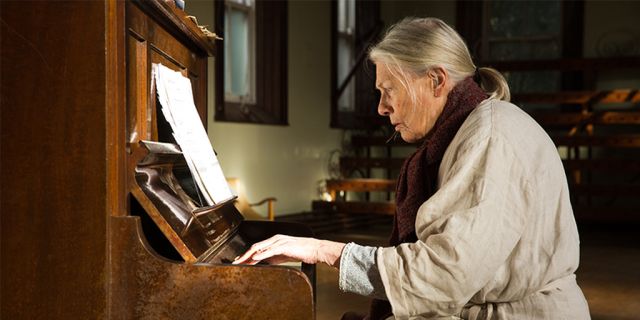 The central question is whether or not young Rose killed her newborn child with a rock, an act of infanticide which Mara denies early on as piano chords come crashing down around her. Her ageing, shining-eyed self hoves into view in the form of a gravely arresting Redgrave (pictured above) who, it turns out, herself plays a mean piano. Alas, it seems that Rose will soon have to find fresh musical environs given that the mental health hospital to which she has been confined is being turned into a spa hotel. (Frankly, I would just ask to stay on.) At which point, cue a strapping psychologist (Eric Bana) on hand to reassess Rose and to peruse the diaries that allow for the parallel structure that ensues. Guess what: he likes Beethoven, too.
Rose's youth, it seems, consisted of parrying or at least juggling the advances of a motley crew of suitors, played by an array of modern-day celluloid "it boys", among them Theo James and a largely sidelined Aidan Turner. While an implacable Mara suggests a waitress wanting merely to get on with her business, these men have other ideas, though quite how James (pictured right with Jack Reynor) references being "a priest who wants to be a man" while keeping a straight face is an achievement worth pondering. In any case, gossipy, small-town village life bodes ill for the romance that develops between Rose and an RAF pilot, Michael (Reynor), whose arrival sets the cat among the politically riven pigeons. Small wonder that the Book of Job gets an onscreen workout, the so-called "secret scripture" of the title.
"My memories, my memories, they took my memories," bleats the senior Rose, who drifts in and out of lucidity and sedation and whom Redgrave invests with the singular intensity that has long been her signature. This ageless actress (who turned 80 in January) has for some while been scooping up films like Atonement and Foxcatcher and running with them. Sheridan grants her far more screen time than those two did, but it's a lost cause. As Bana's shrink presses Redgrave's furtive, fretful Rose for details about a life glimpsed in increasingly lurid fragments, you're tempted to wish all involved had abandoned the script and allowed a venerated performer to reflect on the many and happier acting opportunities that surely constitute her memories, and ours.
Overleaf: watch the trailer for The Secret Scripture