Dream House |

reviews, news & interviews
Dream House
Dream House
Daniel Craig and Rachel Weisz in a derivative home-invasion film with one big twist
Wednesday, 23 November 2011
In every dream home a heartache: Will (Daniel Craig), Libby (Rachel Weisz) and family start to worry
Dream House's crude selling point is the chance to see newly married couple Daniel Craig and Rachel Weisz co-star as Will and wife Libby, in the film they made just before their first date. In bed and around the home their characters have moved to with their two young daughters, they're appropriately, easily affectionate.
"We're safe now Daddy's home," Libby brightly reassures, but this is far from the truth in a film which darkens intriguingly, till a jolting half-time twist unravels it.
The rich man's house where Will plans to write a novel seems a fragile fortress, with too many faces glimpsed at windows and footprints creeping away in the snow. Director Jim Sheridan pulls effectively at our nerves, surrounding the house with menace as if it's porous, its doors too flimsy to keep danger out. A well-made if familiar home-invasion film is brewing, till teenagers play-acting murderous games in the cellar reveal a family's massacre there five years before. This slaughter was blamed on Peter Ward, a smalltown bogeyman now staying in a nearby halfway house.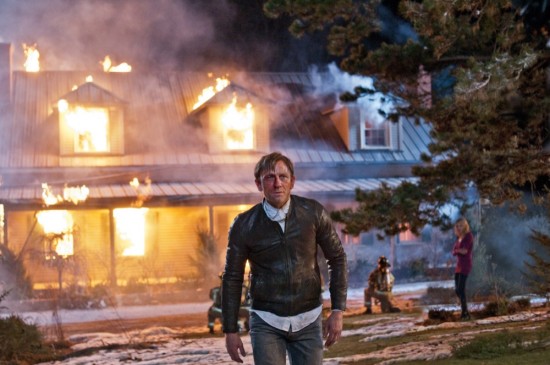 Rachel Weisz's best performance makes Terence Davies's The Deep Blue Sea essential viewing this week. She doesn't have much to do here but love Will in a distractingly loose American drawl. The film should be Craig's, the only 007 with a substantial past as a dramatic screen actor. Morphing himself into a brutally attractive Bond and Hollywood leading man seems to have been a deliberate decision, a test of acting nerve to explore opportunities on fame's far side. But once there, the roles he had before – from Our Friends in the North (1996) to the callous lover of sixtysomething Anne Reid in The Mother (2003) – haven't followed. Dream House offers an interesting acting challenge pivoting on its half-time switch. But Craig struggles to put Bond back in the box in this domesticated setting. He play-chases his kids up the stairs with the ferocity of a big bad wolf wanting to devour them. Naomi Watts (pictured below), as a neighbour who knows more than she can say, effectively replaces Weisz as the plot clanks gears. She's more enigmatically compelling than either co-star.
Not giving any more of Dream House away is overly generous not only to the studio, Morgan Creek, who have been spoiling the whole plot in shameful trailers for months, but David Loucka's script. Its twist has several superior precedents (naming any of them will fill in the blanks), and signals a surprise-free last act with no internal logic and tatty loose ends.
Craig has a second franchise about to fire with David Fincher's The Girl With the Dragon Tattoo, and Weisz just gets better. The man to worry about is Dream House's director. Sheridan was Scorsese to Daniel Day-Lewis's De Niro with My Left Foot, In the Name of the Father and The Boxer in the Nineties, a period when he also gave Richard Harris his great late role in The Field. But as with Brothers, his 2009 Tobey Maguire-starring Afghanistan war drama, good performances here decorate a film which doesn't add up. Sheridan reputedly tried to take his name off this patched-up Dream House when producers mangled his intentions, during a series of fraught reshoots and previews. Buyer beware.
Watch the trailer for Dream House. Monumental spoiler alert