The Girl with the Dragon Tattoo |

reviews, news & interviews
The Girl with the Dragon Tattoo
The Girl with the Dragon Tattoo
Ill-met sleuths in the first instalment of Stieg Larsson's cult Millennium trilogy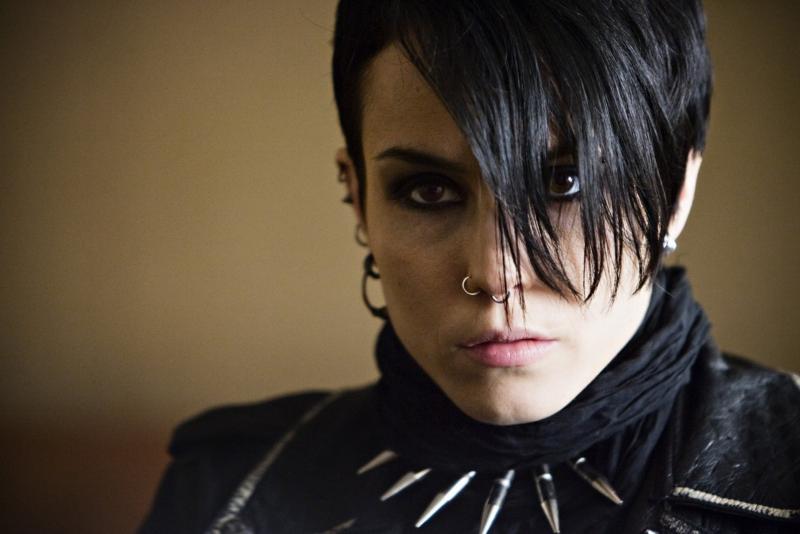 Ferocious: Noomi Rapace as Lisbeth Salander in The Girl With the Dragon Tattoo
When roused, Lisbeth Salander (Noomi Rapace), the sullen, leather-clad, metal-pierced heroine ofThe Girl With the Dragon Tattoo, is as ferocious as the panther her physical presence evokes.
Forced to perform oral sex on her legal guardian, then raped by him, she returns to his apartment, fells him with a stun gun, binds him naked, makes him scream with a dildo, plays him an incriminating "candid camera" video of his attack on her, and tattoos "I am a sadist pig and a rapist" on his chest. Well, you may conclude, he had it coming.
It'll be curious to see if the planned Hollywood version of this Swedish box-office phenomenon balks at such a graphic Old Testament revenge scenario, which serves to establish Lisbeth's resourcefulness and take-no-shit attitude but is otherwise incidental to the main plot of Niels Arden Oplev's thriller. This concerns a financial journalist, Mikael Blomkvist (Michael Nyqvist), who at the outset is sentenced to a short prison sentence six months hence after losing a libel case against a corrupt multinational. When he's approached by retired industrialist Henrik Vanger to find out what became of Vanger's beloved 16-year-old niece, who went missing 40 years before, Blomkvist takes the job and heads to the Vanger clan's island enclave. Nazism is one of the skeletons he finds rattling around in the family closets.
Initially, Opley intercuts between Blomkvist's investigation and the travails of Lisbeth - the brilliant computer hacker who convinced Vanger's right-hand man to hire Blomqvist - then unites the urbane journalist and the violent punkette as a pair of ill-met sleuths. Though we're led to believe she's a lesbian, it's only a matter of time before she's straddling him in bed in the middle of the night. Their affair robs the movie of a more subtle father-daughter relationship, especially since we learn that the psychologically damaged Lisbeth torched her abusive dad when she was a child.
Nyqvist, 49, and Rapace, 30, who won the Swedish Oscar for best actress for her gutsy performance, are nonetheless good company, and they've repeated their roles in The Girl Who Played With Fire and The Girl Who Kicked the Hornet's Nest, which were directed by Daniel Alfredson (the actors are pictured right). The films are based on the posthumously published, best-selling Millennium trilogy by Stieg Larsson (1954-2004), himself a Blomqvist-like journalist who fought extreme right-wing and Nazi organizations. He conceived Lisbeth as a grown-up version of Pippi Longstocking, the morally righteous nine-year-old Swedish adventuress.
In The Girl With the Dragon Tattoo, blown-up photographs of the niece spooked by someone looking at her in a crowd on the day she disappeared eventually put Blomkvist and Lisbeth on the trail of a bi-generational worth of serial killings of women all over Sweden. Abhorrence of violence against women is a major tenet of the Millennium books, but the first movie in the series - known as Men Who Hate Women in Sweden - is scarcely a feminist tract. In frankly depicting Lisbeth's rapes and presenting an obscene array of photographs of murdered women in a killer's lair, it comes across as glibly indulgent of those visual horrors.
The Danish director of Portland (1996) and We Shall Overcome (2006), Oplev makes expressive use of dissolves and a wintry palette with many shades of gray. The film is drained not only of colour, however, but tension too, which can make its two and a half hours seem protracted. The lack of gravitas and ominousness germane to the Red Riding Trilogy, say, borders on the bizarre: one comes away having been entertained, but scarcely as thrilled or chilled as Jacob Groth's melodramatic score demands. Martin Scorsese, Quentin Tarantino and Ridley Scott have reportedly professed interest in directing the American adaptation, to be written by Steve Zaillian (also on board for Scott's Red Riding remake), but perhaps it needs Kathryn Bigelow in Blue Steel mode to realize Lisbeth's white-hot feminine fury States-side.
Explore topics
Share this article