Visual art at Brighton Festival - disturbing, playful, but ultimately rudderless |

reviews, news & interviews
Visual art at Brighton Festival - disturbing, playful, but ultimately rudderless
Visual art at Brighton Festival - disturbing, playful, but ultimately rudderless
A depleted art strand lacks direction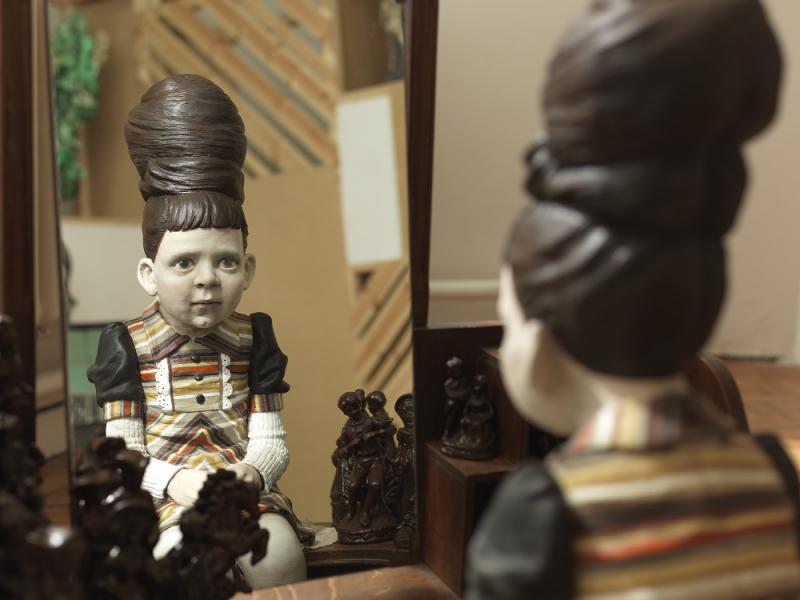 Cathie Pilkington's sinister dolls make an unsettling installation at Brighton University Art Gallery
As befits a festival with a spoken word artist as its guest curator, storytelling is at the heart of the visual arts offer in the 2017 Brighton Festival. It is not known if performance poet Kate Tempest had a hand in commissioning these four shows, but she can probably relate to the four artists in town right now.
Among their tales are stories from Turkey, the Australian Outback and, closer to home, the Sussex village of Ditchling.
One soon realises that everyone has their own narrative. Turkish artist İpek Duben (pictured below) gives a voice to several compatriots, each of whom materialises as a projection on a vertical screen. Thanks to the scale – life sized and uncropped – the encounter is realistic, relaxed and apparently unmediated. We hear their frank and calm accounts of their lives in Turkey. Fabrica, the former chapel in which this work is staged, is dark, disorientating and alive with voices.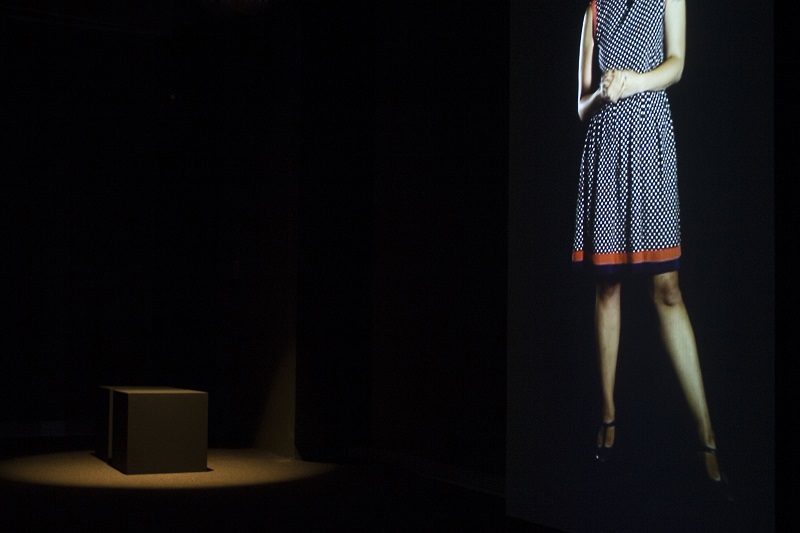 Duben's work has long been concerned with otherness. For most Europeans, Turks can embody this; the country is so near to the West and yet, owing to its most common religion, so far. But now the artist has turned her attention to the others within Turkish society itself. One soon meets an Armenian and a Kurd, a gay woman and a woman who has escaped an abusive marriage, and an emancipated female student who is Muslim. We read their body language from top to toe. We hear their accents and their foreign tongue. The stories are dubbed into English.
A unified picture emerges from these diverse citizens. Being non-mainstream can lead to insecurity and even persecution. The Armenian remembers ethnic cleansing in her grandparents' village. The battered woman still feels every cruel word and blow. And the Kurd confesses that it is rare for him to be friends with Turks. But given multiple ways to offend tradition, it comes across that different is the new norm.
You may travel further at nearby Lighthouse. In fact you could find yourself utterly transported. By making use of imaging technology rarely used in the art world, artist Lynette Wallworth delivers an intimate, exhilarating trip to aboriginal homelands. Elder Nyarri Nyarri Morgan remembers the time the outback became the site of British atomic weapons testing. He remembers people getting sick from eating radioactive kangaroo.
The experience – one must first visit Lighthouse's subterranean digital lounge, where we don our headphones and VR headsets and sit on swivel chairs to enjoy the film in 360 degrees – is really out of this world. The most exciting parts of the film were shot on the back of a speeding truck or from a peaceable drone. An animated sequence in which the blast takes on demonic form is just plain scary. The soundtrack, Nick Cave & Warren Ellis, plus Max Richter, is great. But despite all of the pyrotechnics, Collisions (pictured above) fails to pack an emotional punch to match its technical prowess.
With reduced means, Cathie Pilkington achieves plenty of affect at Brighton University Art Gallery (main picture). The Royal Academician has worked with art students here to curate and stage a sculpture show; her team have designed and built shelving, screens and a minimal amphitheatre, to represent the Life Drawing Room at the Academy. The whole space is filled with countless uncanny dolls.
It may be as untidy as a child's bedroom, but spend time with Pilkington's work and you will soon become aware of the sinister potential of these girlish toys. The artist has blacked out eyes and sewed on limbs made of fabric. They are a motley crew who evoke a nightmarish girlhood. But to get the most from this dark show, you should also make the journey to Ditchling on the other side of the South Downs. A smaller exhibit here extends Pilkington's interest in dolls and conscripts her playthings into an attack of rage.
At Ditchling Museum of Art + Craft she has installed Doll for Petra, an arched cabinet display that revolves around a wooden mannequin made by Eric Gill for one of his daughters, also on display here. Since the local artist is widely known for abusing his teenage daughters, this gift has a very unhappy resonance. As if dolls weren't already spooky enough.
Facing Pilkington's fierce response of abject found objects and fragmentary sculpture, we find her floor-standing sculpture Twinkle: a slender girl with eyes closed who, despite suffering, appears to rise above this awful context. She is the perfect expression of defiance to the predation in the back story of Gill.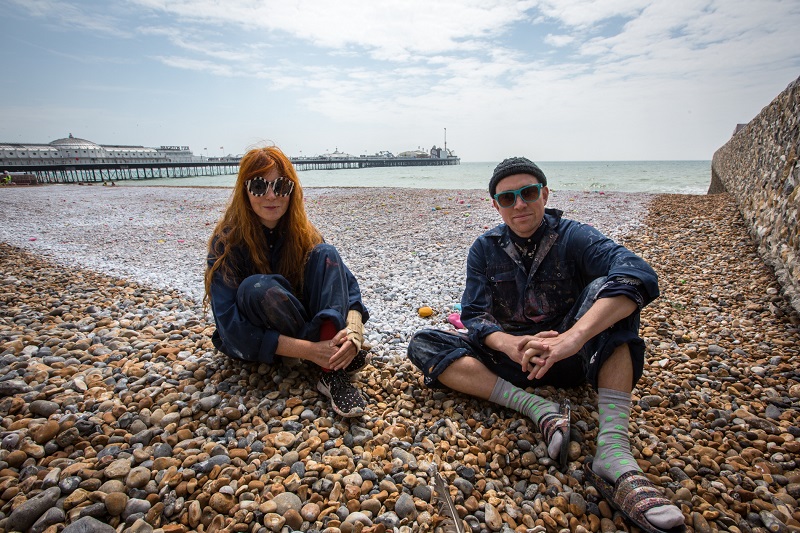 This was art to make you feel bad and good in equal measure, but there was no room for mixed feelings at SPECTRA: CAST (pictured above). Theirs was a socially minded installation by art duo Walter & Zoniel: very much a family show, unlike Doll for Petra. Taking place on the beach, the artists approached us in the queue to ask if a) art should be for everyone b) whether you had to be an artist to make art and c) whether art should make you feel good. Simple questions with few binary answers.
Nevertheless, answer one does, and your vote is soon translated into a coloured pebble for you to cast onto a sheet of polythene the size of a five-a-side pitch. At time of visit, the new multi-coloured beach had failed to accumulate a critical mass of publicly-distributed pebbles. But a sad sense that, whatever your vote, you were only one of so, so many pebbles here in Brighton. And this was humbling enough to make SPECTRA: CAST feel revelatory, even if slightly anodyne.
But there's a wider story around the visual arts here in Brighton. The city also has a festival called HOUSE, which in previous years the Festival has supported. With lead artists like Yinka Shonibare MBE, Nathan Coley and Gillian Wearing, HOUSE enjoys nationwide importance. Having incubated along with the theatre, books and music which take over Brighton in May, the visual art strand has migrated to a later time of year to become a Biennial type event. For Brighton, that is perhaps a happy ending. For the Festival, which (in the absence of a big name or a visible curatorial agenda) appears a bit depleted this year, a bittersweet achievement.
The new multi-coloured beach had failed to accumulate a critical mass of publicly distributed pebbles
Share this article