Clash review - 'a nation in crisis' |

reviews, news & interviews
Clash review - 'a nation in crisis'
Clash review - 'a nation in crisis'
Inside view of the aftermath of Egypt's Arab Spring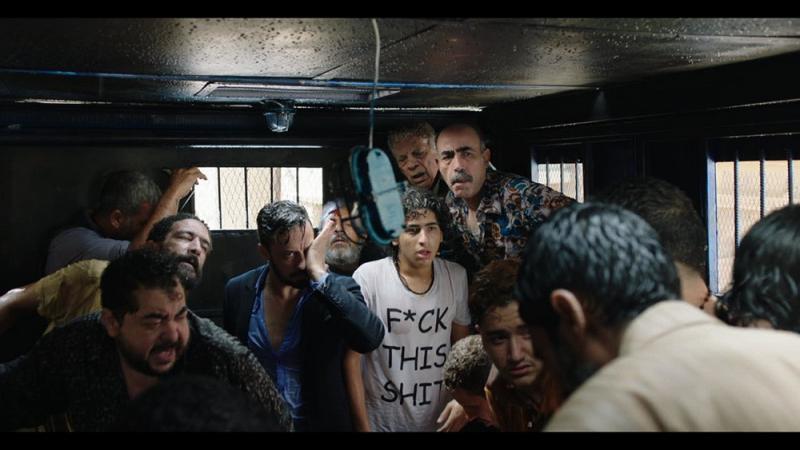 Social microcosm: Egypt crammed into the back of a police truck
An Egyptian/French co-production directed by Egyptian film-maker Mohamed Diab, Clash is a fevered, chaotic attempt to portray some of the tangled undercurrents that fuelled Egypt's "Arab Spring" and its subsequent unravelling.
Knowing something about the toppling of the Mubarak regime in 2011, the ensuing
election
of
Muslim Brotherhood
president Mohammed Morsi and then his overthrow by the Egyptian army would help, but the film successfully speaks for itself as a
cri de coeur
for a nation in crisis.
Obviously not awash in production funding, Diab conceived the ingenious notion of setting his film entirely in the back of a police truck as it makes its way through the street battles and demonstrations between supporters of the Muslim Brotherhood and rival backers of the army. As the truck fills up with various detainees bundled in through the back doors by panicky, harassed police officers, it gradually becomes a sort of messy microcosm of Egyptian society. You might argue that this device is a little bit too cute, but it does have the merit of creating dramatic compression and inevitable personality clashes, while it's also possible to view a surprising amount of outside action through the truck's windows, even if they do have bars over them.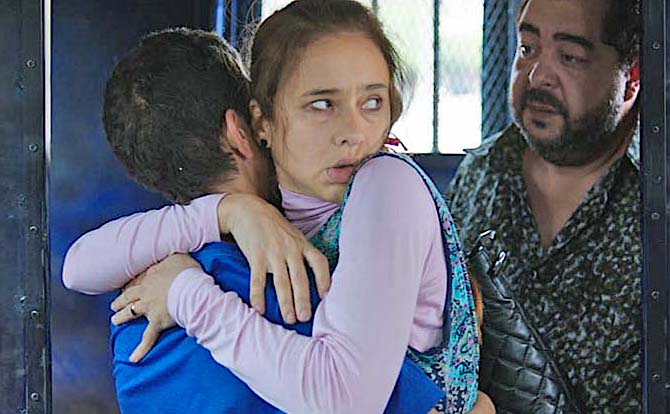 First aboard the bandwagon are a pair of journalists, Adam (Hani Adel) and Zein (El Sebaey), brusquely incarcerated even though they're desperately waving their Associated Press credentials. When they bang on the windows and yell for help to people outside, they find they're appealing to army supporters who view all journalists as Muslim Brotherhood (MB) spies, and pelt the truck with rocks. The cops respond by locking some of them up too, prompting bristling confrontations in the confined interior.
The cast gradually swells. There's a distraught old man desperately searching for his missing son. A mother (Nelly Karim, pictured above) deliberately provokes the police to get arrested so she can be inside with her husband and son. She's also a nurse, who later gives what help she can to the increasingly parched and sweaty prisoners from both sides, even the man who protests that it's forbidden to be touched by a woman. A young guy called Mans is a DJ with no apparent political leanings, and he incongruously gives out his business card in case anyone wants to hire him for a rave. They all get drenched by a water cannon.
Meanwhile the MB supporters are dragooned by a self-righteous, self-appointed leader who bossily divides them with different coloured armbands into paid-up members and mere sympathisers. Among the MB crew is an overweight buffoon wearing a colander on his head, who wants to get into showbiz and wants Zein to video his song-and-dance routine. A quiet muslim girl suffers the indignity of having to pee in the back of the truck, after one of the policeman (a Christian Copt) has got himself locked up by disobeying orders and trying to get her released.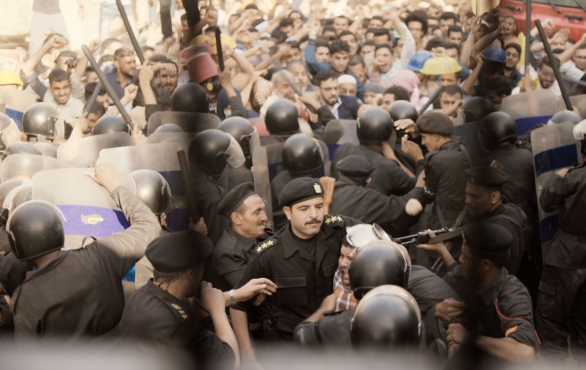 It all paints a picture of a society that may be finding itself crudely carved into two opposite sides, but is in fact a teeming soup of opinions, creeds and allegiances (though Diab doesn't fall into the trap of simplistic preaching about everyone being human and created equal etc). He doesn't try to reach any easy conclusions, either. The van's journey becomes increasingly perilous as it finds itself shrouded in tear gas in the midst of combat zones, comes under sniper fire from a nearby building, then finally gets rolled over by a heaving, surging mob, ghoulishly illuminated by dozens of hand-held green laser beams waving in the darkness. At the end, it's not clear which side is attacking whom, or who is likely to survive. It looks like a kind of purgatory, and leaves us with an ominous sense of foreboding.