theartsdesk on Vinyl: Volume 23 - Kate Bush, Elton John, Black Sabbath and more |

reviews, news & interviews
theartsdesk on Vinyl: Volume 23 - Kate Bush, Elton John, Black Sabbath and more
theartsdesk on Vinyl: Volume 23 - Kate Bush, Elton John, Black Sabbath and more
The most wide-ranging regular record reviews out there
Wednesday, 14 December 2016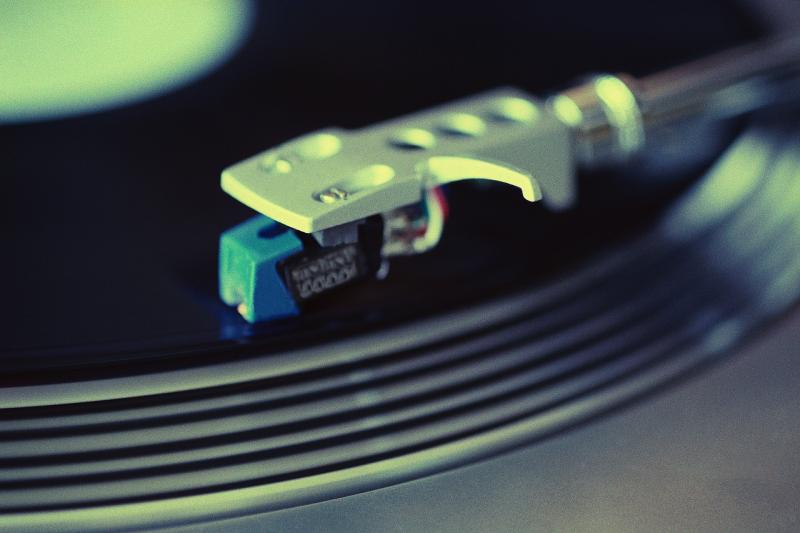 In the seasonal groove
The big news as this year closes is that vinyl sales have brought more money in than downloads. They made £2.4 million compared to the £2.1 million from digital, the eighth consecutive year of growth in vinyl sales. Of course, to a large degree, this is because the youth market very suddenly transferred their affections from downloads to streaming. Which doesn't make sense to me. If you can't get a decent connection, you don't have music. And that's not even starting in on quality issues. But this isn't the place for that, nor is it the place for cynics to sneer at vinyl as a home improvements design fashion. Who cares? Enjoy it. Vinyl is thriving and it sounds as great as ever. Below is our latest cross section of all the goodies that are available. It includes some amazing sounds to wrap your ears round. Almost time to stop working too. Christmas is coming. Happy listening. And Seasons Greetings from theartsdesk on Vinyl.
VINYL OF THE MONTH
Ricardo Villalobos & Umho Melo de Melo (Drumma)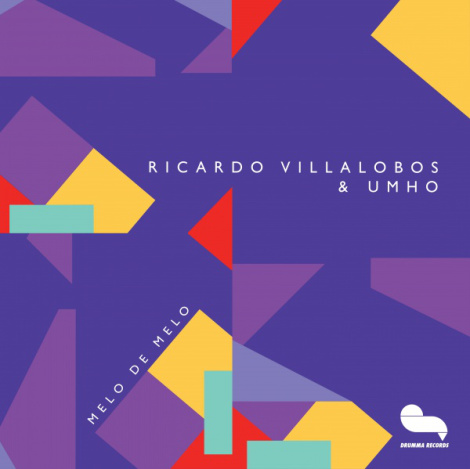 Chilean-German DJ-producer Ricardo Villalobos is sometimes perceived as simply an oddball DJ whose music goes off at the deep end of weirdness. True, but he's also very much more than that. Villalobos is a psychonaut in the grand post-Sixties tradition, but one who has translated his envelope-pushing psychotropic interests into art and, unlike most of his contemporaries, has done so in a manner that's sent him to places no-one else has gone. His entire body of work deserves assessing alongside masters of modern-classical minimalism. He is, in his own peculiar way, a genius. This time out he's hooked up with a pal, Chilean electronic kingpin Umho. Together they wish to be known as Ricmho. The title track is techno so echoing, sparse and repetitive it sends even my currently straight brain a bit funny. It is needless to say a head-nodder rather than a banger, with tints of backwards accordion. But the flipside "Por Suerte" is just as intriguing, an equally pared back, glooping thing, that sounds like the incidental music for a nature programme about ants filtered through the consciousness of someone in a floatation tank.
Kate Bush Before the Dawn Boxset (Fish People)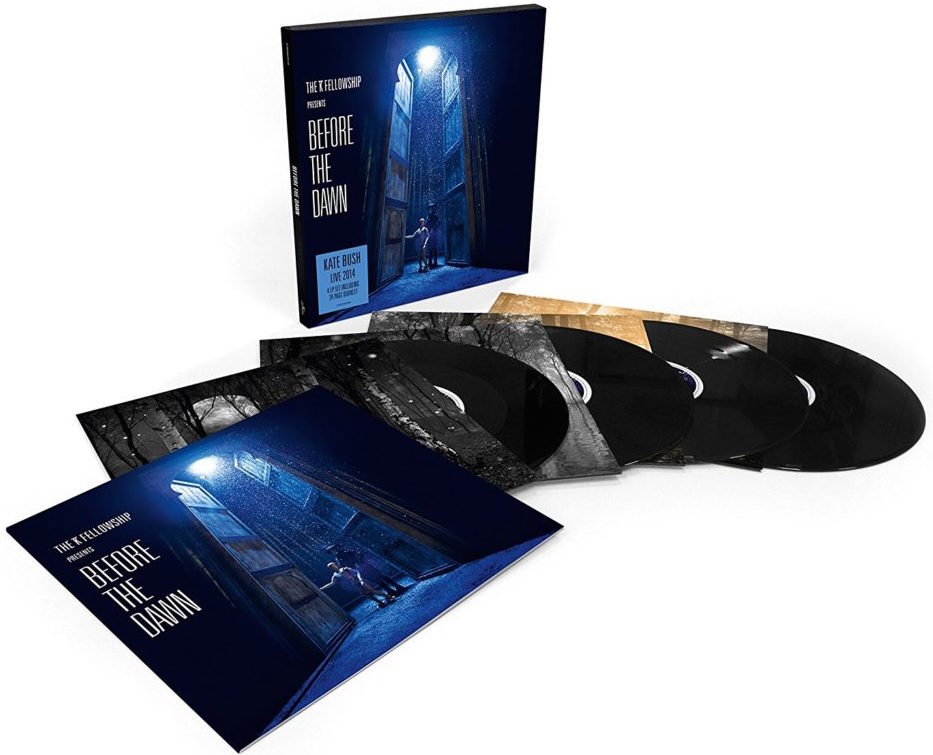 In the spring of 2014, when Kate Bush announced she was going to do 15 shows at the Hammersmith Apollo, everyone went mental (so much so she added another seven dates). Not surprising, really. She's one of pop's rare no-prisoners, no-sell-out artists, as in, ARTists, and the last time she played live was 1979. This boxset sees her theatrical production spread over four records, each with art-photo sleeves, accompanied by a 24 page 12" x 12" booklet, filled with photographs of the event and an intro/commentary by Bush. Before we get into that, though, we can't ignore Bush's unfortunate noises the other week about Theresa May. I'm no Bush fanatic and certainly don't care enough to be an apologist, but I'm inclined to give her the benefit of the doubt. It could be that she was expressing solidarity with the idea of a woman in power. Clarity will be offered one day. Mind you, Bush has always had a foot in the prog rock pond where there's a higher quotient of Tories than most areas of music. I mention this to clear the air, because the album needs hearing in the light of its merits, unhindered by social media squalls. And it's a document that's enjoyably earthed in live tone, not overdubbed, just a couple of edits and, as the singer writes, "two or three sound FX added to help with the atmosphere". At its heart are the narrative suites, "The Ninth Wave" from 1985's Hounds of Love and "A Sky of Honey" from 2005's Aerial. Dropping an early and feisty, even jovial, "Hounds of Love" and "Running Up That Hill", Bush inhabits the performance with increasing ease as the show progresses. There's even one song, "Never Be Mine", from 1989's The Sensual World, that wasn't in the concerts, performed only in rehearsal, so proper fan-bait. Whether you were at the shows or not, Bush's recording of the event captures it as it was rather than garnishing and polishing, which proves to be an engaging way to go.
Blackash Black Witch EP (Swordfish)
This band's name reminds of wandering round Glastonbury Festival in the early Nineties, when the place was swarming with hash dealers, often Rastafarians, who'd be standing on junctions loudly announcing "Black'ash" in chilled market trader voicers. This release is supposed to come with "a 1 gram rap of BLACKASH from the centre of the earth (not for human consumption)" but mine did not, which is lucky because I might have been tempted to go on its journey to the core. As it is, mysterious Brummie outfit Blackash, a five and sometimes six-piece, without names, only numbers, deliver a punchy trip with their ten minute "Black Witch", a driving psyche-punk mantra-riffer that owes a vast debt to Spacemen 3, albeit with the vocal stylings of Nik Fiend off Alien Sex Fiend (for those with very long Goth memories). The rest of the EP is a good listen, Stooges and Krautock and space synths a-go-go, but it's "Black Witch" that sets them up and draws the listener right in. One of a limited edition of 333 on exploding scarlet vinyl with pale blue splashing out from its centre.
Elton John Burberry Boxset (Universal)
These brand hook-ups are weird things. Elton John has a history with Burberry because, he says, they both, in their own ways, champion new music. This is, presumably why he popped up, literally, in their Christmas TV ad last year. Anyway, Burberry asked him to pick six albums that best represent his career between 1970 and 2001, to be packaged as an 800-run limited edition celebration of his music. Thus, in a Christmassy red, gold-glittered box, featuring Elton's signature in gold, we find 1970's eponymous second album, his breakthrough, the early, joyful, honkytonk, Live-in-New York, 17-11-70 set, 1971's huge-in-the-US Madman Across the Water (featuring "Tiny Dancer"), 1975's phantasmagorical-looking and autobiographical Captain Fantastic and the Brown Dirt Cowboy, 1983's sales behemoth Too Low for Zero ("I'm still standing! Yeah! Yeah! Yeah!"), and the singer's 2001 renaissance on Songs From the West Coast. They come with a large fold-out poster of Elton backed with his thoughts on the project. Elton fans - and this one's for completists – will know the primary reason for owning it is the first appearance on vinyl of Songs From the West Coast, which comes as a double in lyric sleeves with a 6 x 12" x 12" lengthways photo poster based on the cover art. Captain Fantastic… comes with the original release's lyric booklet, poster and "scrapbook", and Madman Across the Water is in its denim-effect gatefold incarnation with attached inner lyric-zine. Remastered by Septuagenarian US mastering don Bob Ludwig from the original tapes, and cut to vinyl at Abbey Road, the sound is as fat and rich as could be hoped for. Personally, and predictably, I'd have preferred Goodbye Yellow Brick Road to Captain Fantastic… but never mind such quibbling, this is a high end package, musically solid and visually glitzy, aimed solely at collectors with big pockets.
Various Speed Kills VII (Music for Nations)
When Music for Nations released the first six Speed Kills albums, between 1985 and 1992, they were celebrating the arrival of bands such as Metallica, Megadeth and Slayer. Decades later volume seven arrives and finds thrash is still in fine form. It's a vital cross section of demented high-BPM guitar assault with puking, raging vocals, but, once the listener has bedded in, there's a proliferation of different styles: Acid Reign's curious prog-rap singing style contrasts wildly with London band Amulet's grungey, lo-fi "Highwayman", which comes on like Motörhead jamming with Thin Lizzy, recorded through a sponge; Voices' theatrical, dirtily symphonic "Petrograph" bears little resemblance to "Through the Fires of Tryanny", an all-out noise-pounding by anonymous band Nine Covens. This compilation, alongside much of the material sent to theartsdesk on Vinyl during 2016, indicates underground metal is in great shape.
Jess Williamson Heart Song (Brutal Honest)
Texan singer-songwriter Jess Williamson digs deep into herself, torturously so upon occasion, to give us her second album, Heart Song. It arrives on red vinyl, gorgeously mastered to plastic, with a 12" X 12" lyric insert. The tone of it is country, blues, folk and rock, but with an edgy haunted quality, rather than the honkytonk good time bit. The title song is an astounding, wrenching piece of work, wherein Williamson's self-lacerating mood is reflected in increasingly dissonant guitar. She puts herself through the psychological mill during these seven songs, like a woman looking for delivery from a lonely spiritual purgatory. If that makes it all sound rather miserable, it's not a gloomy listen, it's more like an exorcism by song. She's clearly a major talent. I must look out her debut.
Bufi Revelación (Discotexas)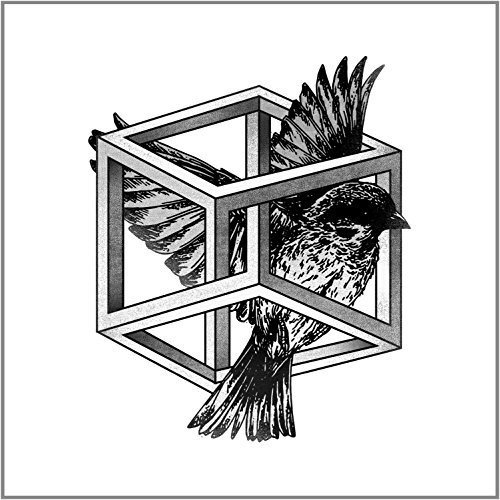 If this is what's going on south of the Rio Grande, I want in. Mateo González Bufi, who has remixed Hot Chip and released on Kitsuné and Electrique Music in the past, drops an album that's chock full of warm, organic-sounding 4/4 electronic throb, not exactly house or techno in their raw DJ tool dancefloor form, more the sort of music that you can imagine working a festival crowd who also like rock music. He has that thing which artists such as Leftfield and Vitalic have, although more cuddly and stoned than those bands in their recent guises, and he's not afraid of a squidgy dose of acid here and there. While describing these eight tracks is a thankless task, it's an album that will be cropping up in wee hours back-to-mines for some time to come.
Howard Gelb Future Standards (Fire)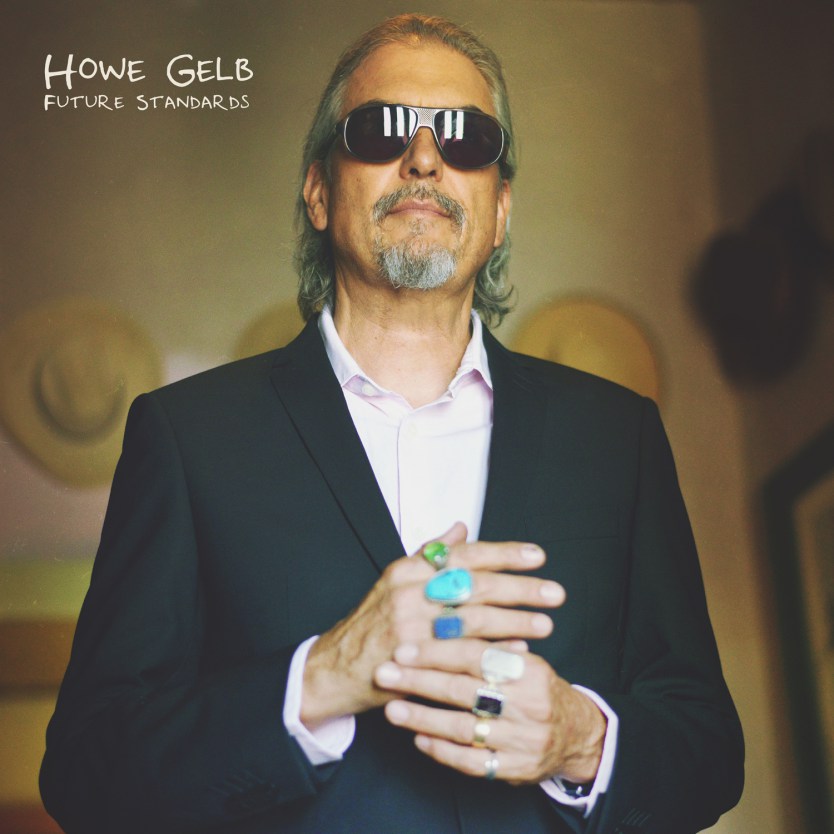 I'm not sure anyone expected Howard Gelb, leader of thirty year old Tucson alt-Americana troupe Giant Sand, to eventually mellow into one of the elder statesmen of American song. After last year's rich, elegiac Giant Sand album Heartbreak Pass, he returns with a solo outing that comes with a 12 page 12" x 12" photo/lyric booklet and a postcard. This time round, as the title announces, he's sat down at his piano with the idea of writing witty, thoughtful songs, dipped deep in late night cocktail bar pondering, a downtempo Cole Porter vibe by way of large doses of Leonard Cohen. It's deceptive, in that it sounds simply put together, but is actually carefully crafted, and songs such as "May You Never Fall in Love" put the listener deep in the New York night, lonesome on a bar stool, waiting for Sam to play it again.
Various 20 Years of Victory (Catskills)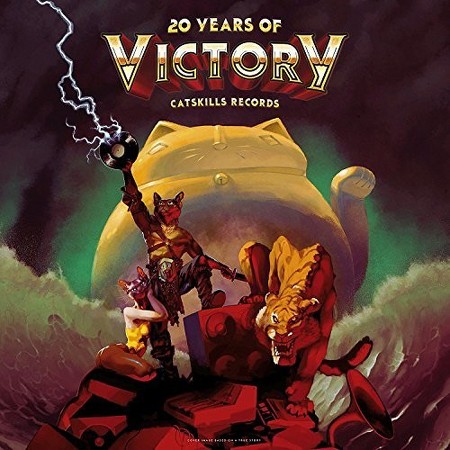 Now there's an album title that's unafraid. 20 Years of Victory! Brighton label Catskills Records may never have conquered the world but they've certainly had their moments. Their birthday is as good a time as any to disinter goodies. The nearest Catskills came to making it big was via Finnish act Pepe Deluxé's single "Before You Leave" (which isn't here), a bona fide Top 20 UK hit in 2001, but the band's later output, a brilliant amalgamation of psychedelia, easy listening, prog rock and heavy funk, soon evaded the simplistic categorizations of mainstream media and listeners, as can be heard on the crazy "Pussy Cat Rock". Catskills just about continues to this day but most of this material dates from their first decade. The label rode the hazier, more home listening side of Brighton's big beat boom of the late Nineties/early '00s, their output slowing when it crashed to the shore as the new Millennium progressed. Their acts featured here include Finnish chill-pop merchants Husky Rescue, Brighton's hedonic indie-soul diamonds Hardkandy (whose 2006 Last to Leave album is an undersung gem), post-hip hop explorers Black Grass (their first two albums are also essential, come to think of it), and Coventry indie guitar sorts The Ripps. Collectors will be after Pepe Deluxé's "That Remix of That Track You've Been looking For", a rework of "Before You Leave"'s vocal that bears almost no resemblance to the original. This three record set, in glorious triple gatefold and aquamarine vinyl (and with the month's maddest sleeve), is a reminder of a joyful, woozy time when people in Brighton who liked hip hop, marijuana and parties ruled the earth.
Trine Lindegaard DISH (Music For Dreams)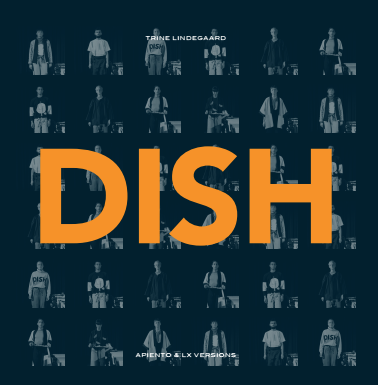 In Line With the World (ITMV) is a Danish organization devoted to boosting the confidence of immigrants and ethnic minority women. Trine Lindegaard is a fashion designer from the same country and last year she worked with on an ITMV project in the towns of Ishøj and Rødovre where women represented their favourite dish through embroidery. The results were shown off during Copenhagen Fashion Week in early 2016 and the designer asked Paul Byrne, A&R for International Feel and once manager of the mighty Junior Boys Own, for appropriate music to accompany the collection. This 12" is the eventual result. The women involved in the project have been sampled and Byrne, under his Apiento moniker and working together with UK house producer LX came up with two cuts. The vocal mix is somewhat clunky, recalling early acid house cut-ups, but the "Dub" is exquisite, a pacey hypnotic affair that goes on and on, percussion, bass, echo and the merest snifter of flute slowly zonking listeners off into the twilight zone.
Black Sabbath The Ultimate Collection (BMG)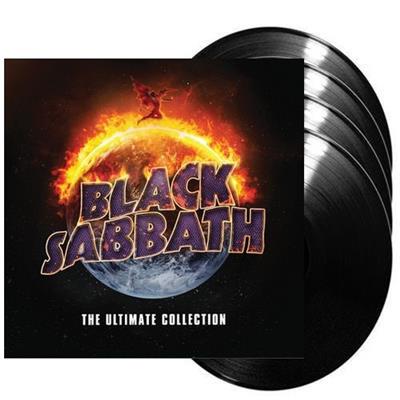 Check the preposterous packaging on this baby! It's a four record set that comes in a sleeve decorated with the faces of the original Sabbath that folds out into a 6 x 12" x 12" crucifix. The cover itself is tacky and naff and might lead a potential buyer to think the contents would be one of those feebly-mastered digi-to-vinyl, money-for-old-rope major label churn-outs. This is not the case as the whole is remastered by Andy Pearce, an engineer who's amped up the sound of Motörhead, Deep Purple and Iggy & the Stooges in his time. The songs sound as sharp and heavy – and downer-stoned weighty - as they should, but this is not a collection for old time fans, it's all the biggies and choice album cuts from the original Ozzie Osbourne 1969-1979 era, focusing heavily on their first two ground-breaking dawn-of-metal outings. The perfect Christmas gift for someone who NEEDS to hear everything from "Paranoid" to "Hole in the Sky" for the first time.
Belle and Sebastian The Jeepster Singles Boxset (Jeepster)
As you'd expect from that most elegant of Glasgow indie perennials, Belle and Sebastian, this boxset collection of their work for London's Scotland-friendly Jeepster Records between 1997 and 2001 is impeccably presented. A limited edition of 1200, it comes in a numbered box and contains 12" singles from their debut, "Dog On Wheels", through "Lazy Line Painter Jane", "This is Just a Modern Rock Song", "Legal Man", and "Jonathan David", right up to "Waking Up to Us". It also contains an extra 12" sleeve within which lie treats: a DVD of the videos, three 1990s fanzine reprints, an old-fashioned black'n'white press shot print and a sturdy 12" x 12" booklet full of all manner of photos, letters and memorabilia. "Judy is a Dick Slap", the jolly organ-fuelled B-side of 2000's "Legal Man", is also exclusively extended from its usual five minutes to 7 minutes and 25 seconds. At their best, as on songs such as "Le Pastie de la Bourgeoisie", Belle and Sebasatian have the pithy literate songcraft of Pet Shop Boys, but run through with the feel of Eighties Creation Records indie-jangle, all with a keen attention to production details.
Various Break – 10 Years of Symmetry (Symmetry)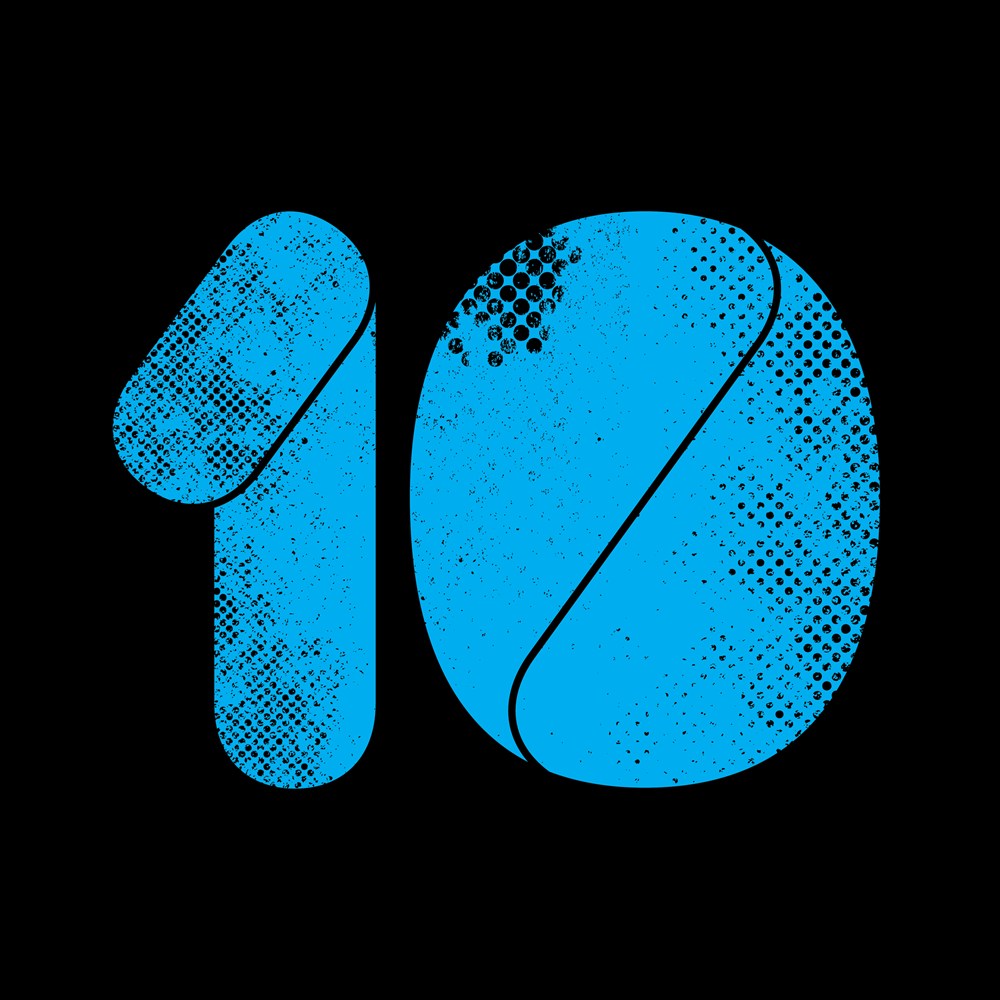 This collection of all new cuts from a drum & bass institution, on three slabs of gorgeously produced and mastered vinyl, really is an education in how far the genre has come. For sure, as far back as Goldie's Timeless, over 20 years ago, we'd been shown that drum & bass could be something silky and soulful, but Symmetry takes that to a next generation level. The label is owned by Break, AKA DJ-producer Charlie Bierman, and he's all over it on every track, collaborating, solo and on the remix, proving he can go gritty and raw with Total Science on "Betamax", or dancehall-flavoured with MC Fats on "Free Your Mind", soulful with Boston and vocalist Kyo on "If I Could", or just plain all-out, acidic bangin' nasty on his own, aptly titled "The Rush". Out digitally for a while, it only just hit vinyl. One hell of a party on plastic, it also sounds fantastic.
Sarathy Korwar Day to Day Remixes (Ninja Tune) + Letherette Last Night on the Planet (Ninja Tune) + Illum Sphere Glass (Ninja Tune) + Coldcut Only Heaven (Ahead of Our Time) + Romare Love Songs Part Two (Ninja Tune)
Ninja Tune remain one of the country's most exciting labels, regularly dropping baffling music that makes me pause and say, "I never heard anything like THAT before." If you haven't head Jameszoo's Fool album, for instance, which came out back in June, seek it out, it's one of the year's most intriguingly unhinged electronic outings. So what's a boy (or disco-grandad) supposed to do when Ninja Tune - and sub-labels - fire a load of goodies our way all at once. Reviewing them each individually, which they deserve, would make us look like a fan blog. Instead, here's theartsdesk on Vinyl's chart countdown of five new Ninja Tune gems: 5. Due to the tune "Warm Leatherette" being a persistent presence in my life for decades, I always think Letherette will be a fetishistic, dark synth-pop outfit but, of course, as their second album – on bright yellow vinyl – demonstrates, they may have electro in their make-up but are closer in tone to Los Angeles warped instrumental hip hop scene. Featuring MCing from Rejjie Snow and Pyramid Vritra, it contains more 4/4 throbbers than expected but also a decent dose of Ninja irregularity. 4. Indian percussionist Sarathy Korwar's Day to Day album, which came out this summer, has been hailed for fusing music from India's Sidi community (which has a tint of African flavour) with gentle Eno-esque electronic manipulation. Its subtleties didn't really grab this writer's ears but this 12" containing three remixes does. The Afro-electro jazz freakiness of New Yorker Photay's "Bismillah" remix is the attention-grabber, but a tougher, almost techno take on "Mawra (Transcendence)" by jazz drummer Nick Woodmansey (in his Emanative guise) and a bubbling housey take on "Dreaming" by 22a Records head honcho Tenderlonious are both worth a listen. 3. With a great name like Illum Sphere, you need to deliver music that lives up to its mind-bending science fiction implications. Happily, Brit DJ-producer Ryan Hunn does so, his second album not as sonically angular as his first, making for a more easily approachable journey into spacey twitch-tronics, where strange plinky head-mashers cuddle up beside warm 4/4 grooves such as "Fall Into Water". Comes on semi-transparent grey-white vinyl in cream-yellow inner sleeve.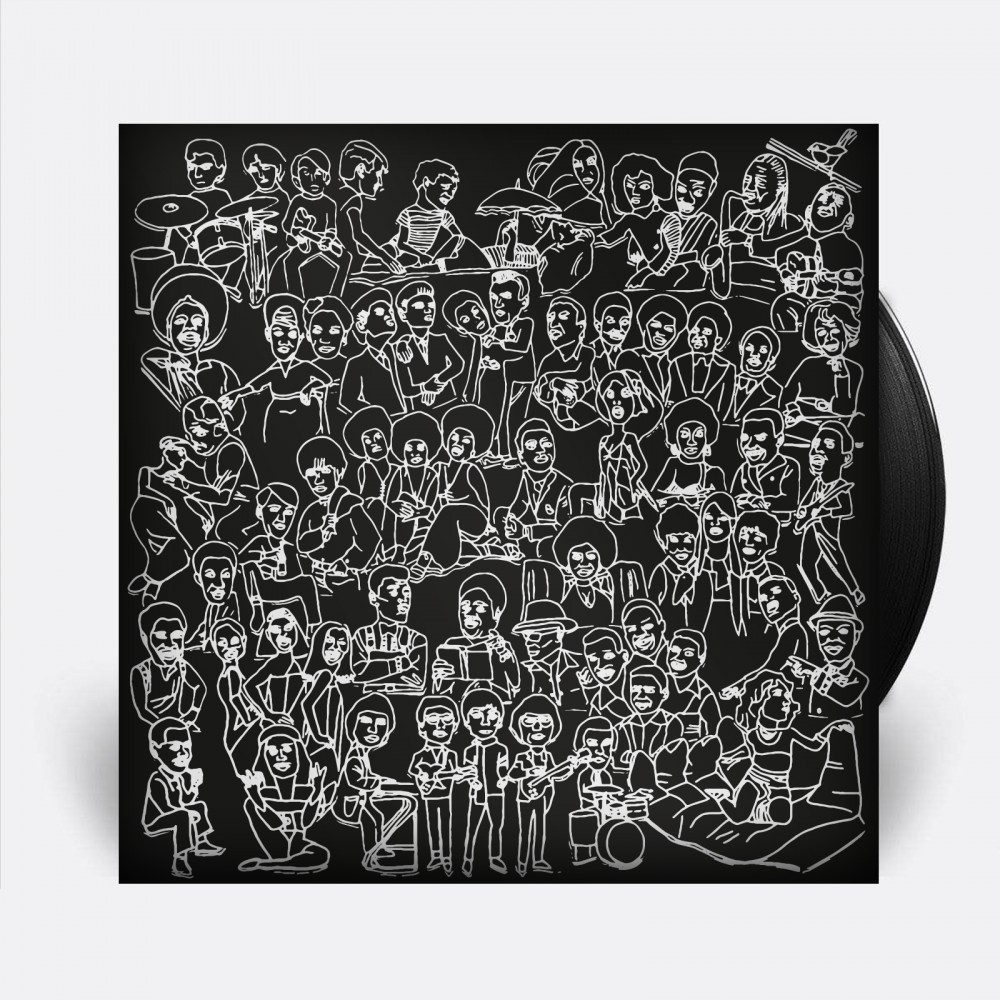 2. Coldcut are back, the duo behind Ninja Tune's creation, and one of the most important outfits of the post-acid house era. A decade after their last appearance, the new 12" EP bodes well. It arrives in a computer-art cover that obliterates the Daily Mail and includes a newspaper-sized poster, and features five tracks mastered brilliantly clear and loud. Led by the title tune, featuring Roots Manuva, it emanates a starker Coldcut, wherein their playful avant-garde electronics embrace the post-dubstep, post-trap, post-Flying Lotus world. The result is ear-pleasing and twinkles. AND AT No.1. The second album from Brit glitch-disco deconstructionist Romare spends a good portion of its time in its own unique terrain. "Who Loves You?" may have a familiar 4/4 throb but the gorgeous broken electro-gospel of "Honey" and the birdsong-infested Afro shuffle of "L.U.V" are more representative of this uncommon and very more-ish album.
theartsdesk on Vinyl's Yuletide Cheese Plate
Erasure Snow Globe (Mute) + Katie Melua In Winter (BMG) + Donna Summer The Ultimate Collection (Universal) + Various Classic Rock Anthems (Demon)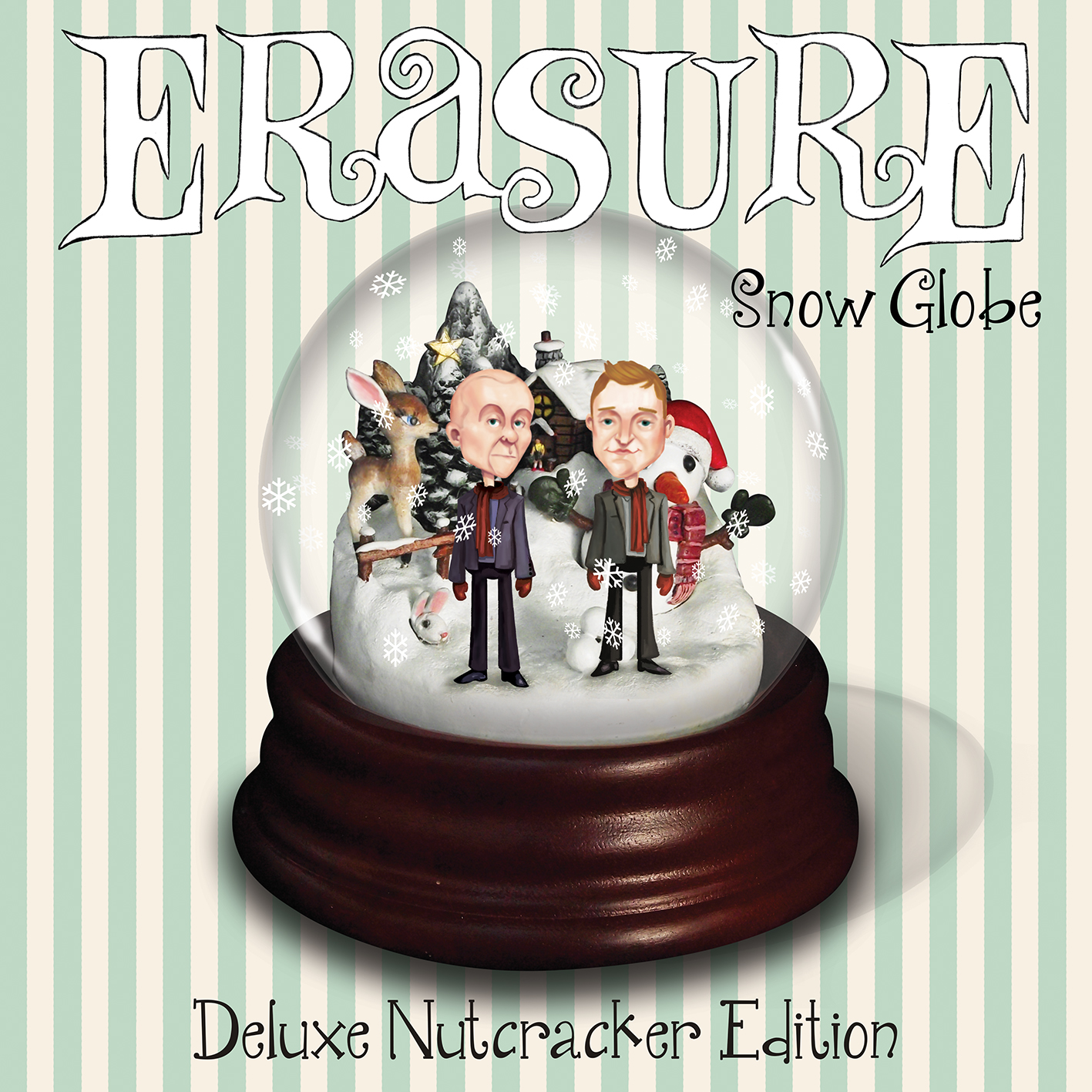 While the ears of theartsdesk on Vinyl are often revelling in the most vanguard records available, we also like to wander where we please, unhindered by expectation. At Christmas time, then, there's room for records that might not otherwise make the cut. Season to be merry, and all that. To be fair, the Donna Summer collection is, for some of its length, absolutely not cheese, containing some of the most groundbreaking dance music ever made. It arrives as a double in gatefold with info inner sleeves and a couple of very brief quotes from Giorgio Moroder associates Harold Faltermeyer and Pete Bellotte (hardly the "appreciation by" that the sticker on the cover indicates!). The discs are divided into "To Dance" and "To Love", and the latter is really quite gorgonzola. While many of these tunes are classics, the truth is that most of them are on vinyl in almost any charity shop in the country, and better mastered. So go find them there. Of the Christmas albums Erasure's Snow Globe from 2013 is re-released with a second record of remixes and alternate versions, all on appropriately snow white vinyl in kitsch illustrated inner sleeves. A mixture of seasonal standards ("White Christmas", "Silent Night", etc) and originals, it's very hit and miss. I'm not keen on most of their "Redux" and acoustic versions – "God Rest Ye Merry Gentlemen" as a pared back electro thing is especially bizarre – but the Maps remix of "Sleep Quietly" is rather lovely. Another on white vinyl,
Katie Melua's Christmas record features the Gori Women's Choir from Georgia, Melua's birthplace, where the album was also made. It arrives in gatefold with a set of four 12" x 12" striking silhouette-centric Wintery art prints by London-based Thai illustrator Niroot "Natee" Puttapipat. The gatefold photo, of Melua and the choir, has been rather badly managed as her face is entirely warped by the central fold. The album, reviewed elsewhere on theartsdesk, is as much about Melua embracing her Eastern European roots as about Christmas. It's too BBC Radio 2 for me but, I suspect, that's what her fans like, enhanced here by the ethereality offered by the choir. Finally, by far the stinkiest item on our cheese plate, Classic Rock Anthems is only here as a possible present choice for an elderly relation who's just brought their turntable down from the attic and wants to re-engage with "Bat Out of Hell", "Eye of the tiger", "Total Eclipse of the Heart" et al. It is, in other words, as hoary as Journey's "Don't Stop Believin'" which is, of course, on it.
ALSO WORTHY OF MENTION
Scorzayzee Gangsta Wraps (Take the Throne) (Gangsta Wraps): We're not immune to bribes at theartsdesk on Vinyl. Usually high grade Bourbon will do the trick, but Nottingham impresario Ste Allen has has gone for broke, sending a giant US takeaway meal-style brown paper bag which says "Gangsta Wraps are Big Puns" on it and lists food-related alternative hip hop stars such as Cypress Grill, Halal Cool J and Nachos With Attitude. Inside is a similar tee-shirt, stickers, a CD and this 12" single. Allen is the man behind the Gangsta Wraps label but the man behind the "Gangsta Wraps" tune is Scorzayzee, the one from Shane Meadows off-the-wall 2009 mockumentary Le Donk and Scor-zay-zee. The A-side is a chunky, funky, jokey, fast food-themed tribute to gangsta rap and contains some great lines - "Walk in McDonalds waving a bagel/Take the manager hostage/Only Ronald McDonald can save you/I wanna speak to that clown" or "I'll murder your burgers, you jerkers/This is revenge for overworking your workers/Where's Ronald at?/I know he's here somewhere, he's definitely here/I can hear a kids party upstairs" – but, musically, it's the alternate "Gangsta Wraps (Take the Crown)" on the flip, produced by DJ Fever, that has a more fluid, sexy groove.
65daysofstatic One Time For All Time (Monotreme): The 2005 second album from Sheffield's 65daysofstatic is reissued, and this is its first appearance on vinyl. It comes in black art/wordage inner sleeve with a 12 page 12" x 12" booklet featuring all 1000 polaroids that originally went out with the album's limited edition "Radio Protector" single, as well as a list of all their titles. The vinyl is a spin painting, pink-yellow cream in colour with brown star-flecks and pale black globules emanating from the centre. It looks like a pale coffee ice cream, choc sauce and sprinkles explosion. 65daysofstatic are a band I admire and enjoy in small doses. Their imaginative fusion of out-there electronics and controlled guitar attack is original, and One Time For All Time finds them on fine form, but, for me, emotional engagement never arrives. Perhaps that's not the point. They certainly make an enticing noise that's well-captured on vinyl.
Various Doing It In Lagos: Boogie, Pop & Disco in 1980s Nigeria (Soundway): This is a luscious package, triple vinyl in gatefold sleeve with a colourful eight page 12" by 12" booklet laying out its premise, including some great kitsch publicity shots. The sound is imbued with a very African grooviness, but it's also parallel in feel to artists such as Shalamar, Shakatak and Imagination, the digital era slowly crisping up Chic-style funk and tightening the bass end. Thus there are smiley gems such as Oby Onyioha's Sister Sledge-ish "Enjoy Your Life" and the bubbling fun of Gboyega Adelaja's "Colourful Environment". I also really got stuck into the two tracks on the 7" that comes with this set, Lagos schoolboy band Ofege's sunshine pop "Burning Jungle" from 1978 and an early electro-hip hop cut by Lexy Mella, "On The Air", given an edit by Sofrito's Frankie Francis. Just as disco went underground in the US at the Seventies' end, after the Disco Sucks movement, Nigeria, just like the London soul-funk scene, clearly took the ball and ran with it. For my tastes, most of this material doesn't move far enough into ear-wakening new territory, but the likes of Peter Abdul's "Don't You Know", a loony squelch-funk affair, showcase treats to be found.
Mikael Tariverdiev The Irony of Fate OST (Fire): The Irony of Fate, Russian director Eldar Ryazanov's 1975 comedy of drunkenness, mistaken identity and Soviet-era architecture is hugely loved in its homeland, one of those films that everyone has a soft spot for, like It's a Wonderful Life or This is Spinal Tap or similar. Among its charms are the music and songs of Mikael Tariverdiev, a Soviet-era musician who's often and rightly likened to Serge Gainsbourg. The soundtrack is a playful mixture of easy listening instrumentals such as "Along My Street for Many Years", snippets of the film itself, and acoustic numbers, such as "I Asked the Ash Tree", a song which has the status of a universal song-along standard in Russia. Only available on vinyl, Fire Records are to be commended, once again, for going out on a limb and putting the unexpected onto plastic, replete with outer sleeve notes by Stephen Coates of Antique Beats records.
Franck Kartell Coïncidences (Bass Agenda): Connoisseurs of stark, edgy European electro will know that Bass Agenda is a key label, beloved of DJs such as techno don Dave Clarke. French producer Franck Kartell seems to have made it his mission to promote the life and work of the French socialist experimental film-maker Chris Marker. His last album was a new soundtrack for Marker's 1962 film La Jetée (an influential photographic montage experiment about time travel which heavily flavoured Terry Gilliam's 12 Monkeys). The new one, a double in a murky black'n'white sleeve with a 12" x 24" poster, is another tribute to Marker, named after a quotation from him about the relationship between chance and coincidence. The music is bright, occasionally spectral, machine bleakness that twitches with android emotion.
Crippled Black Phoenix Bronze (Season of Mist): Gatefold double with 12" x 12" art/info insert for the latest from Justin Greaves' decade old project, based these days in Sweden. The band's fan base reside in the metal community but the sides entitled O and N (the equivalent of C and D), especially the song "Seared and Alone", showcase delicate, albeit moody, pieces that have a tuneful Floydian progginess. It's accessible stoner rock bogged down in self-involved bleakness. This contrasts with the first two sides, B and R, which are, apart from the melancholy slowie "Goodbye Then", more about stern riffage, although they're no less doleful. Bronze is an album keen to take the listener on a journey. It veers between the over-morose and the likable, but is most approachable.
Mark Barrott Remixes From an Island (International Feel): Ibiza label International Feel have been at the forefront of the recent Balearic revival and one of the most acclaimed releases on their prolific schedule was Mark Barrot's 2014 Sketches From an Island album and its sequel this year. Both rejected 21st Century Ibiza's penchant for the busy in favour of recalling the bucolic wooziness that made the island appealing to hedonists in the first place. A 12" single now appears with remixes that bounce the floaty originals around a bit. Montreal's suitably airy CFCF makes "Brunch With Suki" more ebullient, Spanish flautist/percussionist Luis Delgado takes "Over at Dieter's Place" for a wander among the wind chimes, perennial Italian Afro-beat maestros Nu Guinea give "The Mysterious Island of Dr Nimm" some squelchy low-funk, and Parisian producer Domenique Dumont finishes off with a hypnotic take on "Der Stern, Der Nie Vergeht". The care with which the remixers have been chosen says everything about the package.
Raf Rundell The Adventures of Selfie Boy Pt.1 (1965): Raf Rundell, long a DJ, promoter and player in the world of dance music, finally wandered cheerfully into the spotlight when he hooked up with Hot Chip's Joe Goddard for the amiable, light-hearted 2 Bears project. Using that as a springboard – and why not – he releases a solo mini-album. There are a couple of tracks that seem an uncomfortable meld of old school house with indie songwriting but the best of it contains something promising. Check out the groovy, low-flowing "Shoppin' For a Shaman" which sounds like a Black Grape ballad fronted by Damion Albarn. Or how about closer "Llama Farmer", a squelchy, extended, acidic electro-soul saunter. Rundell has a voice that's capable of both geezer-ish croon and Jamie Lidell-ish soulful falsetto. The Adventures of Selfie Boy Pt.1 is the sound of a man who's enjoying testing the water. Keep an eye on him.
Spoilers Anti Vibe (Vibe/Anti Vibe): It's tricky to bring something new to punk if you're stuck on the original template, since an angry, lo-fi guitar racket is, by its nature, retro so surely not punk? London four-piece Spoilers bring the smallest hint of something new to the party, with tints of 21st Century technology here and there. Mostly they deal in NME/Steve Lamacq-friendly rip-roarers, catchy Vaccines-style power pop riven with dissonance and sneery attitude, as on the catchy "Try Try Try" or the riff-tastic "Ripping". However, the cut that hints at better things to come is "No Pressure" which sounds as if its collapsing into itself, falling to pieces, in the best way. More of that and Spoilers will be going places. Comes in a transparent plastic sleeve with info insert.
Various Transhumanism (Bass Agenda): The consistently on-point Bass Agenda label, experts in their field – which is electro – drop a new 12" mostly of interest to underground techno DJs but with enough going to make more general listeners investigate. W1b0's "Utopia Planetia" recalls Front 242 and all that old EBM stuff but is less dirgey, TFHats' "iConnect" is harsh, drum machine electro in the Brutalist late-1990s Detroit tradition, and the suspiciously named Slaves of Sinus give us "People Who Destroy", a snarling wall of threat that sounds like the T800, the T888, the T900 and the T1000 having a violent barney down at Cyberdine. But, for me, the key cut is RXmode's "Lost", moody and tuneful, dark and vocodered, somewhere between Anthony Rother and Kraftwerk, which is no bad place to be.
Hidden Orchestra Wingbeats (Tru Thoughts): Brighton producer and BBC Radio composer/sonic engineer Joe Acheson records modern classical music as Hidden Orchestra. His latest 12" mini-album is a must for fans of good-looking coloured vinyl, featuring a minimalist silver star splatting, outwards from the centre of the disc, on black. It's elegant and eye-pleasing rather than simply gaudy. Of course, you'll need to be a fan of the music too. The main version of "Wingbeats" is a lugubrious but lovely small ensemble piece but more to my taste are the alternate takes on the flip, each focusing on different instrumentations, most especially the "Bird Table", "Tuned Percussion, Harp, Mey" and "Drums" versions. The Mey, by the way, is a Turkish relation to the clarinet and recorder.
Luke Haines Smash the System (Cherry Red): Luke Haines has had an extensive and eccentric career, dating back around quarter of a century, even tasting low level chart success with The Auteurs in the early Nineties (as well as a single hit, "The Facts of Life", with his later outfit Black Box Recorder). His last six albums have been concept affairs - Nine and a Half Psychedelic Meditations on British Wrestling From the Late 1970s and Early '80s, New York in The '70s and British Nuclear Bunkers. Their titles gives an idea of his self-referencing, culture vulture, post-modern mind set and Smash the System continues in this vein. I confess to being something of a neophyte to Haines' extensive solo output but, without comprehensive reference to his other work, this album is a treat, full of deranged yet oddly poetic imagery, such as a Moog-tastic thing called "Ulrike Meinhof's Brain is Missing", or the deceptively sweet child chorus on "Cosmic Man". It comes on red vinyl in a transparent plastic sleeve with bare minimum details on a small square styicvker in the corner, but it comes recommended, nonetheless.
Alluri Man of Truth (Life is Thus): Redd Alluri was born and raised in Hyperabad in southern India but London got deep in his blood when he went travelling. Man of Truth is his debut album, which comes on single vinyl in lyric/photo gatefold. Alluri's songs do not hint, musically, at his ethnic origins, for this is straight-up indie fare, but the lyrics give hints, as on the chorus of the rockin' "All the Women": "All the women want to leave India". He's capable of writing a catchy guitar pop number, full of melodic interaction, as on the opening "This Life", but isn't restricted in his sound with the strummed "Man of Truth almost like an early Roxy Music offcut, although the lyrics "I'll trash my Neil Young records to be with you" say otherwise.
Langenberg Centrally Heated House (Dessous): There has, in recent times, been a blurring of what the term "deep house" actually means. Once upon a time it referred to house music so laid back and soulful it sounded like it had ingested a small ball of hashish. More recently it came to mean any 4/4 dance music that sounded smooth rather than emanating EDM's compressed Ritalin rush. Max Heesen from Essen, Germany, knows what it means, as he demonstrates on this two record album package, featuring Mark Bell of Blakkat on super-mellow vocals for one track, "Shadows". I'm never quite sure how you dance to this stuff. It's too slow and nodding, but there's no denying it has a soothing warmth that's an appealing alternative when the techno night has gone on too long. Solid club second room gear, in other words.
Nick Ellis Daylight Ghosts (Mellowtone): While he sounds absolutely nothing like him, Nick Ellis's phrasing and sense of honest passion has something of Billy Bragg about it. Unlike Bragg his guitar parts owe more to folk virtuosos than to punk and rock'n'roll. Indeed, he weaves a complexity into his acoustic backing that adds colour and detail to his busy, poetic songs of urban locales, day-to-day living and existential pondering. A singer-songwriter to watch. Comes in photo-lyric inner sleeve with lyrics that deserve a look.
To be fair, the Donna Summer collection is, for some of its length, absolutely not cheese
Share this article
Subscribe to theartsdesk.com
Thank you for continuing to read our work on theartsdesk.com. For unlimited access to every article in its entirety, including our archive of more than 10,000 pieces, we're asking for £3.95 per month or £30 per year. We feel it's a very good deal, and hope you do too.
To take an annual subscription now simply click here.
And if you're looking for that extra gift for a friend or family member, why not treat them to a theartsdesk.com gift subscription?