theartsdesk in Reykjavík: Iceland Airwaves 2016 |

reviews, news & interviews
theartsdesk in Reykjavík: Iceland Airwaves 2016
theartsdesk in Reykjavík: Iceland Airwaves 2016
PJ Harvey, John Lydon, Björk and Iceland's next sure thing Mammút assemble at the festival that's about more than music
PJ Harvey at Airwaves 2016: expressing her views as forcefully as she can
On the final night of Iceland Airwaves 2016, Polly Jean Harvey and her band are ranged in a line just inside the edge of the stage constructed inside Valshöllin, a sports hall south of Reykjavík's city centre. The festival's five days have climaxed with a diamond-hard performance drawing heavily on this year's Hope Six Demolition Project album.
The venerable "50ft Queenie", "Down by the Water" and "To Bring You my Love" are played, but this is about the PJ Harvey of now and 2011's
Let England Shake
: the PJ Harvey engaged with and aghast at a world which appears to be wrecking the lives of its citizens.
Harvey has seen what she has seen across the globe, does not like it and is expressing her views as forcefully as she can. While this inevitably brings more shade than light into what is witnessed by the 3,200 within the hall, the experience is given an added edge as the American election is 60 hours away. If Trump were to win, can anyone imagine him coming to Reykjavík for a summit meeting with Putin, as Reagan did with Gorbachev in October 1986? And no one should forget that Iceland was the first country to step up and recognise Estonia, Latvia and Lithuania as independent states when they broke away from the Soviet Union in 1991.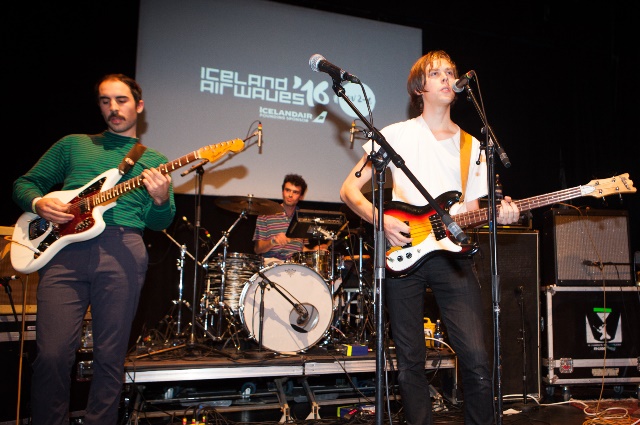 But it's about the music isn't it? Yes. And no. Since 1999, the annual Airwaves has existed in its own continuum. The big names and set-piece shows generally – PJ Harvey excepted this year – have not already been around the summer festivals. Careful booking ensures the Reykjavík bonanza stands apart. Julia Holter is here. So are Santigold and Kate Tempest.
Operating on multiple levels means Airwaves also gives platforms to American up-and-comers Pavo Pavo (pictured above right, © Rúnar Sigurður Sigurjónsson/Airwaves) and our own This is the Kit. The visitors are complemented by a vast raft of Icelanders stretching from Björk to the barely heard-of Hatari. In the spirit of the Reagan-Gorbachev dialogue and its host country's recognition of self-determination, Airwaves salutes music: in whatever form and wherever it is from. Despite being a commercial event, the free-spirited welcome given to different perspectives and the fostering of conversations between them reflects an ethos sorely lacked by one side fighting the American election. And now, with the winner declared, it's impossible not to wonder whether such open-minded ventures are at risk. So no, it is not just about the music. It cannot be.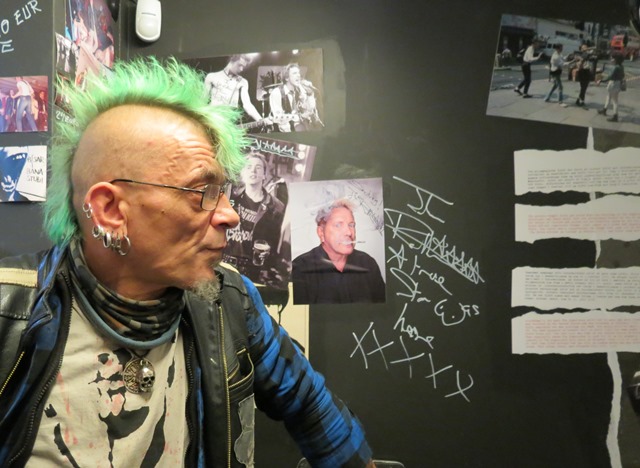 In the centre of Reykjavík, at a former public toilet, Airwaves 2016 opens with a reminder of how charged music can be. Stairs lead down into Pönksafn, the museum of Icelandic punk rock (pictured left, custodian Frikki Black Elf minding the store at Pönksafn). The cubicles are odour-free and the walls plastered with chronologically arranged memorabilia, photos and info-crammed panels (in Icelandic and for-real amusing idiomatic English) bringing home punk's lasting impact on Iceland. Videos can also be seen. Headphones hang from the ceiling. Iceland cottoned on a little late and The Stranglers playing to an audience of 4,000 (two percent of the population) in May 1978 was pivotal. The first local band, Halló & Heilasletturnar (Hello & The Brain Splatters) had formed by that summer. But Iceland was not isolated. Crass were an early visitor. Without all this: no Sugarcubes, no Björk as we know her today and the loss of a still-vital ingredient of Iceland's individualistic take on music. The important Pönksafn is an essential stop-off while in Reykjavík.
Fittingly, in the rain, the museum was opened by a highly lubricated John Lydon. He signed the former toilet's wall as Johnny Rotten rather than Lydon, so must have recognised the significance of this new institution. His free-ranging opening address took in U2's debt to Public Image Limited, how there would be "no Massive Attack" without Public Image Limited, his thoughts on Hilary Clinton's trousers (exciting, to him) and Brexit (he wouldn't commit to in or out). More pertinently, Lydon said "punk developed and was about changing. I'm very cross-haired about the museum. It educates people, but there needs to be punk part two, punk part three. Without punk, there'd be no Public Image."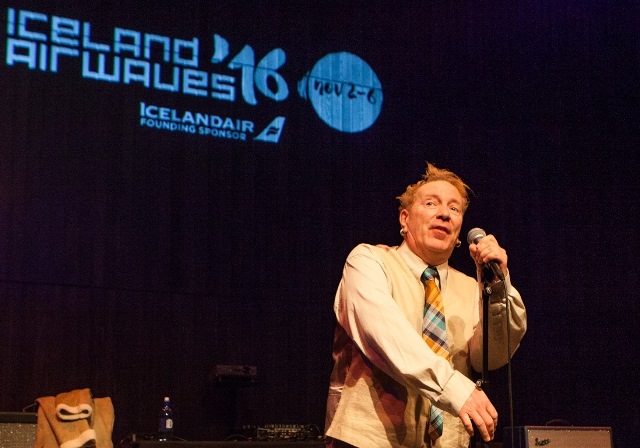 The next night, at the Harpa concert hall during the evening's spoken-word session, Lydon took part in a frequently funny Q&A (pictured above, © Rúnar Sigurður Sigurjónsson/Airwaves). Anything anyone wanted to ask was answered: what's in your pockets (cigarettes); what do you do when not doing music (watch lots of TV and mess around in boats). His presence loomed over Airwaves. Despite not performing in any normal sense, Lydon saw the crazy band Dr. Spock, then found a temporary home in the smoking room of the small venue Gaukurinn where fags and lager were never far.
Another presence, more usually thought of as looming over Iceland and its music, is Björk whose interval-punctuated two hours at Harpa's main hall made the best case in at least a decade for Björk being Björk (pictured below, © Santiago Felipe/Airwaves). Without intrusive electronica or technology and no distracting visuals, she performed the set seen recently in the UK but with a 30-piece string section (32, once a pair of double basses was added after the interval) drawn from The Iceland Symphony Orchestra rather than the Aurora Orchestra. Though ostensibly as per before elsewhere – a set from Vulnicura and a second set of relatively obscure older material – the change in musical support resulted in a more sinuous, more agile bedding than earlier this year. With Björk herself unpredictably balancing the measured with the unfettered, this was a landmark performance.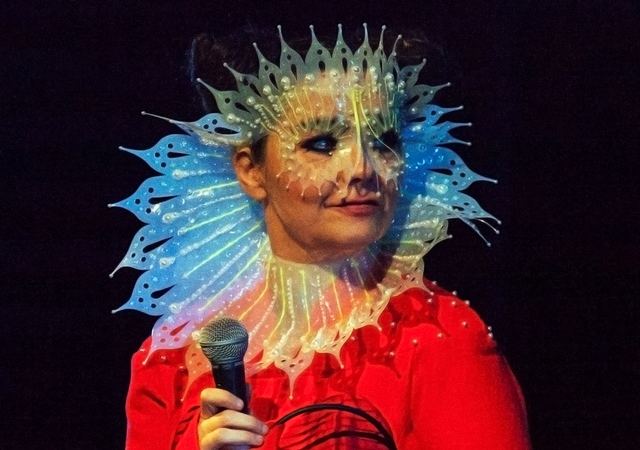 Stars – whether PJ Harvey, John Lydon or Björk – must be seen but they have the power to distract from the opportunity Airwaves brings to check out less familiar faces. Over from Germany and solo at a piano, Josin played the small and lovely theatre Iðnó. Her mid-period Radiohead-esque mood-songs stand apart as they have strong hymnal melodies, the element which, as she develops, should further set her apart from other introspective singer-songwriters. From Russia, Miss Naivety was superficially in the same territory but boldly stripped down, impressionistic and thus more impactful, with an approach to texture – despite being solo – on a line between Iceland's amiina and The Young Marble Giants. Tacoma, Washington's The Sonics, who made their first record in 1964, potentially included some rather old faces but instead sported a single original member and a pair of Jack Black lookalikes. While their noise was suitably rocking and it's great to pay tribute to one of the world's finest bands, they disappointingly sounded like a current garage band covering The Sonics rather than the real thing. Boston's Pavo Pavo were more satisfying and, live, eschew the Cocteau Twins textures of their debut album Young Narrator in the Breakers in favour of a fidgety, downtown New York 1979 art-rock take on c 1968 Beach Boys. A band to watch very hard.
Obviously, Icelanders had the edge as Airwaves showcases the best of the new. Another arty lot, Skelkur í Bringu have a take on punk involving detuned bass guitar, woofing, eccentric rhythms and a drummer who chucks (thankfully empty) cardboard boxes at the audience. Fun and bizarre. Vök have been around for about four years, and their set at Reykjavík Art Museum confirmed their mix of dub, Eighties late-night sax and atmospherics has a sheen suitable for any audience to rub up to.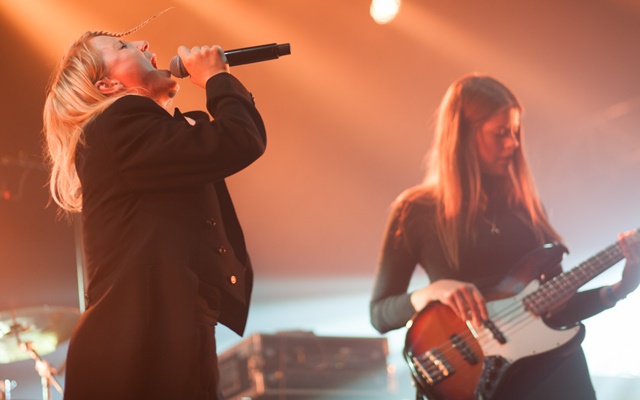 The young and little-known Rythmatik belied their seeming obscurity by having a stage-front line of excited girls as they went on. It was soon easy to see why. Despite a slightly off-putting declared fondness for Big Country their energetic, winning songs were absolutely wonderful, as was their magnetic enthusiasm. A treat. Just as Rythmatik deal in the hardest thing to master – the pop song – Puffin Island did the same. Though their massed-harmony vocals were a little shaky, a Beatles/Crowded House infectiousness would have made them right at home on Kitchenware Records in 1984.
However, Airwaves 2016's most striking Icelanders were Mammút (pictured above, © Rúnar Sigurður Sigurjónsson/Airwaves). Around for over a decade and always good, they have three albums behind them but had never stepped beyond being a Björk-múm band. This has changed. Seeing them three times – to check their blinding first show was no fluke – confirms they may as well be a new band despite having not changed their line-up. Suddenly, they have flowered into a world-class outfit with the potential to cross over into the mainstream. Hard-edged, rocky, circular songs with folky, spiritual melodies are coloured with clanging, almost Smashing Pumpkins guitar. Despite the full-on assuredness of their shows, spaciousness and subtlety suggest anyone with Goth inclinations would go for them big time. Unreservedly fantastic.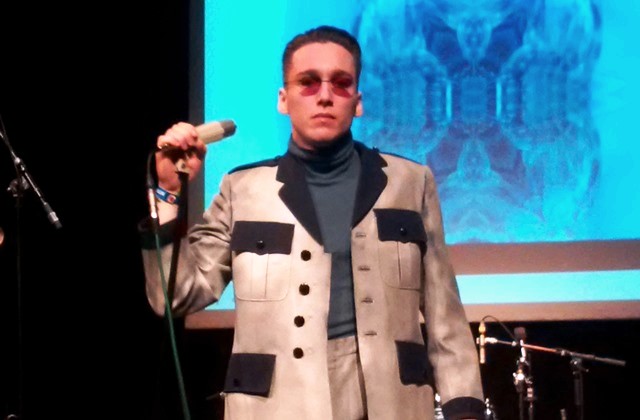 In contrast, the fearsome Hatari (pictured left, trans: The Hated) lacked a single cross-over bone. Influenced by seminal Icelandic post-punks Þeyr, the three-piece feature a stand-up drummer in a Silence of the Lambs do-not-bite mask and two singers, one of whom also plays guitar. The non-guitar one barked out words in Icelandic and the guitaring one sang in a keening voice. The net effect is as if Billy McKenzie had joined Laibach. Clearly, some theatre featured as evidenced by inter-singer hand-on-thigh rubbing and a song during which shouty bellowed at high-voice while the latter, as if in fear, crouched tortoise-like on the lip of the stage. Unforgettable.
If that wasn't enough demonstration of Airwaves commitment to questioning the normal festival experience, Sunday at Iðnó saw Birthday Song, a concert celebrating the 40th anniversary of Þroskahjálp, the Icelandic National Association of Intellectual Disabilities. First on were Norway's Make Dreams Concrete, a band formed at a Bergen high school by institutionally excluded teenagers. For their first live show, a Pixies-style attack made them instant winners and a real-life analogue to the band in Lukas Moodysson's We Are the Best!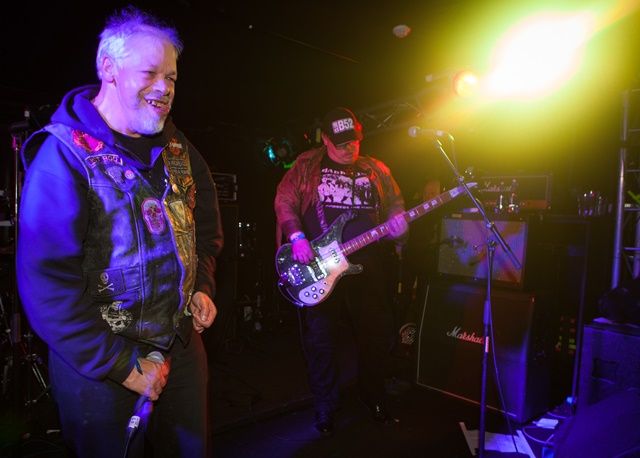 At the same show, Finland's Pertti Kurikan Nimipäivät (pictured right, © Rúnar Sigurður Sigurjónsson/Airwaves) were a known quantity and have represented their home country at the Eurovision Song Contest. Seeing them in person raises endless tough questions about reactions to live music: is thinking they are good a response to their disabilities, a self-conscious or reflexive calibration? Such uncomfortable thoughts evaporate once their reductive punk – no metal in this – gets into gear. Their singularity becomes irrelevant. In short, they are good at what they do and do it better than most. In 1981, for their music alone, they would have been on the cover of British music weekly Sounds.
Pertti Kurikan Nimipäivät are about more than their music though. Bassist Sami Helle is active politically, works hard for disability rights, is in Finland's Central Party and plans to stand as an MP. He says there is not enough representation for minorities, including disabled minorities.
Which brings it back to PJ Harvey and her concerns that all is not well in the world. Of course, she is right. But experiencing the astonishing Airwaves' inclusive approach to bringing music before the world suggests there is hope. As long as eyes remain open and ears stay unblocked it may – just – be possible to get through what increasingly look to be dark times.