The Alchemist, RSC, Barbican |

reviews, news & interviews
The Alchemist, RSC, Barbican
The Alchemist, RSC, Barbican
A pacy production finds the anarchic energy in Jonson's city satire
Thursday, 15 September 2016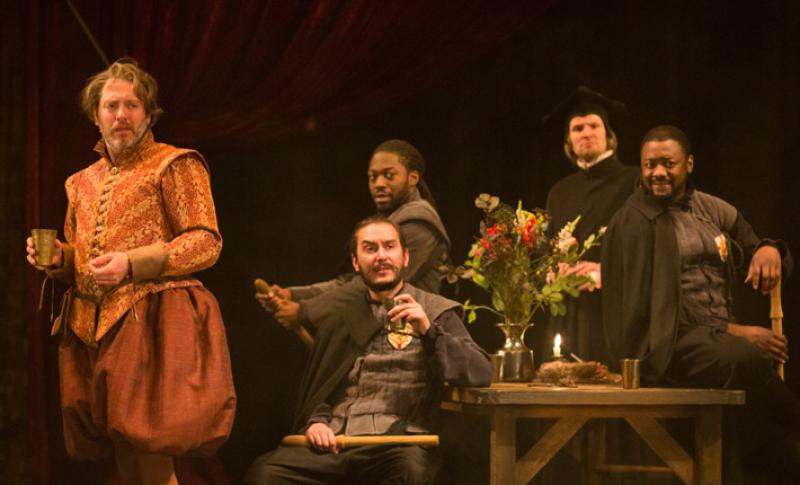 The con is on: Polly Findlay's production offers deftly traditional take on Jonson's classic satire
The confidence trick to end all tricks, Ben Jonson's The Alchemist is so utterly recognisable, so clearly contemporary, that to update the setting feels a bit like underlining the point in red pen. In this transfer from Stratford's Swan Theatre director Polly Findlay plays things 17th-century straight, allowing her audience to make the connection with just a little help from an irreverent new epilogue.
The year is 1610 and plague has driven the wealthy away from London to their country estates, leaving the city and their possessions in charge of the underclass – servants, clerks, whores and con-artists. Three of the latter – Subtle, Dol and Face – come together in uneasy alliance to pull off a sequence of scams, cheating anyone who crosses their path with promises of wealth and eternal life, all conjured up by Subtle, the alchemist of the title.
The trio turn a tough, wordy text into goldHelen Goddard's set is still-life lovely, a feast of visual symbols from the skull casually perched on the table to the vase of flowers, phials and books. Into this elegantly ordered chaos come the schemers: Ken Nwosu's Face, the frontman of the operation, Mark Lockyer's grizzled and perpetually apoplectic Subtle (pictured below) and Siobhan McSweeney's unimpressed Dol. Their alchemy may be a sham, but the trio still turn a tough, wordy text into gold, conjuring with tireless physical energy and swift speech. They're helped by playwright Stephen Jeffreys whose newly written prologue leads into a play that has lost some serious verbal weight (some 20% of the original text is cut) and parries and thrusts all the more nimbly for it.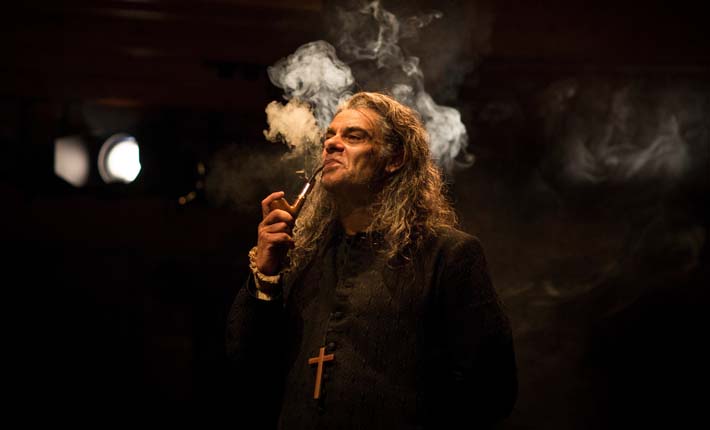 Under Findlay's careful direction the comic set-up is meticulously prepared, the spinning top of satire wound tighter and tighter over more than an hour, only released to revolve in chaotic lurches in the farce that unfolds after the interval. The pay-off is giddily anarchic as all the trio's victims collide in their attempts to seek redress. Ian Redford blusters and purrs fruitily as Sir Epicure Mammon, a white-haired lecher whose flesh is still more than willing, while Tom McCall makes an explosive Kastril, physically convulsive and consistently mad in the eyes. Richard Leeming's Abel Drugger strikes just the right combination of chinless foppery and vulnerability – a quality we find nowhere else in Jonson's twisted company.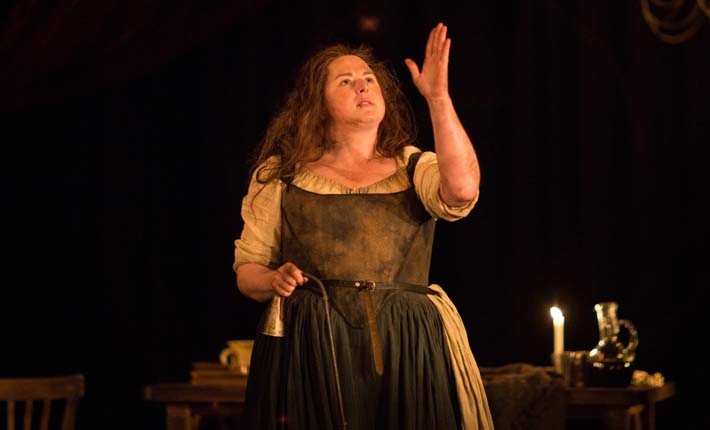 But it's the central trio who carry the show. Jonson leaves their stories largely untold and all three fill the gaps with tantalising suggestions and implications. Refusing to wench it up too much, McSweeney's Dol (pictured left) is a dry, droll affair with a vibrant inner life all the more potent for chafing so directly against her monosyllabic responses. Lockyer's alchemist is convulsed by rage, a nervous, ticking presence on stage whose unexplained anger adds bite to the more wholesome cynicism of his fellow conspirators. Easy and smooth-talking, it falls to Nwosu's charismatic Face to close the play, bringing the con right up to date, with the audience his helpless marks. It's hard to imagine a more genial way to be swindled of an hour or two.
Refusing to wench it up too much, McSweeney's Dol is a dry, droll affair with a vibrant inner life
rating
Explore topics
Share this article