Swan Lake, Bolshoi Ballet, Royal Opera House |

reviews, news & interviews
Swan Lake, Bolshoi Ballet, Royal Opera House
Swan Lake, Bolshoi Ballet, Royal Opera House
A peerless Odette almost makes up for production's psychological shortcomings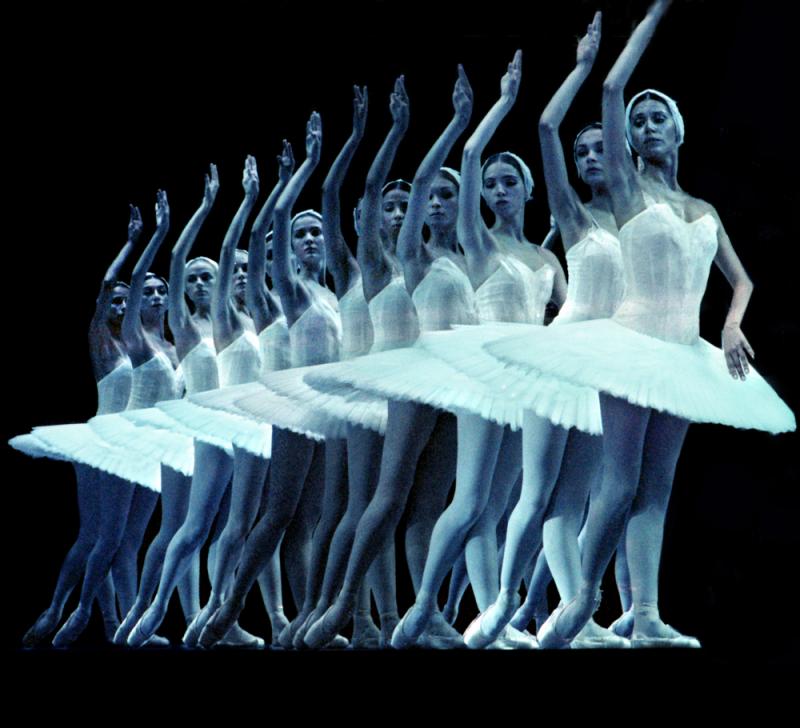 Talk to the hand(s): dancers of the Bolshoi corps de ballet as cool, collected swans
"If you know anything about dance," I was told last night by an aged balletomane at the Royal Opera House, "you know that Russian ballet companies are the best." If this is true then the Bolshoi Ballet, biggest of the Russian companies, in Swan Lake, that most quintessential of ballets, must be awe-inspiring.
In many ways, it is, and deliberately so. Yuri Grigorovich's production may be less bombastic than his Sleeping Beauty, but it's still heavy on grandeur and light on naturalism. Instead of a forest or pastoral setting for Act I, Grigorovich presents a dignified, ruthlessly scripted and highly conventional court, where the whirling succession of pretty couples in matching gear needs as little explanation as the presence of trumpeters or a jester (the extremely good Vyacheslav Lopatin). Not for the Bolshoi the hopeful pantomime one sometimes sees in such scenes, of the prince asking and the underlings agreeing to dance. Dancing is a given here: the only language there is.
Impossibly refined in every particular, Smirnova is pure poetry as OdetteWhen you're used to a slightly more apologetic approach, the unabashed parade of crisply formal ballet numbers is surprising, but only briefly: if the Bolshoi have any innate quality as a company, it's the power of dominating the stage with absolute confidence. Don't ask for reasons, this confidence says; just watch us dance. And of course, the dancing is startlingly, satisfyingly good, a ballet anorak's dream of classical steps, scholastically conceived and executed. You very quickly become used to living in an alternate universe where everyone has long limbs, perfectly arched feet and an inimitable pliability of arm and shoulder and back. This is a place where picking favourites among the prince's two (girl)friends in Act I or the five foreign princesses in Act III is well-nigh impossible (though I was much taken with musical Yanina Parienko as the Polish princess).
The combination of balletic skill and consequence would make a traditional Swan Lake easier for the Bolshoi to pull off than almost anyone else, and Grigorovich's production goes down that road with the court scenes, their stock characters and high medieval sets. Which makes the big omission in the white acts all the more surprising: this Swan Lake is missing a...lake. Yes there is a suggestion of misty shore in the grey swirls of the painted backcloth, but no sense of the living water and the real, threatening forest as a location; instead the "lakeside" has more than a whiff of being inside the prince's head. The magician Rothbart is renamed the Evil Genius (pictured below) and first appears stalking the prince around with threatening intent, his (rather hammy) hand gestures apparently focused on giving Denis Rodkin's charming prince head- and heartache. Artemy Belyakov is a fine, athletic dancer, but the role so conceived simply doesn't help the plot.

Without a lake, why swans? The psychological reading is fatal for the plausibility of Odette, never mind her 31 avian sisters, and for that reason is best ignored if you can. Olga Smirnova, a natural Odette if ever there was one, makes that easy, at least for the duration of the White Swan pas de deux. Impossibly slender, impossibly refined in every particular, she is pure poetry in the role, making each step seem like a natural, necessary expression of feeling as the swan-woman moves from trembling with mistrust to trembling with...well, let's call it sensual ecstasy, shall we? Watching her head, I even forgot the exquisite arms and legs as I marvelled at the judgement and neck control that let her head fall ever so slightly further with each backbend, in infinitesimal degrees of delicious surrender (pictured below right).

Though Smirnova brings the same powers of acting and dancing to bear on the Black Swan episode, the quicker, minxier steps of Odile suit her slightly less well; this Black Swan seduces more with beauty than magnetism and seems even a little fragile at times - though surely Grigorovich's odd handling of the score in this scene is partly responsible for her discomfort. Rodkin is more than equal to the acting here, doing a nice line in cautious attraction, and visibly affected when Odile calculatingly reprises some of the White Swan's steps.
A huge merit of the Grigorovich production is its performance in two, rather than three parts: the black swan scene flows straight into the final "lake" scene with a satisfying sense of hurtling towards an inevitable doom. But the lack of a lake prevents the ending being properly tragic (Odette falls down dead and Rodkin is left alone, grieving), and again Grigorovich handles the score in such a way as to obscure and waste the climax in the music, a misjudgement so enormous I could almost prefer the Mariinsky's happy ending.
The Bolshoi theatre orchestra under Pavel Sorokin run through the score with crisp efficiency but a little too much stridency in the brass for my liking. Simon Virsaladze's perpendicular court set and white-and-diamanté bent in costumes are more pleasing to the eye than the white acts, where harsh blue-toned lighting is almost painful and the corps dancers, beautiful and regular as they undoubtedly are, did not always strike me as fully feeling the music. This is a quibble, though, made from inside that alternate universe I spoke of earlier, where standards (and consequently expectations) are extremely high.

The Bolshoi Ballet perform Swan Lake at the Royal Opera House until 10 August and other productions in repertory until 13 August.
If the Bolshoi have any innate quality as a company, it's the power of dominating the stage with absolute confidence
rating
Share this article