theartsdesk in Berlin: Three Ballets |

reviews, news & interviews
theartsdesk in Berlin: Three Ballets
theartsdesk in Berlin: Three Ballets
Versatile Staatsballett shine in Cranko, Duato, and a classic Giselle
German Romanticism: the spectral Wilis in the Berlin Staatsballett's splendid production of 'Giselle'
In London, seeing the same ballet company do three different pieces in three different theatres over four nights would be some kind of festival. In Berlin, it's just business as usual – albeit quite a busy week! – for the hard-working Staatsballett.
Wednesday night saw the opening of a new run of John Cranko's
Romeo and Juliet
, with Polina Semionova as Juliet, at the Deutsche Oper, Thursday a performance of Artistic Director Nacho Duato's
Multiplicity: Forms of Silence and Emptiness
at the Komische Oper, while last night the Schiller Theater was packed out for
Giselle
with the Stuttgart ballerina Maria Eichwald guesting in the title role.
To my mind, a company's Romeo and Juliet is almost as important a flagship as its Nutcracker. Get it right, and the combination of Shakespearean tragedy, Prokofiev score, and dance virtuosity will see every performance converting some ballet newbies into ballet fans. But get it wrong, and you run the risk of turning people off for life: my neighbour in the Deutsche Oper turned to me in horror on Wednesday night when the lights came up after Act II, "not another interval?!" She didn't come back for the last act, and though that might seem a small thing compared to the long and rousing ovations of the cognoscenti in the audience, it's a sign of a production not doing its job.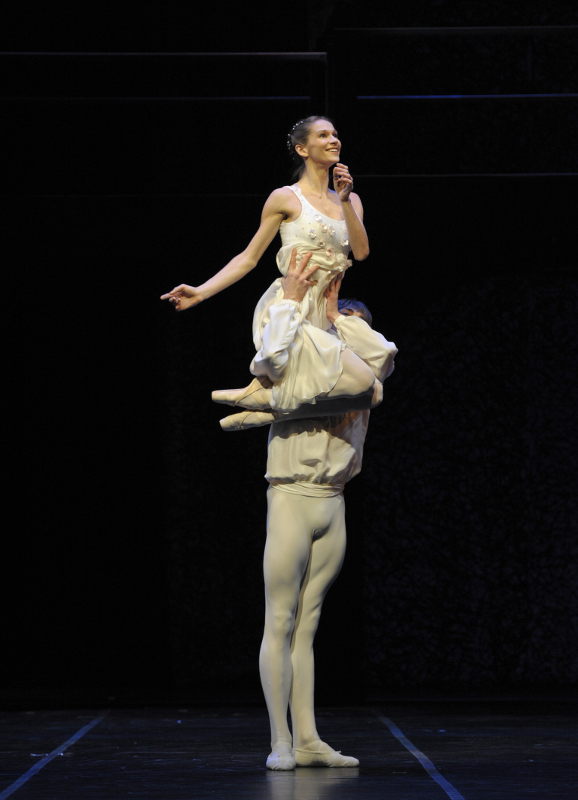 And it is the production at fault here: the dancers do a fine job. The principals have chemistry, and though they're both guests – Semionova (pictured right) from American Ballet Theatre, Jason Reilly from Stuttgart – they're not shipped in to liven up a dull company: there is solid home talent on display in Dinu Tamazaclaru's Mercutio, Alexander Shpak's Benvolio and Arshak Ghalumyan's Tybalt (all of whom combine quick feet with clean lines), as well as in the corps. The acting is also well done, especially by Charlotte Butler who has a sympathetic, no-nonsense take on the Nurse.
The 1962 Cranko choreography is, I am finally forced to admit (being a longstanding fan of it) inferior to the 1966 MacMillan version: though truer to the play, and with rather better crowd scenes (not MacMillan's strong point), the pas de deux in the Cranko are awkward, seeming to interrupt emotion rather than convey it. Both Semionova and Reilly have the gestural language of passion down beautifully – when he gazes at her, or she strokes his face in wonder, the sexual and romantic charge is breathtaking – but it doesn't come through in their dancing. Which, yes, may be due to under-rehearsal (the danger of shipping in principals) but the choreography cannot be absolved from blame.
The worst offender by far in this 2012 production, though, is the design: Thomas Mika has created a visual disaster. Every prop and flat is matte black (from the trees and the balcony to the wagons and fruits in the market scene) and the costumes combine moderate amounts of black velvet with truly amazing quantities of gold lamé and rose-pink satin, all lit too strongly with a too-orange light. A well-designed Cranko Romeo and Juliet would be a useful workhorse; with these designs, it's a liability.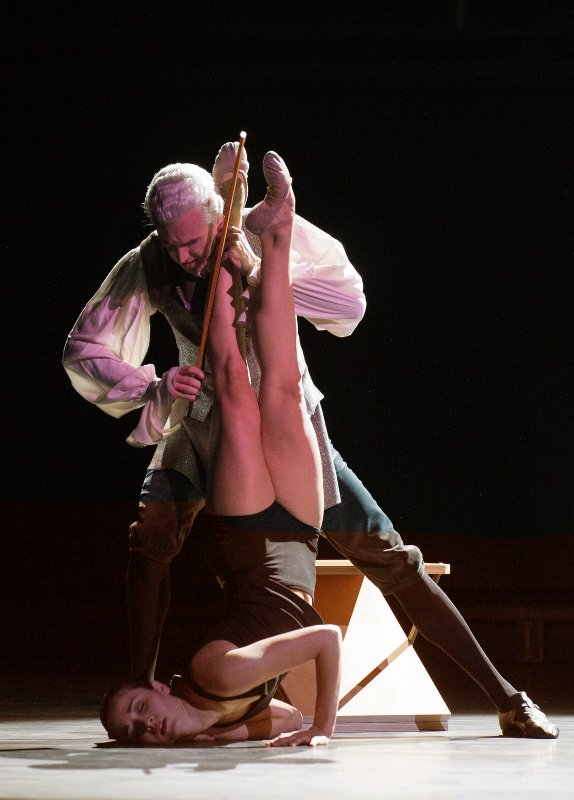 Rather ironically, one of the crowning moments of Duato's 1999 Multiplicity: Forms of Silence and Emptiness is all about black and pink satin: the second movement in Forms, with seven men in corsets and huge black skirts which flash cerise linings as they whirl round the men's shoulders is a piece of spellbinding showmanship. It's helped along by its D Minor organ toccata (BWV 538) score, one of the rare dramatic high points in this piece cobbled together from Bach extracts which is in its entirety rather too long and disjointed.
In the first half hour it's extremely diverting, displaying Duato's considerable talent for clever, contemporised ballet movement with a humorous edge, but it should really be a plotless one-acter, not a full-length piece attempting to tell some incomprehensible story about Bach, death and love. Being in Germany really shows up the kitschiness of having Bach on stage (pictured above left): when a man in pigtail and frock coat appears at the Komische Oper on Unter den Linden, you wonder for a moment if you're in a German culture theme park for tourists. Fine dancing again, though, from the company, among whom special mention goes to smouldering looker Kevin Pouzou and his showy, lyrical suppleness.
Dominic Hodal is one of the best Hilarions I've seen
The German theme park risk is present in Giselle too – yes, it's a French ballet, but set in the forests of the Rhineland, that quintessentially German Romantic landscape. But the visuals are by Peter Farmer, reliable purveyor of classic ballet designs and while the set is woodsier than John Macfarlane's eerie one for the Royal Ballet Giselle, it's not at all kitsch – think the dense oaks and tiny log cabins of Albrecht Altdorfer paintings. French choreographer Patrice Bart has done the story and choreography by and large sympathetically – though it's a shame to miss the full pas de six – and with a care to keep the action moving briskly along. No one has to stand around mooning for long in this Giselle, though the trade-off is that the corps in their Act I guise as peasants are on-again, off-again like American footballers.
Guest star Maria Eichwald is a cracking Giselle. With her elfin face and gossamer arms she can do the frailty of weak-hearted Giselle no problem, but she's also got strength and poise in spades to be the Wili who defies the others to defend her man. Eichwald specialises in rock-steady penchés (a kind of moving arabesque) but never just for show; her dancing is impeccably harnessed to the story she needs to tell. Company principal Mikhail Kaniskin is a splendid Albrecht, playing the philandering Duke with a nice aristocratic swagger, but genuinely running the gamut of emotions in his Wili-haunted second act. Dominic Hodal, one of the best Hilarions I've seen, dances and acts as well as the principals, and his death at the hands of the merciless Myrtha (Aurora Dickie) and the rest of the corps is absolutely top-notch ballet theatre – as is this whole production, long may it reign.
The Berlin Staatsballett are performing Romeo and Juliet, Multiplicity: Forms of Silence and Emptiness, and Giselle in repertory in the Spring/Summer season 2016
Being in Germany really shows up the kitschiness of having Bach on stage
rating
Explore topics
Share this article