Tchaikovsky Competition Winners Tour |

reviews, news & interviews
Tchaikovsky Competition Winners Tour
Tchaikovsky Competition Winners Tour
Gergiev shows off eight young musicians with real care, if uneven results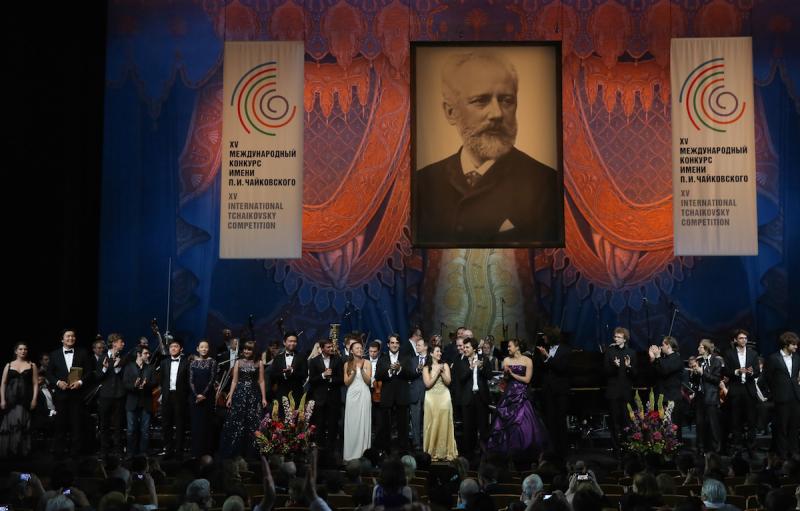 Winners line-up at the 15th Tchaikovsky Competition in July
For a few very lucky competition winners there is a shopping trip where they are paraded around the world. A terrific opportunity, though a horrible experience, probably. Most competition winners have only a new line in their CV to stare at after the award ceremony, so the advantage of being a 2015 Tchaikovsky laureate, with a promise of an international tour with Valery Gergiev and the Mariinsky Orchestra, is self-evident.
It also launches high expectations, given that Gergiev was also the competition's chairman, and this year more than any the Russians were anxious to show that only talent had won prizes, not the traditional backstage trades of old. So the two concerts this week in London and Birmingham generously bestowed on an under-prepared British public (loads of empty seats) a selection of the pianists, singers, violinists and cellists considered by an impeccably first-class jury the pick of the international crop.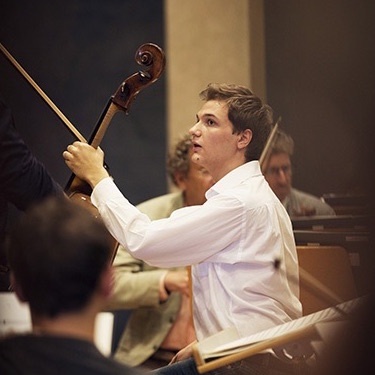 And what a disconcerting distance there can be between competition-winning and winning performance. Monday night at Cadogan Hall in London the piano gold-medallist Dmitri Masleev gave so clumsy a rendition of Rachmaninov's Second Piano Concerto that I would have thought twice to put him through a qualifying round for technique, let alone artistry. At 27, nerves were hardly an acceptable explanation - so how did a Russian win Russia's greatest competition, the Tchaikovsky, in Tchaikovsky's anniversary year, as Mrs Merton might ask? Unfair, for I certainly heard him show real quality in Moscow.
On the other hand, the prizewinning cellist, 20-year-old Berlin-trained Romanian Andrei Ionita (pictured above), stepped up to the plate with a gorgeous, nimble, singing interpretation of Haydn's First Cello Concerto from 1762 (written almost a century after Ionita's lovely cello was made). His sweetness of tone, plumb-centre intonation, and captivatingly fleet fingerwork in the finale, enjoyed by the Mariinsky players, made his performance the pinnacle of the London evening - even if he then spoiled the impression with a too lugubrious Bach encore.
But the acid test was passed - you left wanting to hear more of Ionita. This was also true of Clara-Jumi Kang (pictured left), the German-Korean violinist placed fourth in the competition who swept Birmingham listeners away with her sensitivity and rapt focus in Mendelssohn's 1845 Violin Concerto. Kang, at 28, has blossomed from toddler years as a child prodigy into an adult musician of poised confidence in floating her small, perfectly tuned sound over the large orchestra. You might say that if there were justice she'd have won the violin contest - yet there is justice, for Gergiev chose her for the tour rather than higher-placed fiddlers. And now we know to look out for her too.
Truly it's not the first prizewinners but the lesser awards who may flourish better. That's true above all of the French pianist Lucas Debargue (pictured right), who had made Moscow public and critics fall in love with his poetic musicality. His fourth prize reflected his inexperience with orchestras, and the programming frustratingly gave us only chunks of evidence of his spellbinding capabilities, the slow, lullaby movement from the Tchaikovsky First Concerto and the ferocious solo "Scarbo" from Ravel's Gaspard de la nuit.
The nervy 25-year-old is a different sort from the other concert-ready soloists, visibly not happy with having to deliver music in bits rather than an organic whole, and yet searching for interesting rhythmic textures in the familarity of the Tchaikovsky, and making the hairs stand up on my neck with his lightning-storm flashes and the rumbles and spooky whispers of "Scarbo". He is a fantasist, he plays with his ears and his imagination, and had he won the damn competition he'd have been saddled with months and months of routine. Debargue vaut le détour, and will take listeners on a long, mystery ride.
I'm not sure George Li (pictured left) will ever be mysterious, but by gum, this American 19-year-old is fun. The second prize-winner (jointly with another Russian) is a very short man with apparently very small hands, yet he rampaged through Liszt's First Concerto with winning aplomb. Li puts the li into ebullient, but he overstepped (as Ionita had done) with his encore, Liszt's "La Campanella", a scintillating showpiece that only comes off if it seems a dazzling, gleeful impossibility. He's not yet got quite that kind of virtuosity, but evidently Li has bags of American can-do spirit, and encourages confidence.
The gold-medal singers sang in both concerts, and though the Mongolian baritone Ariunbaatar Ganbaatar has won the column inches for scooping the Grand Prix as well, I found myself enjoying his clear, beautiful baritone voice in Yeletsky's famous "I love you" aria from The Queen of Spades without quite managing to see him as an operatic baritone character, let alone in the complexities of European song. He's a great gala performer, though.
The mezzo Yulia Matochkina (pictured right) is something else; she has a real Russian caramel glory of a voice with a ringing top, and there's a genuineness in her passionate regret as Joan of Arc, and a fundamental gentleness in her, that promises some involving and interesting opera and song performances from her in future.
Gergiev may be a controversial figure, but gave audible nourishment and care to all these young soloists, reining in and texturising the Mariinsky Orchestra players in a range from Haydn to Rachmaninov. It is not easy to make a coherent night of music with so many concerti and arias to deliver, but the programme was well thought through with three sparkling orchestral interludes. Conductor let the orchestra off the leash in Verdi's Forza del destino overture, and tested the strings in the stratosphere of Wagner's Lohengrin Prelude, and then the opposite, all warm, shimmering suspense and sensuality in Debussy's L'Après-midi d'un faune.
Much music of great class, though you puzzle over some of the competition results. Still you aren't going to waste any time puzzling about discovering people like Debargue, Kang and Ionita, for whom the prize is having their future launched so caringly.
What a disconcerting distance there can be between competition-winning and winning performance
rating
Explore topics
Share this article